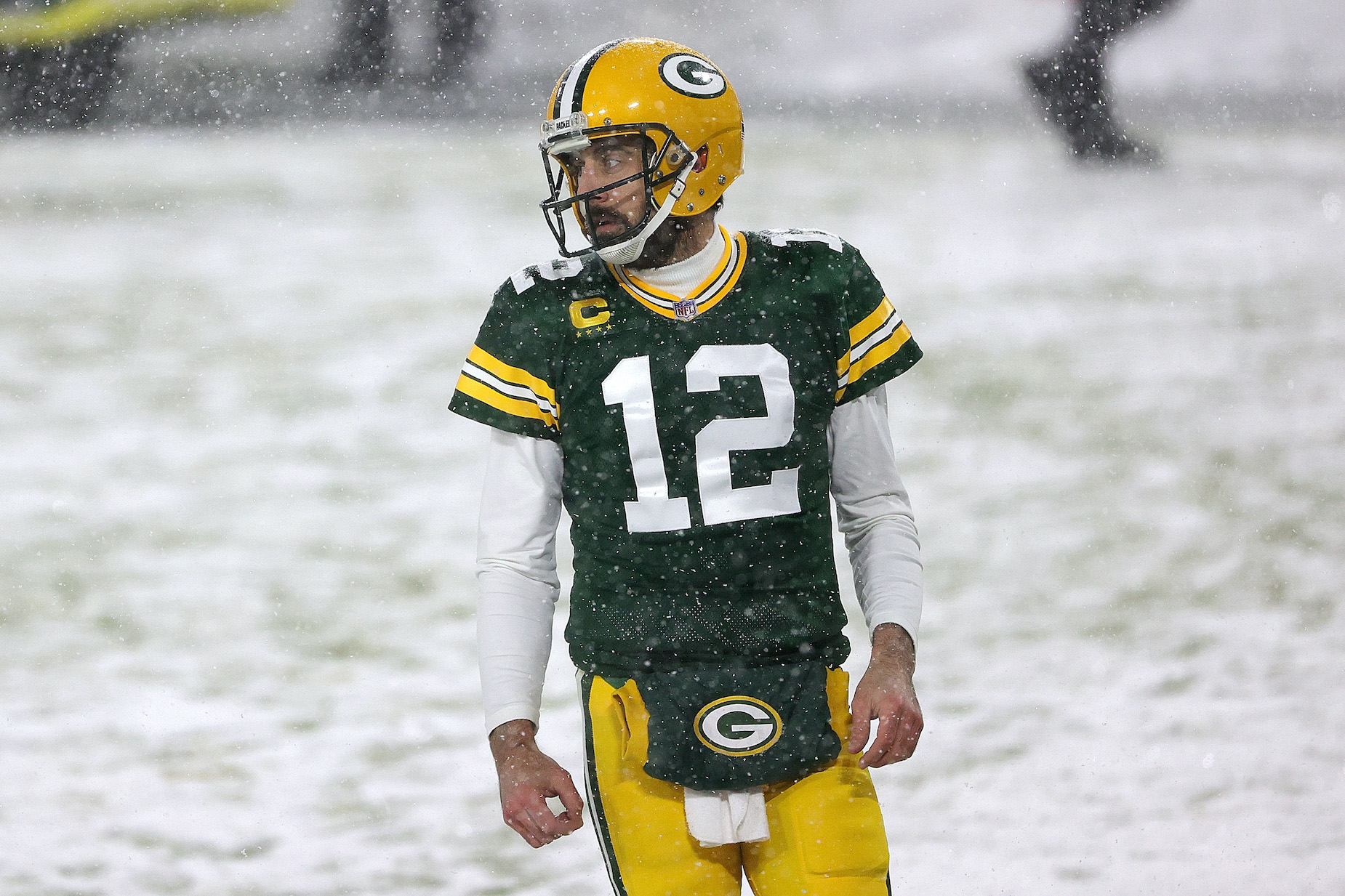 Aaron Rodgers Was Accidentally Linked to a Murder By ESPN on 2 Separate Occasions
While Aaron Rodgers is no stranger to making headlines, the Packers quarterback was once accidentally implicated in a murder by ESPN.
While he's now more of an elder statesman than a rising star, Aaron Rodgers is still a pretty talented player. During his time with the Green Bay Packers, the quarterback has done just about everything imaginable; he replaced a franchise legend, won NFL MVP on two separate occasions, and lifted the Lombardi Trophy. At one point, he was also mistakenly implicated in a murder.
Yes, you read that correctly. While Aaron Rodgers, of course, has not killed anyone, that didn't stop some on-air personalities from making an error. In 2013, ESPN's Jeremy Schaap and Mike Golic both accidentally tied the Packers quarterback to the murder of Odin Lloyd.
Aaron Rodgers' rise to prominence with the Green Bay Packers
These days, it's virtually impossible to imagine Aaron Rodgers has earned a place in Green Bay Packers history as a star quarterback. At one point, though, it looked like his football career would never get off the ground.
Despite finding success on the high school gridiron, Rodgers couldn't land a big-time college football scholarship; most programs decided he wasn't big enough to survive under center. The quarterback, however, took his talents to Butte Community College. During his one season there, he showed enough to earn a transfer to Cal.
With the Golden Bears, Rodgers proved to be quite a talent, throwing for 5,469 yards and 43 touchdowns over the course of two seasons before entering into the 2005 NFL draft. His odyssey, however, wasn't done yet.
When draft night arrived, concerns about Rodgers' height resurfaced, and he slipped down the draft board; after a seeming eternity in the green room, he eventually joined the Packers as the 24th-overall pick. While he didn't land in the easiest situation—he had to sit behind Brett Favre before being tasked with replacing the franchise legend—Rodgers didn't seem to mind. Once he eventually got his chance under center, he became a star.
Accidentally implicated in a murder by ESPN
By 2013, Aaron Rodgers had established himself as a legitimate power player on the NFL scene. During that summer, though, he was accidentally implicated in a murder by two separate ESPN personalities.
As football fans may remember, Aaron Hernandez's murder of Odin Loyd dominated headlines that summer. During ESPN's coverage of events, though Jeremy Schaap made an unfortunate error. "Based on what we heard, there is a lot of evidence, albeit circumstantial, implicating Aaron Rodgers in the death of Odin Loyd," the reporter explained in a clip that's preserved on Youtube.
Schaap wasn't the only one to get mistakenly mention Rodgers, though. As documented by Bleacher Report, Mike Golic also said, "Holy smokes, does it look like they have a whole lot on 'Aaron Rodgers," during a conversation with legal analyst Roger Cossack.
For his part, though, the quarterback didn't seem to be too concerned. "Not funny ESPN," he simply tweeted.
Aaron Rodgers is still going strong with the Green Bay Packers
It goes without saying that, after the events of 2013, Aaron Hernandez's football career was over. Aaron Rodgers, however, returned to the gridiron and is still going strong.
While 2013 itself was a tough season—Rodgers broke his collarbone and only appeared in nine regular-season games—the quarterback returned to for in 2014; he threw for 4,381 yards and 38 touchdowns, earning his second NFL MVP title.
Although there was some chatter about moving on from Rodgers when the Packers drafted Jordan Love, rumors of the quarterback's demise seem to have been greatly exaggerated. During the 2020 campaign, he played some of his best football to date, piling up 4,299 passing yards and throwing for 48 touchdowns as the Packers claimed the top seed in the NFC.
During football season, it's almost impossible to turn on ESPN and not hear Aaron Rodgers' name. Thankfully for everyone involved, though, there's no more mention (accidental or otherwise) of any murders.
Stats courtesy of Pro-Football-Reference