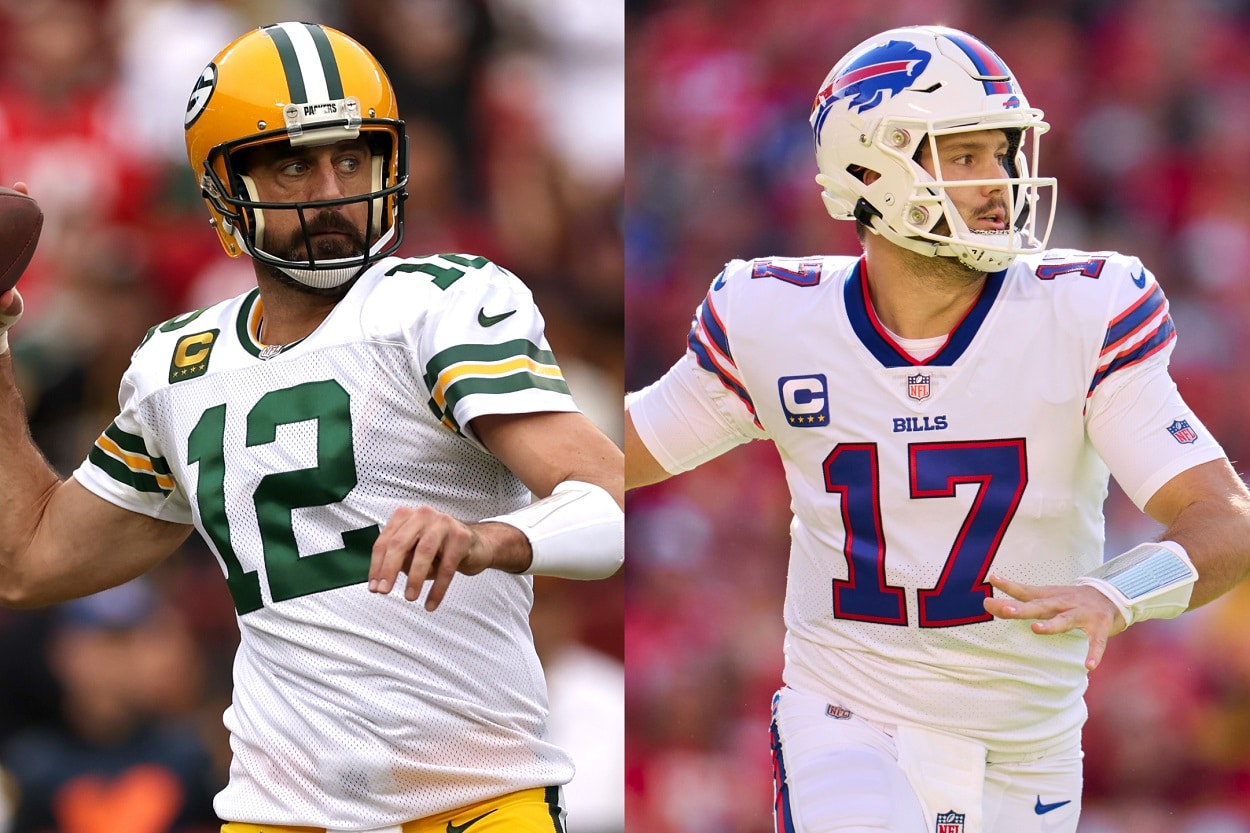 Aaron Rodgers' Bloated Contract Makes Josh Allen's $258 Million Deal Look Like a Steal
Comparing the big contracts of Packers QB Aaron Rodgers and Bills QB Josh Allen.
Not long ago, both the Buffalo Bills and Green Bay Packers signed their star quarterbacks to contract extensions that included $150 million guaranteed. 
It hasn't taken long to see that one team spent its money wisely. 
However, it also hasn't taken long to see that one may have some regrets about making that nine-figure investment. And depending on how the rest of the season unfolds, things could get even messier due to the financial impact of Aaron Rodgers' record-setting deal.
Josh Allen looks poised to end Aaron Rodgers' MVP streak
Ahead of last season, the Bills smartly locked up their most important player on a six-year, $258 million extension. And based on 2021's performance and his team's 5-1 start in 2022, it's obvious Josh Allen has lived up to his end of the deal. 
With the second-ranked offense and the league's stingiest defense, Buffalo has dominated both sides of the ball, securing victories over the defending champion Los Angeles Rams, the Lamar Jackson-led Baltimore Ravens, and the Patrick Mahomes-led Kansas City Chiefs.
Allen's dominance as both a passer (17 touchdowns, league-high 330 yards per game) and as a runner (257 yards and two touchdowns on 47 carries) has put him squarely in the mix to earn MVP honors. 
Of course, if the fifth-year signal-caller secures the coveted award, he'll snap Rodgers' two-year run of being named the NFL's most valuable player. 
And even if Allen doesn't earn the most votes, he certainly won't lose out to the reigning winner. 
In fact, it wouldn't be a surprise if Rodgers doesn't garner a single first-place nomination coming off back-to-back MVP campaigns. Amid a frustrating season that has raised valid questions about the future of the only franchise he's ever played for, the soon-to-be 39-year-old has quickly gone from being a coveted asset to an overpriced commodity.
The Packers' record-setting investment makes the Buffalo Bills look wise for locking up their franchise quarterback this spring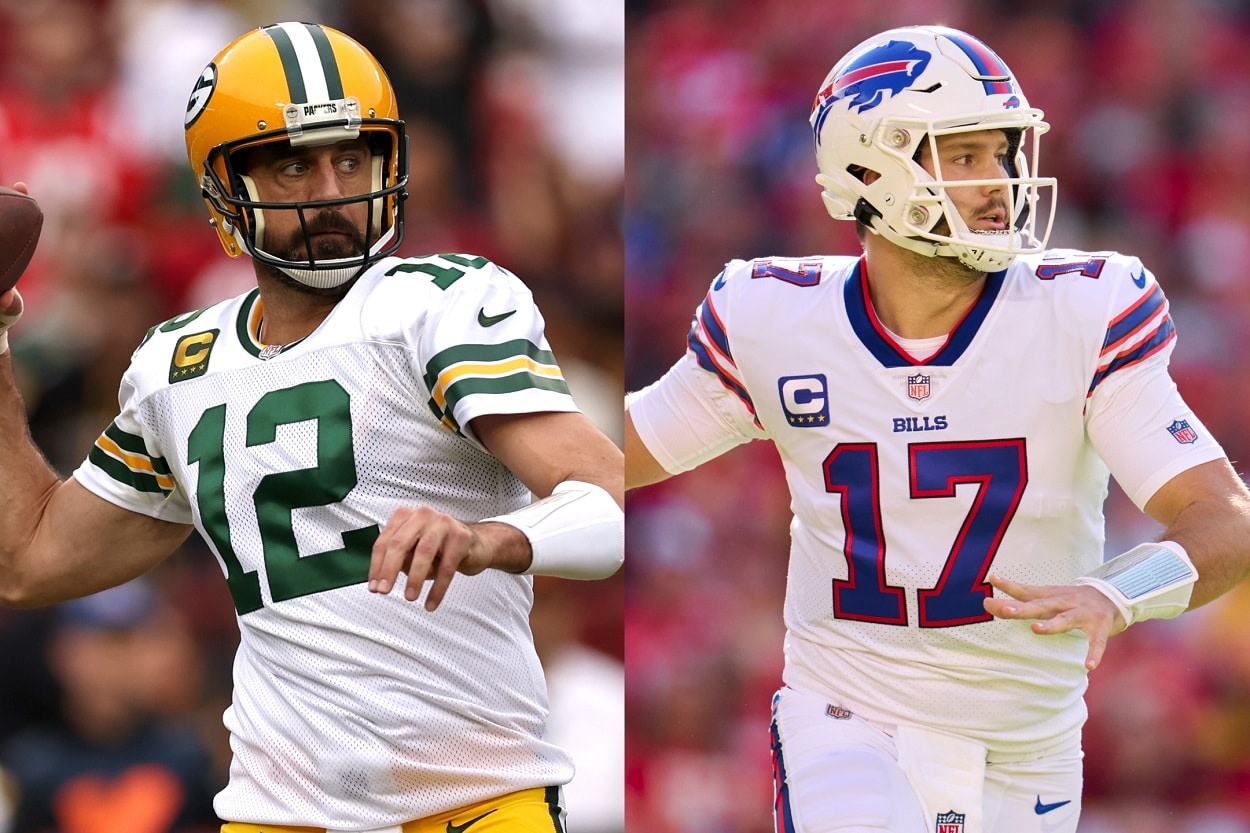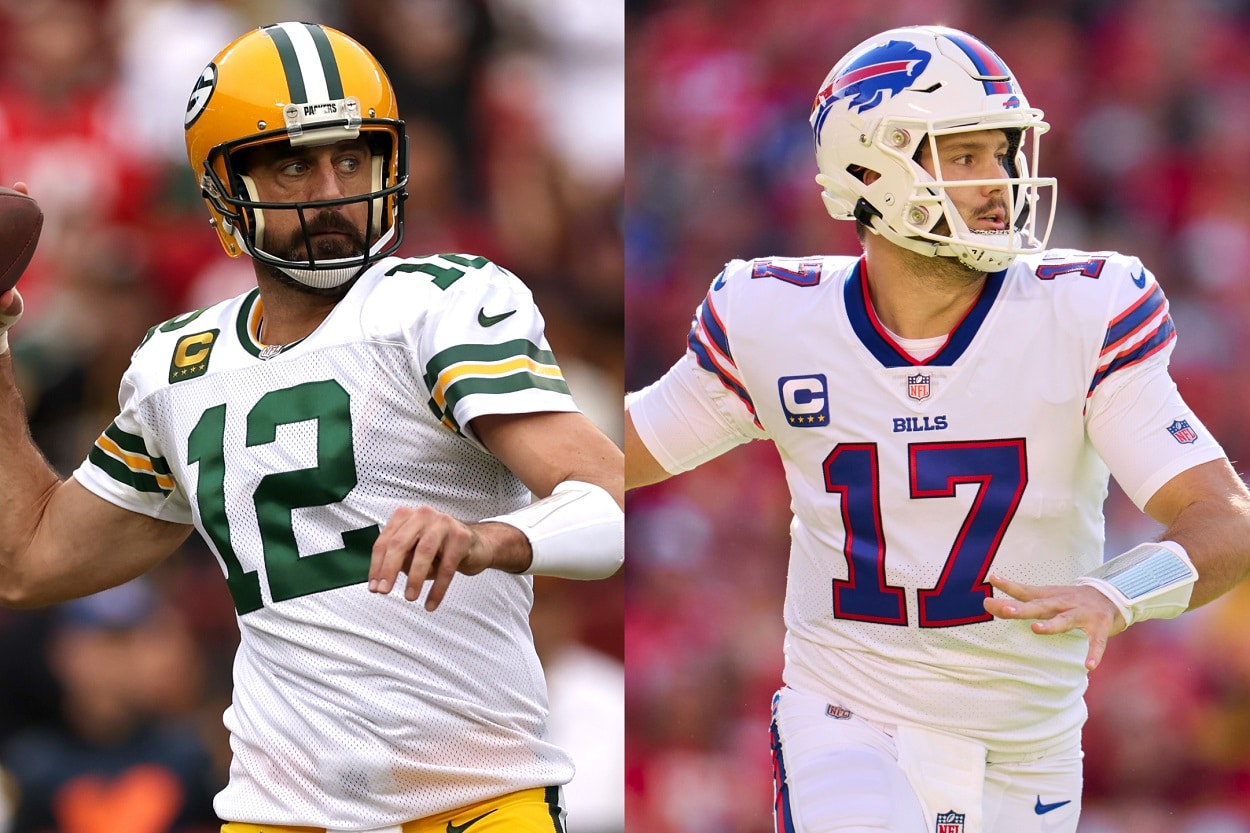 Although he hasn't been able to secure a second Super Bowl ring, Rodgers has been a champion at the negotiating table for the last decade. Even with his team routinely falling short in the postseason, the future Pro Football Hall of Famer landed multiple extensions that helped him amass more than $305 million in career earnings. 
The Packers essentially paid the four-time MVP whatever he wanted, and he rewarded them with double-digit wins and playoff appearances on an annual basis. 
To be fair, though, Rodgers' reign as the team's franchise quarterback also included several painful postseason losses and plenty of drama. Yet even after rampant offseason speculation about a possible retirement or trade demand, Green Bay still elected to give him a three-year, $150 million deal. 
Unfortunately for Rodgers, his desire to be the highest-paid player in the league cost him his most important teammate: Davante Adams. 
With the game-changing receiver suiting up for the Las Vegas Raiders, the Packers simply haven't been the same on offense. Rodgers has been forced to throw to lesser talented targets, and the results haven't been particularly inspiring. After averaging 26.5 points per game in 2021, Matt LaFleur's team ranks 23rd in scoring at a paltry 18.3 points per game. 
Meanwhile, the situation couldn't be more different in Buffalo. 
The Bills not only signed Allen for $7 million less per year ($43 million AAV), but they also gave him less than half the amount of signing bonus money ($16.5 million) that the Packers gave Rodgers ($40.8 million).
Most importantly, general manager Brandon Beane locked up arguably the most talented quarterback in the NFL for over half a decade before Joe Burrow, Justin Herbert, and Lamar Jackson potentially reset the market. 
Needless to say, the Bills did well in taking care of business before the season began. And if Allen continues to deliver MVP-caliber play, he could add "Super Bowl champion" to his resume in a few months. 
As for the Packers? 
The future looks murky.
Rodgers' expensive extension could force Green Bay to part ways with more talented players this offseason
At 3-4, the Packers face an uphill battle to climb out of an early-season hole. Most concerning is the fact the offense has struggled mightily to move the ball consistently without Adams as the focal point. 
In his first season without the All-Pro pass catcher, Rodgers has averaged merely 228.1 yards per game–a mark that would easily rank as the worst of his storied career. His 6.5 yards-per-attempt average is 1.2 yards lower than a year ago, and his uncharacteristic 40.5 QBR represents a substantial drop from the 79.8 and 69.1 marks he earned the last two seasons (both of which led the league). 
Will things improve for a Packers team that clearly has a short championship window with an aging quarterback leading the huddle? 
Not necessarily. 
According to Spotrac, the Packers are projected to be $2 million over the cap in 2023. Part of that has to do with Rodgers' $31.6 million cap hit—a number that will rise significantly over the course of his contract. He will count $40.7 million against the cap in 2024 and a staggering $59.3 million in 2025, which would be his age-42 season. 
Can the Packers afford to retain key impending free agents, given their cap situation? 
Versatile offensive lineman Elgton Jenkins will hit free agency after the season, and you can bet he'll be a coveted target given his experience at guard and tackle. Plus, tight end Robert Tonyan, who leads the team in receptions, also needs a new deal. 
Looking ahead, the Packers also have to consider how much they'll have to invest to keep homegrown talents like Rashan Gary, Darnell Savage, and A.J. Dillon around. If Gary continues to wreak havoc as a pass rusher this season, he should set himself up to top T.J. Watt's record-setting extension. 
So, even though the Packers may have a Canton-bound quarterback, the cost of doing business with Aaron Rodgers could prevent them from surrounding him with the right supporting cast to capture the Lombardi Trophy for the first time since 2010.
Have thoughts on this topic? Keep the conversation rolling in our comments section below.