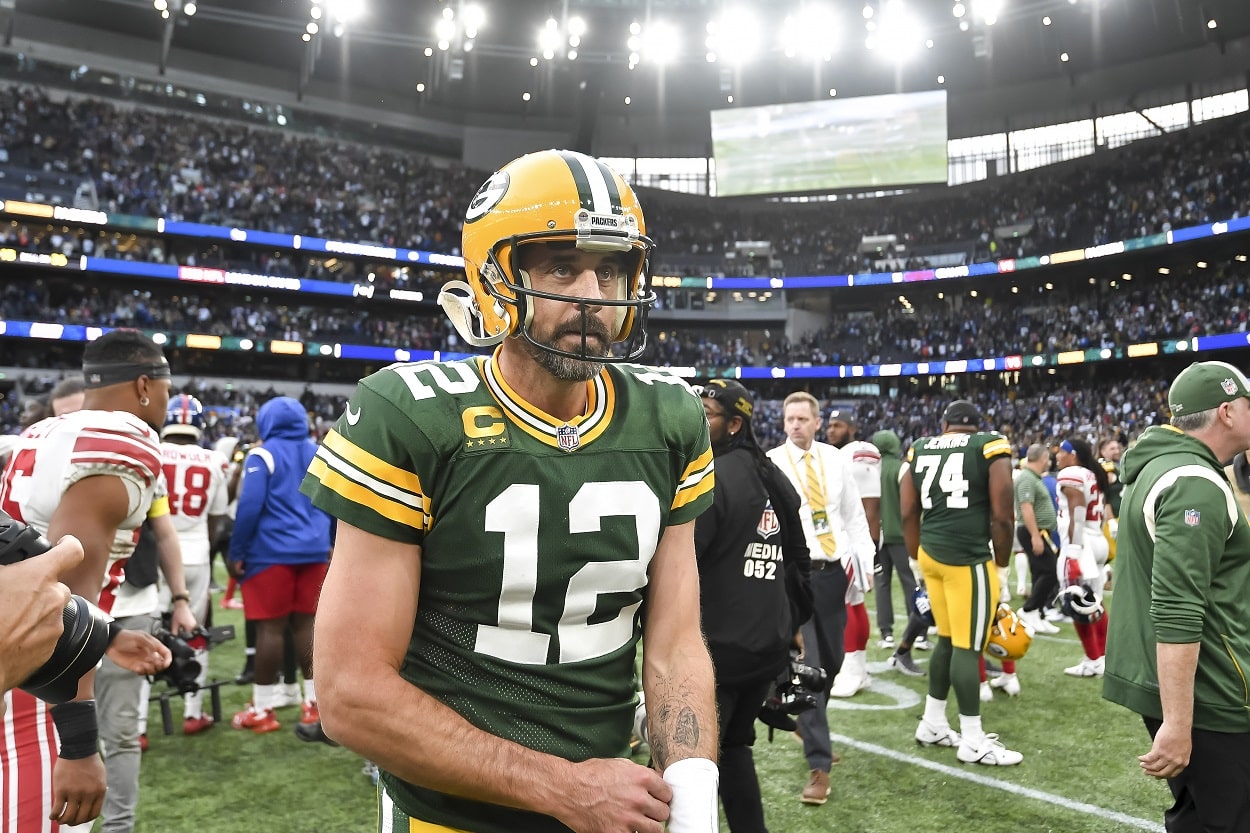 Aaron Rodgers Calls Out Jaire Alexander For His Comments Following the Packers' Upset Loss to the Giants in London
Aaron Rodgers isn't happy with some of his Packers teammates after Green Bay lost to the Giants in London.
Aaron Rodgers made no secret that he was excited about the Packers' first-ever game outside the United States. And for the first 30 minutes of their Week 5 matchup with the New York Giants in front of a pro-Green Bay crowd at London's Tottenham Hotspur Stadium, it seemed as if the trip would end on a positive note.
Behind two touchdown passes from Rodgers, one to Allen Lazard and another to Marcedes Lewis, the Packers took a 20-10 lead into halftime and seemed poised to cruise to an easy victory.
But while Green Bay owned the first half, New York owned the second.
Nine-point underdogs coming in, the Giants stormed back over the final 30 minutes behind big plays from Daniel Jones and Saquon Barkley to steal a 27-22 victory. The New York defense held the Packers' offense scoreless in the second half, with Green Bay's only points coming on an intentional safety.
Naturally, the Packers weren't happy about the loss. But Rodgers' unhappiness went further as he caught wind of a few of his teammates harping about this defeat and a possible one next week.
Aaron Rodgers calls out Jaire Alexander following the Packers' loss to the Giants in London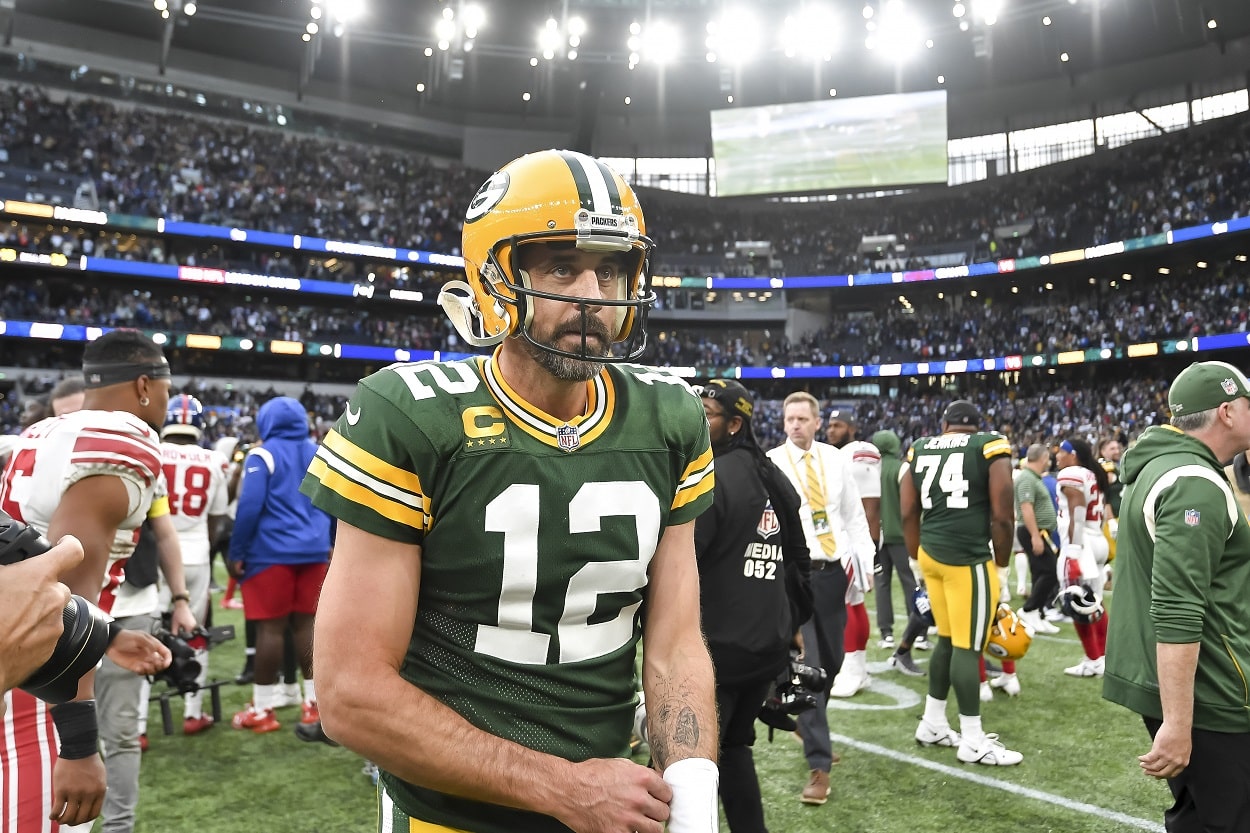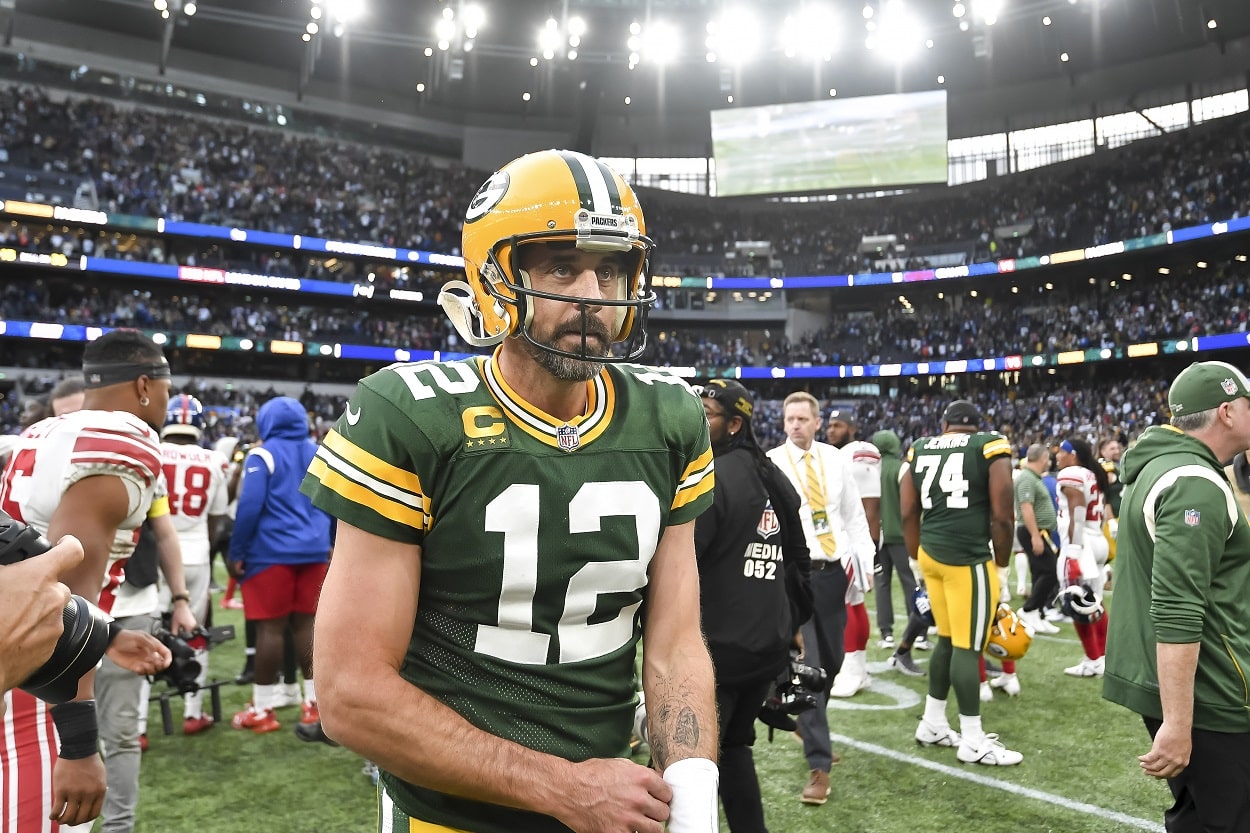 Given the point spread, the Giants' victory over Green Bay was technically the biggest upset of the 2022 NFL season thus far. But it's not as if the Packers are in terrible shape, as they're still 3-2 and just a game back of the Minnesota Vikings in the NFC North with a dozen games left on the schedule.
However, there could be a little more cause for concern if they lose in Week 6 to the New York Jets, especially since Rodgers & Co. are already bigger favorites than they were against the Giants. But perhaps the more significant concern is that cornerback Jaire Alexander is already talking about the possibility of Green Bay losing next Sunday.
"I ain't worried, but if we lose next week, then I'll be worried," Alexander said after the loss to the Giants.
As you can expect, Rodgers wasn't happy with Alexander's comments and had no problem calling out his teammate.
"Frankly, I don't like all this conversation about losing next week," Rodgers stated. "I'm a firm believer in the power of words and manifestation. And we've got to check ourselves on that because talking about that is not winning football. There was conversation about it in the locker room, and I don't like it. Ja's my guy, but we don't need to be talking like that."
The Packers are currently 9.5-point favorites against the Jets, who are also 3-2 following an upset win of their own in Week 5, a 40-17 thrashing of the Miami Dolphins.
Stats courtesy of Pro Football Reference
Like Sportscasting on Facebook. Follow us on Twitter @sportscasting19 and subscribe to our YouTube channel.