Aaron Rodgers Disagrees With Packers London Travel Plans
As Aaron Rodgers and the Green Bay Packers head to London to play the Giants, the QB says he doesn't agree with the team's travel plans.
On Sunday at 9:30 am ET, the Green Bay Packers will become the last NFL team to play a game in London. While playing abroad is second nature to teams like the Jacksonville Jaguars, it is a new experience for Aaron Rodgers, Matt LaFleur, and the rest of the Packers. There are several schools of thought as to how and when to travel overseas when playing an NFL game, and before Green Bay even gets to England, Rodgers isn't thrilled with his team's travel plans.
Aaron Rodgers doesn't like the Packers' travel plans
When an NFL team travels to London, they can do it in one of two ways. They can go over early in the week and try to adjust to the five-plus-hour change in time zone, or they can go later in the week and just play what feels like a morning game on their body clocks.
The Packers have chosen the latter, flying across the pond on Thursday before the Sunday morning game, and Rodgers isn't a fan of this move.
On his weekly Pat McAfee Show appearance, the host asked Rodgers when the Packers were heading over, and the back-to-back MVP shared his team's travel plans and his thoughts on them.
"We're going late. We're going out Thursday. And we don't have a bye after either, which is a little different. A lot of teams have taken byes." Rodgers revealed. "So, we're going to head out Thursday and land Friday morning and then go through a normal Friday. Try to stay up Friday as long as possible, deal with being a little tired, and then get through it."
After that, Rodgers' former teammate A.J. Hawk asked if the team voted on when to head over.
"I wish there had been a vote. It might have gone a little differently. But there is one final say — as it should be in almost anything — there is one final say, and, you know, A.J, you're a huge analytics guy. I'm sure there are a lot of analytics that went into the decision, and it was decided that Thursday was the best day to go, and so here we are."
After 31 London games, NFL teams are getting the hang of how to travel, despite Rodgers' protestations. The travel plans won't affect the outcome on Sunday, though, as the Giants traveled over the Atlantic on a Thursday night red-eye as well.
A must win for the Green Bay Packers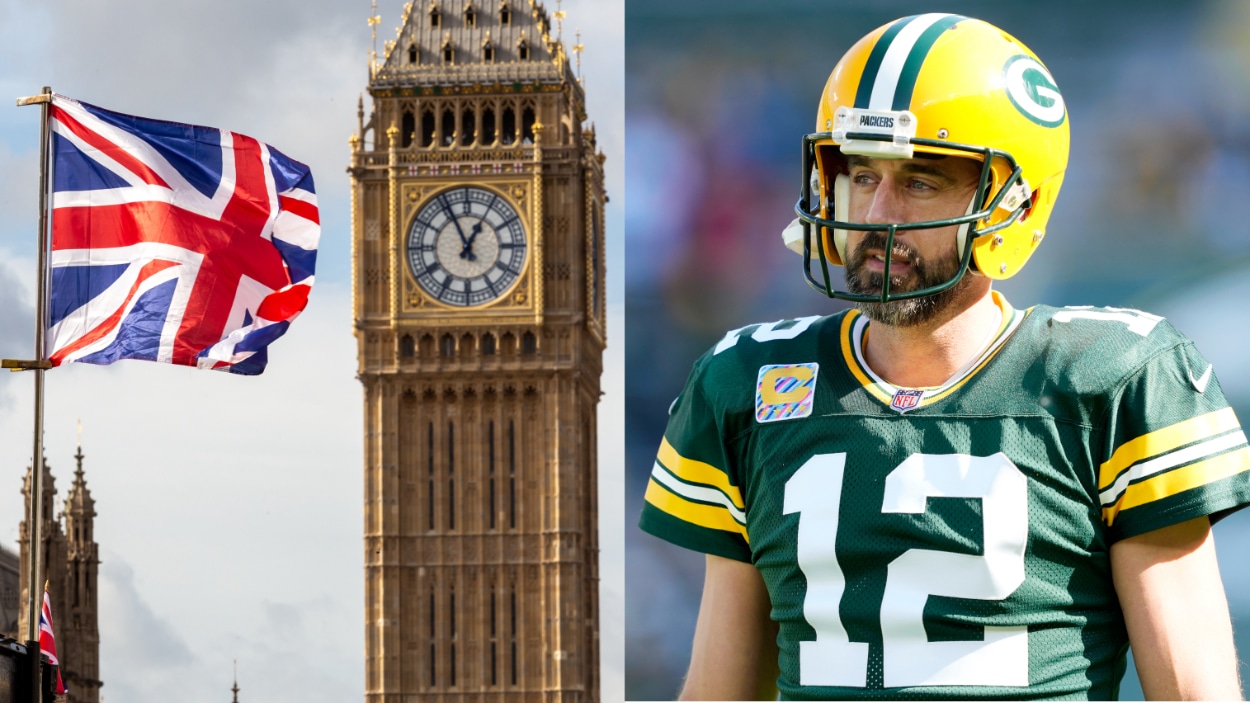 Whether the Week 5 Packers-Giants game was in London, Green Bay, New Jersey, or Westeros, it still would be a crucial, must-win game for Aaron Rodgers as the Packers.
The Packers are 3-1 after four games but haven't looked like the NFC's No. 1 seed like they were last season. The Minnesota Vikings took them to the woodshed in Week 1, they beat the lowly Chicago Bears in Week 2, got an uninspiring 14-12 win against the Tampa Bay Buccaneers in Week 3, and needed overtime to beat a Bailey Zappe-led New England Patriots in Week 4.
Meanwhile, the Giants have put together the No. 1 rushing attack in the NFL through four weeks. New head coach Brian Daboll is playing into the team's strength of defense and Saquon Barkley while minimizing its weaknesses of quarterback Daniel Jones and its wide receiver corps.
A Packers win would keep the team near the top of the NFC while Rodgers and the offense try to get on the same page in 2022. However, a loss would plunge them into the middle of the conference, possibly giving the Vikings a one-game lead (with a head-to-head win) in the North and the Giants (among others) a one-game lead in the Wild Card race with a head-to-head win of their own.
Yes, the season is still young, but it is never too early to worry about the effects of losing to top conference foes.
Also, losing to a team that's seemingly winning with a certain amount of smoke and mirrors (like the Giants are) is disconcerting for a team with championship expectations like the Packers.
Like Sportscasting on Facebook. Follow us on Twitter @sportscasting19 and subscribe to our YouTube channel.