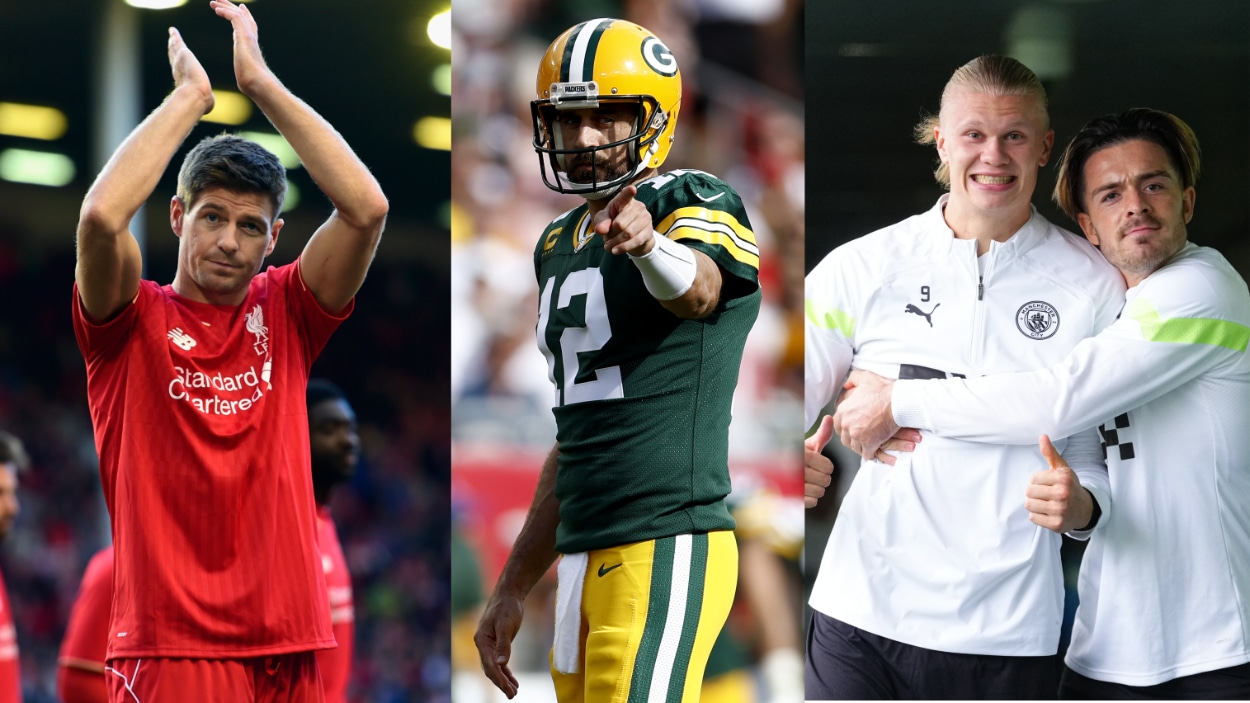 Aaron Rodgers Explains Why He Ditched Liverpool to Become Manchester City Fan
Aaron Rodgers reveals why he is now a Manchester City fan after supporting Liverpool ahead of the Packers' trip to London, England.
Aaron Rodgers and the Green Bay Packers are heading to London in Week 5 to take on the New York Giants. Ahead of the back-to-back NFL MVP's trip across the pond, Rodgers rocked a Manchester City jersey on his regular Tuesday Pat McAfee Show appearance. When Pat McAfee asked the quarterback to explain the history of his English Premier League fandom, Rodgers admitted he once supported Liverpool but jumped ship to become a Manchester City fan after the reigning EPL champs courted the QB.
Aaron Rodgers Manchester City fan
A few days away from his trip to London, Packers QB Aaron Rodgers got in the spirit by rocking the kit (as they say in the UK) of Manchester City on the Pat McAfee Show.
When the host asked the quarterback, "have you always been a Man City fan?" Rodgers responded honestly, "I have not." He then explained the evolution of his Premier League fandom.
"I switched allegiances a little over — I don't know — maybe seven, eight years," Rodgers explained. "I was a fan of this other team that plays in the Premier League, and especially one specific player who ended up coaching in the Premier League after other stops — played for the LA Galaxy. And then Man City started reaching out and sending me a bunch of swag, and I said, 'You know what? All the players I grew up watching on that other team are gone, so I'm going to start pulling for Man City,' and they haven't let me down."
The other club and player that Rodgers was referring to is Liverpool and the Red's all-time great midfielder Steven Gerrard.
The 42-year-old Englishman played in 504 matches for Liverpool from 1998-2015. That match total is the third-most in English soccer history for a single club, only behind fellow Liverpool player Jamie Carragher and Manchester United's Ryan Giggs.
In 2015, Gerrard played one season for MLS's LA Galaxy before returning to Europe to coach. From 2018-2021, the Merseyside native managed Rangers in Scotland before returning to the EPL to coach Aston Villa.
Liverpool and the Packers are similar clubs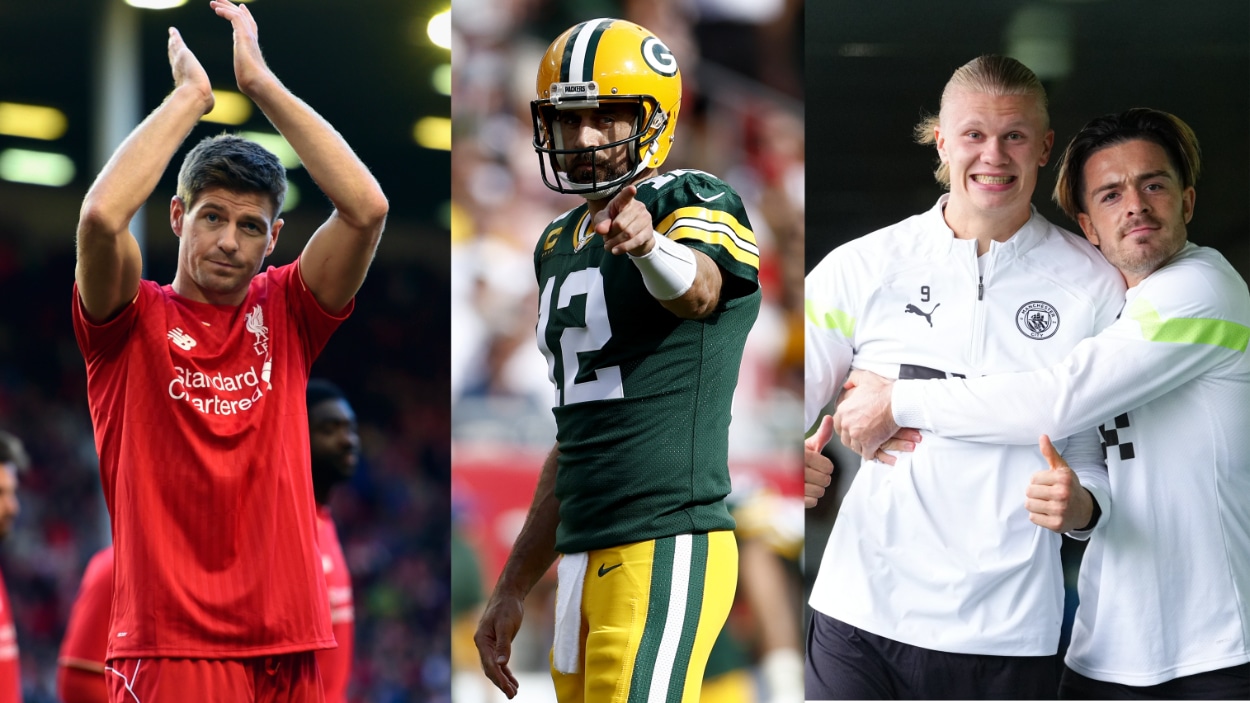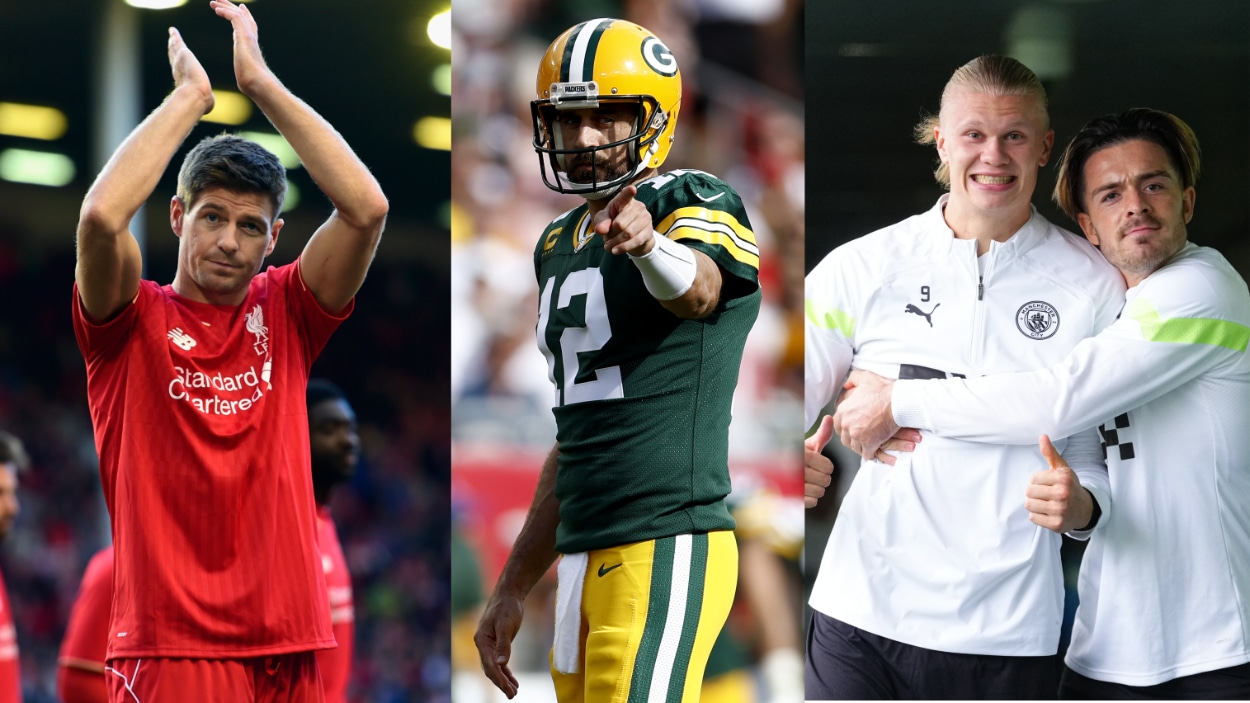 Aaron Rodgers made it clear that he is now a Manchester City fan, but being a Liverpool fan did make sense as a Green Bay Packers player.
There are plenty of great Premier League clubs to root for, but most fans — especially in the United States — support one of the EPL's "Big 6" clubs. These teams have the best players and coaches and are among the most successful and popular soccer franchises in the world.
When comparing Big 6 clubs to NFL teams, there are parallels between Manchester United and the Dallas Cowboys, Arsenal and the Chicago Bears, Tottenham Hotspur and the Minnesota Vikings, and Chelsea and the Baltimore Ravens.
As for Liverpool, the Green Bay Packers are an apt comparison. The team is located in the north of the country in Merseyside, a smaller county than Greater London or Greater Manchester, where the other five top Premier League sides reside.
Also, while Liverpool and Green Bay both have championship success, neither has sustained championship-winning runs in recent years. Plus, both are led by innovative offensive coaches in Matt LaFleur and Jürgen Klopp and mercurial stars who've stayed and won awards — Aaron Rodgers, Mohamed Salah — despite temptation from bigger organizations. 
On the Manchester City side, they are the New England Patriots of the Premier League. For most of its history, Man City was a middling club that turned it all around with the arrival of manager Pep Guardiola and striker Sergio Agüero (see Bill Belichick and Tom Brady). City is now one of the most decorated in Europe over the last decade, and with the arrival of 22-year-old striker Erling Haaland this season, the team could go to another level. 
If you're not an EPL fan yet, like Aaron Rodgers, check out Sportscasting's guide to picking a Premier League club. 
Like Sportscasting on Facebook. Follow us on Twitter @sportscasting19 and subscribe to our YouTube channel.