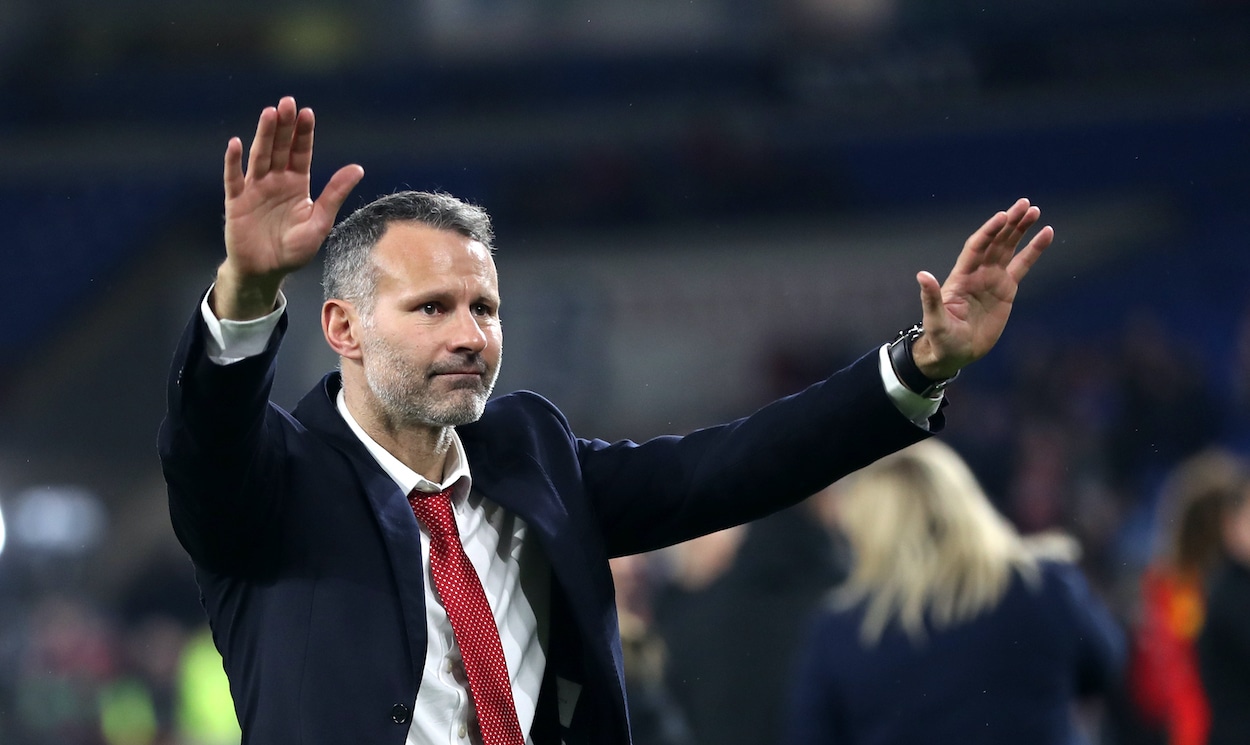 Manchester United Legend Ryan Giggs Won't Manage Wales in 2022 World Cup With Court Date Coming
Ryan Giggs had an iconic career for Manchester United but a looming court case derailed his tenure as Wales manager ahead of the 2022 World Cup.
Wales, the tiny country on the southwest side of Great Britain with a population of just over 3 million, qualified for the 2022 World Cup in Qatar. It is the first time the Welsh will play in the world's biggest soccer tournament since 1958. The Dragons are now back, but they will now head to Qatar in November without their former Manchester United legend manager Ryan Giggs.
Former Manchester United midfielder Ryan Giggs is a Premier League legend
Ryan Giggs played an astonishing 24 seasons for the great Manchester United. He racked up 632 appearances in the Premier League, second all-time only to Gareth Barry's 653. However, Barry did it with four different clubs while Giggs was a Red Devil his whole career.
During his time at United, alongside fellow "Class of '92" players David Beckham, Nicky Butt, Paul Scholes, and Gary and Phil Neville, Giggs helped his club go on one of the greatest runs in European football history.
When the wide midfielder finally hung it up after nearly two-and-a-half decades, his trophy case included 13 Premier League trophies, four FA Cups, three League Cups, and two Champions League medals.
At the end of his career in Manchester, Giggs spent part of a season as interim manager for the club when it fired David Moyes in 2014. Then he assisted Louis van Gaal for the next two seasons.
After that, the Cardiff native took over as manager of his home country's national team in 2018. His goal was to get his homeland to a World Cup, a feat he never achieved in 64 caps for his national team.
Giggs is 'standing down' as manager of the Wales national team
On June 5, 2022, Wales won a European playoff for the final spot in the 2022 World Cup in Qatar. The UK side, led by well-known European players like goalkeeper Wayne Hennessey, midfielder Aaron Ramsey, and winger Gareth Bale beat Ukraine on a 34th-minute own goal by Ukrainian star Andriy Yarmolenko.
It was a massive moment for the country's national football team. However, the squad celebrated the victory without its manager and (arguably) the best player to ever come from the small country.
Ryan Giggs voluntarily took a leave of absence from managing Wales in November 2020. That was after he was "charged with controlling and coercive behaviour and assault against his ex-girlfriend and her sister," per ESPN.
Giggs has pled not guilty and has remained free on bail.
Giggs' will go on trial on August 8, 2022 (pushed back from January 24). After missing both the 2020 Euros (played in 2021 due to COVID-19) and Wales World Cup qualifying run, Giggs announced he's officially stepping down as manager of Wales.
Giggs wrote in a statement:
After much consideration, I am standing down from my position as manager of the Wales men's national team with immediate effect. It has been an honour and a privilege to manage my country, but it is only right that the Wales FA, the coaching staff and the players prepare for the [World Cup] tournament with certainty, clarification and without speculation around the position of their head coach. Through nobody's fault the case has been delayed. I do not want the country's preparations for the World Cup to be affected, destabilised or jeopardised in any way by the continued interest around this case.

Ryan Giggs stepping down as manager of Wales
Giggs' former assistant, Rob Page, has managed the team in Giggs' absence and is currently the team's head coach.
Wales' first 2022 World Cup match is November 22, 2022, vs. the USMNT.
Stats courtesy of PremierLeague.com