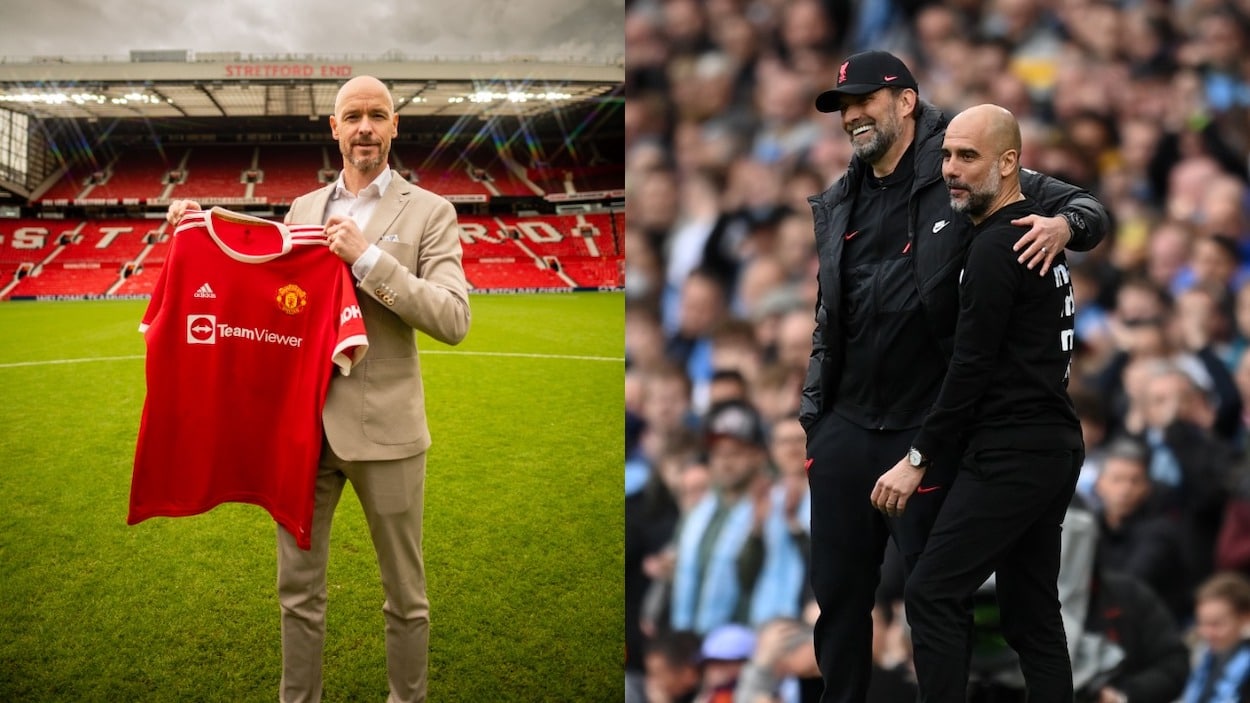 New Manchester United Boss Erik ten Hag Goes Right After Manchester City and Liverpool: 'You Will Always See That an Era Can Come to an End'
Manchester United's new manager Erik ten Hag didn't waste any time putting Liverpool's Jürgen Klopp and Manchester City's Pep Guardiola on notice that he's coming for them.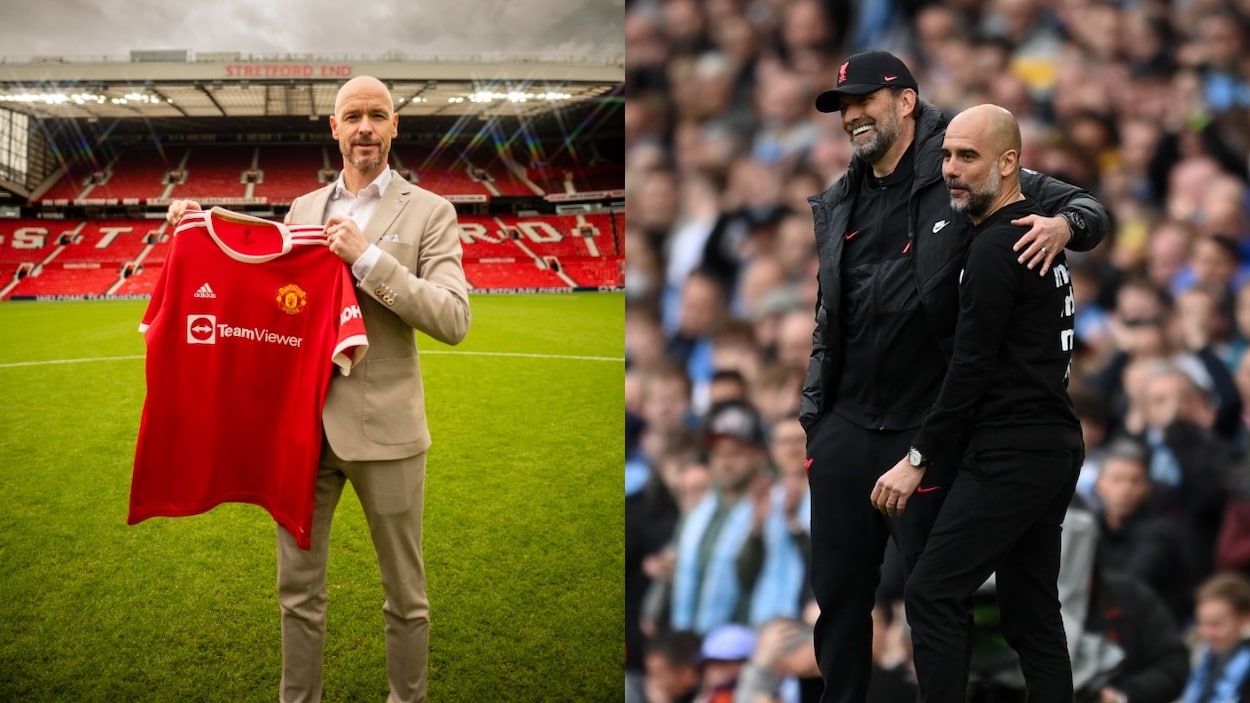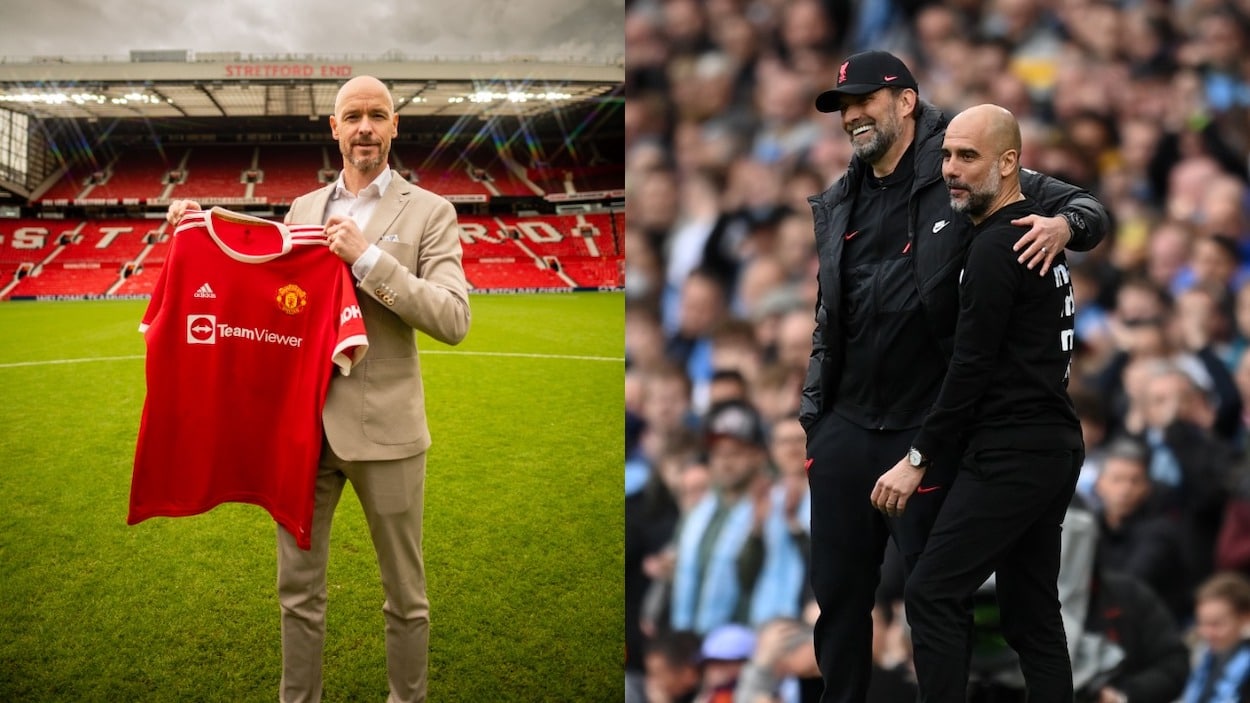 Manchester City and Liverpool dramatically duked it out on the last day of the 2021-22 season for the Premier League title. Meanwhile, the EPL's most famous football team, Manchester United, ended its season with a whimper. The Red Devils lost 1-0 to Crystal Palace to finish a disappointing sixth. Now, it is former Ajax manager Erik ten Hag's job to clean up the mess in Manchester. And he's starting his quest by putting City's Pep Guardiola and Liverpool's Jürgen Klopp on notice. 
Manchester City and Liverpool have dominated the decade, while Manchester United has struggled
On the last day of the 2011-12 season, Manchester City edged its crosstown rival Manchester United for the blue side of Manchester's first Premier League title. Since then, City has ascended to the top of world football while United has been in steep decline. 
Roberto Mancini managed City to that first title, and since then, Manuel Pellegrini won them another, and Pep Guardiola just won his fourth. 
In the last five seasons, the only team to win an EPL trophy other than Guardiola and City is Jürgen Klopp's Liverpool, which won in 2020-21. During that time, the Merseyside squad has also won an FA Cup, a Carabao Cup, a UEFA Champions League title, and is in the UCL Finals once again in 2022 vs. Real Madrid. 
Meanwhile, since that fateful day in 2012, United's legendary manager, Sir Alex Ferguson, retired, and the club's owners, the Glazer Family, have struggled to replace him. 
While Guardiola and Klopp have dominated England, United has hired (and fired) David Moyes, Ryan Giggs, Louis van Gaal, José Mourinho, Ole Gunnar Solskjær, Michael Carrick, and Ralf Rangnik. 
Now, tapping its ninth manager in 10 years, Manchester United turns to Ajax's Erik ten Hag to right the ship. 
While United fans don't yet know if Ten Hag is the right man for the job, the 52-year-old Dutch manager is already talking the talk, going right after Guardiola and Klopp. 
Ten Hag says he's looking to end Manchester City and Liverpool's run of dominance
During his first press conference as the manager of Manchester United, Erik ten Hag discussed a wide range of topics. This included his thoughts on the two most dominant clubs in England at the moment, Liverpool and Manchester City. 
Ten Hag praised both clubs for what they've accomplished recently. However, also said he plans to end their run of success: 
In this moment, I admire them. I admire them both. They play — in this moment — really fantastic football, Liverpool and Man City. But you will always see that an era can come to an end. And I'm looking forward to battling them. 

Manchester United manager Erik ten Hag on Manchester City and Liverpool
In order to back those words up and unseat Jürgen Klopp and Pep Guardiola at the head of the Premier League table, Ten Hag will have to do two things that previous managers haven't been able to do on the red side of Manchester. 
First, he needs to play a modern, offensive style that can compete with Guardiola's tiki-taka and Klopp's heavy metal football. Second, he'll need to bring in the right players to do so. This also means getting rid of players who can't. 
What Manchester United fans can expect from Erik ten Hag
When asked about what style of play he'd bring to Manchester United, Erik ten Hag simply responded, "Maybe you have seen Ajax?"
The interesting thing about how Ajax played under Ten Hag is that it is a fascinating mix of Pep Guardiola and Jürgen Klopp tactics. The Dutch coach generally sets up in a 4-3-3 like both the Manchester City and Liverpool managers do.  
Offensively, the system is heavily influenced by Guardiola, whose style is heavily influenced by Ten Hag's legendary countryman, Johan Cruyff, and the former Barcelona manager's "total football" style. This means a possession-based style with an emphasis on proper spacing and fullbacks who can play outside or centrally.
On defense, the team plays a gegenpressing style that resembles Klopp's system. This means that Ten Hag will have United aggressively pressing opponents deep in their own half.
The question is, does Ten Hag have the players at Manchester United now to implement this style?
United has a lot of young players like Marcus Rashford, Jadon Sancho, Mason Greenwood, Diogo Dalot, Anthony Elanga, and Scott McTominay. This crew should fit well and are young enough to develop into the system if they don't right away.
As far as the veterans go, guys like Bruno Fernandes and Alex Telles should do well in Ten Hag's 4-3-3. Others, like Luke Shaw, Phil Jones, and maybe even goalkeeper David de Gea, may not.
The biggest question is, can the Dutch coach make one of the greatest players of all time, Cristiano Ronaldo, work with these tactics?
We'll get our first hint at the answer this summer if United keeps or deals its megastar.
Like Sportscasting on Facebook. Follow us on Twitter @sportscasting19 and subscribe to our YouTube channel.