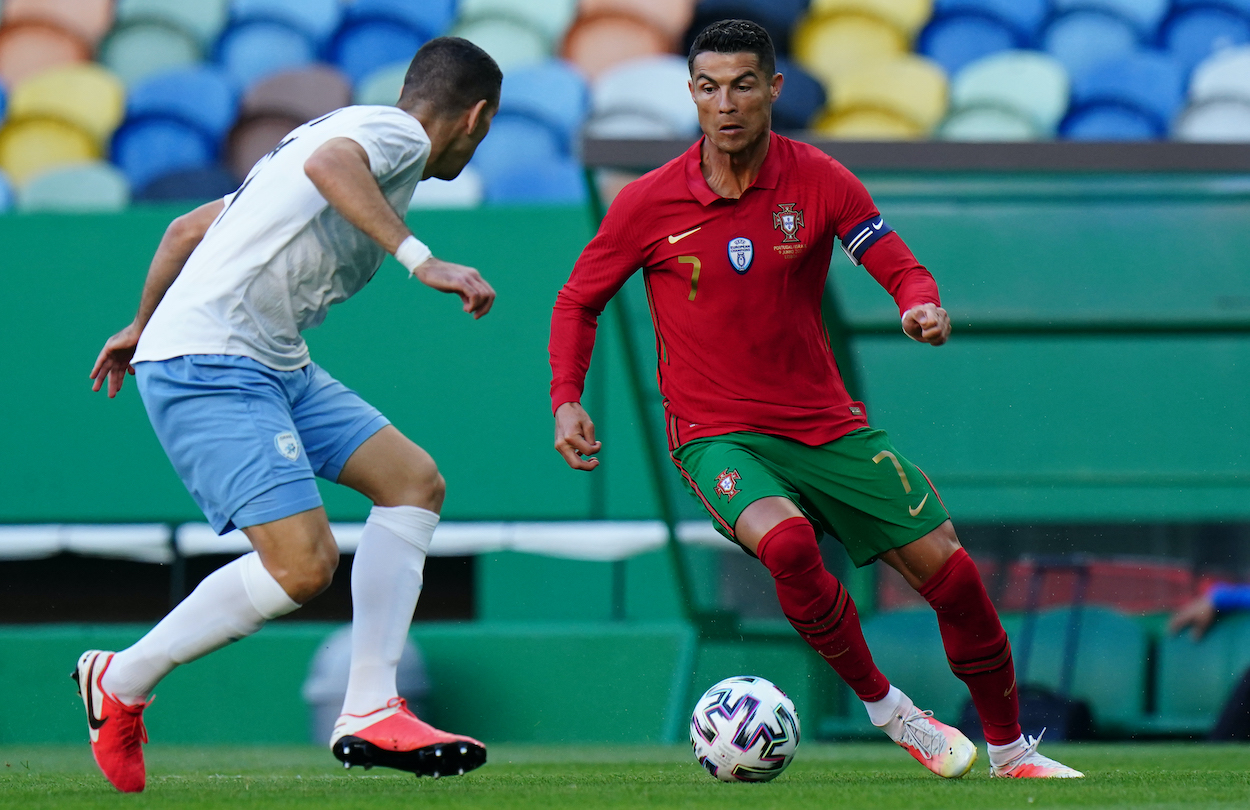 Who Can Be the Next Cristiano Ronaldo?
The UEFA Euro 2020 tournament (which is now UEFA Euro 2021) has everyone asking, who can be the next Cristiano Ronaldo? There are a few potential answers playing in the tournament. They include France's Kylian Mbappe, England's Phil Foden, and Ronaldo's young Portugese teammate, Joao Felix who will help Ronaldo try to defend Portugal's title.
UEFA Euro 2020 (which is actually the UEFA Euros 2021 since last summer's tournament was rescheduled due to COVID-19) is upon us. The world's attention turns to soccer during these big, prestigious international tournaments, and questions arise from casual fans such as, "who can be the next Cristiano Ronaldo?"
Ronaldo is a unique soccer player and a unique athlete. He is one of the greatest to ever play the game and possibly the biggest off-field celebrity soccer has ever seen. Ronaldo's Instagram page is the most followed account in the world.  
At 36, though, UEFA Euro 2020 may be one of his last major international tournaments for Portugal, which is why it is essential to ask, who is the next Ronaldo?
Why is Cristiano Ronaldo considered the GOAT? 
Unlike basketball, where Michel Jordan is the undisputed greatest of all time (sorry, LeBron James fans), the GOAT answer in soccer isn't as clear-cut.
There is a shortlist, though, and the 6-foot-1 Portuguese forward is absolutely on it.
The list includes mostly South American players. Argentina's Diego Maradona and Lionel Messi and Brazil's Pele and Ronaldo (no relation) can all make their case for being the greatest to ever lace up the boots.
The argument for Cristiano Ronaldo being considered the GOAT is that he is the greatest goal scorer of all time. Although Pele may disagree, Cristiano Ronaldo's 778 goals in professional and international competition eclipse Pele's 757 and Messi's 744.
Cristiano Ronaldo has an even stronger case for being the best European soccer player of all time.  
Candidates for Europe's GOAT include the Netherlands' Johan Cruyff, Germany's Franz Beckenbauer, and France legend – and Cristiano Ronaldo's former manager at Real Madrid – Zinedine Zidane.
Because Beckenbauer was a defender, and Cruyff and Zidane primarily played midfield, they didn't put the ball in the back of the net like the Portuguese star does. Also, none of them can match Cristiano Ronaldo's five FIFA Ballon d'Or awards for the world's best player. Cruyff has three (1971, 1973, 1974), Beckenbauer has two (1972, 1976), and Zidane has one (1998).
Who can be the next Cristiano Ronaldo?
With Cristiano Ronaldo getting up there in age, UEFA Euro 2020 is the perfect time to ask, who is the next Cristiano Ronaldo? Who should the world be watching? Who should be the player you look for on a Panini Euro 2020 sticker or card?
There are three young players to watch in this year's Euro soccer cup tournament who could make the leap to at least near-Ronaldo status.
France's Kylian Mbappe is the number one choice. The 22-year-old Paris Saint-Germain star can play either wing or striker like Cristiano Ronaldo can, and already has 179 career goals and the 2018 World Cup trophy under his belt. France is again a favorite in Euro 2020, and Mbappe should play a big part.
He could also end up being Cristiano Ronaldo's professional teammate soon if the recent Ronaldo to PSG rumor is true.
England's Phil Foden, 21, is another candidate, although Messi or Cruyff is a more apt comparison for him. He's already learned under Messi's former manager Pep Guardiola, and Euro 2020 could be his arrival on the international stage.
Finally, there is Cristiano Ronaldo's countryman, 21-year-old Joao Felix. The young Atletico Madrid star grew up idolizing Cristiano Ronaldo and now, in the 2021 Euro cup, could lineup right next to him. If this happens, the comparisons will be inevitable.
Can Portugal win UEFA Euro 2020? 
Portugal is the defending European champion, having won UEFA Euro 2016. Defending their title will be incredibly difficult, but it is possible.
The westernmost European nation faces stiff competition from the defending World Cup champs France and the FIFA number one team in Belgium. England, Germany, Italy, Spain, and Croatia also have the talent needed to take home the trophy.
Cristiano Ronaldo will have to play to GOAT level to win the tournament, but he won't have to do it all himself. Portugal has a great mix of young, emerging stars and hardened veterans, which will make them a tough out in the tournament.
In addition to Felix, keep an eye on Manchester City's Bernardo Silva, Joao Cancelo, and Ruben Dias, Liverpool's Diogo Jota, Manchester United's Bruno Fernandes, and Renato Sanches from LOSC Lille. These members of Cristiano Ronaldo's supporting cast could play a key role in propelling the team to another Euro soccer victory.
All stats courtesy of Transfermrkt