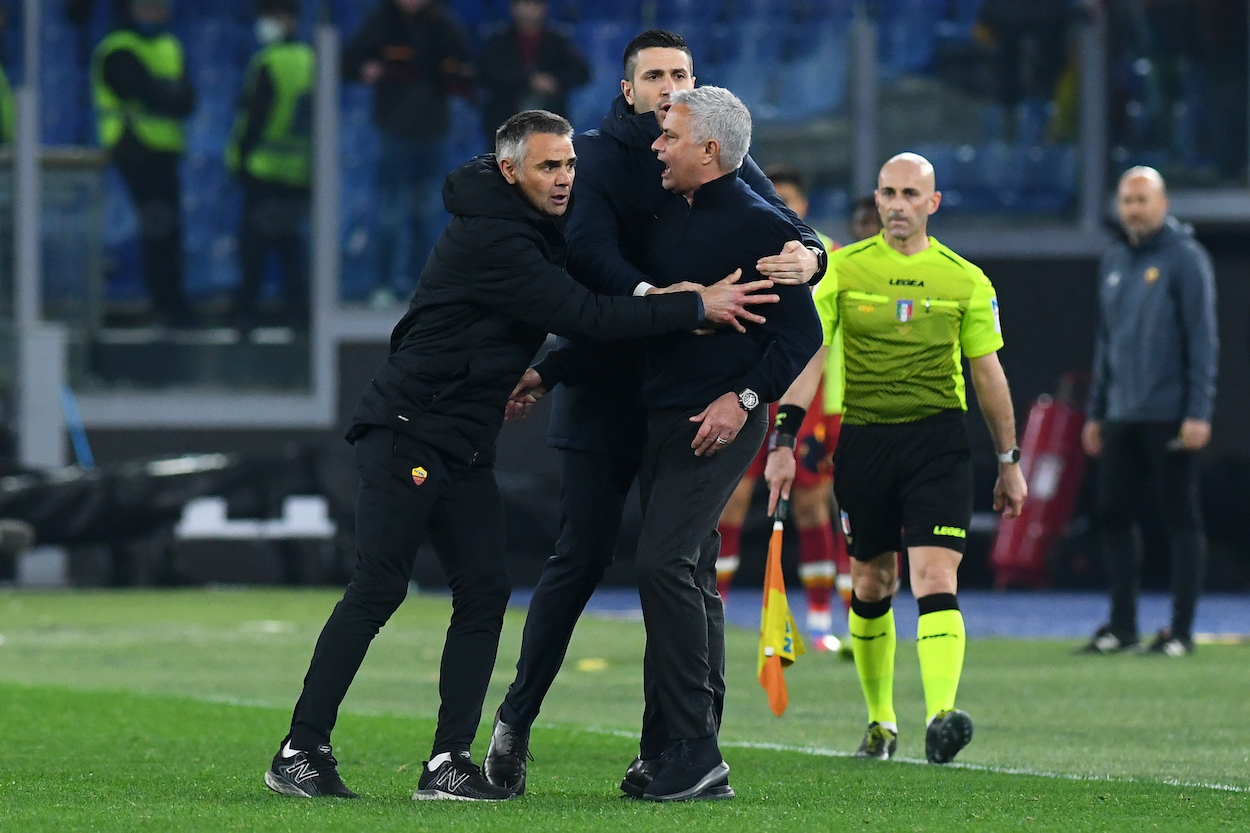 Jose Mourinho Loses It on Referee: 'Juve Sent You!'
Roma manager Jose Mourinho had a major meltdown on the sidelines and now may have to bring back a club legend to help smooth things over.
Roma manager Jose Mourinho's antics, both on and off the pitch, are well known in the soccer world. During previous stops at some of the world's biggest clubs, Mourinho has taken on players, coaches, owners, the media, and, of course, referees.
Amidst a challenging first season at Roma in Italy, the longtime coach snapped and had a classic Mourinho meltdown against Verona. Getting a red card during a crucial game while trying to qualify for the Champions League is not a good look for the "Special One."
Now there are rumors he's bringing back a club legend to try and smooth things over.
Jose Mourinho has always been volatile 
Portuguese manager Jose Mourinho has led some of the best and most prominent clubs in all of European Football. This list includes Porto, Chelsea (twice), Inter Milan, Real Madrid, Manchester United, and Tottenham Hotspur.
Along the way, he brought his hard-nosed defensive style — and challenging personality and managerial style — to each stop.
In his introductory press conference with Chelsea in 2004, Mourinho made his famous proclamation that created his persona and nickname.
"Again, please don't call me arrogant because what I'm saying is true," Mourinho told the press. "I'm European champion. So, I'm not one of the bottle. I think I'm a special one."
The "Special One" has certainly won a lot of games and trophies in his time. However, he's had some unfortunate moments as well. He's clashed with superstar players like Iker Casillas at Real Madrid and Paul Pogba at United. Mourinho verbally attacked his female team doctor, Eva Carneiro, and got into a shoving match with former Arsenal manager Arsene Wenger.
In 2005, Mourinho received a Champions League suspension for criticizing referees and Barcelona manager Frank Rijkaard. He then snuck into his Chelsea team's locker room in a laundry basket to give a pregame pep talk before the next match.
Mourinho is an excellent manager but highly unpredictable. That's why his meltdown on the Roma sideline is shocking, but by no means surprising.
Mourinho had a meltdown and received a red card
After a turbulent stint with Tottenham Hotspur, Jose Mourinho took over the manager role at Serie A club Roma. The historic Italian organization is currently 12-9-5 with 41 points. That puts the team in eighth place, outside Europa and Champions League spots for next season.
In a match vs. the ninth-place side, Verona, Roma fell down by two goals but would come back to rescue a point in a 2-2 draw.
Near the end of the game, Mourinho got into it with referee Luca Pairetto. The manager grabbed the ball and punted it, according to the Daily Mail, drawing a red card. The antics from the sideline continued, as assistants had to hold Mourinho back. He also made a phone call gesture, referring to the referee's father, who was at the center of a phone call-based refereeing scandal in Italian football in 2006.
He even accused Pairetto of being in cahoots with the biggest team in Italy, Juventus. Translated reports quote the manager as yelling, "They sent you on purpose… Juve sent you!"
After his outburst, Mourinho received a two-game suspension.
Is Francesco Totti coming back to Roma?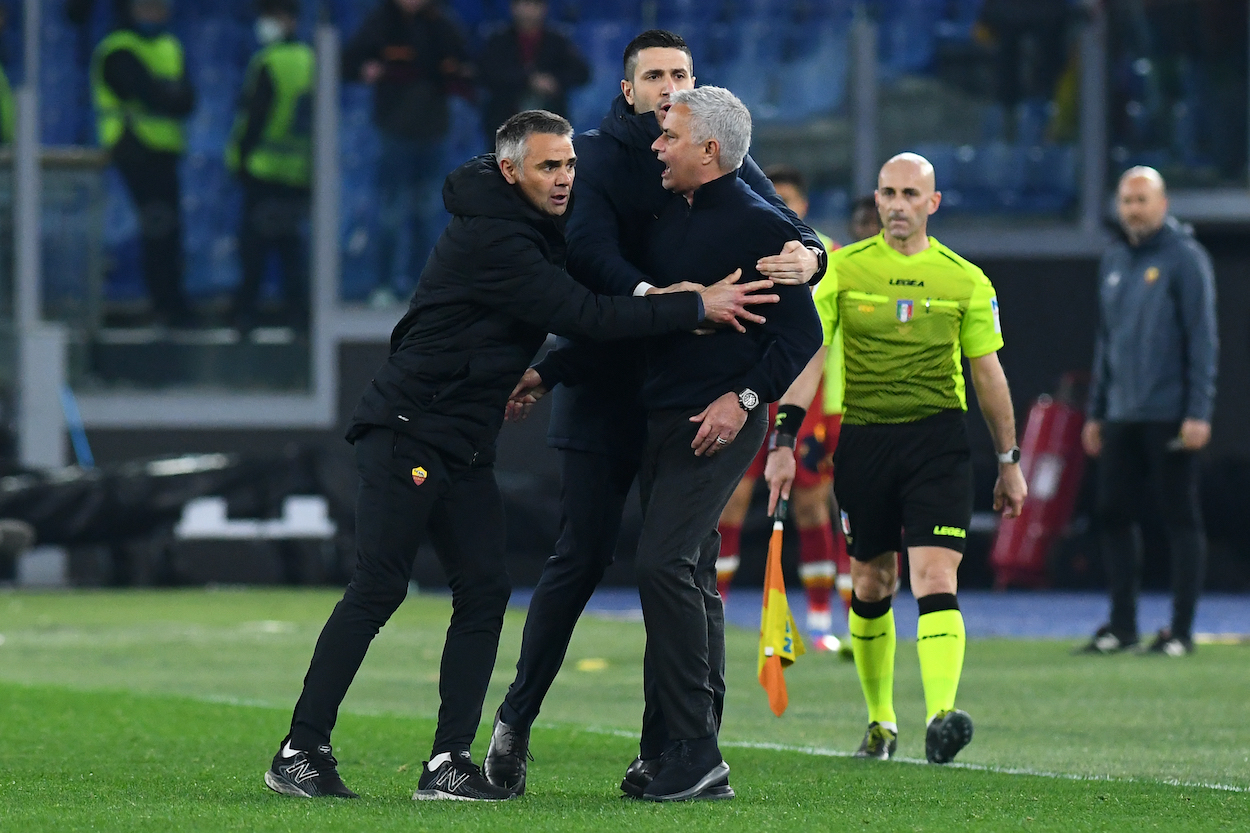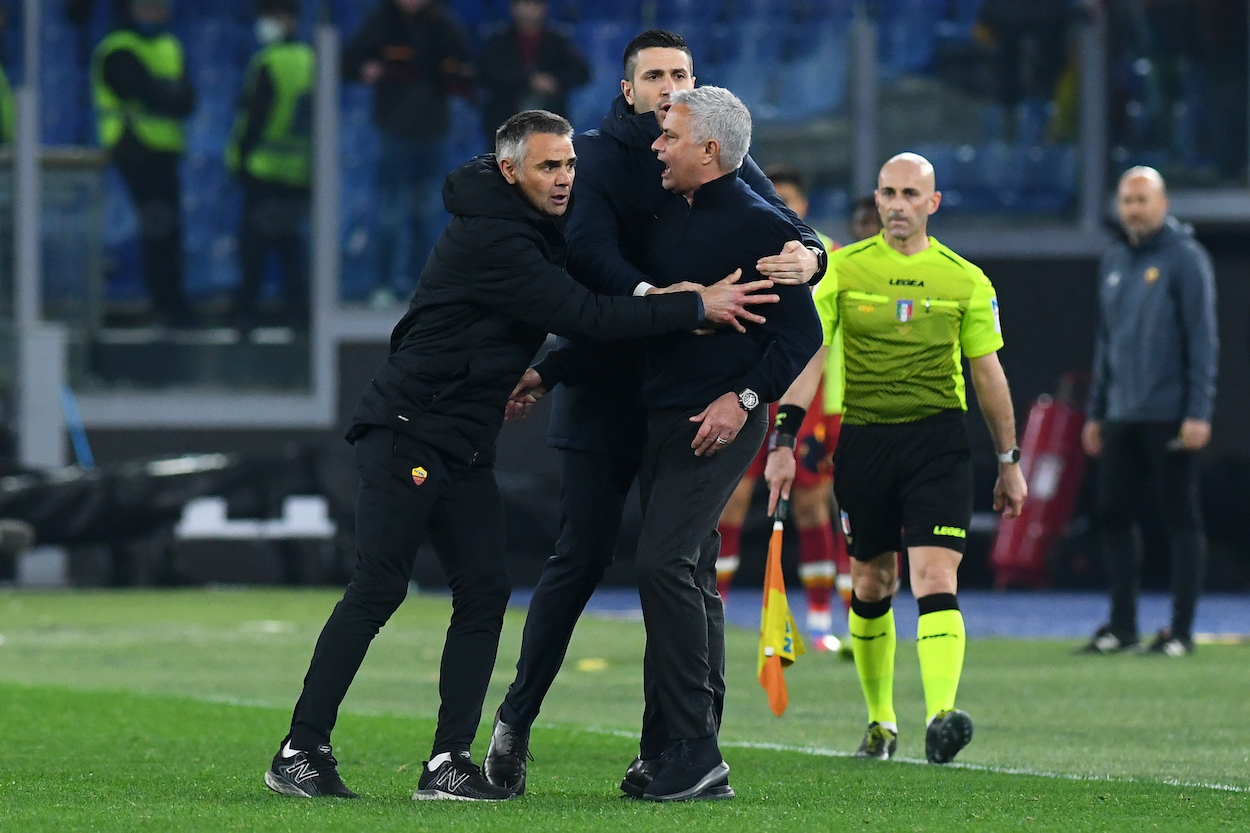 With turmoil swarming around the Stadio Olimpico, fans and club legends, including former Italian National Team and Roma striker Antonio Cassano, are criticizing the Portuguese manager.
To help smooth things over, former Roma star and club director Francesco Totti might be returning to the organization (h/t the Mirror). Totti retired from soccer in 2017 and took an executive role with the team he appeared in 619 games for. In 2019, he fell out with the ownership group and resigned from the position.  
American billionaire Dan Friedkin bought Roma and hired Jose Mourinho a year later. Now, with new ownership and Mourinho in place, there's a clear path for Totti to return in some capacity.
The former Italy forward shares "a strong mutual respect" with the "Special One," and bringing the icon back into the fold might help quell some of the criticism from the supporters and Totti's former teammates like Cassano.
Now, if Mourinho can just avoid more sideline meltdowns, Roma might have a chance of qualifying for a big European tournament next season.
Like Sportscasting on Facebook. Follow us on Twitter @sportscasting19