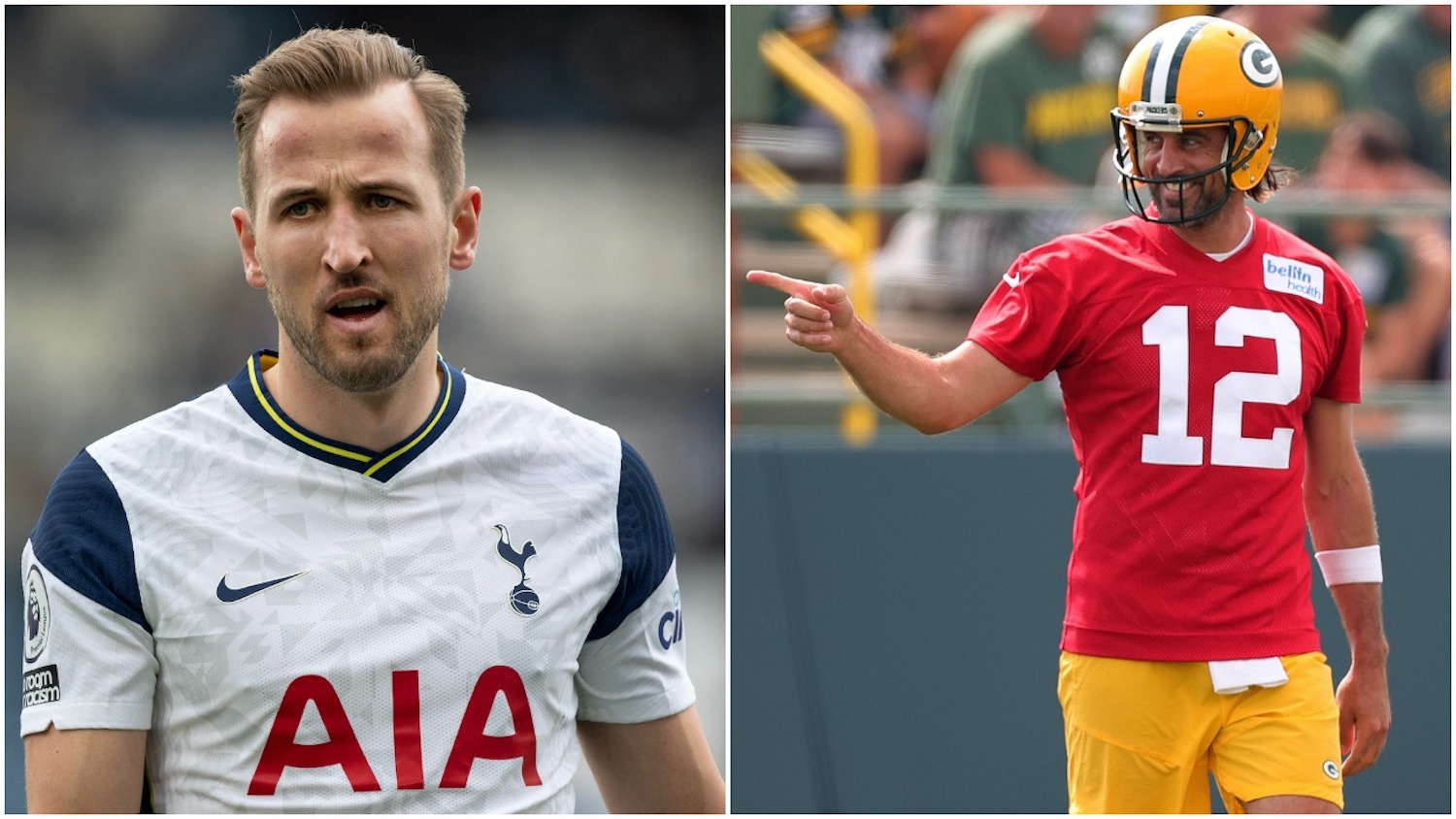 Harry Kane Just Took a Page From Aaron Rodgers' Playbook in the Hopes of Securing a $140 Million-Plus Move
Harry Kane may play soccer, but he's taking a page out of the American football playbook in the hopes of winning a trophy.
While he's found fame and fortune playing soccer, Tottenham Hotspur striker Harry Kane has mused about trying his hand at American football. Although a move across the pond isn't on the cards just yet, the England international has seemingly learned a thing or two from Aaron Rodgers.
For all of Kane's individual success, he's yet to win a trophy during his professional career. The easiest way to accomplish that goal, it seems, is to move north to Manchester, but there's an obvious problem: Spurs don't want to sell their star player. With that obstacle looming large, the striker has taken a page from Rodgers' playbook and has refused to report for training.
Harry Kane seems to have his heart set on a big-money move to Manchester City
Ever since he broke into the first team during the 2014-15 campaign, Harry Kane has carried Tottenham on his back. This summer, though, the burden seems to have become more trouble than it's worth.
To put it simply, the striker has been prolific for club and country, scoring 213 goals for Spurs in all competitions and adding another 38 for England. While that's brought him plenty of individual honors, there's also an element of misfortune there. Both the Lilywhites and the Three Lions are mired in trophy droughts, leaving Kane without any of the major titles that can elevate a player from a star to a living legend.
With age and injuries looming in the background — the striker turned 28 during the summer and has suffered through some ankle issues while playing an incredible amount of football — and Tottenham falling out of the Champions League, it seems like the time for change has arrived. Kane has been linked to Manchester City this summer, with The Athletic reporting that the Sky Blues "made Tottenham a player-plus-cash offer in June that was worth in the region of £100 million [roughly $140 million." Spurs, for their part, expect a transfer fee somewhere in the neighborhood of £100 million, or around $210 million.
Kane now seems prepared to push the issue. After taking his holiday following Euro 2020, the star striker didn't report to Spurs training on August 2. He was also a no-show on August 3, suggesting that he's trying to draw a line in the sand.
Aaron Rogers threatened to leave the Green Bay Packers and essentially got what he wanted
For American soccer fans, Kane's power play will ring a bell. The early days of the 2021 NFL season were dominated by Aaron Rodgers engaging in a similar standoff with his employer.
Without religiating the entire situation, Rodgers seems to have felt like the Packers didn't afford him the proper respect and decided that he wouldn't play for the organization again. Green Bay was understandably hesitant to trade their star player, choosing to stand pact and essentially dare the quarterback to retire. In the end, though, the two parties seem to have found some common ground.
As reported by Adam Schefter, Rodgers will return to Wisconsin this season and take his place back under center. After the 2021 campaign comes to a close, though, the Packers will apparently help him move to greener pastures.
No matter what route Tottenham takes with Harry Kane, the club is in a risky situation
While the Aaron Rodgers situation resolved itself relatively painlessly, Tottenham still has a long way to go before finding a resolution. No matter how chairman Daniel Levy handles Harry Kane — previous experience suggests that he'll stand firm during any negotiations — Spurs are facing a sticky situation.
If the club decides against selling, they'll be betting on Kane's professionalism and hoping that he eventually reports for duty without causing an issue. While there's no telling what the striker would do in that situation — every athlete wants to play when push comes to shove — Spurs have to be 1000% sure that their talisman won't call their bluff and sit out. Not only would that be disastrous from an on-field perspective, but it would quickly devolve into a festering mess. Just look, for example, at what happened across North London once Mesut Ozil was deemed surplus to requirements.
On the other side of the coin, selling Kane doesn't immediately solve the problem. As Spurs supporters will know from first-hand experience, having a massive amount of cash isn't always a recipe for a successful transfer window; one only needs to recall the summer after Gareth Bale left for Real Madrid as proof of that reality. While $140 million-plus would provide plenty of wiggle room, especially in a COVID-19-affected market, there's always a risk of going into the market when the entire world knows that you both need to buy and have plenty of cash on hand.
At this point, though, it's not clear how the Harry Kane saga will play out. While it may feel like the new season is right around the corner (because it is), there's still plenty of time left before the transfer window closes. If Aaron Rodgers has taught us anything, it's that there's always another twist in the tale.
Stats courtesy of FB-Reference