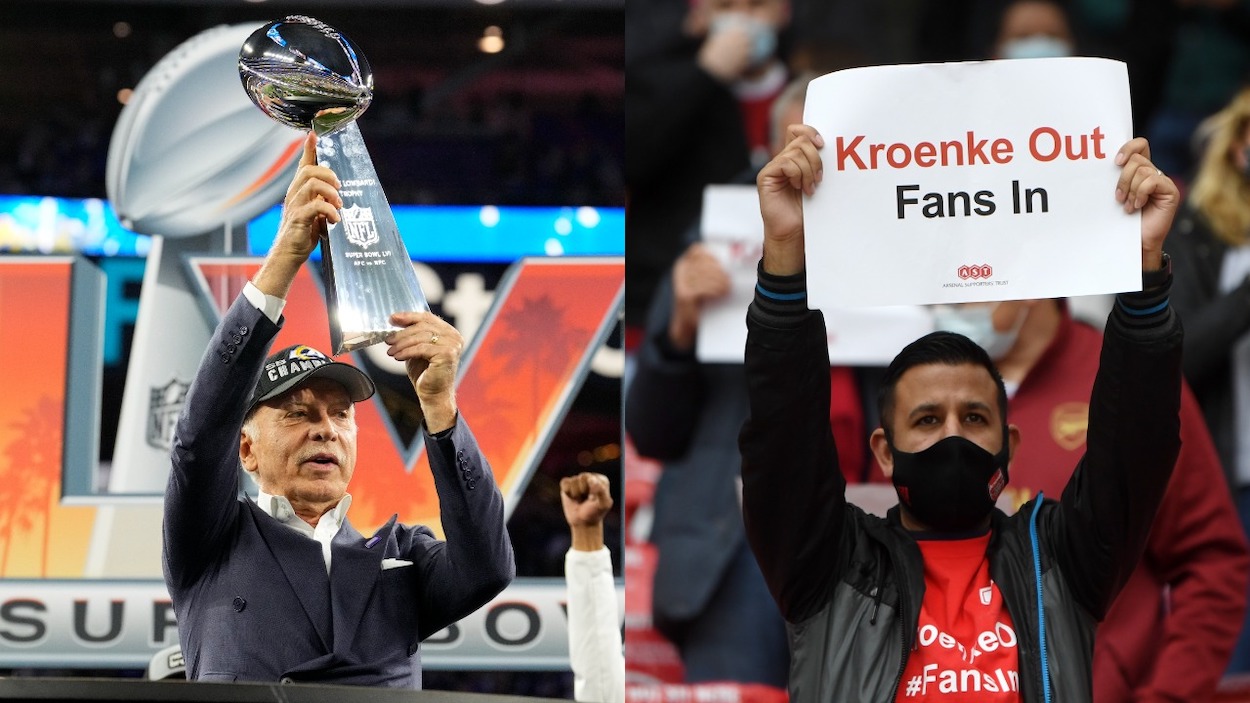 LA Rams Owner Stan Kroenke Gets Crushed by Arsenal Fans After Winning Super Bowl
Stan Kroenke's LA Rams won the Super Bowl, but that just made the fans of another club he owns, Arsenal, more upset with him.
Los Angeles Rams owner Stan Kroenke built a beautiful $5 billion-plus stadium in LA to bring a team and a Super Bowl to the second-biggest city in the U.S. Then, he signed off on trading away draft picks and giving out big contracts to build a football team that could win a Lombardi Trophy. While this thrilled Rams fans, it also infuriated Arsenal fans.
In addition to the Rams, Kroenke owns the English Premier League team, Arsenal. The club's fans saw the investment the American businessman made to win a trophy in the NFL and took the opportunity to demand the same for their beloved London-based soccer team.
Stan Kroenke (and family) owns several sports franchises
Stan Kroenke is worth approximately $10.5 billion, according to Forbes. He primarily made his money through real estate ventures and currently owns 60 million square feet of real estate. Much of Kroenke's real estate holdings are plazas connected to Walmart stores.
Why Walmart?
Because in 1974, he married a woman named Ann Walton, who happens to be the daughter of a Walmart co-founder. Kroenke's wife is reportedly worth $62.3 billion.
Kroenke bought in the Rams franchise as a minority partner in 1995. One of his first moves was to help the team move from LA to St. Louis, in Kroenke's home state of Missouri. In 2010, he became the full owner of the team, and, five years later, moved the franchise back to California.
In 2000, while still a minority owner of the Rams, Kroenke bought the NHL's Colorado Avalanche and NBA's Denver Nuggets. The NFL doesn't allow its owners to own teams in other North American sports leagues. So, in 2010, Stan handed control of the hockey and basketball teams over to his son Josh. He also transferred ownership into his wife's name.
Stan continued to build his sports empire in 2004, expanding into soccer by buying the MLS's Colorado Rapids. He made an even bigger move in the sport in 2007 when he bought into Arsenal, one of the biggest and most historically successful clubs in English soccer. Over the next decade, Kroenke increased his ownership percentage and control within the soccer club. He became the full owner in 2018.
Most Arsenal fans aren't big fans of the Kroenke family, especially after Stan led a failed bid to create a European Super League in soccer. This league would have effectively killed the Premier League, which infuriated British supporters.
Now, after his Rams won a Super Bowl on the heels of massive investment, the Brits are even more upset.
Arsenal fans want Kroenke to spend more money
As Roger Goodell was presenting Stan Kroenke with the Lombardi Trophy, fans of Arsenal were demanding the owner's (English) football club get the same level of investment that his (American) football club does.
Arsenal fans took to social media to call Kroenke out following his big Super Bowl win, according to the Daily Mail.
Gunners supporters (as Arsenal fans are called) lamented the perceived lack of spending on the English side. They posted that Kroenke seems to care much more about his American sports properties than Arsenal. One Twitter user summed up many fans' feelings saying that if Kroenke invested half as much money in Arsenal as he did in the Rams, they'd be holding up a trophy this year too.
While this perception is based in reality, especially in the last few years, it does seem like Stan and Josh Kroenke are starting to invest more time and money in the soccer club.
The club has chosen a former Arsenal player Mikel Arteta as their manager and, with a nice blend of youth and veterans, he has the team pointed in the right direction this season. They're currently in sixth place in the EPL but are in an excellent position to make the top four.
The Kroenke's also approved nearly $200 million in transfer spending last offseason. This amount is the most in all of European football during that period.
Arsenal is a historic franchise that hasn't flourished under American ownership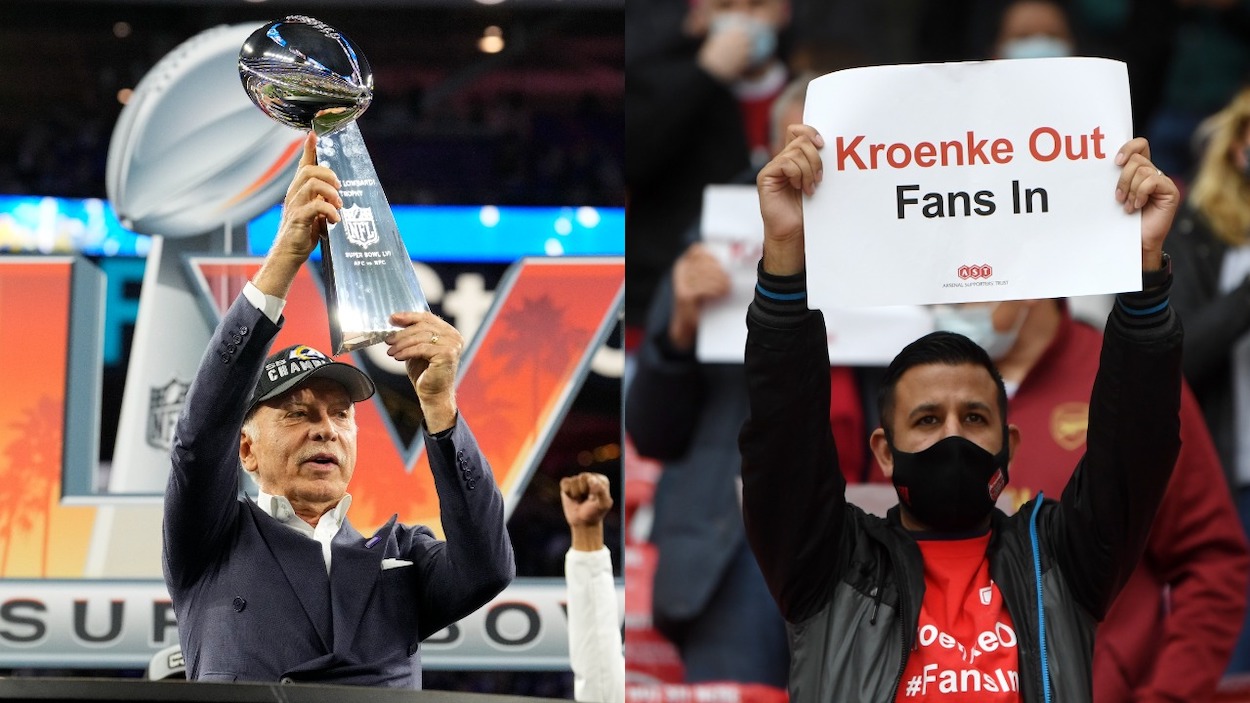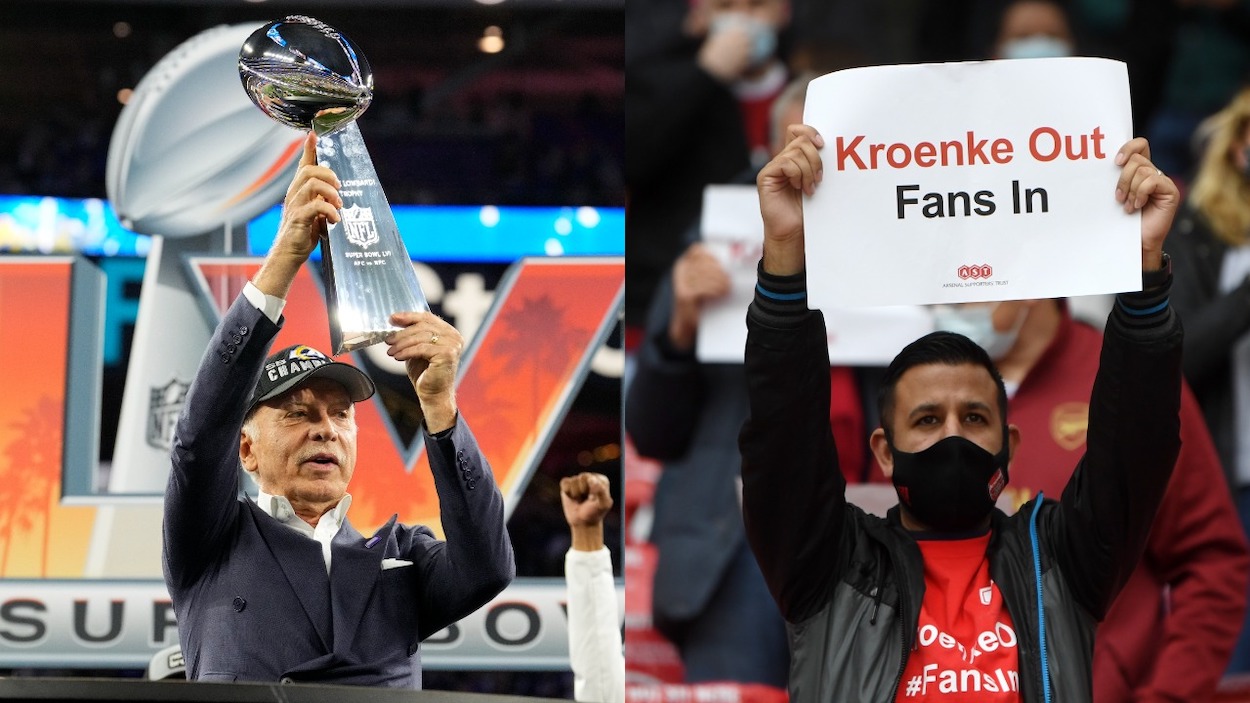 Arsenal is a 135-year-old football club based on the North side of London. The club has won the Premier League (and its previous incarnations) 13 times and a European Cup (now Champions League) in 1994. The team has also won a record 14 FA Cups and two League Cups.
The club's heyday happened under French manager Arsene Wanger, who led Arsenal from 1996 to 2018. Wanger presided over three league-winning sides and brought seven FA Cups to North London.
Wanger's 2003-04 Arsenal team is one of the most famous squads in Premier League history. The group is known by the nickname "The Invincibles." This team went through that season, producing 26 wins, 12 draws, and zero losses. The roster included many international stars such as Sol Campbell, Kolo Toure, Ashley Cole, Patrick Vieira, Dennis Bergkamp, and Thierry Henry.
However, since Stan Kroenke took over, the club hasn't found much success. The Wanger Era ended with a whimper, and the team hasn't been in the mix for a Premier League title since 2015-16. They also haven't played in the Champions League since the season after that in 2016-17.
Add in the fact that the elder Kroenke reportedly hasn't visited his English team since 2018 while investing billions in his NFL organization, and, understandably, Arsenal fans are upset.
That said, now that Stan, Ann, and Josh have a Lombardi Trophy, maybe they'll redouble their efforts to bring some soccer silverware back to the Emirates Stadium.
Like Sportscasting on Facebook. Follow us on Twitter @sportscasting19