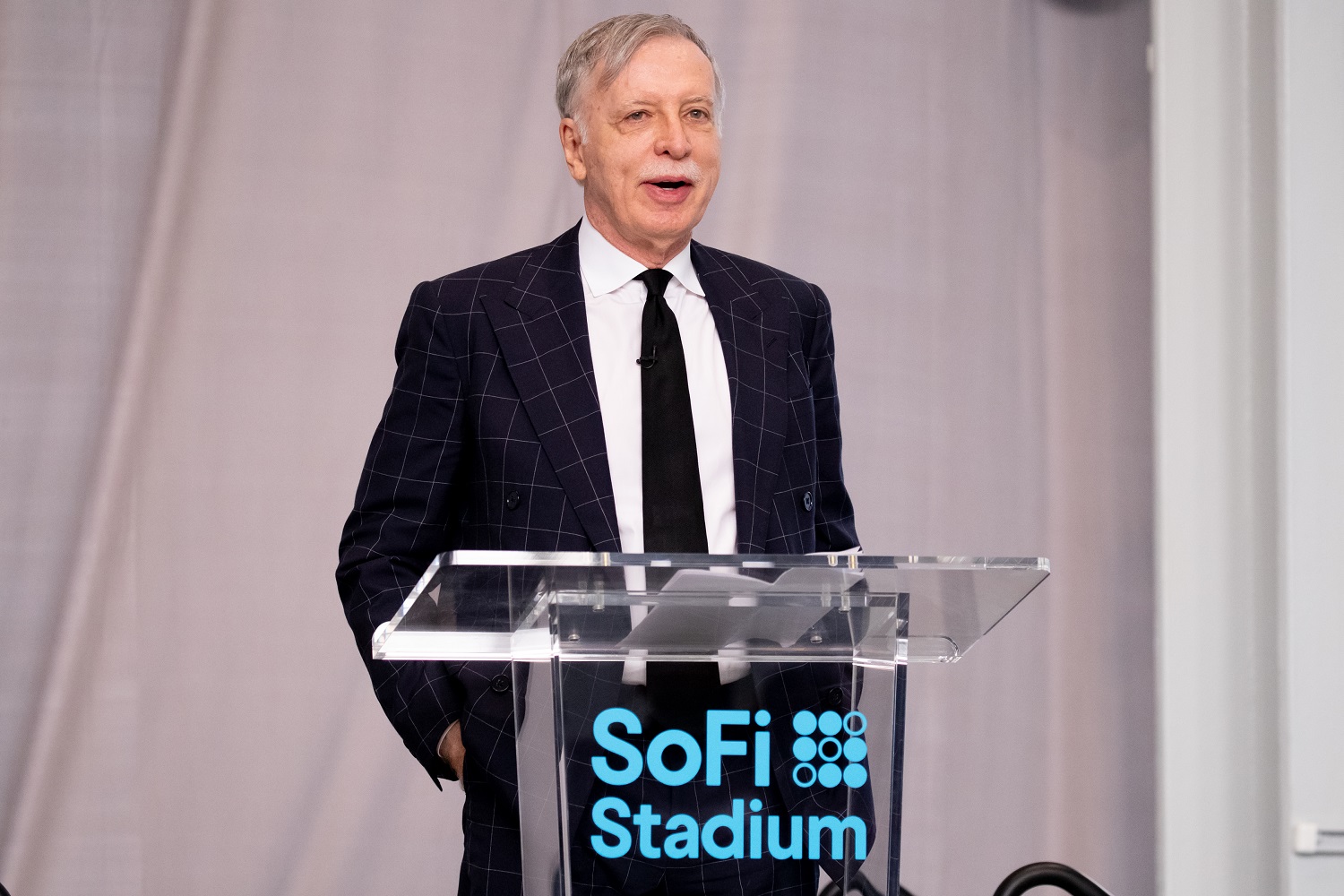 LA Rams Owner Stan Kroenke Is so Rich That He Just Turned Down an Easy $2.55 Billion
Stan Kroenke owns a large and diverse list of sports franchises. He just turned down a $2.55 billion bid for Arsenal in the English Premier League.
Jerry Jones' approach to business works well: If you're only going to own one team, let it be the Dallas Cowboys, the world's most valuable franchise. Stan Kroenke has become a collector of teams, including the Los Angeles Rams, and he's not keen on letting go – even in the face of critics begging him to do so.
Kroenke, whose menagerie also includes the Denver Nuggets and Colorado Avalanche, has just turned down $2.55 billion to surrender control of one of the most famous names in sports.
Kroenke Sports and Entertainment is huge
Stan Kroenke founded Kroenke Sports and Entertainment in 1999 as a precursor to buying the Denver Nuggets (NBA) and Colorado Avalanche (NHL) the following year. In 2004, KSE added the Colorado Rapids (MLS) and Colorado Mammoth, an indoor lacrosse team.
But those were just bits on the hors d'oeuvre tray. In 2010, Kroenke bought out Georgia Frontiere's controlling interest in the St. Louis Rams, whom he would eventually relocate to Los Angeles. In 2011, after several years of buying shares of Arsenal of the English Premier League, Kroenke acquired a controlling interest. By 2018, he owned the historic soccer club in full.
The combined empire is impressive. While Forbes ranks the Cowboys No. 1 in the world with a value of $5.7 billion, the Rams come in 13th at $4 billion, and Arsenal is 38th at $2.8 billion.
Throw in his interests in the other teams – he has had to offload his majority stakes to satisfy NFL rules — and his real-estate ventures and Kroenke's net worth is $8.2 billion.
The Rams' owner just rejected a $2.55 billion offer for Arsenal
The list of people in the world who could say, "Thank you, but I already have enough money" in the face of a $2.55 billion offer is small. Nevertheless, that is essentially what Kroenke told Daniel Ek over the weekend. Ek, the CEO of Spotify, confirmed the unsuccessful offer for a takeover of Arsenal.
According to Front Office Sports, Ek was collaborating with Thierry Henry, Patrick Vieira, and Dennis Bergkamp, three of the Arsenal club's all-time greats. Ek is the money man in the group, with his 9% stake in Spotify contributing to a net worth of $4.8 billion.
Of course, context is important here. The Swedish businessman was trying to buy out someone who isn't even the richest person in his family. Kroenke married Ann Walton in 1974, and the heiress to the Walmart fortune has a net worth of $8.9 billion.
Why the sudden interest in Arsenal?
With just two matches left in the season, Arsenal sits 10th in the English Premier League, continuing the string of disappointing showings. Arsenal has not won the league since 2004.
Like the Glazer family (Manchester United) and John Henry (Liverpool), Kroenke has never enjoyed wholehearted support of a fan base suspicious of the intent of American owners.
The situation only grew worse this spring when Arsenal joined with 11 other clubs in April to announce the formation of the European Super League, which had planned to conduct an in-season competition. Fans and other clubs saw the league as a threat to the UEFA Champions Cup as well as to the domestic leagues in England, Italy, and Spain.
The European Super League fell apart within 48 hours of its launch, and the teams involved have offered numerous apologies. However, that has not placated some fans wanting to force current owners to sell.
Like Sportscasting on Facebook. Follow us on Twitter @sportscasting19.