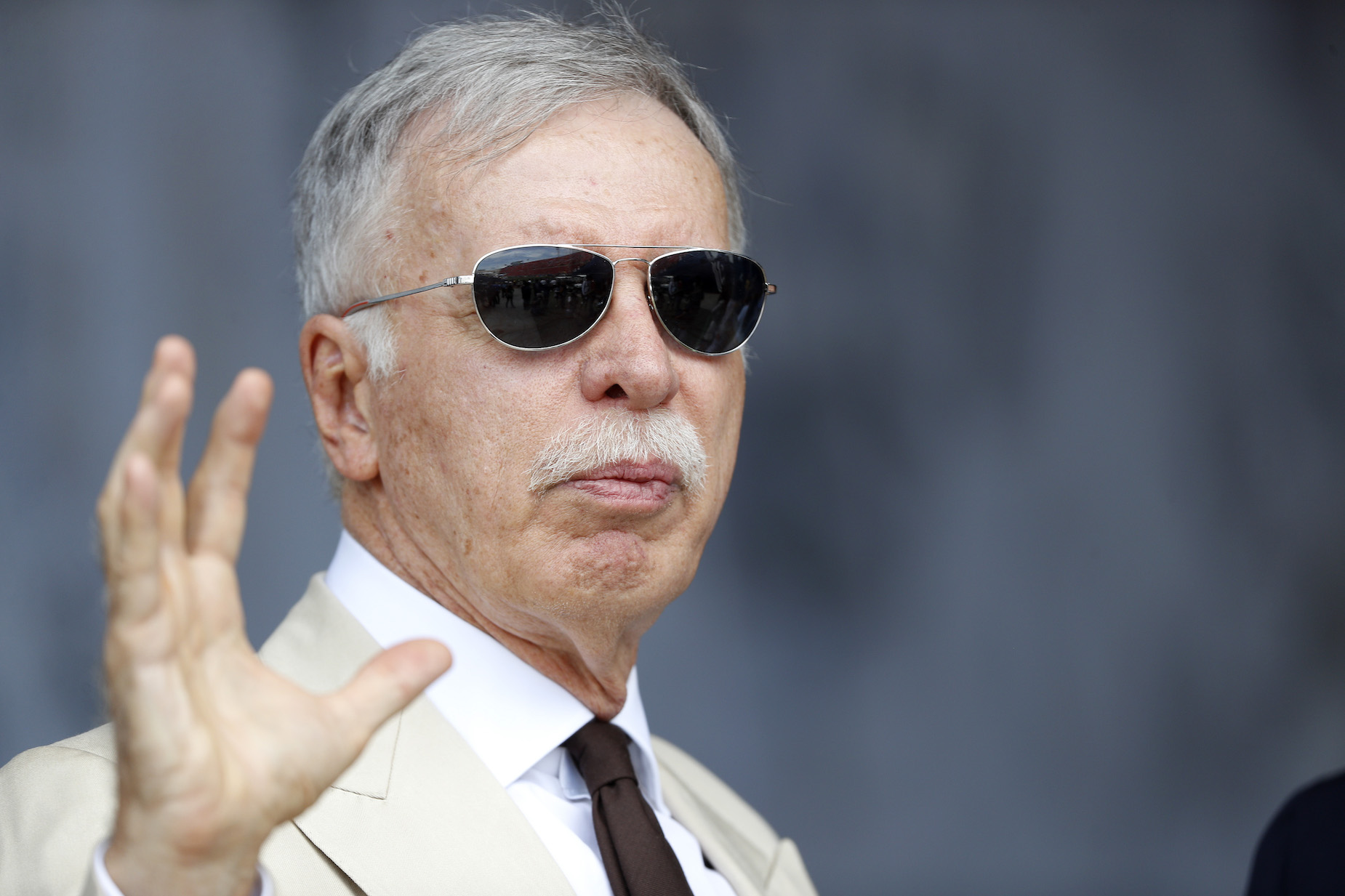 Rams Owner Stan Kroenke Is Worth $8.3 Billion, but He's Still Hated by Sports Fans Around the World
As the cliche says, money can't buy happiness. For Los Angeles Rams owner Stan Kroenke, though, money can't buy popularity, either.
When you think of incredibly wealthy and unpopular NFL owners, Jerry Jones is probably at the top of your list. Stan Kroenke, however, also has a case for the crown. While the Los Angeles Rams owner has a slightly smaller net worth than Jones, he's arguably even more unpopular.
NFL fans may be sick of seeing Jerry Jones every Sunday, but Stan Kroenke's appeal—or lack thereof—has gone international. Sports in the United States, the United Kingdom, and around the world can't stand the owner.
Stan Kroenke is worth $8.3 billion and owns multiple sports franchises
Compared to the likes of Jerry Jones and James Dolan, Stan Kroenke is a pretty low-key owner. His relative silence, however, belies a massive financial and pro sports portfolio.
In 1974, Kroenke married Ann Walton, an heiress to the Walmart fortune. While that would have provided quite the financial boon, he wasn't content to rest of his new wife's laurels; Stan created the Kroenke Group and began developing the shopping plazas around Walmart stores. As documented by Forbes, he's also a major North American landowner, controlling "nearly 2 million acres of ranches" on the continent.
Kroenke is also a major player in the professional sports landscape. When the Rams moved to St. Louis, he purchased a stake of the team; he eventually took over the entirety of the club. His company, Kroenke Sports and Entertainment also owns the Denver Nuggets, Colorado Avalanche, Colorado Rapids Arsenal FC, plus the Pepsi Center and several eSports teams.
As you'd assume, that combined portfolio has helped Kroenke built up a massive net worth. As of August 2020, Forbes pegs his fortune at $8.3 billion.
Becoming the most hated man in St. Louis
As any fan can tell you, your favorite team becomes a part of your identity. That reality, however, helps to explain why the city of St. Louis hates Stan Kroenke.
As mentioned above, Kroenke was part of the group that helped move the Los Angeles Rams to Missouri in 1995; he took full control of the club in 2010. While he publicly stated that he wanted to keep St. Louis, he apparently had other ideas.
Kroenke, of course, moved the Rams back to Hollywood, ripping St. Louis sports fans' heart out in the process. That decision led the Washington Post to call him "the most hated man in St. Louis." The city hasn't forgotten what Stan did to them; as documented by St. Louis Magazine, games between the Blues and the Colorado Avalanche still feature "Kroenke sucks" chants.
Arsenal supports don't feel much better about the owner
Just as Stan Kroenke's sports ownership isn't limited to North America, neither is his unpopularity. Arsenal supporters in England—and around the world—don't care for Silent Stan, either.
Even before he assumed full control of the club, supporters felt that Kroenke wasn't ambitious enough; while the likes of Chelsea and Manchester City won trophies thanks to their owners' financial backing, Arsenal never received an injection of cash. That fostered the perception that Kroenke was, at best, uninterested in the club and, at the worst, using Arsenal as little more than an additional stream of revenue.
On Wednesday, though, things got a little worse. Fresh off the positivity of their recent FA Cup triumph, Arsenal issued a statement about the commercial realities of the coronavirus pandemic. Faced with more games in empty stadiums and a reduction of TV revenue, the club announced it was "proposing 55 redundancies." While players and club staff took a pay cut earlier this year, those savings apparently weren't enough.
Given Kroenke's fortune, the prospect of 55 employees losing their jobs seemed nonsensical. "55 jobs at, let's say an average £50,000 a year, is £2.75m," Andrew Mangan, the man behind Arseblog, tweeted. "When you consider some of the deals we've sanctioned for players, and the fees paid to them and certain agents, it's shameful the club see fit to let 55 hard-working people lose their jobs at this moment in time. I know this is redundant to say, but it's particularly shameful when the owner is a f—ing billionaire many times over."
While you can debate the liquidity of Stan Kroenke's assets, he's still worth more than $8 billion at the end of the day. In St. Louis and North London, though, his name is virtually worthless.