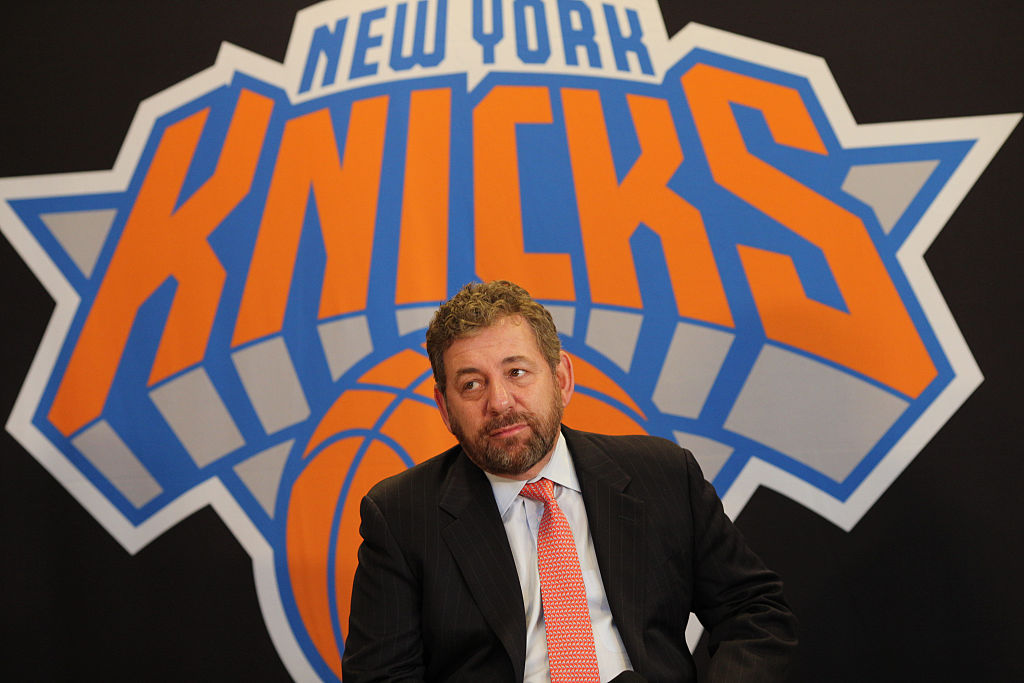 James Dolan's Mismanagement of the New York Knicks Goes Way Beyond Basketball
As the owner of the New York Knicks, James Dolan is no stranger to bad decisions. He recently dropped the ball again, though.
While plenty of sports teams have bad ownership, James Dolan probably takes the cake. During his time at the helm of the New York Knicks, the club has turned into perennial cellar-dwellers. The mismanagement, however, hasn't been limited to the basketball court.
In the past, James Dolan has done everything from ejecting Charles Oakley from Madison Square Garden to blasting Knicks fans in writing. His recent refusal to issue a statement in light of George Floyd's death, however, takes things to an entirely new level.
James Dolan is no stranger to bad decisions
In the world of professional sports, it's pretty easy for an owner to fly under the radar. In New York, however, James Dolan has done the opposite and repeatedly made headlines for the wrong reasons.
While it might seem like an unbelievable scenario in today's NBA, the New York Knicks were once a championship-caliber club. They took home two titles in the 1970s with guys like Walt Frazier and Willis Reed leading the charge; they could have raised another banner in the 1990s, but Patrick Ewing couldn't carry the Knicks over the hump.
Since Dolan took over the franchise, however, things have fallen off a cliff. While you could fill a book with the Knicks' missteps, everything boils down to a relatively simple pattern. Through a combination of bad management, poor decision-making, and front office turmoil, the club will post a subpar season. They'll then try to land a savior free agent during the summer, realize that no star actually wants to join the Knicks, then start the loop all over again.
Dolan's issues haven't been limited to basketball, though. In recent years, he's lashed out at everyone from Spike Lee and Charles Oakley to the common fan; that's only furthered the divide between ownership and everyone else.
The sports world has been speaking out about George Floyd's death
After George Floyd died during an arrest in Minneapolis, the United States has seen a wave of protests sweep across the country. To some extent, that trend has even included the world of professional sports.
In recent days, social media feeds have been full of teams, leagues, and other organizations making PR statements. While many of those have leaned toward boilerplate and inoffensive, plenty of athletes themselves have taken more direct action.
Boston Celtics forward Jaylen Brown, for example, drove from Massachusetts to Georgia to protest in his home state. Floyd Mayweather has offered to pay for Floyd's funeral. In the world of European soccer, Bundesliga players showed their support during this past weekend's matches while Liverpool's players collectively took a knee during a training session.
Don't expect the New York Knicks organization to join in, though.
Why James Dolan and the New York Knicks won't make a statement
While most of the 'Big Four' sports franchises have at least issued a generic public statement, you won't even be getting that from the New York Knicks. James Dolan, it seems, isn't willing to rock the boat.
"We know that some of you have asked about whether our company is going to make a public statement about the killing of George Floyd by a Minneapolis police officer," Dolan wrote in the email to MSG employees, which was obtained by ESPN's Pablo Torre. "I want you to know, I realize the importance of this issue. Therefore, I want you to understand our internal position."
That position, however, includes relying on platitudes rather than speaking out.
"This is a turbulent time in our country. The coronavirus and civil unrest have taken their toll on our way of life. We at Madison Square Garden stand by our values of a respectful and peaceful workplace. We always will," the email continued. "As companies in the business of sports and entertainment, however, we are not any more qualified than anyone else to offer our opinion on social matters."
It goes without saying that Dolan and the Knicks are failing to clear an incredibly low bar. The NBA has grown into a global force largely thanks to African-American players. The Knicks, at least in theory, represent New York, a city that is supposed to pride itself on diversity. By staying silent, however, they're not representing anything other than a brand afraid to potentially ruffle some feathers.
While that contrast might be striking, it's not exactly surprising. If New Yorkers know anything, it's that you shouldn't rely on James Dolan for sound judgment.