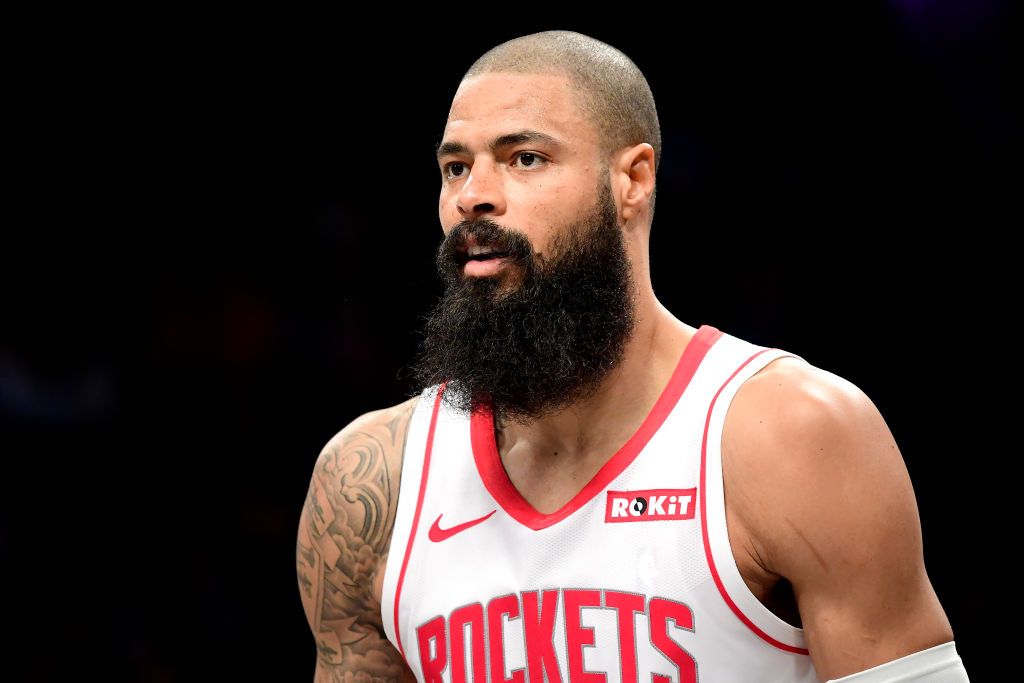 Tyson Chandler Believes that New York Knicks Owner James Dolan Is 'a Great Dude'
New York Knicks owner James Dolan might not be a popular man, but Tyson Chandler recently called him "a great dude."
While we might take professional sports incredibly seriously, they're still entertainment. That reality sometimes casts people into certain roles. If you're a Patriots fan, for example, Tom Brady is a hero; if you're following any other NFL team, he's the perfect pantomime villain. In NBA circles, however, almost everyone can come together against New York Knicks owner James Dolan.
Although it's easy to criticize Dolan for both his basketball and personal decisions, Tyson Chandler has a different opinion. The former Knicks center actually believes that the owner is "a great dude."
James Dolan's ownership of the New York Knicks
In an ideal world, a team's owner wouldn't be making any headlines, let alone negative ones. James Dolan and his New York Knicks, however, don't do things the ideal way.
Ever since Cablevision took over Madison Square Garden and its teams, the Knicks started tumbling down the standings. While the club won two NBA titles in the early 1970s, with players like Walt Frazier, Willis Reed, and Dave DeBusschere running the show and returned to dominance in the 1990s, thanks to Patrick Ewing, things have been different in recent years. The franchise has only made the playoffs five times since the year 2000; only one of those trips to the postseason lasted past the first round.
In terms of basketball operations, the Knicks have failed to land almost every big-name free agent; that leaves them in a perpetual loop of hoping for a savior, missing out on him, then repeating the process again. Off the court, though, things have arguably even worse. Despite the team's struggles, James Dolan seems more concerned with picking fights with everyone from Spike Lee to the common fan than anything else.
Tyson Chandler had a different experience with James Dolan
In December 2011, Tyson Chandler joined the New York Knicks in a sign and trade deal. While he proved to be a valuable contributor on Broadway, the big man's time in New York wasn't easy.
During the 2013-14 campaign, Chandler's mother was diagnosed with Stage 4 colon cancer and given only months to live. The center wanted to spend as much time as possible; he would fly to California after Knicks games and return to the team in time for the next game or practice. It wasn't easy, but James Dolan helped lift the burden.
The Knicks' owner allowed Chandler and his family to use his private plane to jet across the country; it's a gesture the big man still appreciates. "He stepped up and it took a lot of weight off of me, honestly. So I'm very appreciative for him in that moment, the way he stepped up," Chandler explained when his Rockets visited MSG.
Regardless of the chatter, Tyson Chandler believes his old boss is "a great dude"
Anyone who follows the NBA in any capacity knows that James Dolan isn't a popular man. Tyson Chandler hears the chatter, but can only talk about his own personal experiences with the Knicks owner.
"People have their opinions. For me, I hear everything about him, but that has nothing to do with me," Chandler said. "If somebody comes to me and asks me, I say he's a great dude. He looked out for me in a time of need. So that's the kind of stuff people don't hear about. They just hear the other s–t."
While it's great that Dolan helped Tyson Chandler during a tough stretch in his life, don't expect Knicks fans to compliment his skills as a franchise owner anytime soon. They'll call him plenty of names, but they won't be as nice as "a great dude."