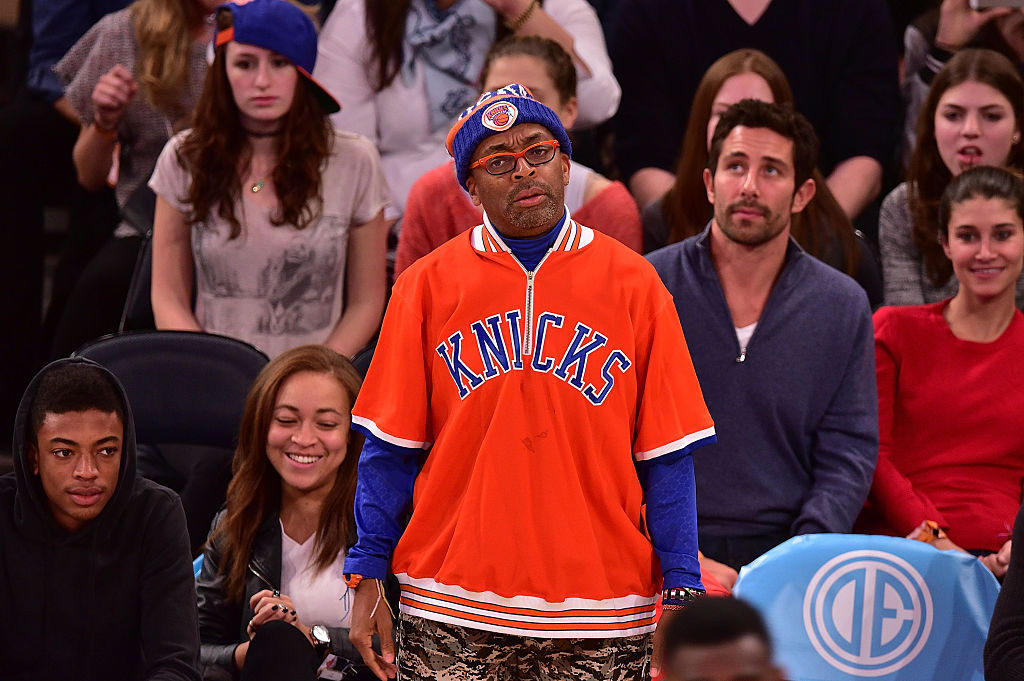 NBA: Spike Lee Spends Big to Add Some Unbelievable Pieces of New York Knicks History to His Collection
If Spike Lee cares about anything, it's his beloved New York Knicks. In fact, the director recently splashed some major cash to acquire a piece of NBA history.
Whether you think he's a diehard fan or a celebrity hamming it up for the TV cameras, you can always find Spike Lee at a New York Knicks game. No matter how bad the team might be, the director will be sitting courtside at Madison Square Garden; he's as much of a part of the NBA experience as a Seth Curry 3-pointer.
But Lee doesn't check his fandom at the arena's front door. He has actually used his fortune to protect certain pieces of the Knicks' history; in fact, the director recently spent a hefty sum to add a few iconic items to his memorabilia collection.
Spike Lee's relationship with the New York Knicks
When Lee was a child, he and his family moved from Atlanta, Georgia to Brooklyn. He attended John Dewey High School in the southern part of the borough but received a great deal of education somewhere else.
As a teenager, Spike would use his student card to buy cheap tickets in Madison Square Garden's "blue seats." For just under $5 a night, he was able to watch any New York Knicks game he wanted. Even when he left New York, the team remained in his heart; as an adult, Lee would return to the city and purchase his first season ticket. He never looked back.
Since then, Spike Lee has seen just about every major moment of New York Knicks history. Reggie Miller infamously made a "choke" gesture at the director during the 1994 Eastern Conference Finals. He's witnessed the rise and fall of everyone from Patrick Ewing to Jeremy Lin. No matter how badly the team may flounder, there will always be one fan, undoubtedly wearing an excessively orange outfit, sitting in the Garden.
The Willis Reed game
On May 8, 1970, the Knicks were taking on the Los Angeles Lakers in Game 7 of the NBA Finals; Lee was in the building hoping to witness history.
After missing the previous game due to injury, the Knicks talismanic center Wills Reed hobbled onto the floor during warm-ups. No expected him to return and the Garden crowd, inspired by the sight of their captain, stirred into a frenzy. Reed started the game and scored two quick jumpers; he wouldn't record another point, but his presence lifted the Knicks to their first NBA title. Reed, who pushed himself past the breaking point for his team, became a New York legend.
Paying for a piece of NBA history
After Red Holzman—the head coach of that championship Knicks team—died, his family inherited a mountain of memorabilia. Hoping the collection could be appreciated by a true basketball fan, the family put it up for auction. Unsurprisingly, one New Yorker was interested.
35 total items reached the auction block and Lee bought 13 of them. His main two purchases were the net from Game 7 of the 1970 NBA Finals and Holzman's Coach of the Year trophy from that season; he paid $69,184 for the net and $31,517 for the award.
"[Game Seven] was a memory I will never forget," Lee said in a statement to the auction house. "Willis Reed coming back and the Garden went nuts. It was a very special moment in Knicks history."
Lee did not purchase the head coach's championship ring, however. That item sold to another bidder for over $100,000.