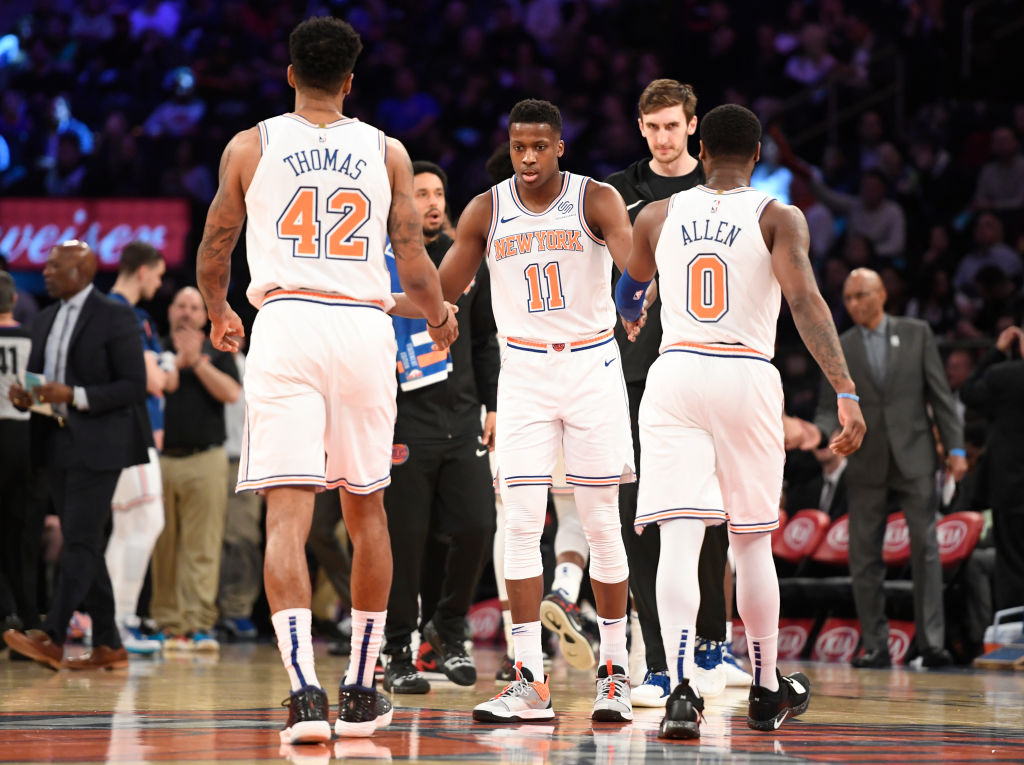 The Knicks' Summer and 2019-20 Season Might Already be Ruined
The New York Knicks had hopes of the 2019-20 season being their chance at relevancy, but difficulties signing star players may have already ended their season.ge
The New York Knicks had hopes of the 2019-20 season being their chance at relevancy in the NBA. The Knicks have been a tough team to watch over the last few seasons and were primed to land the top pick in the 2019 NBA Draft while also dumping salaries to sign prized free agents in the upcoming class.
There have been a few things that might make next season a bust for the orange & blue, so let's break down how 2019-20 can be a lost cause for Knicks fans.
2019 NBA draft
The Knicks finished with the worst record in the NBA this season, going 17-65. Under the new NBA lottery rules their chances of getting the No. 1 pick dropped from 25% to 14%. As the names were picked, it was quickly realized that there would be a major shakeup in the top four, but no one expected New York to land the No. 3 pick.
Instead of drafting Zion Williamson, who was the consensus top pick, they had to settle for RJ Barrett — Williamson's dynamic scoring teammate out of Duke. Barrett isn't a slouch by any means, but in a two-man draft, it's hard to get excited about the third pick.
The possibility of losing Kevin Durant
When Kevin Durant went down with his Achilles injury in game 5 of the NBA Finals, it changed the free agency landscape and the future of the league. Durant to the Knicks was a done deal in many eyes, but this injury could change his decision-making process. He has until Saturday to opt-in to his player option for next season (one he won't take part in because of the injury).
If he signs with the Knicks, it will still be viewed as a win, albeit a long-term goal as they still may not have enough talent on the roster to compete next season. Our first assumption? If Durant opts-out he could sign a longer deal with the Golden State Warriors at less money, so they can keep their four core players together.
Kyrie Irving no longer a sure thing
Durant might stay in Golden State, which vaults Kyrie Irving higher up the Knicks priority list. The problem is there are a few other teams that could use a guard like Irving to complement another piece of their roster. He would fit in well with Dallas alongside Kristaps Porzingis and Luka Doncic, or head to New York to play for the other team in the city — the Brooklyn Nets.
D'Angelo Russell is coming off of his first all-star appearance and having a strong backcourt would make the Nets tough to matchup against.
Anthony Davis to L.A.
Anthony Davis going to L.A. showed that the Knicks didn't have a good enough package to offer the superstar. He joins LeBron James (and potentially another free agent) in L.A. and will hope to lead the Lakers back to the playoffs next year.
Will stars want to play with young players?
This could be a doomsday scenario for New York. If they don't sign Durant or Irving and miss out on other free agents, how can this class be viewed as a success? After you get outside of the top 10 players in the class, you are looking at guys like Terry Rozier, Marc Gasol, and Ricky Rubio. They won't move the needle for Knicks fans or put butts in the seats next year.
Can the Knicks recover if they whiff on all of their big free agent targets? Free agency starts on June 30 so be sure to check out our NBA section for more news around the league's biggest stars.