What Does 'Football's Coming Home' Mean?
If you've watched any of Euro 2020 or read or listened to any of the coverage, there is a particular phrase you've probably heard: it's coming home. What's coming home, you may ask? Football's coming home.
At every major international soccer tournament that the England National Team has played in since 1996, English fans have exclaimed this same rallying cry. Here's why.
Why do England fans say, 'Football's Coming Home?'
Ahead of the Euro 1996 tournament, comedians and radio hosts David Baddiel and Frank Skinner teamed up with a 90s pop/rock band from Liverpool called the Lightning Seeds to create an ode to the England National Team.
What came out is the song "Three Lions (Football's Coming Home)." It became a massive pop hit as well as an English anthem whenever the national side competed in a tournament. It is the only song performed by the same artist to reach No. 1 on the British charts on three separate occasions. It achieved this in 1996, 1998, and during England's semifinal run in the 2018 World Cup. It is currently up to No. 3, according to The Guardian.
A section of the song's chorus goes:
It's coming home

 It's coming home

 It's coming

 Football's coming home
These two sets of three words each have become a massive part of English soccer culture. However, it is also a way other countries making fun of the England National Team, which hasn't won (or even reached a final) of a major tournament in a very long time.
Other countries hate the song and the phrase, 'it's coming home'
England did not invent the sport of soccer (or football). The country does take credit for defining the modern game, though. This rubs many countries that also love the world's most popular sport the wrong way.
Fan and even players and coaches from other countries seem to despise this song. Former Scotland National Team star Graeme Souness believes the song should be banned.
Following England's loss to Croatia in the 2018 World Cup, two Croatian stars, Vedran Corluka and Luka Modric, took shots at their opponent's use of the song, per FOX Sports. And this year, Danish goalkeeper Kasper Schmeichel teased an English reporter asking, "has it ever been home?"
German fans are the most ruthless. Supporters of England's biggest rival love belting out the song as a jab at the Brits after a German victory.
What do the lyrics to 'Three Lions (Football's Coming Home)' mean?
Outside of "it's coming home," a phrase made up by Baddiel and Skinner, references casual fans won't understand are scattered throughout the song. Another part of the chorus goes:
Three Lions on a shirt

 Jules Rimet still gleaming

 Thirty years of hurt

 Never stopped me dreaming
The three lions are the nickname for the England National team, which wears a crest featuring a trio of the ferocious beasts on its jersey. The Jules Rimet Trophy goes to the winner of the World Cup, which England won for its first and only time in 1966 (hence, thirty years of hurt).
The song also references several members notable England players. This includes Bobby Moore ("But I still see that tackle by Moore"), Gary Linekar ("And when Linekar scored"), Bobby Charlton ("Bobby belting the ball"), and Nobby Stiles ("And Nobby Dancing")
Ahead of the 1998 World Cup, the original songwriters released a new version for the tournament with updated lyrics. These new verses talked about the heartbreaking result of Euro 96.
The song begins with a chorus of "we still believe" and then jumps into a handful of Euro 96 references. They sing about "Tears for heroes dressed in grey" (the color of England's Euro 96 kits) and "No plans for Finals day" (after a heartbreaking semifinal loss to Germany on a saved penalty kick taken by now-England head coach Gareth Southgate).
The updated song also mentioned 1996 England National Team players with lyrics like, "[midfielder Paul] Ince ready for war," "Gazza [attacking midfielder Paul Gasciogne] good as before," "[striker Alan] Shearer certain to score," and "Psycho [defender Stuart Pearce] screaming.
England fans think the 2021 Euros is when football's coming home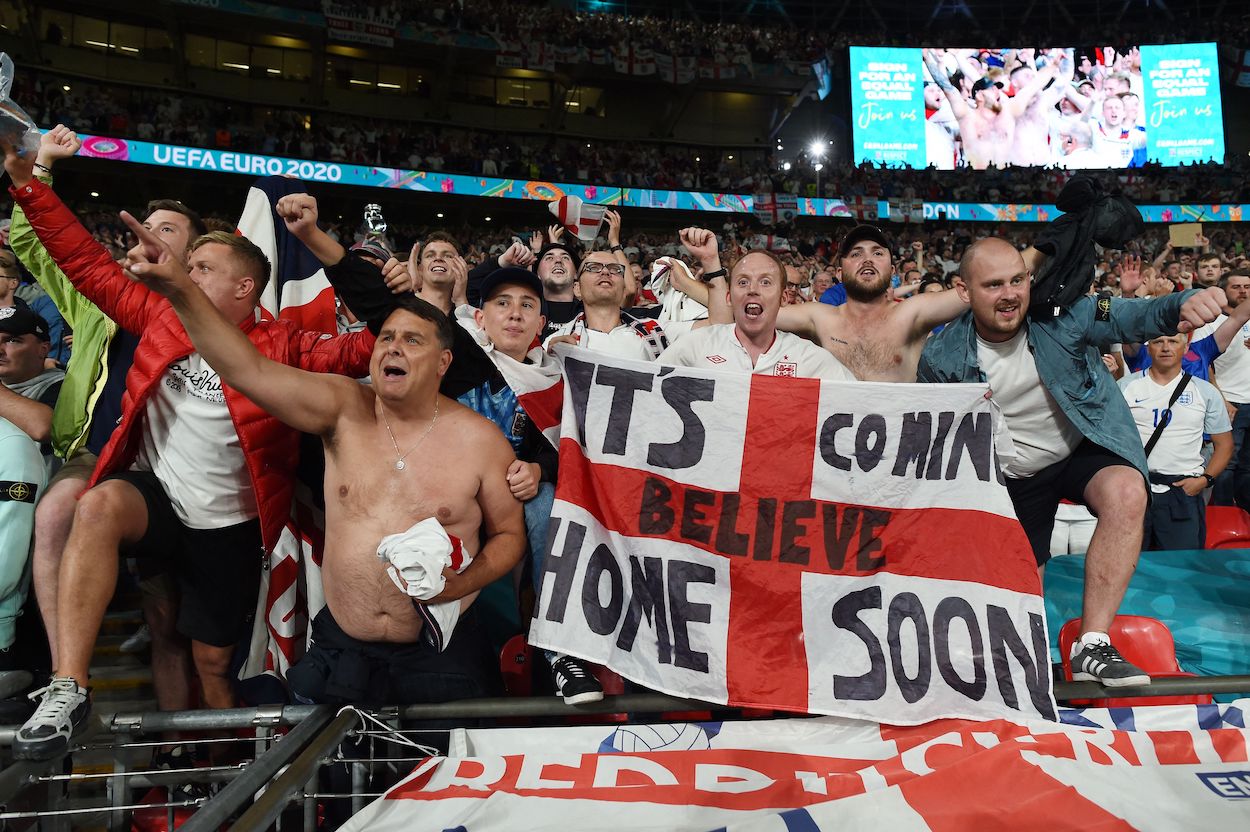 The last time football actually came home was after England defeated West Germany in the 1966 World Cup. It was three decades before Baddiel, Skinner, and the Lightning Seeds released "Three Lions (Football's Coming Home)."
With a thrilling 2-1 victory over Denmark, England is now in its first major tournament final since that fateful day at Wembley Stadium in 1966. They take on an Italy team that's breezed through the early stages of the tournament. Although, in the semis, they had to fend off a penalty shootout scare against Spain.
On Sunday at 3 p.m. EST, Harry Kane, Raheem Sterling, Jordan Pickford, and the crew will face off against Italy on the same pitch where Geoff Hurst, Bobby Charlton, and Bobby Moore lifted the Jules Rimet Trophy 55 years ago.
What will happen? Is football coming home?
It's coming home.
Like Sportscasting on Facebook. Follow us on Twitter @sportscasting19