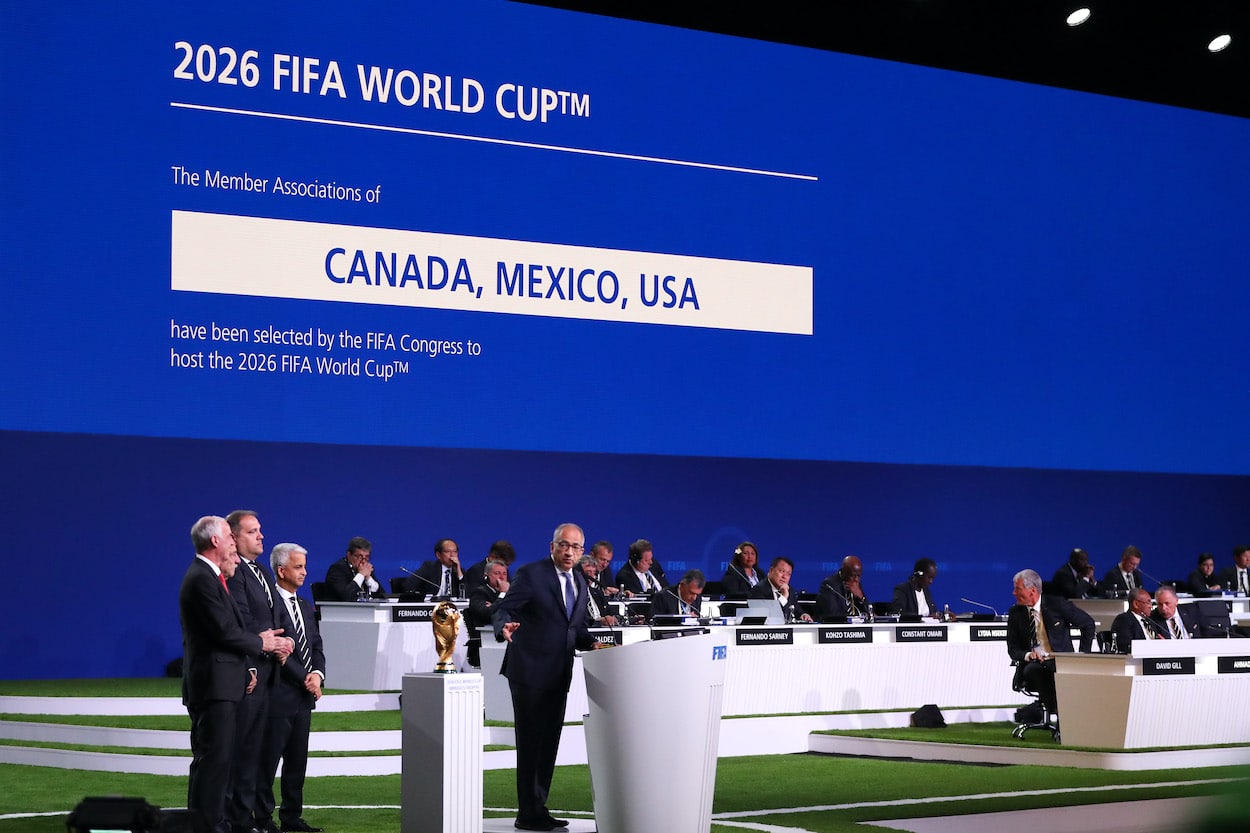 FIFA Announces 11 U.S. Cities That Will Host 2026 World Cup Matches, More Than Doubling Mexico and Canada Sites
FIFA just announced the 11 American, three Mexican, and two Canadian cities that will host matches in the 2026 World Cup.
In 2017, the United States, Mexico, and Canada all dropped their individual bids for the 2026 World Cup and joined together for a North American "United" bid. A year later, FIFA awarded the first-ever World Cup to three countries bidding together.
Until now, though, FIFA hadn't announced the 16 cities that would host the first-ever 48 soccer team World Cup. On Thursday, June 16, 2022, FIFA made its choices, and with 11 out of 16 match sites, the 2026 World Cup will be a mostly American affair.
FIFA announced the 16 host cities for the 2026 World Cup
The 2026 World Cup in North America will predominantly be in the United States. FIFA awarded matches to 11 U.S. cities, three Mexican cities, and two Canadian cities (h/t ESPN):  
The U.S. sites will be:
MetLife Stadium: New York/New Jersey (home of the New York Jets and Giants)
SoFi Stadium: Los Angeles, California (Los Angeles Rams and Chargers)
AT&T Stadium: Dallas, Texas (Dallas Cowboys)
Levi's Stadium: Bay Area, California (San Francisco 49ers)
Hard Rock Stadium: Miami, Florida (Miami Dolphins, University of Miami)
Mercedes-Benz Stadium: Atlanta, Georgia (Atlanta Falcons, Atlanta United)
Lumen Field: Seattle, Washington (Seattle Seahawks, Seattle Sounders)
NRG Stadium: Houston, Texas (Houston Texans)
Lincoln Financial Field: Philadelphia, Pennsylvania (Philadelphia Eagles);
Arrowhead Stadium: Kansas City, Missouri (Kansas City Chiefs)
Gillette Stadium: Boston, Massachusetts (New England Patriots, New England Revolution)
These games will host matches throughout the Group Stage and then every game from the quarterfinals on. The Mexican and Canadian host sites for the 2026 World Cup will be:
BMO Field: Toronto, Ontario, Canada (Toronto FC, Toronto Argonauts)
BC Place: Vancouver, British Columbia, Canada (Vancouver Whitecaps, BC Lions)
Estadio Akron: Zapopan, Jalisco, Mexico (C.D. Guadalajara)
Estadio BBVA Bancomer: Guadalupe, Nuevo León, Mexico (C.F. Monterrey)
Estadio Azteca: Tlalpan, Mexico City, Mexico (Club América, Cruz Azul)
With the 16 cities set for 2026, some municipalities are walking away disappointed.
Cities that didn't make the cut for FIFA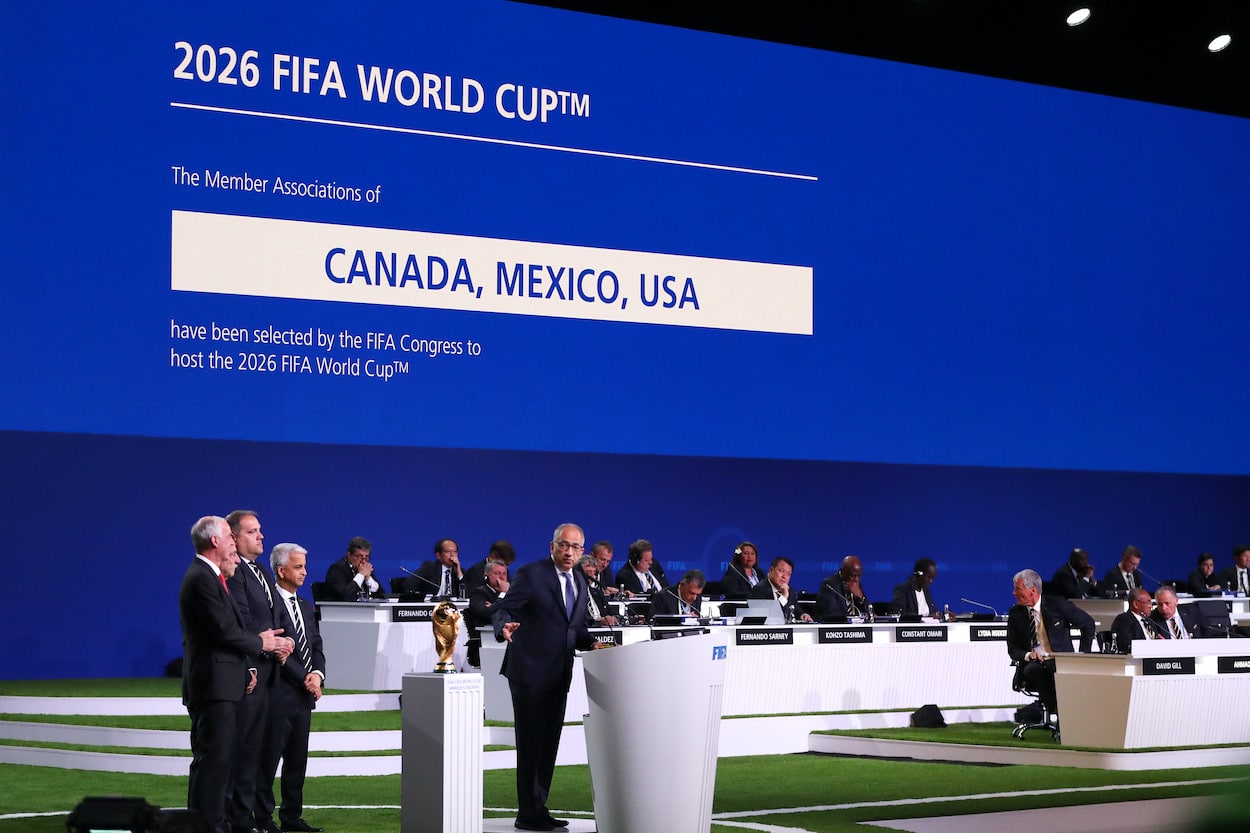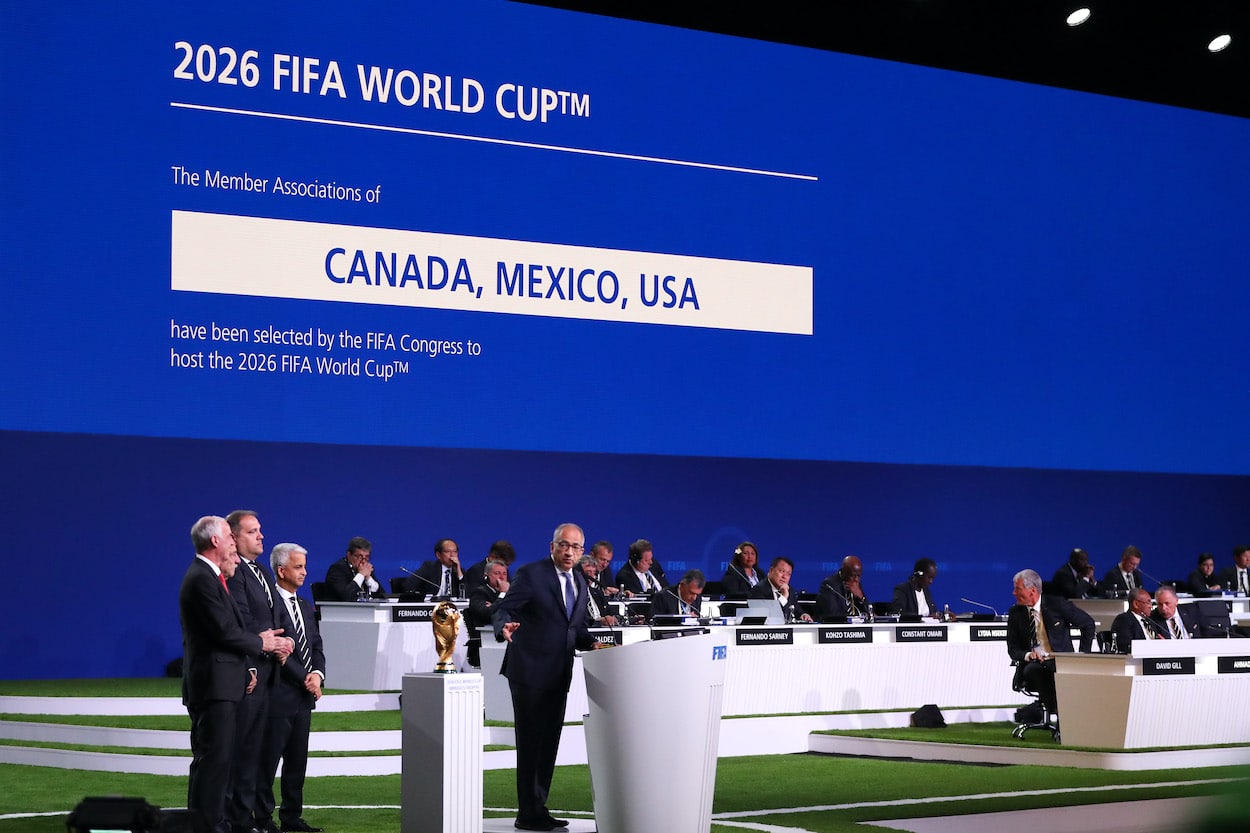 Several American cities/stadiums made bids but did not make the final cut. These sites include:
M&T Bank Stadium: Baltimore/Washington D.C. (Baltimore Ravens)
Camping World Stadium: Orlando, Florida (Citrus Bowl and the Cheez-It Bowl)
Paul Brown Stadium: Cincinnati, Ohio (Cincinnati Bengals)
Nissan Stadium: Nashville, Tennessee (Tennessee Titans)
Empower Field at Mile High: Denver, Colorado (Denver Broncos)
Commonwealth Stadium: Edmonton, Alberta, Canada (Edmonton Elks)
For the Canadian piece of the bid, Montreal was initially involved but dropped out. Vancouver stepped in to replace the Quebec city.
On the U.S. side, none of the venues selected were involved in the 1994 World Cup, the last time the soccer world came to the States. Boston, Dallas, New York/New Jersey, San Francisco Bay Area, and Los Angeles will all host again, but in different stadiums. Detroit, Chicago, Orlando, and Washington D.C. all hosted in '94 but aren't involved in 2026.
Who will play in the 2026 World Cup?  
As of 2022, we only know three teams that will be in the 2026 World Cup for sure. No matter what, the host nation (or nations in this case) get in. That means the USMNT, Canada, and Mexico are all booked for the tournament.
Interestingly, we also know there will be more teams than ever in the 2026 World Cup. It is the first time the field will expand from 32 to 48 teams.
In 2026, the spots for each region will jump like this:
Asian Football Confederation (AFC): 4 more teams
Confederation of African Football (CAF): 4 more teams
Confederation of North, Central America and Caribbean Association Football (CONCACAF): 3 more teams
South American Football Confederation (CONMEBAL): 2 more teams
Union of European Football Associations (UEFA): 3 more teams
Oceania Football Confederation (OFC): 1 more team
The best soccer teams in the world still have to play in the 2022 World Cup in Qatar, and three-plus years will pass before the biggest football tournament in the globe comes to North America. This means there is plenty of time to get pumped.
Like Sportscasting on Facebook. Follow us on Twitter @sportscasting19 and subscribe to our YouTube channel.