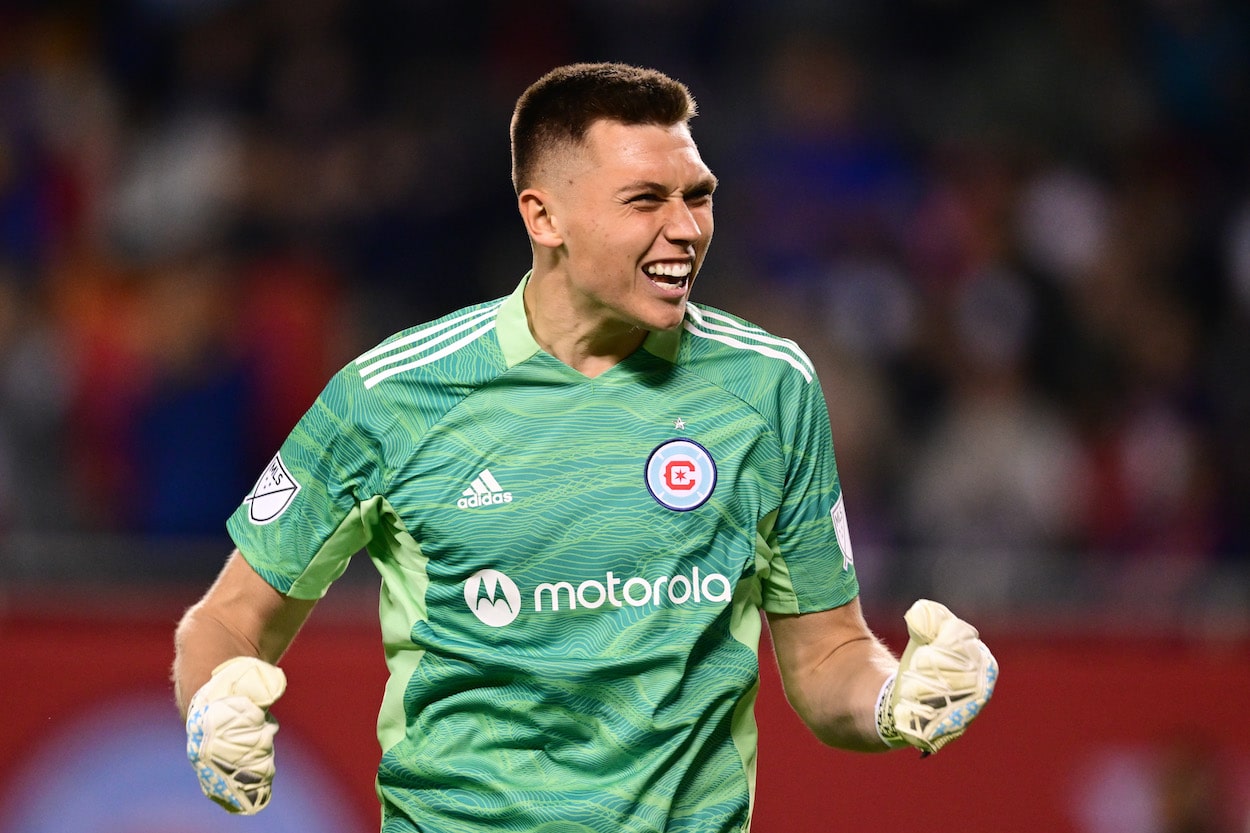 Teenage Goalkeeping Prodigy Gaga Slonina Announces Decision Between Playing for USMNT and Poland
Gabriel 'Gaga' Slonina, the 18-year-old starting keeper for MLS's Chicago Fire, announced he's choosing the USMNT over playing for Poland.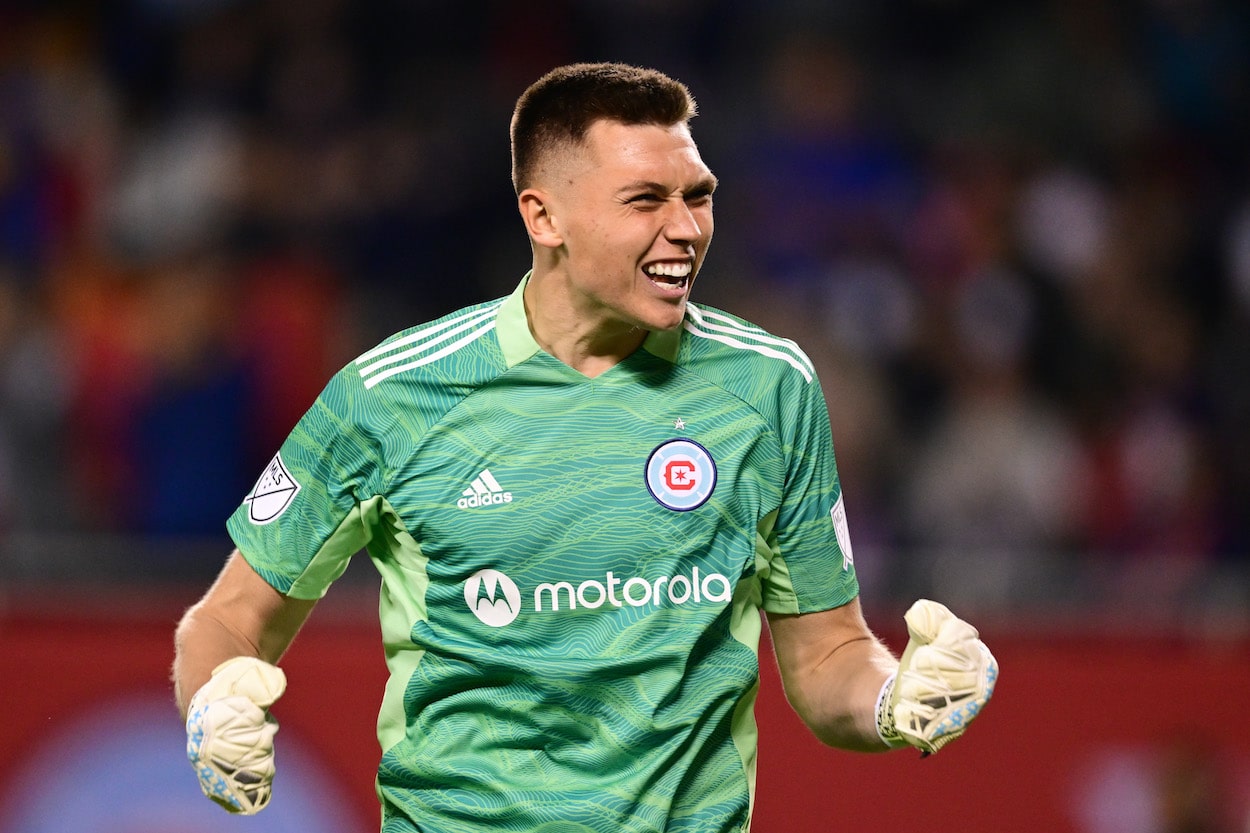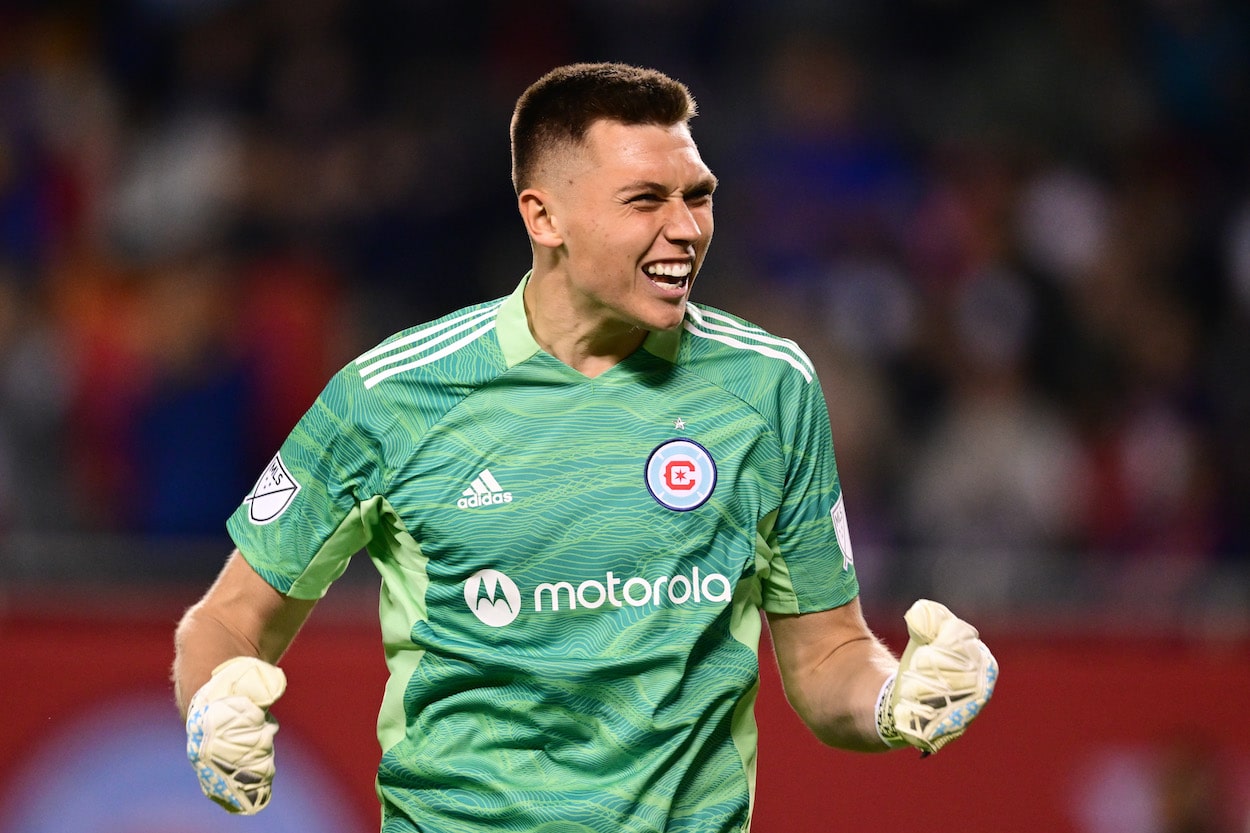 Gabriel "Gaga" Slonina turned 18 on May 15, 2022. Despite his tender age, Slonina is one of the best and most promising goalkeepers in Major League Soccer (MLS). The Chicago Fire keeper is also an in-demand international player. With the 2022 World Cup coming up in November, Slonina had to choose between Poland and the U.S. Men's National Team (USMNT), and he just announced his choice.
Gabriel "Gaga" Slonina is a goalkeeping prodigy
Gabriel Slonina, who goes by the nickname "Gaga," grew up in the Chicago suburb of Addison, Illinois, per ChicagoFireFC.com. His parents are from Poland, and because of this, he has dual Polish and American citizenship.
Slonina's hometown MLS club, the Chicago Fire, signed the 6-foot-4, 194-pound goalkeeper to a professional contract a week before his 15th birthday in 2019. At that age, Slonina became the second-youngest player to sign an MLS contract. Only Freddy Adu was younger, as he signed earlier in his 14th year.
At 17, Slonina saw his first professional action during the 2021 season. On August 5, 2021, Gaga started for the Fire against NYCFC. The teenager made four saves in a 0-0 draw on his way to becoming the youngest MLS goalkeeper in history and the youngest keeper ever to record a clean sheet.
The young keeper started 10 more games in 2021, finishing his rookie year with three wins, five losses, and three draws. He conceded 16 goals during that span and recorded four clean sheets.
In 2022, Slonina entered the season as the Chicago Fire's No. 1 keeper. He started the year on fire, posting five clean sheets in his first seven starts. The now-18-year-old has cooled off in his next five starts, but that is more a function of his struggling team than his own form.
There is no doubt that Slonina will be — and already is – a successful professional goalkeeper. The biggest question Gaga faced in 2022 was which team — Poland or the USMNT — he'll play for in international tournaments.
Slonina announced he'll play for the USMNT in international tournaments
Gabriel "Gaga" Slonina has played for the USMNT at the U15, U16, U17, and U20 levels. However, despite being a starting goalkeeper in MLS, he hasn't had his first for the senior side yet.
That's created intrigue as to which international team Slonina would choose.
Just days after Slonina's 18th birthday, though, the Polish National Team forced Gaga's hand by calling him up for the team's upcoming UEFA Nations League matches against Wales, Belgium, and the Netherlands in early June.
With a decision needed, Slonina took to Twitter on May 20 to announce his decision. In a lengthy and thoughtful post, Gaga explained his affinity for both Poland and the United States before writing:
With that being said, my heart is American. This country has given me and my family all the opportunities I could ask for. Its pushed me and supported me through good and bad. I understand what the privilege of wearing the badge, and the only time I'll put my head down is to kiss it. America is home and that's who I'm going to represent.

Gabriel "Gaga" Slonina on choosing the USMNT over Poland
Gaga finished his post with an American flag and heart emoji.
Why the keeper was wise to choose the USMNT
While Gaga Slonina mostly cited personal reasons for choosing the USMNT over Poland, there are also football reasons that this makes sense.
On the Polish squad, 32-year-old Juventus keeper Wojciech Szczęsny is entrenched as the No. 1 option between the pipes for the 2022 World Cup and possibly beyond. The side also has established European shot-stoppers like Łukasz Fabiański at its disposal.
The USMNT goalkeeper situation isn't nearly as settled.
Currently, New England Revolution's Matt Turner, Manchester City's Zack Steffen, and Nottingham Forest's Ethan Horvath are the USMNT keepers. NYCFC's Sean Johnson is also in the mix.
Of these four choices, only Turner and Johnson start for their clubs, and that is likely to change when Turner moves to Arsenal (behind Aaron Ramsdale) this summer.
Slonina isn't in the mix for the USMNT's next group of friendlies in early June, but manager Gregg Berhalter should give the teenager a try at some point between now and November 21, when the USMNT plays its first World Cup match in Qatar.
If Gaga Slonina wants to play in this coming World Cup, picking the USMNT was the smart choice. No matter who he picked, though, he seems like s shoo-in to be a starter in 2026 when the World Cup comes to North America.
Like Sportscasting on Facebook. Follow us on Twitter @sportscasting19 and subscribe to our YouTube channel.
All stats courtesy of Transfermrkt