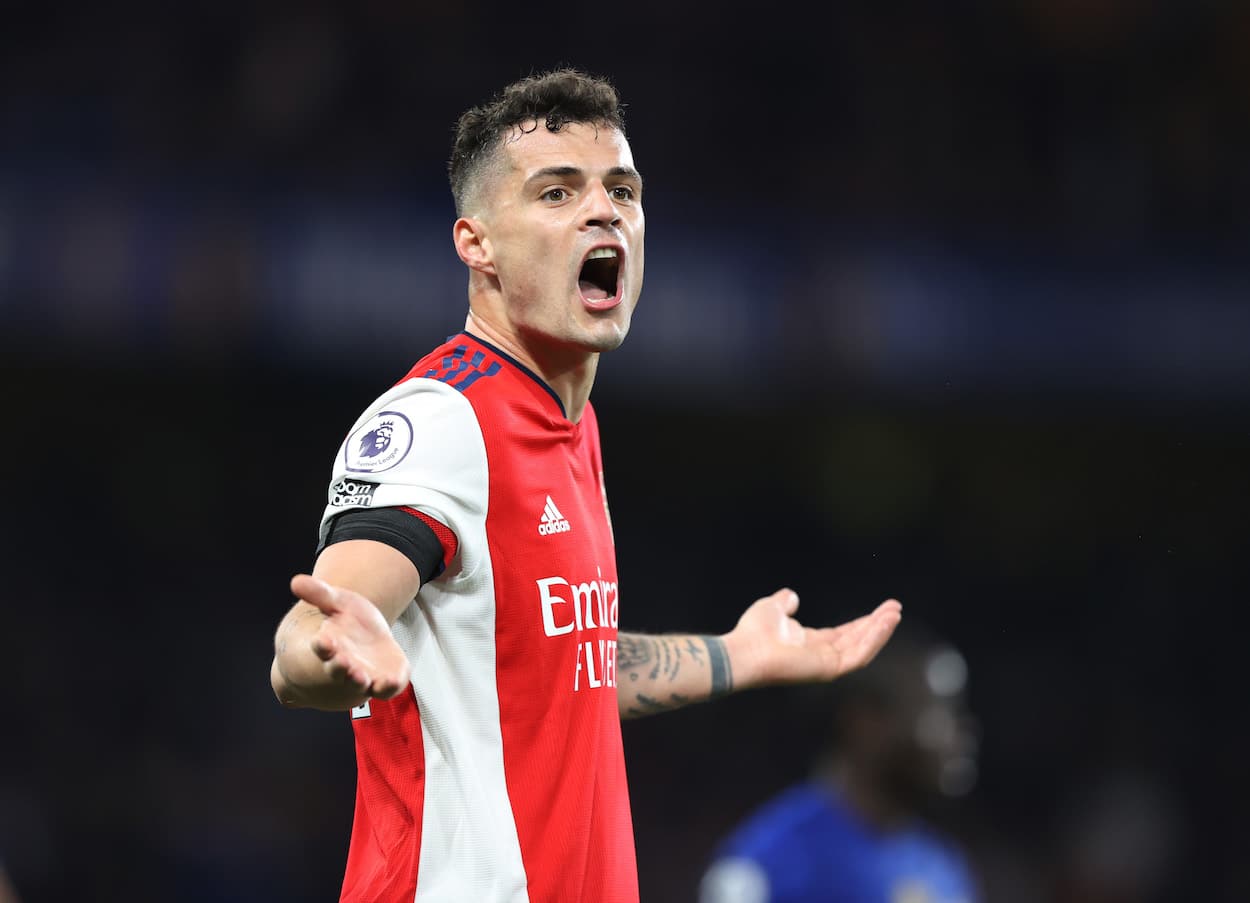 Granit Xhaka Rips Arsenal Teammates After Devastating Loss: 'You Don't Deserve to Play Champions League or Even Europa League'
Veteran Arsenal midfielder Granit Xhaka didn't hold back on his teammates after the club's crushing late-season loss to Newcastle.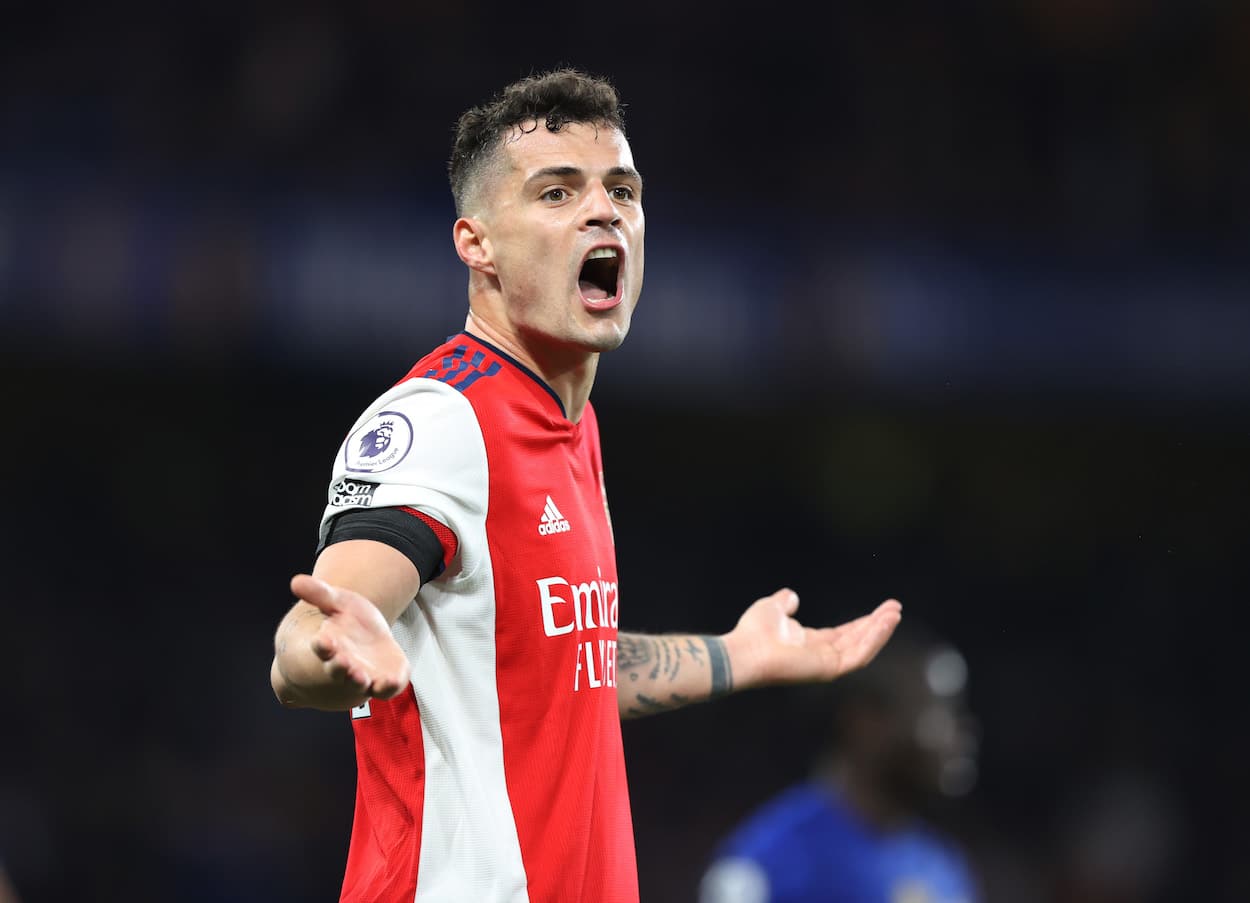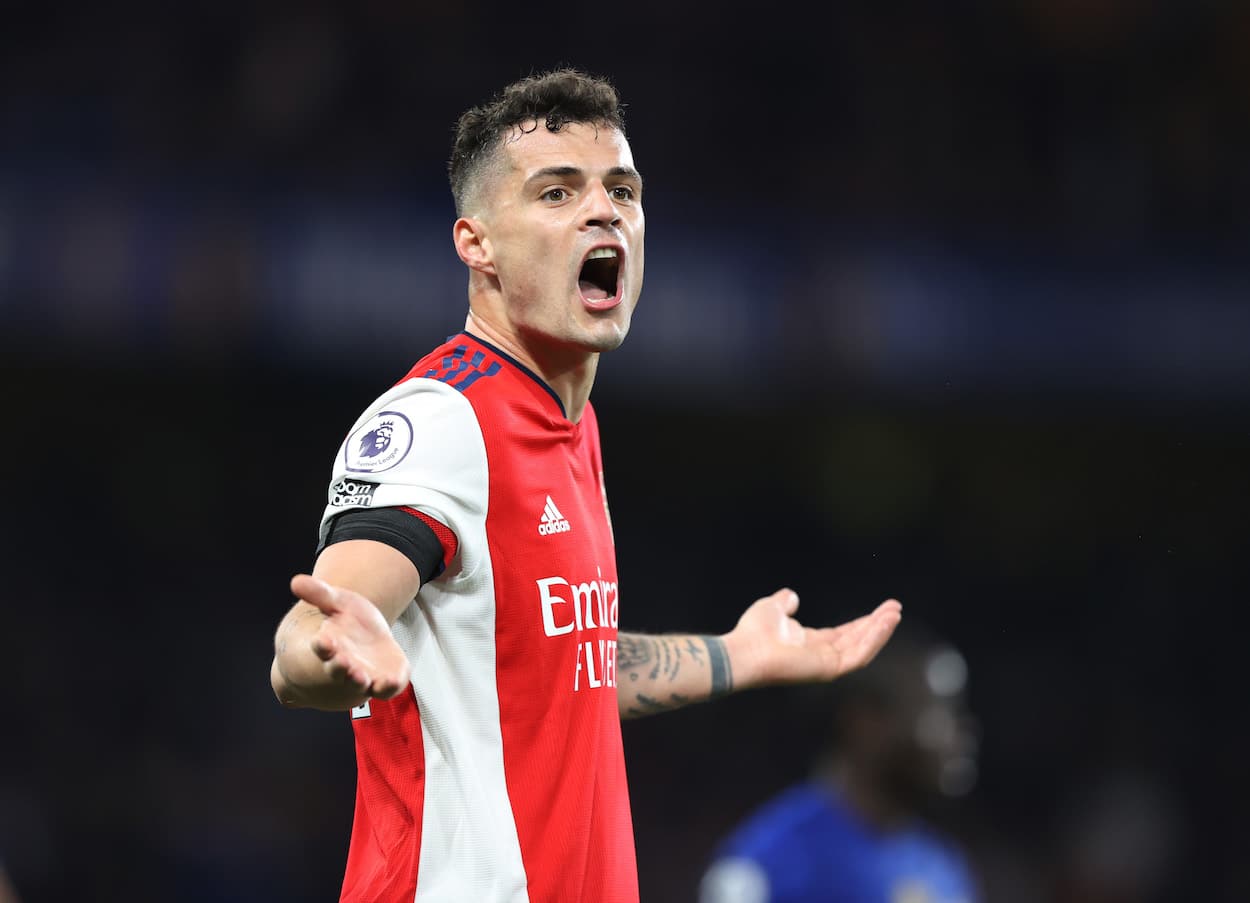 With one Matchday left in the English Premier League football season, several teams can still change their place in the EPL table. One of the most hotly-contested battles is between North London rivals Arsenal and Tottenham Hotspur for the final 2022-23 UEFA Champions League spot.
With two weeks to play, Arsenal was in control of its own destiny, but two bad losses left them needing help from Tottenham to finish in fourth place. Those losses didn't sit well with Arsenal team leader Granit Xhaka who called out his teammates after a lackluster performance vs. Newcastle.
Arsenal's loss to Newcastle hurt the club's Champions League chances
With three matches left in the 2021-22 Premier League season, Arsenal sat in fourth place in the EPL table. That spot is crucial, representing the final Premier League side to earn a Champions League spot next season.
Arsenal had 66 points on May 12, and Tottenham had 62 heading into the North London Derby.
Spurs took a 1-0 lead in that match on a 22nd-minute penalty by striker Harry Kane. Arsenal defender Rob Holding then picked up a red card in the 33rd minute, and Tottenham added two more goals to win 3-0.
After that disheartening loss, Arsenal still controlled its own destiny with two games to go and a one-point lead in the standings over Spurs.
However, three days later, Tottenham beat Burnley 1-0, and the next day, Arsenal took a crushing loss to Newcastle at the 12th-place team's St. James Park.
Now, heading into the season's final day, Arsenal finds itself two points behind Spurs, with its UCL dreams slipping away. Arsenal midfielder Granit Xhaka is irate with his club's current situation and says his club doesn't deserve to play in Europe's most prestigious tournament or even the continent's second-rate competition, Europa League.
Granit Xhaka ripped his teammates after the Newcastle loss
Swiss midfielder Granit Xhaka is 29-years-old and has been a member of Arsenal since 2016. Of the 11 players who started vs. Newcastle, only fellow midfielder Mohamed Elneny has been with the Gunners as long.
The Newcastle 2-0 victory on Monday nearly guaranteed that Arsenal, a club that hasn't finished in a top-four Champions League spot since the 2015-16 season, will miss out for a sixth-straight year.
Following the loss, Xhaka didn't hold back on his teammates. He told Sky Sports (h/t ESPN):
It's difficult to find the right words. From the first minute to the 90th we didn't deserve to be on the pitch. I can't explain to you why. We didn't do what the game plan was, not listening to the coach. What happened was a disaster performance. You don't deserve to play Champions League or even Europa League. It's very hard to take it at the moment. … If someone isn't ready for this game, stay at home. It doesn't matter your age. If you're nervous, stay on the bench or stay at home. You need people to have the balls to come here and play. 

Granit Xhaka on Arsenal teammates
Xhaka continued by apologizing to Arsenal fans for the team's lackluster performance. He also cleared manager Mikel Arteta of blame, saying, "I don't know why we're not doing what the coach is asking for us."
Arsenal still has a slim chance of finishing fourth. They'd have to beat Everton on Sunday and hope Tottenham somehow blows it and loses to last-place Norwich City in its final EPL game before relegation.
The last day of the season will determine the fates of several EPL clubs
The Arsenal saga isn't the only one that will play out on the final day of the 2021-22 Premier League season.
At the top of the table, Manchester City and Liverpool are locked in a battle for the league title. City holds the keys to the trophy, up one point. The defending champs take on 14th place Aston Villa at the Etihad, while Liverpool hosts eighth-place Wolverhampton Wanderers at Anfield.
No matter which side wins the hardware this year, it will mark the fifth consecutive time that one of these sides has held the Premier League trophy at the end of the season.
Manchester United and West Ham are also guaranteed the last two Europa League spots behind Arsenal or Spurs. But a West Ham win vs. Brighton & Hove Albion coupled with United loss to Crystal Palace could see the clubs swap places. This is important because sixth place goes directly to the Europa Group Stage, while seventh place plays in the qualifying tournament.
Finally, there is one relegation spot still undecided. Everton saved its place in the Premier League with a 3-2 win over Crystal Palace on Thursday. However, Leeds United and Burnley both have 35 points. The latter is ahead on goal differential but plays Newcastle on Sunday while Leeds takes on Brentford.
All Premier League games on the final day of the season kick-off simultaneously for competitive fairness, which is 11:00 A.M. EST on Sunday, May 12.
Like Sportscasting on Facebook. Follow us on Twitter @sportscasting19 and subscribe to our YouTube channel.