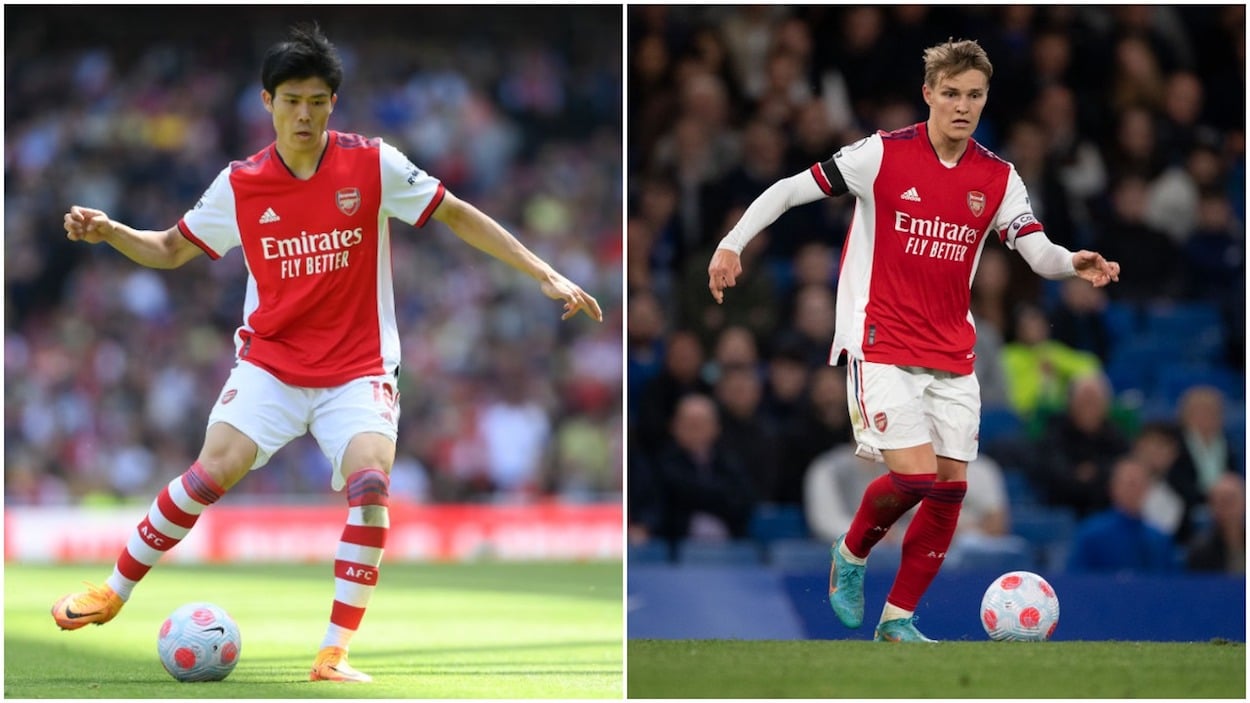 Arsenal FC: How Takehiro Tomiyasu and Martin Odegaard Can Define a Season-Changing North London Derby
While anything can happen in a North London Derby, Mikel Arteta will like his side's chances punching a ticket to Champions League if they can win two tactical battles.
Across an entire season Premier League soccer, some matches can get lost in the shuffle. Arsenal's trip to Tottenham certainly won't be one of them. Beyond the pure rivalry, the Gunners will cross North London with a four-point advantage in the chase for Champions League football. A win on Thursday will seal a top-four place and ensure they finish above Spurs.
While form, tactics, and everything else somewhat go out the window during a match of this magnitude, Arsenal can't go into the derby unprepared. At this point, everyone knows how Antonio Conte wants Spurs to play. In theory, Arteta's men have the skills required to exploit that.
Takehiro Tomiyasu and Martin Odegaard will be Arsenal's keys to the North London Derby
Spurs set up in a 3-4-3, generally sitting in a low defensive block and using that formation to launch dangerous counterattacks after the opposition push forward. The front three of Heung-min Son, Harry Kane, and Dejan Kulusevski have shown a knack for securing the ball and driving at out-numbered defenses. Son and Kane are also elite finishers, meaning you can't afford to give them too many chances because they will hurt you.
That reality makes Takehiro Tomiyasu especially important for Arsenal. While it remains to be seen whether he'll play at his preferred right-back or flip to the left-hand side to cover for the struggling Nuno Tavares, Tomi has a job to do on Thursday. His blend of size, speed, and overall stability will help the Gunners keep Tottenham at arm's length.
When Arteta's men have the ball, they'll also look to exploit the weakness of Tottenham's formation. While playing a 3/5 at the back with two holding midfielders does create a solid defensive base, that shape will provide a natural pocket of space for Martin Odegaard. If the Norwegian midfielder is able to settle between Spurs' lines, he'll be in a perfect place to unlock the stable defense and create a few chances.
In a high-stakes derby, anything can happen. We've seen plenty of matches decided by mistakes, deflections, and even dodgy lasagnas (h/t CBS Sports for the explanation there). If everything goes according to plan, though, Mikel Arteta will have to feel pretty good about his Gunners and their chances of returning to the Champions League.
Like Sportscasting on Facebook. Follow us on Twitter @sportscasting19 and subscribe to our YouTube channel.