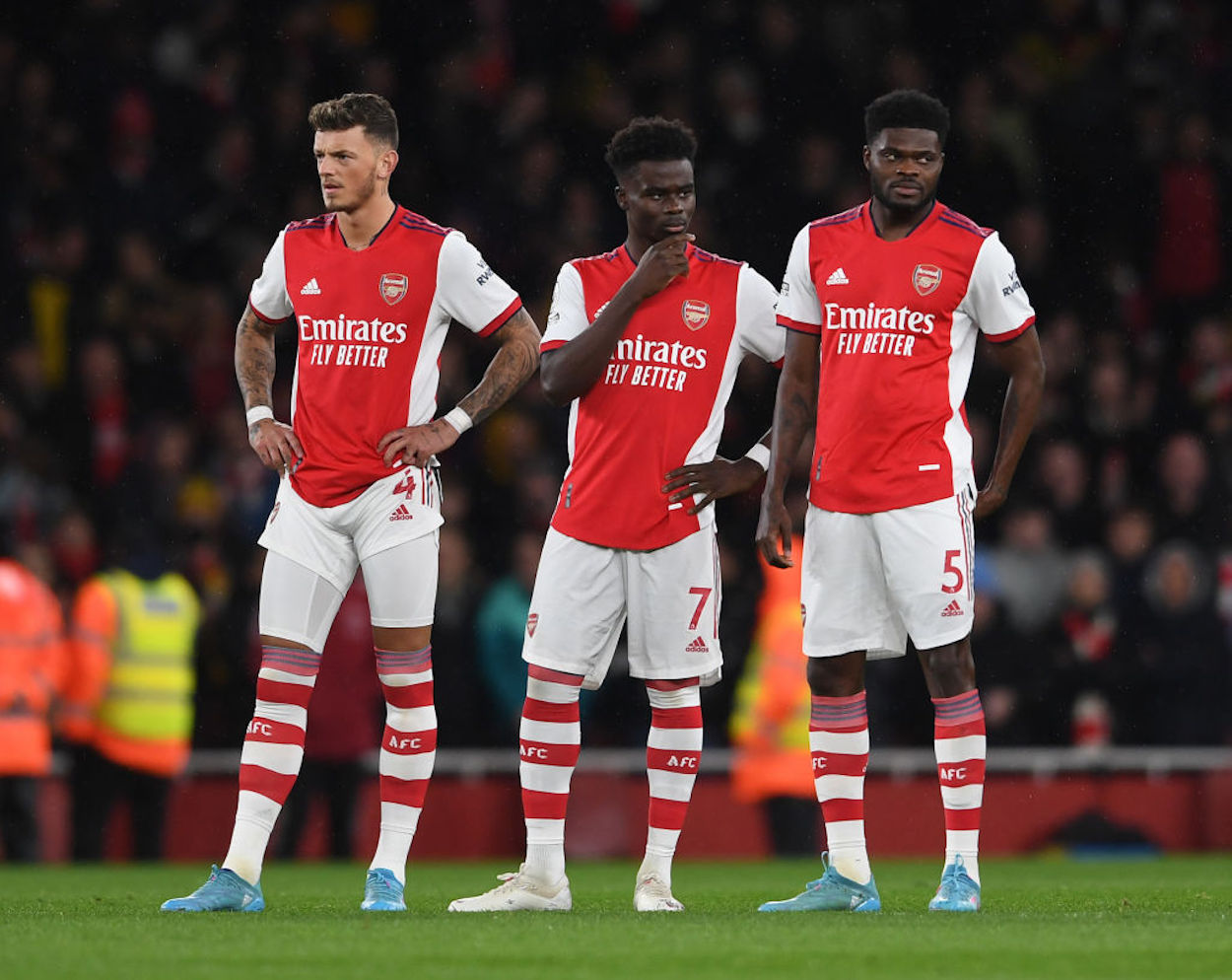 Arsenal Lost to Liverpool, but a Trip to Aston Villa Is the Real Test of Their Champions League Credentials
While Wednesday's date with Liverpool may have stolen the headlines, Arsenal can make an even more important statement at Aston Villa.
After the first three games of the 2021-22 campaign, things have been rather encouraging for Arsenal supporters. Despite some obvious flaws — the squad still lacks an out-and-out striker and the midfield depth leaves something to be desired– the young Gunners have put together a promising body of work. Even after a loss at the hands of Liverpool, they're still favored to finish in the top four and return to European soccer. The next test will come on March 19, as Mikel Arteta's men take a trip to Aston Villa.
While it could be easy to overlook that match, especially after the emotional drain of Wednesday night, there's more than three points on the line. If they can put in a professional performance and earn the win against Villa, Arsenal will show just how much they've grown.
Arsenal put in a solid showing but couldn't beat Liverpool
When Arsenal met Liverpool on Wednesday, it was the North London club's chance to put down a marker and show they could go toe-to-toe with the big boys. While they probably accomplished that aim, the Gunners couldn't do enough to secure one, let alone three, points.
On the whole, the match provided a pretty accurate distillation of where the club currently sits within their larger rebuild. The squad was able to keep Liverpool at arm's length for roughly 60 minutes and managed to fashion some chances down the left flank through Gabriel Martinelli but lacked a bit of quality in the box. Martin Odegaard couldn't squeeze the ball past a diving Alisson and, at the other end, Diogo Jota and Roberto Firmino found the back of the net. It's impossible to compare those finishes without wondering how things would look if Arsenal had a legitimate striker, but that's where the Gunners are for the rest of the campaign.
Once the dust settled, the result was both disappointing and completely expected. While it was probably unrealistic to expect this young Arsenal squad to defeat one of the best teams in Europe, the defeat still snapped Arsenal's winning run and brought them back to earth. The Gunners remain in fourth place, but dropping points on the same night as a Spurs victory does provide an additional reminder that Champions League football isn't guaranteed just yet.
Aston Villa away will show just how far Arsenal have come
Although a win against Liverpool would have been a special moment, Mikel Arteta's Arsenal played well enough to leave the Emirates feeling like they're in a good place. The club's next match, however, will be a truer test for their current aspirations.
At the risk of trotting out a classic cliche, you don't need to beat teams like Liverpool and Manchester City to qualify for the Champions League. While you'll never say no to extra points in your back pocket, winning those games are bonuses. You reach Europe by winning some matches against your direct competition and avoiding mistakes against teams you should beat.
While there's room to debate exactly which group Aston Villa belong in — they're solidly mid-table, putting them below Arsenal's direct competition, but they're also better than the relegation fodder — they still represent a tricky opponent. Steven Gerrard has stabilized the Villans, and Philippe Coutinho has looked back at home in the Premier League. It's a game that Arsenal should win, but that doesn't mean three points are guaranteed.
Pulling out to look at the big picture, this match is a chance for Arteta and his young squad to prove they're not the same old Arsenal of the past. In recent years, one of the club's big issues has been an inability to secure "easy" points against teams they should beat. Just contrast how Arsene Wenger qualified for the Champions League despite getting thumped by the other big teams against how Unai Emery only took one point from four matches against Palace, Wolves, Leicester, and Brighton to let a top-four place slip through his fingers, and you'll understand that reality.
Also, while it's not completely grounded in reality, the stereotype of Arsenal being "soft" still exists. If you buy into that perception, this is the perfect game for the Gunners to lose. They're coming off of an emotional loss and are jumping back into an away match against a traditionally "English" opponent. If things follow the script, they'll get frustrated, fail to cope with their opposition's physicality, and ultimately self-destruct.
As I admittedly wrote before the Liverpool match, each game is worth three points; despite the narratives, only the result affects the table. With all of that being said, though, the trip to Villa feels like a chance to make a different sort of statement. A win on Wednesday would have shown that Arsenal can take down the big boys, which is probably a bit premature. A win on Saturday, however, will suggest that Arteta has a squad capable of taking care of business and securing Champions League football. That seems like a much more realistic and, given the club's recent history, pointed statement.
Through 27 matches of the Premier League campaign, the young Gunners have seemed to be on the right track. On Saturday, they'll have another chance to show that they're not the "same old Arsenal."