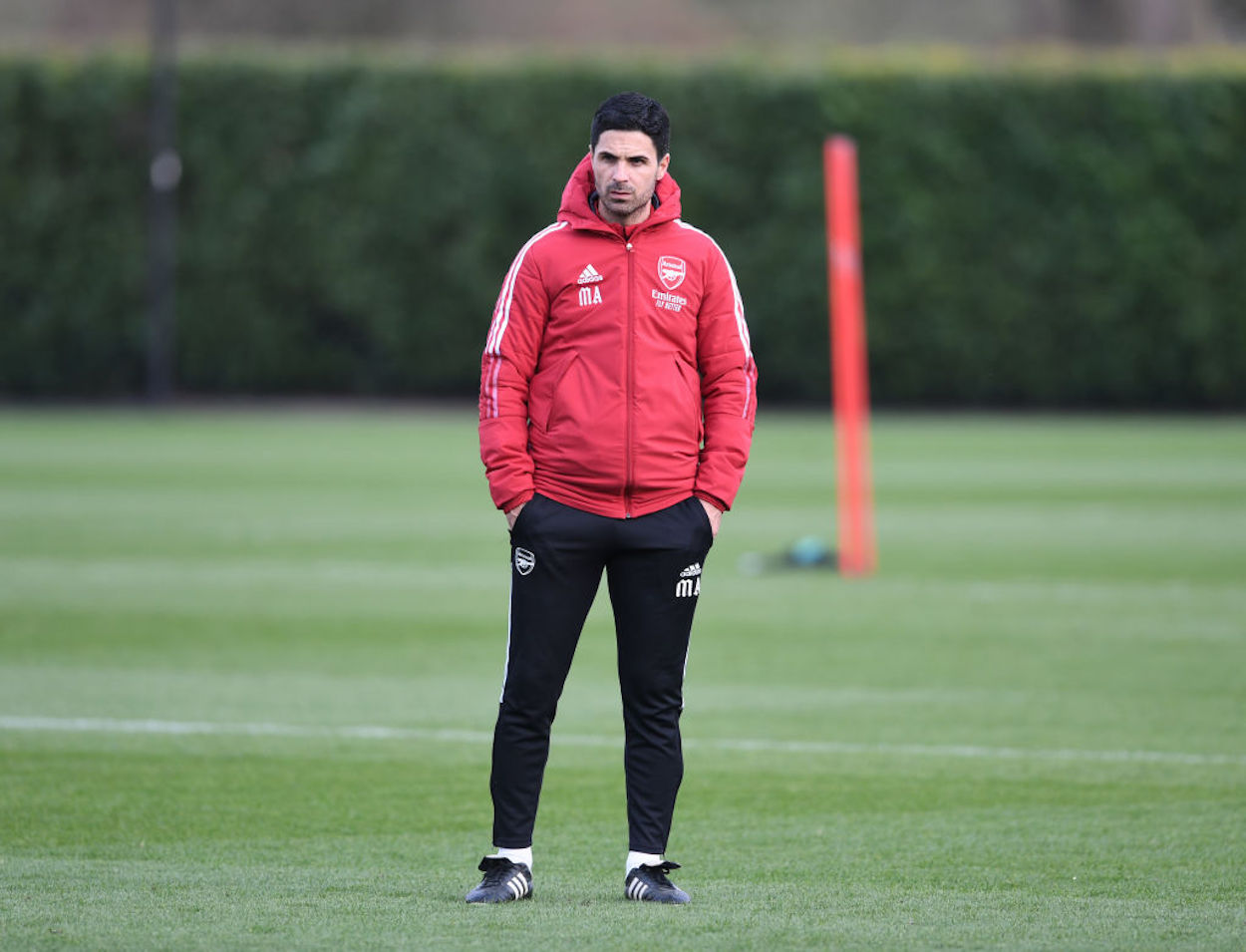 Mikel Arteta Has the Perfect Reminder for Arsenal Supporters Ahead of the Liverpool Match
Regardless of how Arsenal performs against Liverpool, Mikel Arteta's words should keep things in perspective for Gunners' supporters.
For the first time in what feels like an eternity, Arsenal supporters can feel good about what they're seeing on the pitch. While the club is still miles away from the heights of Arsene Wenger's famous Invincibles, Mikel Arteta has his group of young Gunners moving in the right direction. After several seasons outside of the Champions League, a place in the top four looks like a real possibility. European soccer, at least in the Europa League, seems to be back on the menu.
Ahead of a big date with Liverpool, though, the Spaniard had a sobering but promising reminder for Arsenal supporters. In Arteta's mind, his squad is still far away from his finalized vision.
Mikel Arteta has Arsenal firing on (almost) all cylinders
After finishing two consecutive seasons in eighth place, Arsenal had reached their modern nadir. Even if you believed that the only way was up, Mikel Arteta's squad is probably over-performing even the most optimistic supporter's expectations.
Although the season got off to an ugly start — you could argue that starting the season with newly-promoted Brentford, Manchester City, and Chelsea would have tripped anyone up, though, let alone a young squad in transition — things have completely turned around. As of March 16, Arsenal sit in fourth place, one point ahead of Manchester United, with three games in hand. Granted, those games in hand are against high-quality opposition, but it's still a solid position to find yourself in.
Looking beyond the table, though, things arguably are even more encouraging. All of the club's recent acquisitions look like shrewd business. Aaron Ramsdale, Ben White, and Takehiro Tomiyasu (when healthy) have immediately become an important part of a solid back-five. Martin Odegaard has been providing creativity without being a defensive passenger, and, looking back to an earlier arrival, Thomas Partey is playing like the man we saw in Madrid.
Then, of course, there's the young offensive trio of Bukayo Saka, Gabriel Martinelli, and Emile Smith Rowe. While they're all at slightly different stages of their development — Saka is a bit ahead of the other two and has shown incredible fortitude to rebound from a crushing setback this past summer — the future potential is clear.
When you also consider the Gunners are doing this without an out-and-out striker, things seem even brighter. Alexandre Lacazette does plenty of good work for the team, but it's easy to imagine how having a number 9 capable of scoring 20 goals per season, along with some additional midfield talent, would take things to the next level.
Arteta believes his squad is 'still far' from his final vision
As fans, it's easy to get excited and start dreaming of Champions League nights and title challenges. Arteta, for his part, isn't ready to start fantasizing. In his mind, there's still plenty of work to be done.
Ahead of Arsenal's match against Liverpool, the young manager was asked how close the team was to fulfilling the vision he had when he first took charge. Without missing a beat, Arteta simply said, "Still far. Still far."
Thankfully for Arsenal supporters, Arteta did expand beyond those two words.
"We have to make things quicker, sharper. We can be adaptable, we can be much more unpredictable," he explained when asked what still had to change. "We can have much more flexibility, and we can be more consistent throughout games to maintain that level."
If that sounds a bit pessimistic, the Spaniard did acknowledge that the club was closer to his vision than ever before during his tenure, although that isn't enough to satisfy him.
"I focus on that gap, and that gap is still big," he concluded.
Arsenal fans should keep those words in mind as Liverpool visits North London
While every win counts for the same three points, Arsenal will face the stiffest test of their current run on Wednesday when Liverpool come to the Emirates. At the risk of giving supporters too little credit, that's the sort of match that will throw nuance out the window and shape opinions.
If Arsenal win or come within touching distance of a victory, everyone will emerge feeling positive and like this young squad can really do something. If Arsenal are on the receiving end of a thrashing, though, things will take on a much different tone. The narrative will shift, and this young squad will return to being promising but ultimately not good enough.
As is usually the case, though, the answer is somewhere in the middle. While Wednesday's game will be a measuring stick, one result won't make Arsenal world-beaters or complete flops. In reality, the current squad is young, talented, and extremely encouraging, but they're simply not ready yet. To suggest that this squad, which is being led by a core of players in their early 20s, is ready to compete for titles is setting yourself up for disappointment. As much as we don't want to admit it, there's nothing wrong with losing to one of the best sides in all of Europe.
The fact that expectations have changed and we're now talking about Arsenal earning a Champions League spot is a credit to Mikel Arteta and his squad. If they fall short of that, it's OK to be disappointed and feel like they missed an opportunity. Fans and players alike should want to win every match. With that being said, though, it's important to keep the bigger picture in mind. Win, lose, or draw, this team is "still far" from the finished article.
That, depending on your perspective, is either a dream come true or your worst nightmare.
Press conference quotes via Arsenal