Who Is the Highest-Paid Player in the 2022 UEFA Champions League Final Between Liverpool and Real Madrid?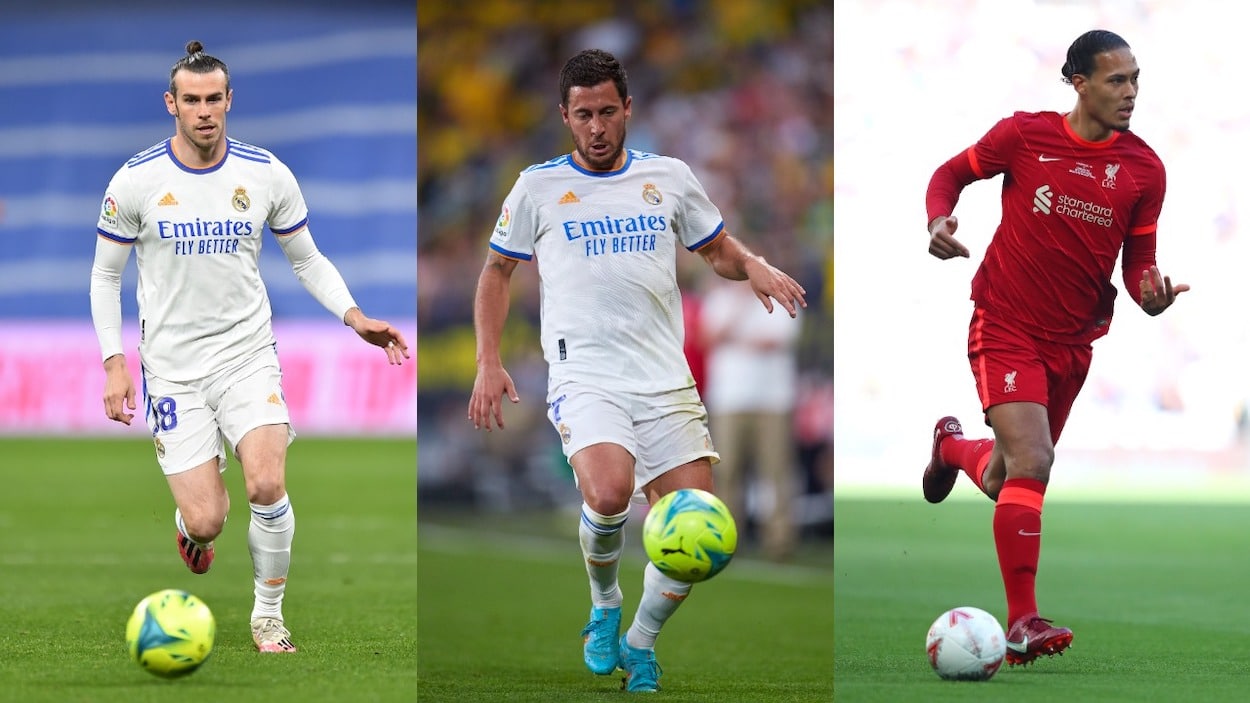 The 2022 UEFA Champions Final is here. On Saturday, May 28, the English Premier League's Liverpool will take on LaLiga's Real Madrid at Stade de France in Saint-Denis, France. The match features two of the best soccer teams in the world, competing for the most prestigious trophy in professional football. There are stars galore on both sides of the ball. But who is the highest-paid player in the 2022 UEFA Champions League Final between Liverpool and Real Madrid?
Gareth Bale is the highest-paid player in the 2022 UEFA League Finals
The highest-paid player in the 2022 UEFA Champions League Final between Liverpool and Real Madrid is Real Madrid's Welch winger, Gareth Bale.
Bale is the eighth-highest-paid player in the world, taking home a cool $701,945 a week, which adds up to $36.5 million a year.
Closely behind Bale is his teammate Eden Hazard. He is the 10th-highest-paid player in the world, earning $645,178 each week, or $33.5 million per season.
Interestingly, the two highest-paid players in the 2022 Champions League Finals may not play in the game. Both Bale and Hazard have dealt with injury this season, but the incredibly well-compensated stars are also out of favor with Real Madrid manager Carlo Ancelotti.
Bale only has seven total appearances this season. And he hasn't played for Real Madrid since April 9, when he played 16 minutes vs. Getafe. The winger's contract is up at the end of the season, so if he does get on the pitch, it will likely be his last appearance for Los Blancos.
Hazard has fared slightly better than Bale this season with 23 appearances in all competitions. However, prior to playing 26 minutes on May 15 vs. lowly Cádiz CF, the Belgian winger hadn't played since getting on the field for five minutes against Alavés on February 19.
While this doesn't bode well for Hazard, the forward is under contract at Real Madrid until 2024. He did recently insist, though, that he'll be back with the Spanish side next season.
Real Madrid has a highly-paid roster of Galácticos
While the two highest-paid players in the UEFA Champions League Finals will probably be on the bench, that doesn't mean that Real Madrid won't run out an incredibly well-paid team in France on Saturday.
The top five highest-paid players on Real Madrid behind Gareth Bale and Eden Hazard are:
ST Karim Benzema ($25.7M)
DF David Alaba ($24.1M)
MF Toni Kroos ($23.5M)
FB Marcelo ($23.5M)
MF Luka Modrić ($21.1M).
The fact that Real Madrid will have most of the highest-paid stars on the pitch in the 2022 Champions League Final isn't a surprise.
While many top football clubs around the globe — including Real Madrid's chief rival Barcelona — believe in building teams around homegrown youth, that is not Real Madrid's style. The club's philosophy on team-building is known as "Galácticos" (Spanish for "star") and involves paying big money for established great players.
The Galácticos will be on full display on Saturday. Real Madrid's projected starting lineup for the UCL Final will make around $147.8 million this season.
Liverpool's payroll isn't nearly as big as Real Madrid's
Liverpool is the betting favorite for Saturday's Champions League Final, but the team lags way behind Real Madrid in terms of payroll.
The highest-paid player on manager Jürgen Klopp's team is center-back Virgil van Dijk makes $14.3 million per season. This makes him the third-highest-paid central defender in the Premier League behind Manchester United's Raphaël Varane ($22.2M), and Manchester City's John Stones ($16.3M).
Van Dijk's salary would only make him the 10th-highest-paid player on Real Madrid.
After Van Dijk, the top five Liverpool players in terms of salary (or really top six with a three-way tie for fourth) are:
MF Thiago Alcântara ($13.08)
FW Mohamed Salah ($13.08)
FB Trent Alexander-Arnold ($11.7)
ST Roberto Firmino ($11.7)
MF Fabinho ($11.7)
Looking at Liverpool's probable starting 11, the dollar figure won't come close to what's on the field for Real Madrid. The total Liverpool starting payroll in the 2022 UCL Final should be around $94.9 million.
Contract figures courtesy of Spotrac and Capology
Like Sportscasting on Facebook. Follow us on Twitter @sportscasting19 and subscribe to our YouTube channel.
RELATED: 10 Years After the Most Dramatic Premier League Finish in History, Manchester City Does It Again