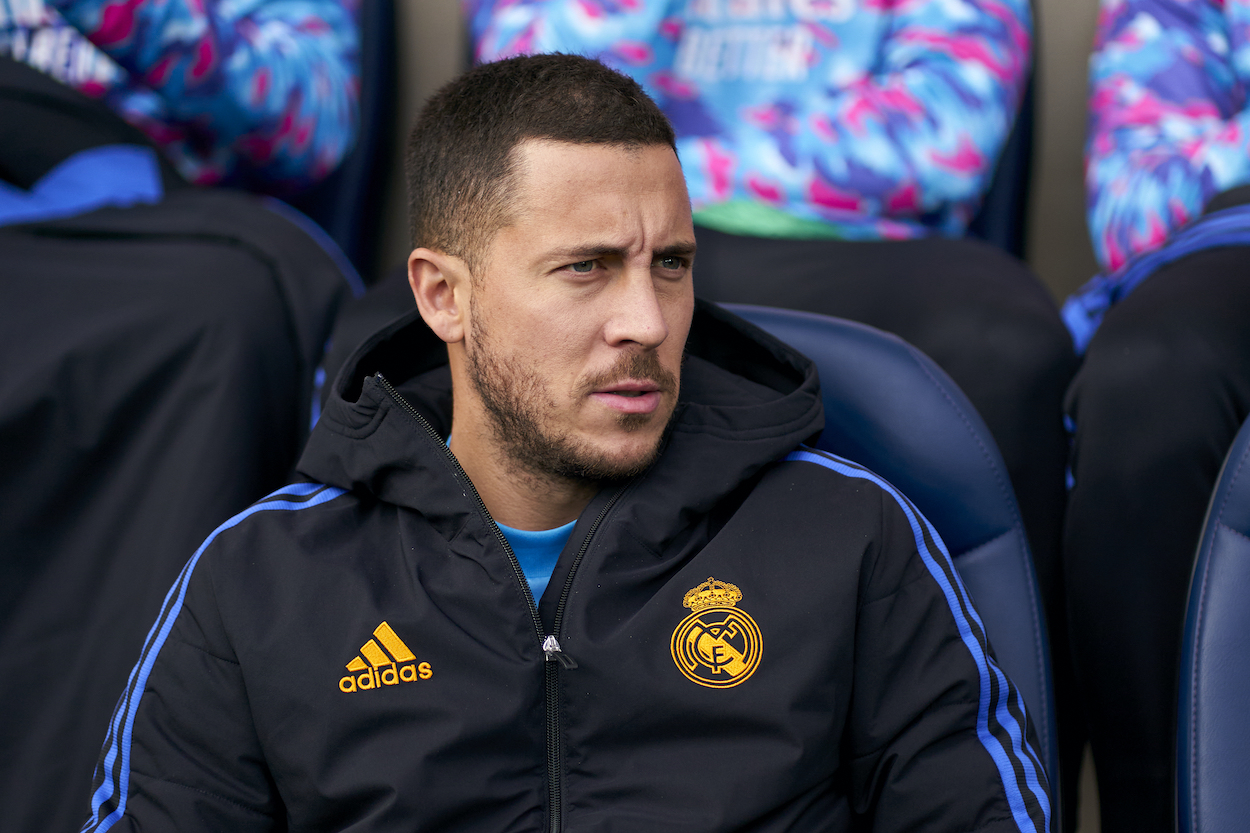 Eden Hazard Watches Yet Another El Clasico From the Bench as Barcelona Routes Real Madrid
Eden Hazard on the bench isn't the reason Real Madrid got crushed in EL Clasico by Barcelona, but it does raise questions about the future.
Possibly the biggest rivalry in all of international soccer is El Clasico, the twice (or more) yearly showdown between Spanish giants Real Madrid and Barcelona. While Real Madrid has cruised to the top of La Liga, Barcelona clobbered Los Blancos 4-0 in this year's first meeting. That scoreline has raised questions for Real Madrid, specifically around benched star Eden Hazard.  
Barcelona obliterated Real Madrid in the first El Clasico of 2022 
On May 6, 2018, Barcelona and Real Madrid played a classic chapter in their long rivalry. On the one side, superstars Lionel Messi and Luis Suarez netted for Barcelona. Galácticos Cristiano Ronaldo and Gareth Bale scored for Real Madrid. 
Many of the big names from that day, including Messi and Ronaldo, are now gone from El Clasico. However, the rivalry between the team in the nation's capital and the center of the Catalan region remains. 
Barcelona came into Sunday's match without winning against their biggest Spanish rivals in three years. They have a new coach in club legend Xavi and a team cobbled together from English Premier League rejects. Those are the players Barcelona could sign on the cheap thanks to the club's disastrous financial situation. 
Real Madrid might not have Ronaldo anymore. However, there are still hundreds of millions of dollars worth of superstars up and down the roster. These big names had the side in first place in La Liga by nine points coming into El Clasico at home in Santiago Bernabéu Stadium.
Despite the opposite trajectories of late, Barcelona stormed the Bernabéu on Sunday. They beat their rivals 4-0 in a victory that sent shockwaves around the soccer world. 
Barca got two goals from Pierre-Emerick Aubameyang and one from Ferran Torres, castoffs from Arsenal and Manchester City, respectively. Relatively unheralded Uruguayan youngster Ronald Araújo provided the other. 
On the Real Madrid sideline, Eden Hazard, Isco, and Luka Jovic watched from the bench with Karim Benzema out injured and Gareth Bale either injured or still in exile, depending on who you believe. 
That means Carlo Ancelotti had $379 million (in transfer fees) on the sidelines for his team's most crucial match of the season. Now, the well-traveled Italian manager has some explaining to do.
Eden Hazard's absence for El Clasico was notable
During that classic 2018 El Clasico, 27-year-old Belgian winger Eden Hazard was in the midst of a legendary career at Chelsea. During his seven seasons in London, Hazard won two Premier League titles, an FA Cup, a Carabao Cup, and two Europa League winner's medals. 
In 2019, Real Madrid targeted Hazard to be their next superstar and the long-term replacement for Cristiano Ronaldo. 
Unfortunately for Real Madrid, that just hasn't worked out. 
In two-plus seasons, Hazard has just 65 appearances for the Spanish side and has produced six goals and 10 assists. It's hard to say that his El Clasico performances have been "worse" because they're actually non-existent. Hazard hasn't featured in the last seven matches against Barcelona. 
The speedy Belgian isn't the only Real Madrid star that's out of favor with manager Carlo Ancelotti either. 
While Hazard hasn't played a minute in the team's last five-game, striker Luka Jovic and winger Gareth Bale haven't found the field in seven games, and midfielder Isco hasn't been on the pitch in the previous eight matches.
Now, fans and pundits alike are questioning what's ahead for Ancelotti and Real Madrid.  
What's next for Real Madrid?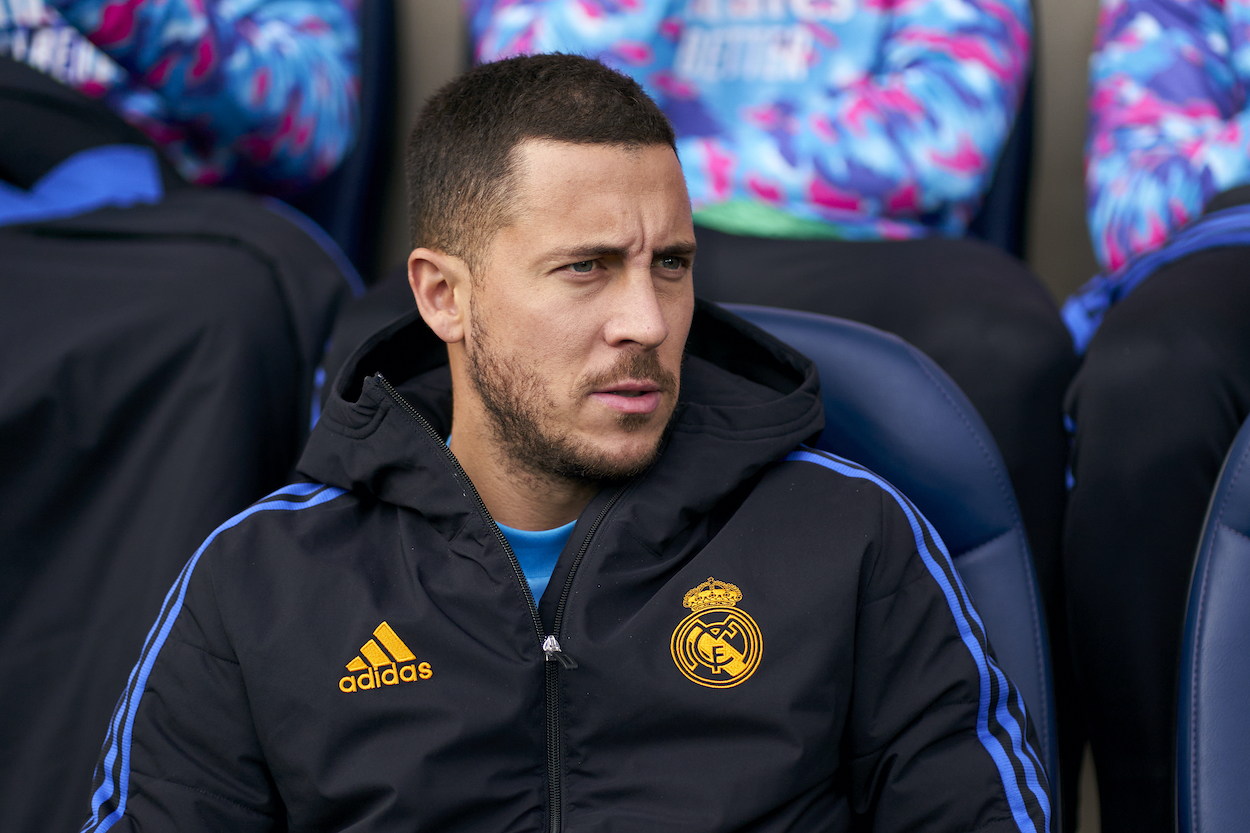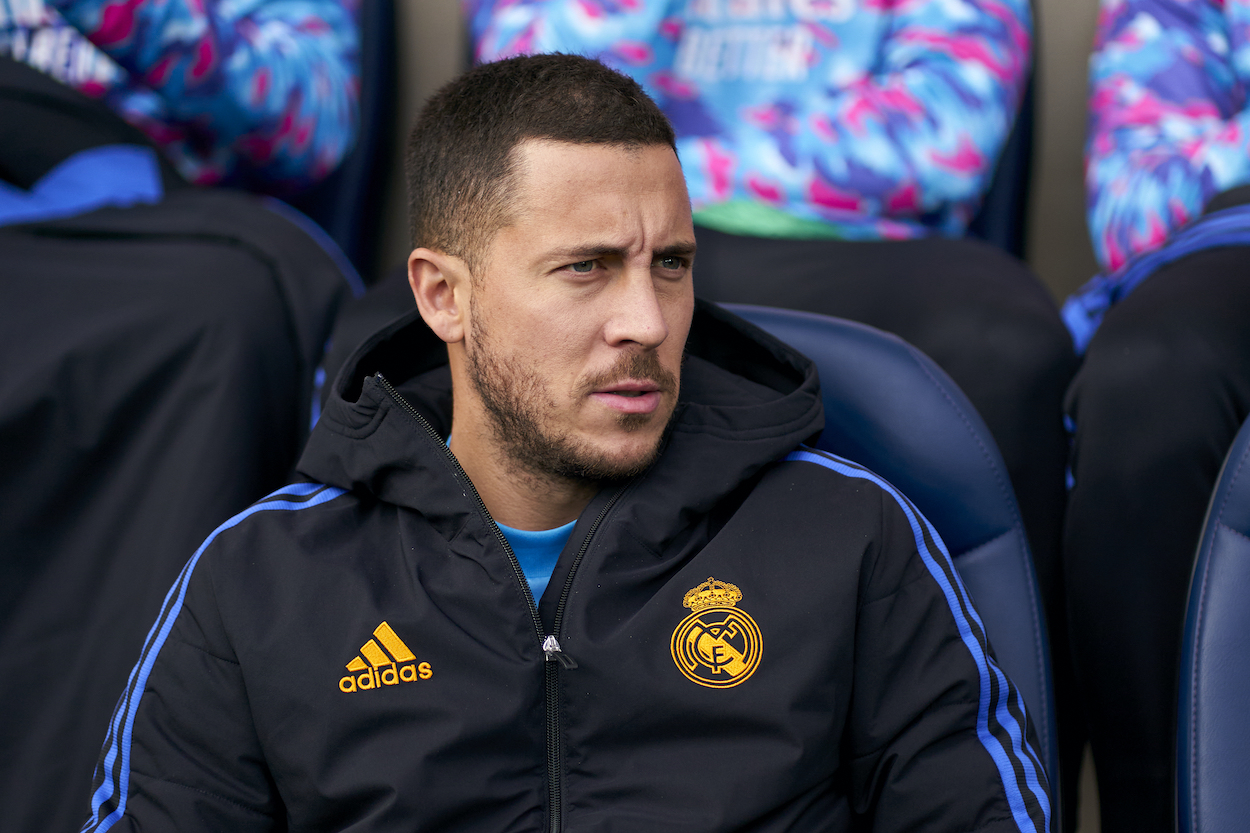 One (admittedly embarrassing) loss to Barcelona isn't the end of Real Madrid's season. The team is still nine points up on Sevilla (and 12-points on Barcelona and Atletico Madrid) with just nine matches to play. 
In the Champions League, a stunning hat trick from Karim Benzema allowed the team to come back on Lionel Messi's Paris Saint-Germain. They now move on to the quarterfinals, where they'll face Eden Hazard's old mates at Chelsea. 
All that is to say that the El Clasico beatdown won't ruin an otherwise excellent season at the Bernabéu. However, Hazard and the other stars missing the match vs. Barcelona does point to a bigger issue for the club. 
Thirty-somethings Hazard (31), Gareth Bale (32), and Benzema (34) weren't in the game, but again stars such as Luka Modrić (36), Toni Kroos (32), Dani Carvajal (30), Nacho (32), and Casemiro (30) were. 
The age of Los Blancos' roster is concerning, especially when injury or form isn't allowing those players to get on the field. Real Madrid can (and should) sell as many of these players as they can in the offseason, but then the question becomes, what do they do with the proceeds. 
Hazard and Luka Jovic were the team's last two big-money signings, and both are in Ancelotti's doghouse. 
Borussia Dortmund's Erling Haaland is the obvious next target. But Real Madrid is locked in a battle for the 21-year-old striker with Manchester City, and the English side is the rumored favorite. 
While the El Clasico loss to Barcelona doesn't hurt Real Madrid much in the future, it does raise questions, and the organization will have to answer them soon. 
All stats courtesy of Transfermrkt