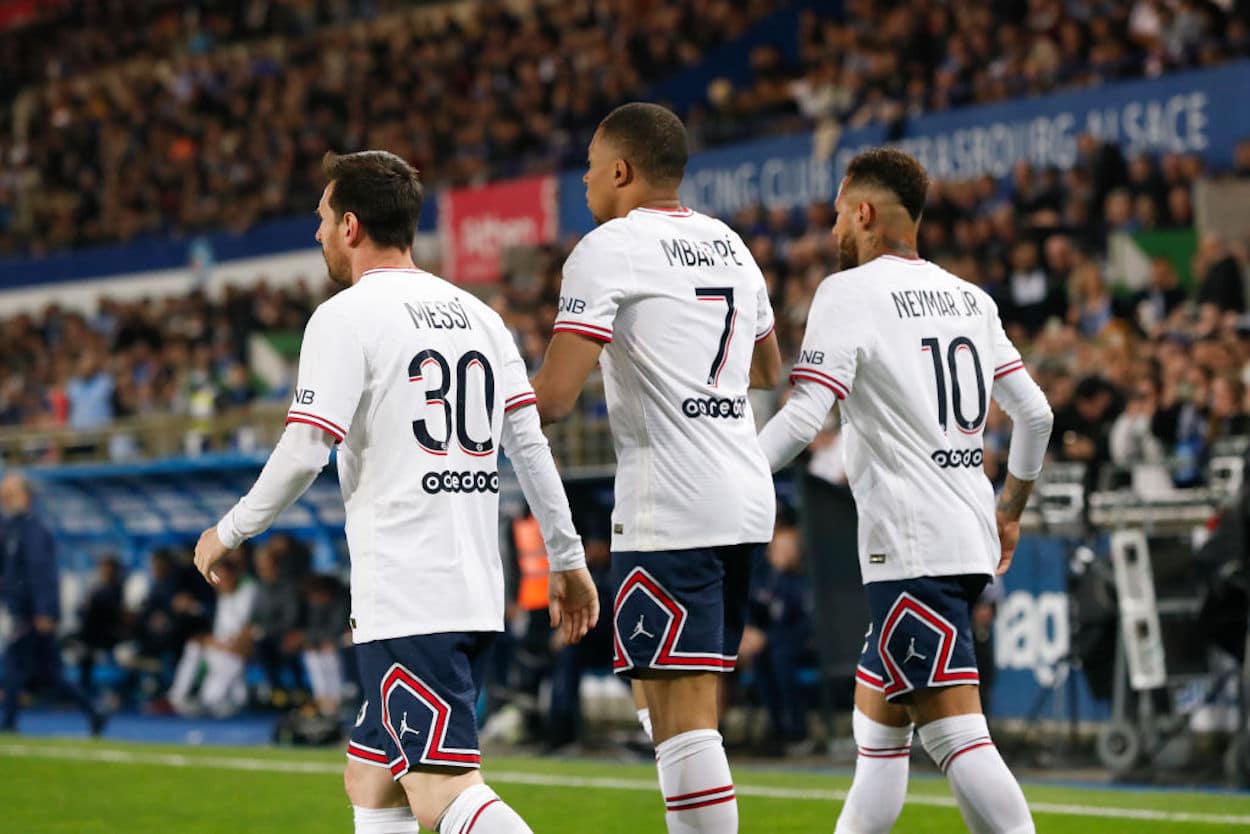 The 10 Highest-Paid Soccer Players in 2022
Big-time salaries aren't limited to North American sports. Soccer stars can still take home plenty of cold, hard cash.
Football is the most popular sport in the U.S., and football is also the most popular sport in the world, but in a different way. And while Americans may latter football as soccer, it's the beautiful game is becoming more and more popular in North America.
If you're searching for some common ground between your favorite sport and soccer, look no further than money. For better or worse, the biggest stars are still able to command multiple millions of dollars in salary.
With that in mind, here are the 10 highest-paid soccer players in 2022:
10. David de Gea, Manchester United: $22,965,959
There was a time when the Spanish goaltender was one of the best shot-stoppers in the world. While that's no longer the case — and don't even ask about his ability playing out from the back — David de Gea is still receiving a massive salary.
Without going too far down a Manchester United rabbit hole, the Spaniard's wages are somewhat emblematic of the issues at Old Trafford. He's overpaid, underperforming, and, due to his massive salary, it's tough to shift him out of the club.
Looking for a bright side? His contract will expire after the 2023-24 campaign.
9. Karim Benzema, Real Madrid: $23,866,084
While aging curves are generally consistent, there will always be a few outliers. Karim Benzema, however, seems to be getting better with age. Either that, or he's not getting the credit he deserves as the focal point of a Real Madrid squad without Cristiano Ronaldo.
Regardless of the reason, the Frenchman has proved to be well worth the Spanish giant's money. He was a key factor in the club's run to the 2021-22 La Liga and Champions League double.
8. Kevin de Bruyne, Manchester City: $24,497,023
At the risk of trotting out a cliche, the midfield is the engine room of a successful soccer team. If that's the case, Kevin de Bruyne provides plenty of horsepower to Manchester City's machine.
The Belgian is truly a do-it-all player. He can sit deeper in the midfield and dictate play, or push higher up the field to contribute goals. In many ways, he's the modern evolution of a traditional number 10, fusing the stereotypical creativity with the work-rate required to stay in Pep Guardiola's lineup.
City can afford to pay KDB virtually whatever salary is required without breaking the bank, but, even if they were facing a financial crunch, he'd be worth the money.
7. Sergio Ramos, Paris Saint-Germain: $27,117,837
Now this one is an overpayment.
Ramos put together an incredible career in Spain, and PSG paid big money to bring him to France. In theory, he was supposed to provide some stability and experience as the club chased an elusive Champions League title. In reality, he barely played due to a series of injuries.
Can he get back on track and make a difference during the 2022-23 campaign? Only time will tell
6. Eden Hazard, Real Madrid: $31,075,630
While Real Madrid dodged a bullet by parting ways with Sergio Ramos, Eden Hazard isn't exactly setting Spain on fire. Despite dominating the Premier League with Chelsea, the Belgian winger has barely made an impact at the Bernabeu. He's been injured, out of shape, and has slipped behind Vinicius Jr. on the depth charts.
Hey, at least the pay is good, right?
5. Cristiano Ronaldo, Manchester United: $31,563,472
While he's on the back-nine of his career, it's easy to understand why Cristiano Ronaldo earns so much money. Like it or not, goals win soccer games, and the Portuguese star is one of the best when it comes to putting the ball in the back of the net.
Beyond that, though, Ronaldo has fallen off. He doesn't have the legs he once did, and can't press from the front, which limits his effectiveness in modern football. Once his current contract expires, don't surprised to see him take a smaller contract to return to Portugal. He's probably not ready to retire, but he isn't going to be able to command massive wages from a top club.
4. Frenkie de Jong, Barcelona: $37,290,756
While his wages have been at the center of some bizarre financial news, de Jong earns plenty of money in Spain. Given his combination of youth, talent, and skills in possession, it's easy to see why Barcelona opened up their wallet to sign him away from Ajax in 2019.
His future in Catalonia may be uncertain, but, even if he moves, de Jong will still be earning plenty of money. 
3. Neymar, Paris Saint-Germain: $56,045,520
As we get to the top three, there's a major jump in salary. Neymar, whether you love him or hate him, is a global star, and PSG is able to afford to pay his wages.
While the Brazilian can be a divisive figure, there's no arguing with his skills on the ball. Could you claim that his personality, combined with the club's policy of signing superstars, is part of PSG's problems? Yes, but that's a conversation for a different day.
2. Lionel Messi, Paris Saint-Germain: $63,284,898
Even if you're a Ronaldo fan, no one can deny Lionel Messi's greatness. During his time at Barcelona, the Argentine star write his name all over the football history books. Understandably, that reality means he costs a pretty penny.
As with Sergio Ramos and Neymar, PSG paid a premium to bring Messi to the French capital. Is he worth the money at this point of his career? Probably not, but when you see him produce a moment of magic, that seems completely irrelevant.
1. Kylian Mbappe, Paris Saint-Germain: $90,402,736
Perhaps you're noticing a trend here. Paris Saint-Germain have showing a willingness to pay for the biggest stars they can land, and it's tough to get any bigger than Kylian Mbappe. Between his speed, skill, and finishing ability, any club would gladly add the French forward to their ranks.
Despite rumors of a move to Real Madrid, the French star signed a contract extension with PSG, which, on paper, will last until 2025. Whether he waits until that deal expires of forces a transfer before then, one thing remains clear: He'll only continue to make massive sums of money.
Salary data via FB-Reference and accurate as of 8/24/2022.