The 10 Highest-Paid Soccer Players in 2022
Football is the most popular sport in the U.S., and football is also the most popular sport in the world, but in a different way. Americans typically know the latter football as soccer. While it doesn't enjoy as much popularity in the U.S., soccer has a strong following across the world.
Because of how popular soccer is globally, the sport's top players have salaries that rival those of the biggest names in the NBA and NHL. You may not be familiar with all of these names, but sports fans around the world certainly know them. And it pays off for them to the tune of millions of dollars per year. Here are the 10 highest-paid soccer players in 2022:
10. Eden Hazard: $26 million
Square Mile lists the 10 highest-paid soccer players in the world, with Eden Hazard as the first name on the list. A winger for Real Madrid, Hazard's annual salary comes in at $26 million. According to Baltic Times, he earns more than $475,000 per week.
9. Gareth Bale: $26 million
Another winger with Real Madrid, Gareth Bale also gets a $26 million yearly paycheck. His weekly pay comes out to more than $659,000 based on the contract he signed in 2016.
8. Robert Lewandowski: $27 million
We leave Spain and head to Germany for the No. 8 player on the list, Bayern Munich striker Robert Lewandowski. The Polish player will be 34 years old by the start of next season, but he's still playing at a high level and earning his $27 million salary. 
7. Paul Pogba: $27 million
Manchester United is one of the biggest names in the sport, so playing for them is lucrative. That's the case for midfielder Paul Pogba, who earns an annual pay of $27 million playing for the iconic squad.
6. Kylian Mbappe: $28 million
The first of three PSG players on the list, Kylian Mbappe is a forward on the French Ligue 1 team. The 23-year-old earns $28 million a year and reportedly refuses to sign a contract extension, potentially with eyes on heading to Real Madrid in due time. His weekly take comes out to nearly $512,000 — and looks to only rise with his next contract.
5. Kevin De Bruyne: $28 million
We start the top five with Manchester City midfielder Kevin De Bruyne. He'll be with City for the foreseeable future after re-signing with the club in the summer of 2021. After inking that new deal, De Bruyne earns an annual salary of $28 million. He gets just shy of $437,000 every week as he enters his early thirties, turning 31 years old in June.
4. Andres Iniesta: $31 million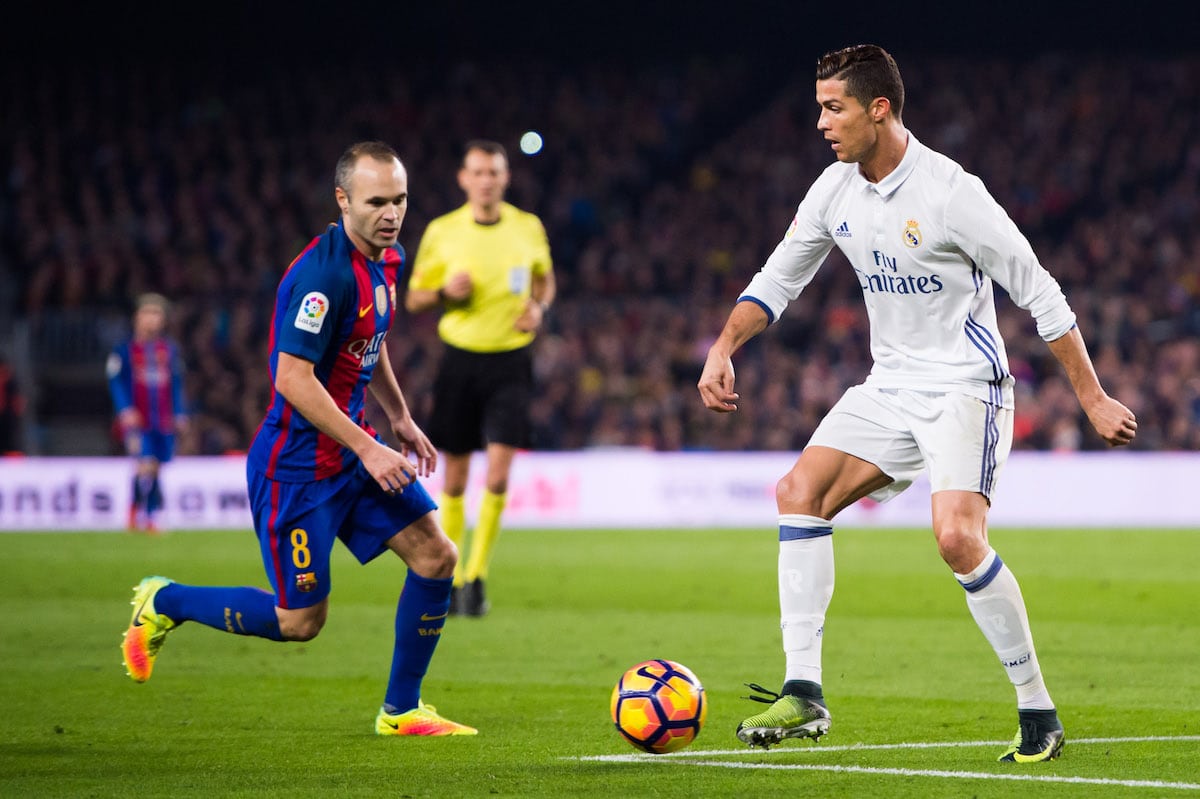 The 38-year-old Spaniard scored the game-winning goal in the 2010 World Cup, and Andres Iniesta is still going strong a dozen years later. Now a midfielder for J1 League club Vissel Kobe, he's still playing at a high level for the team he captains. They're paying him well for his efforts, to the tune of $31 million per year. 
3. Cristiano Ronaldo: $36 million
As we get to the top three, we're seeing names even non-soccer fans likely know. The first of the trio is Cristiano Ronaldo, a 37-year-old forward for Man U. He signed a two-year deal with the club in 2021, making him the highest-paid player in English Premier League history with a $36 million annual salary. On a weekly basis, Ronaldo gets right around $600,000.
2. Neymar Jr.: $36.5 million
You know you've made it when you are known simply by your first name. That's the case for PSG forward Neymar Jr., who has a $36.5 million annual salary after signing an extension in the summer of 2021. The 30-year-old Brazilian soccer star gets more than $756,000 per week from the team.
1. Lionel Messi: $41 million
Despite an annual salary as high as it is, Neymar isn't even the highest-paid player on his own team. PSG teammate Lionel Messi is considered by many to be the best player in the history of the sport. So it's not a surprise he tops this list.
What may be surprising is the number: $41 million per year for a two-year contract he signed in 2021, with an option for a third year. Messi's weekly earnings are nearly $1.2 million.