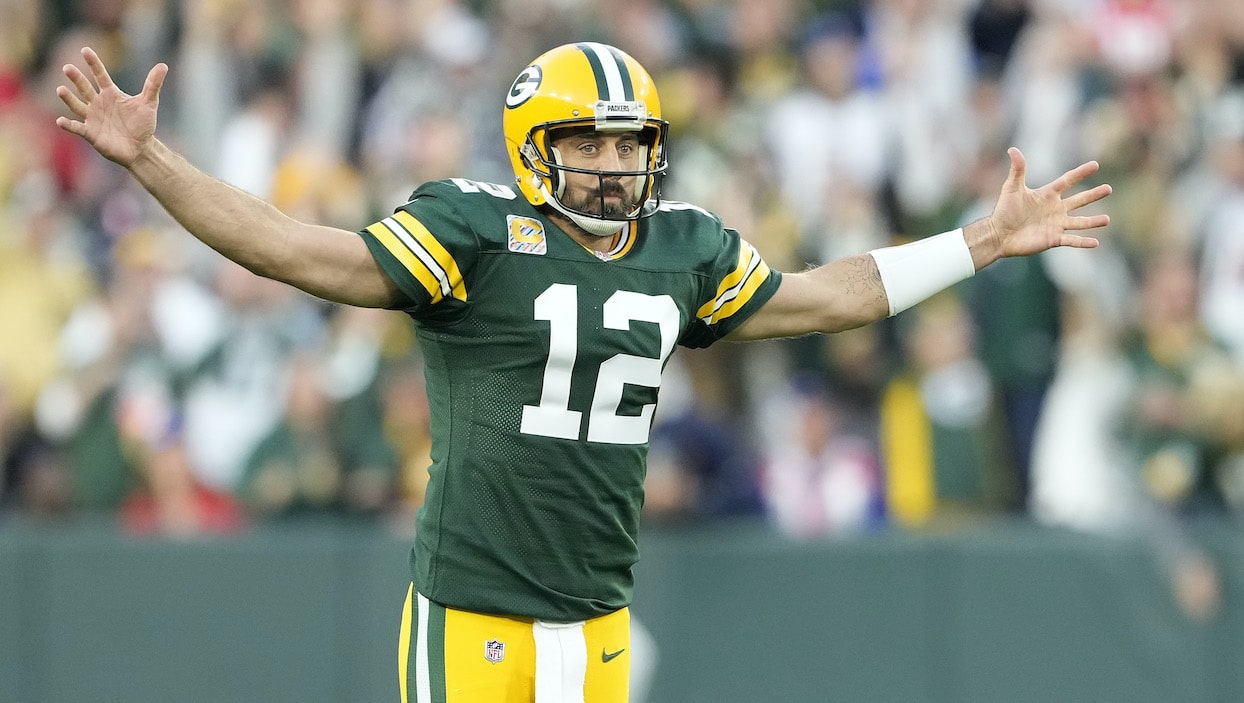 WATCH: Tony Romo Hilariously Translates Aaron Rodgers Screaming at His Lineman
Aaron Rodgers let fly profanity that TV viewers clearly heard and CBS analyst Tony Romo tried to put a more PG spin of the QB's words.
Green Bay Packers MVP quarterback Aaron Rodgers is a pretty calm, cool, and collected guy. It's part of what makes him a great QB. However, like almost any competitive professional athlete, Rodgers can occasionally lose his cool in the heat of battle. That's what happened on Sunday in the Packers-Patriots Week 4 matchup. TV mics caught Rodgers screaming profanities at his center, Josh Meyers, for not snapping the ball quick enough. Former NFL QB Tony Romo then stepped in on commentary to hilariously clean up the Packers QB's language for the television audience.
Tony Romo cleaned up Aaron Rodgers' profanity for TV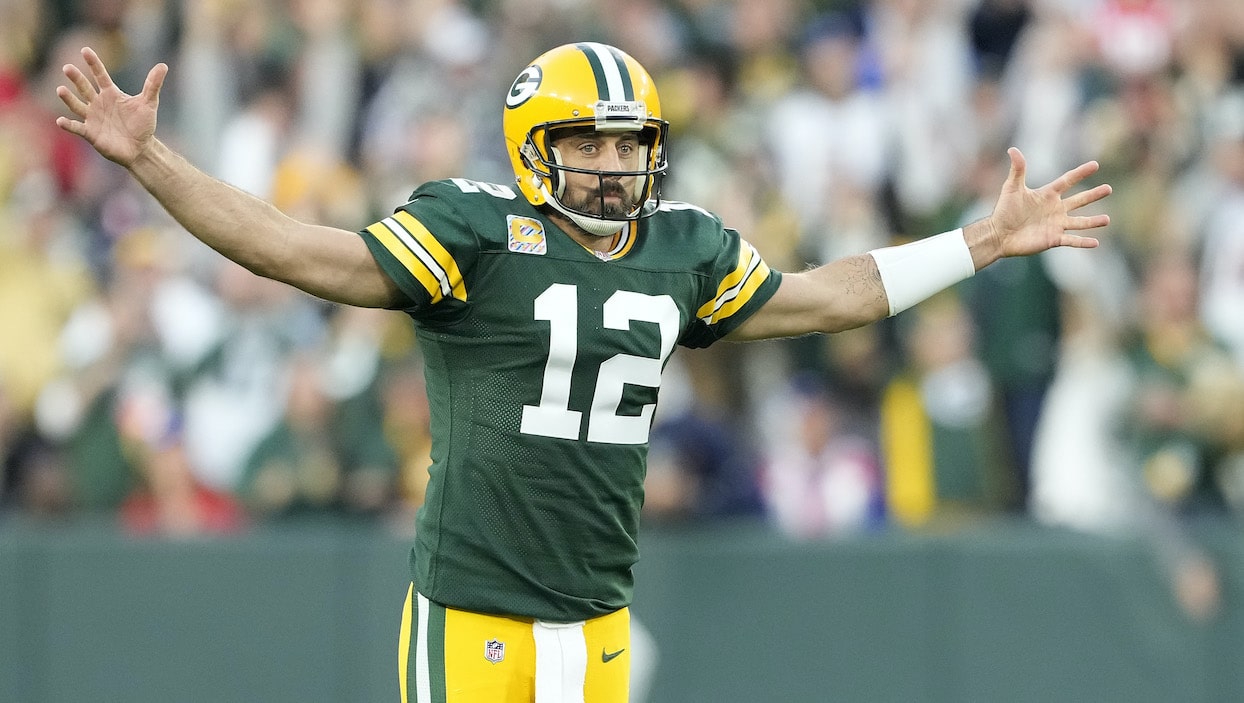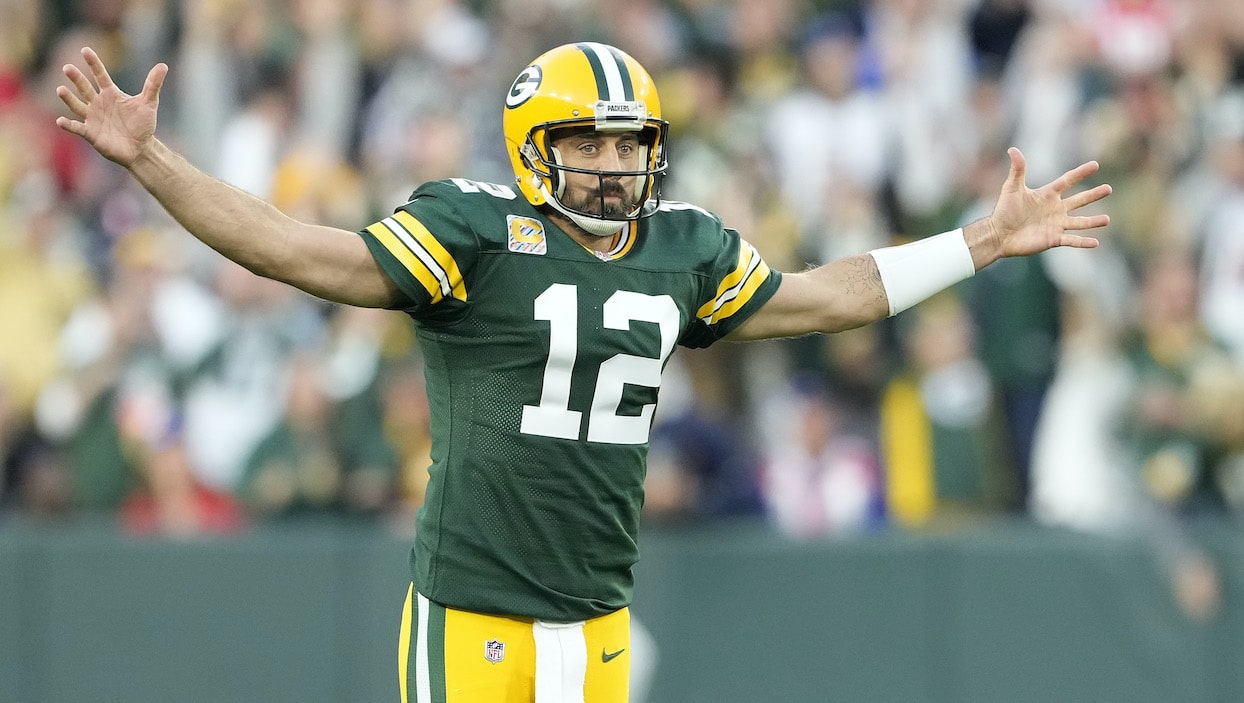 Packers fans know that Aaron Rodgers loves to get a competitive advantage or a free play whenever he can. If the defense is subbing or not lined up properly, he wants to start the play as quickly as possible to catch the defense off guard or draw a flag.
During the fourth quarter of the Packers Week 4 overtime victory over the Patriots, Rodgers saw an opportunity to do this.
As the Patriots were running defenders on and off the field, Rodgers hurried his offense up to the line of scrimmage to try and run a play. The play didn't get off as quickly as Rodgers wanted, and Patriots defensive back Adrian Phillips was able to take a knee, drawing the Pats trainers out and a whistle from the refs.
Rodgers was unhappy with this, and viewers clearly heard the signal-caller scream at center Josh Meyers, "snap the f****** ball!"
After the startling profanity, CBS announcer and former Dallas Cowboys QB decided he'd ease the tension by translating Rodgers' words with a more PG-rated flavor.
"Ooh, did you hear that?" Romo asked his partner Jim Nantz in his sweetest voice. "He said, 'You've got to snap the ball a little quicker, guys.'"
"That's what I thought I heard," Nantz chuckled.
While the Packers did go on to win the game in overtime, that wasn't the first or the last time Rodgers was frustrated on Sunday.
The Packers QB says his team needs to play better
Aaron Rodgers and the Green Bay Packers beat the New England Patriots 27-24 in overtime to move o 3-1 on the season. While a win is a win, the fact that the Packers needed overtime to beat Patriots rookie third-string QB Bailey Zappe on Sunday didn't sit well with Rodgers.
"This way of winning, I don't think, is sustainable because it puts too much pressure on our defense. And obviously, I've got to play better and will play better," Rodgers told the media after the game. "You can't be 2-2 losing to a third-string quarterback and not playing great in all three phases, so we had to have this one. That doesn't take anything away from the joy of winning, but this was one we had to have."
As Rodgers mentioned, both he and the team again played just well enough to win. However, neither he nor the group looks like the MVP and the NFC winning squad of last season.
The 38-year-old quarterback was 21-of-35 for 251 yards with two touchdowns and an interception on Sunday. Rodgers has yet to throw for 300 yards in a game this season and is on pace to put up around 3,900 passing yards this season after throwing for over 4,000 yards in his last five consecutive healthy campaigns.
While the Packers' passing game is still a work in progress, the running game with Aaron Jones and A.J. Dillion is still working well. Jones put up 110 yards rushing vs. the Patriots, and Dillon added another 73.
Aaron Rodgers and the Packers will now have an unusual week while trying to get the offense back on track. The team travels to London to face the New York Giants on Sunday.
Like Sportscasting on Facebook. Follow us on Twitter @sportscasting19 and subscribe to our YouTube channel.