Aaron Rodgers Reveals Hidden Meaning Behind New Arm Tattoo
While Green Bay Packers quarterback Aaron Rodgers dominated the 2021 offseason headlines, his 2022 break is much more low-key. He announced that he is coming back for his 18th NFL season in May and has mostly stayed out of the news since. In fact, the Packers QB has been so quiet this offseason the biggest news has been about the Aaron Rogers tattoo.
Now that Packers training camp has started, Rodgers sat down with NFL Network's Stacey Dales and Steve Mariucci to explain his latest body art.
Aaron Rodgers tattoo meaning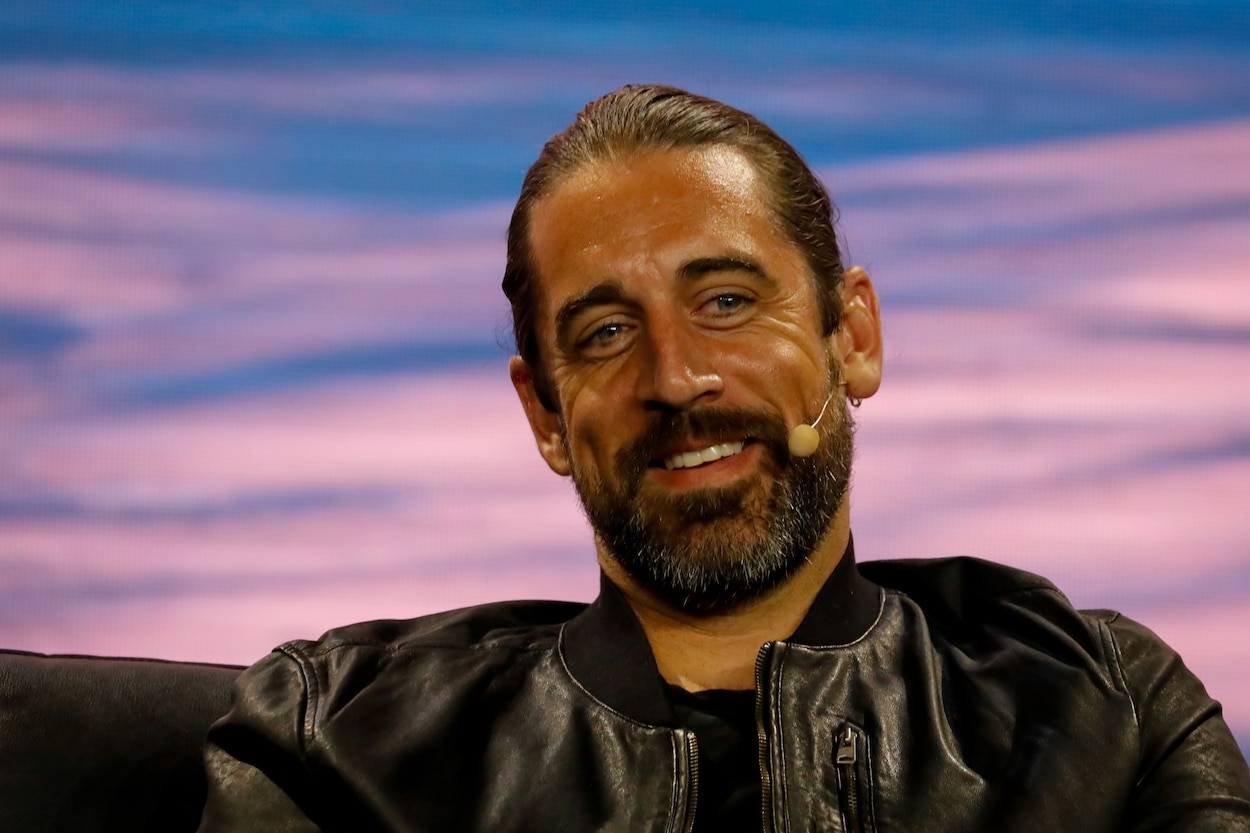 In the last few seasons, Aaron Rodgers has become as well known for what he does off the field as what he does on it. And that's no small feat.
On the field, Rodgers has won back-to-back NFL MVP Awards and put up back-to-back-to-back 13-3 regular seasons. However, his dating life, conspiracy theories, and vaccination status have made just as many headlines.
As the Green Bay Packers gear up for another season — this one without superstar wide receiver Davante Adams — Rodgers' non-football activities are still the subject of endless curiosity.
His latest move — getting a large, intricate tattoo on his forearm — is now the subject of speculation. The New York Post reported that it might have something to do with his new "rumored girlfriend," while NBC26 in Green Bay interviewed a local "psychic medium" to parse the meaning of Aaron Rodgers' tattoo.
In the midst of all the speculation, the NFL Network got some more information about Rodgers' tattoo directly from the horse's mouth.
Stacey Dales asked Rodgers about "the meaning of the tattoo," and the QB let fans in on some of the meaning surrounding it.
"If you're not a student of astrology, there's going to be some weird things to look at on there," the QB told Dales and former NFL coach Steve Mariucci. "But there's three signs at the top. Aquarius on the right … Sagittarius in the middle, and Scorpio on the far left. I always said if I get a tattoo, I want to have some representation of my godson. Now I have two godsons — very thankful for that — and one of them is an Aquarius and one of them is a Sagittarius."
Rodgers also said that "Scorpio is the sign I most resonate with on my own natal chart."
According to ESPN's Rob Demovsky, Rodgers is the godfather of Packers WR Randall Cobb's son Cade. It's not clear who Rodgers' second godson is.
The 38-year-old signal-caller also shared the story of how he connected with Hungarian tattoo artist Balazs Bercsenyi to do the piece. Rodgers said it was "divine timing" that he was in Europe this offseason and had time to travel to Bercsenyi's native country to get the artwork done.
As for the rest of the tattoo — with the eyes and the water and the two lions — Rodgers cryptically revealed, "the rest has some stuff to do with elements and some other things."
That last explanation didn't fully illuminate all the meaning in the Aaron Rodgers tattoo. However, if we know one thing about the Super Bowl champ, he'll probably tell someone the whole story behind a microphone someday.
Like Sportscasting on Facebook. Follow us on Twitter @sportscasting19 and subscribe to our YouTube channel.
RELATED: Aaron Rodgers Gets Dissed by Davante Adams With Derek Carr Comparison