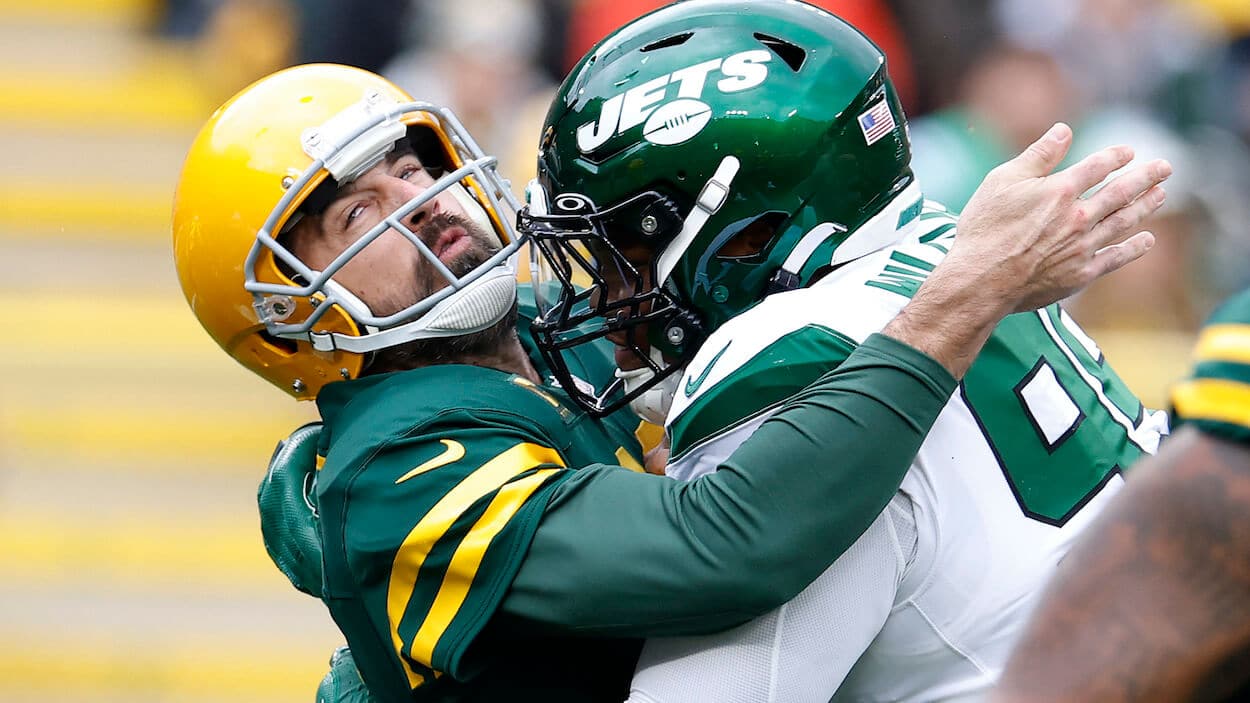 Packers Start Leak War to Make Aaron Rodgers Look Bad in 'Divorce'
Packers GM Brian Gutekunst kicked off an organizational offensive to make Aaron Rodgers look bad ahead of a potential Jets trade.
The Green Bay Packers and future Hall of Fame quarterback Aaron Rodgers are heading for a "divorce." And, like many divorces, things are starting to turn ugly. After Rodgers had his say on the Pat McAfee Show about the team wanting to move on without telling him, the Packers started their offensive. It started with snide comments from general manager Brian Gutekunst and continued with leaked reports that make the polarizing QB look bad ahead of a potential trade to the New York Jets.
Packers are trying to make Aaron Rodgers look bad
After coming out of his darkness retreat, Aaron Rodgers told Pat McAfee that he was "90% retiring" before he learned that the Packers said "the right things publically, they were ready to move on."
That tipped off a war of words where general manager Brian Gutekunst fired the next shot.
Packers beat writer for The Athletic Mat Schneideman shared a video on Twitter where Gutekunst said, "After the season, we had some good conversations, and we were going to have some follow-up conversations, and our inability to reach him or for him to respond in any way, at that point I had to do my job."
Following that shot across the bow, CBS Radio host Zach Gelb dropped a bombshell in the form of anonymous reports from the Packers.
"It's spilling the tea season. That's what it is when it comes to the divorce of Aaron Rodgers and the Green Bay Packers," Gelb began. "I was told for the last few years that Rodgers and [Matt] LaFleur would have game plan meetings — obviously common practice — to give Rodgers more say. And there would be multiple times where Rodgers would show up. And there would be a lot of other times where Rodgers would just leave Matt LaFleur hanging in the meeting room, and then Matt LaFleur would eventually realize, 'oh, he's not showing up,' and he would keep LaFleur guessing."
Gelb called the "divorce" "ugly" and predicted a Packers beat writer would soon publish a story with more unflattering tidbits about Rodgers and his behavior over the last few years. 
An Aaron Rodgers trade to the Jets has to happen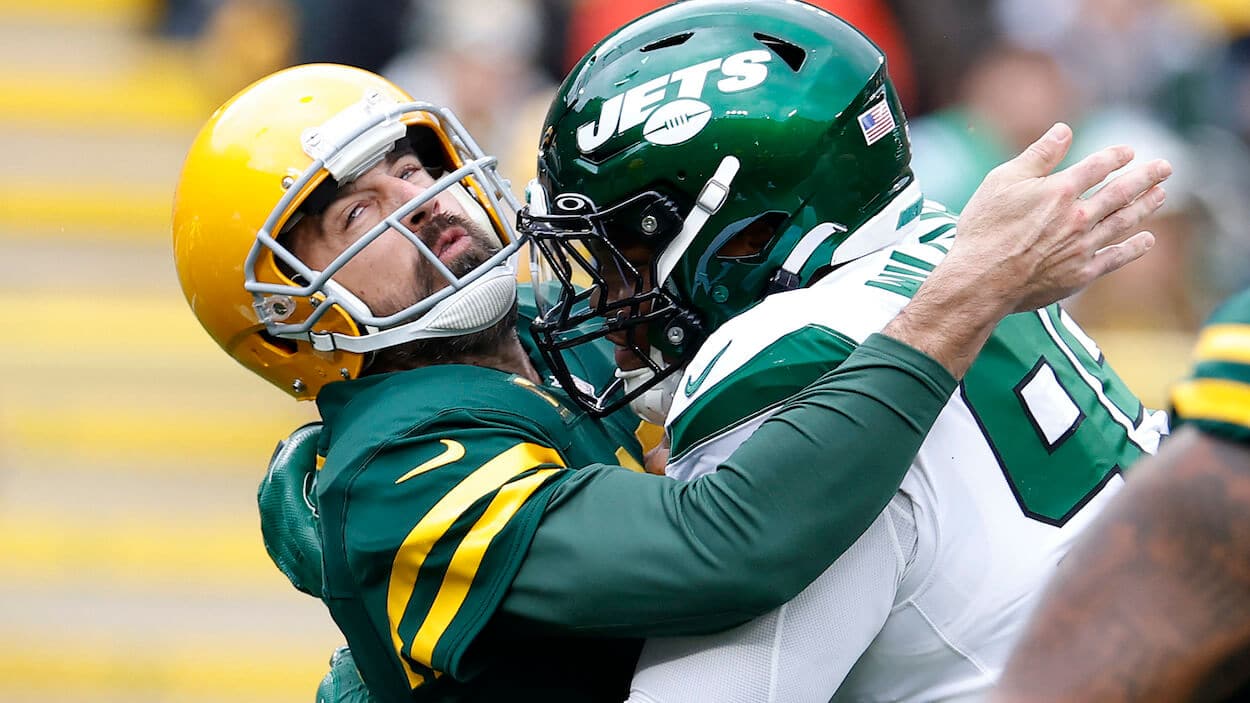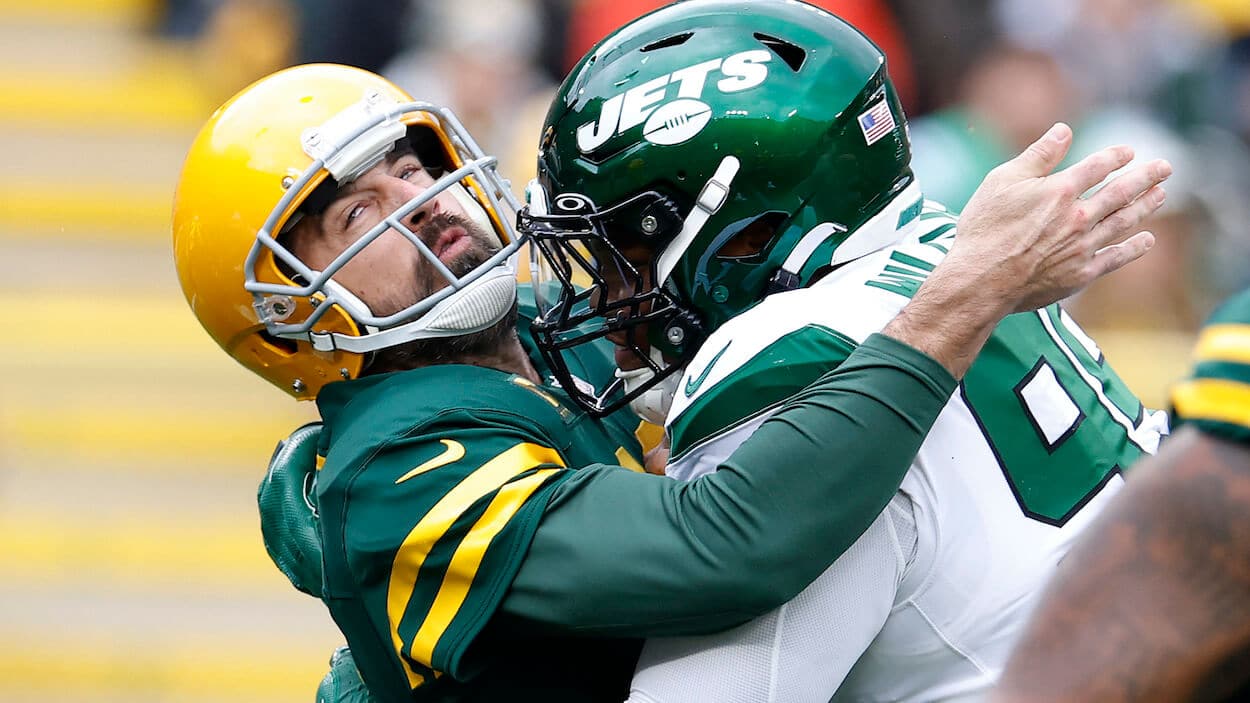 After all that's gone on in the last few years — not to mention the last few days — there is no way Aaron Rodgers can return to the Packers.
The die was cast when Brian Gutekunst drafted quarterback Jordan Love in the first round of the 2020 NFL Draft. Just like Ted Thompson drafted Aaron Rodgers back in 2005 with Brett Favre still at the tail end of his prime (which also led to a trade to the Jets), the Love pick put a time clock on Rodgers' days with Green Bay.
Now, with Love entering the fourth year of his four or five (with the fifth-year option) rookie deal, it is time to see what the team has in its young signal-caller. Plus, last year's disappointing 8-9 season showed the Packers' roster is no longer built to contend for a Super Bowl right now.
And, frankly, the Packers – the NFL's smallest market team — have to be sick of all the drama that Rodgers provides on a near-weekly basis.
All that said, Gutekunst and company want to get some value for Rodgers, so they aren't going to just give him away to the New York Jets.
The problem is the Packers have no leverage.
Yes, the Jets desperately need a QB, but now with Lamar Jackson publically on the market, they could go another direction. And if they do, leaving Rodgers on the Packers for 2023 would be a complete disaster.
The leak war between the Packers and Aaron Rodgers has officially started, so there is no turning back now. If a Jets trade doesn't materialize this offseason, Green Bay will be in serious trouble come the fall.