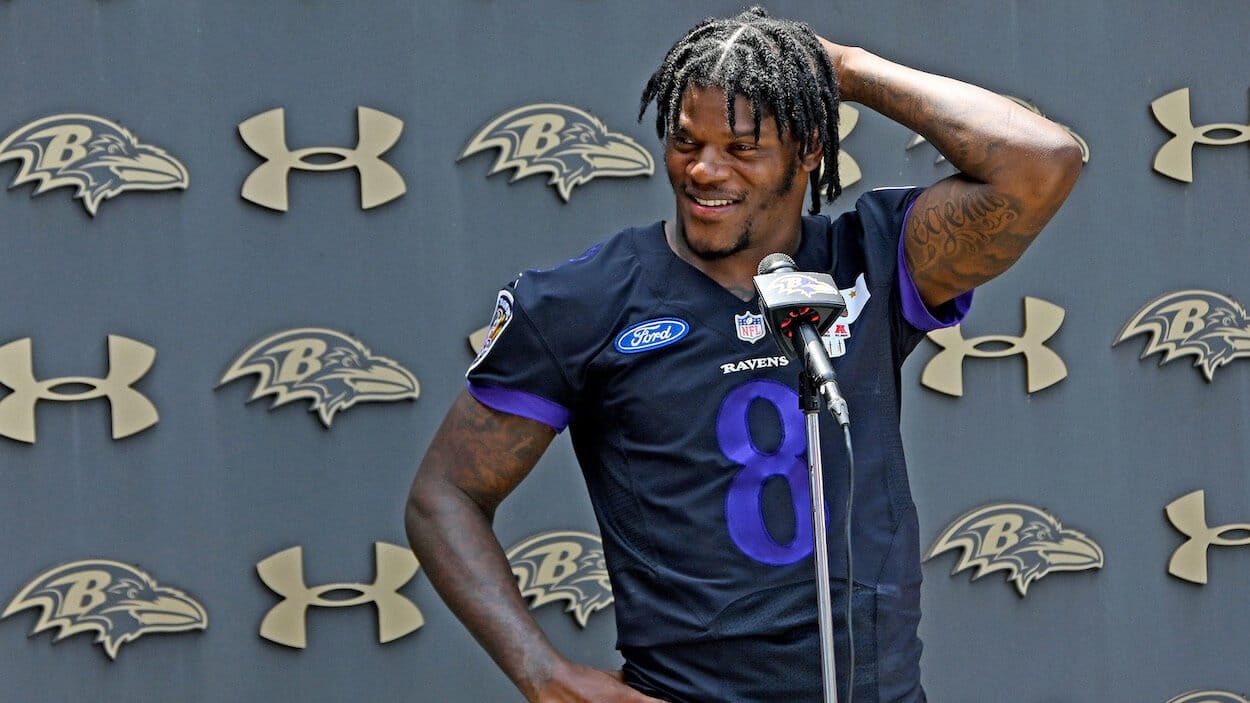 Lamar Jackson Trade Grenade Proves 1 Reason Not Having an Agent is a Good Thing
There is no Lamar Jackson agent and the QB showed why that can be a good thing with his tweet before Ravens coach John Harbaugh's press conference.
Lamar Jackson dropped a bomb on the Baltimore Ravens on Monday, letting the world know he requested a trade on March 2. The announcement came just moments before Ravens coach John Harbaugh sat down with reporters at the NFL Annual Meeting. The tweet from Jackson was the first major offensive from the disgruntled quarterback, who is trying to navigate a contract extension and now a trade without a Lamar Jackson agent.
Lamar Jackson finally fires back at the Ravens
At the NFL Annual Meeting in Phoenix, Arizona, every NFL coach has a scheduled time to sit down with the media. Ravens coach John Harbaugh's turn in front of the microphones was at 11:00 am ET on Monday, March 27.
Just moments before that happened, Lamar Jackson unleashed a long tweet explaining his side of the contract saga with the team.
"As of March 2nd I requested a trade from the Ravens organization for which the Ravens has not been interested in meeting my value," Jackson tweeted to Ravens fans. "You all are great but I had to make a business decision that was best for my family and I."
Blindsided by the post, Harbaugh handled things like a pro, saying that he's still planning like Jackson will be his quarterback next season and hoping that's how things work out.
Despite John Harbaugh's cool reaction, this round in the battle between Jackson and the Ravens finally went to Jackson, who is trying to negotiate a historic contract extension without an agent. And this salvo from the QB/businessman was the first time Jackson showed the world at least one of the benefits of not having an agent.
Why a Lamar Jackson agent wouldn't have handled this the same
There are plenty of negatives and a few positives involved in the fact there is no Lamar Jackson agent to speak of. The MVP QB is negotiating on his own behalf, with his mother's help and possibly a business partner named Ken Francis.
If an agent were involved, this contract saga would almost certainly be resolved right now. And even if it weren't, Jackson's camp would have done a better job refuting the negative leaks that have come from the Ravens' side about the generous offers and weaknesses of the signal-caller.
However, this one tweet shows the value of not having an agent and how it goes beyond just not having to pay 10%.
Jackson asked for a trade on March 2, 25 days before he announced that fact to the world. If an agent were involved, there is no way that would have stayed a secret for so long.
A Lamar Jackson agent would have leaked that fact to gain leverage and allow teams to make offers well before the team slapped the non-exclusive franchise tag on him.
Also, an agent likely wouldn't have timed the announcement so perfectly if the trade demand was still in-house. Jackson sent out this tweet at the ideal time to cause the most damage and embarrassment to the organization as possible. If an agent were involved, they would never have done that, as they have to think about other clients and long-term relationships as well.  
It took a while (probably too long) for Jackson to go on the offensive with the Ravens, but when he did, it was a fantastic shot across the bow.
What's next for the Ravens QB?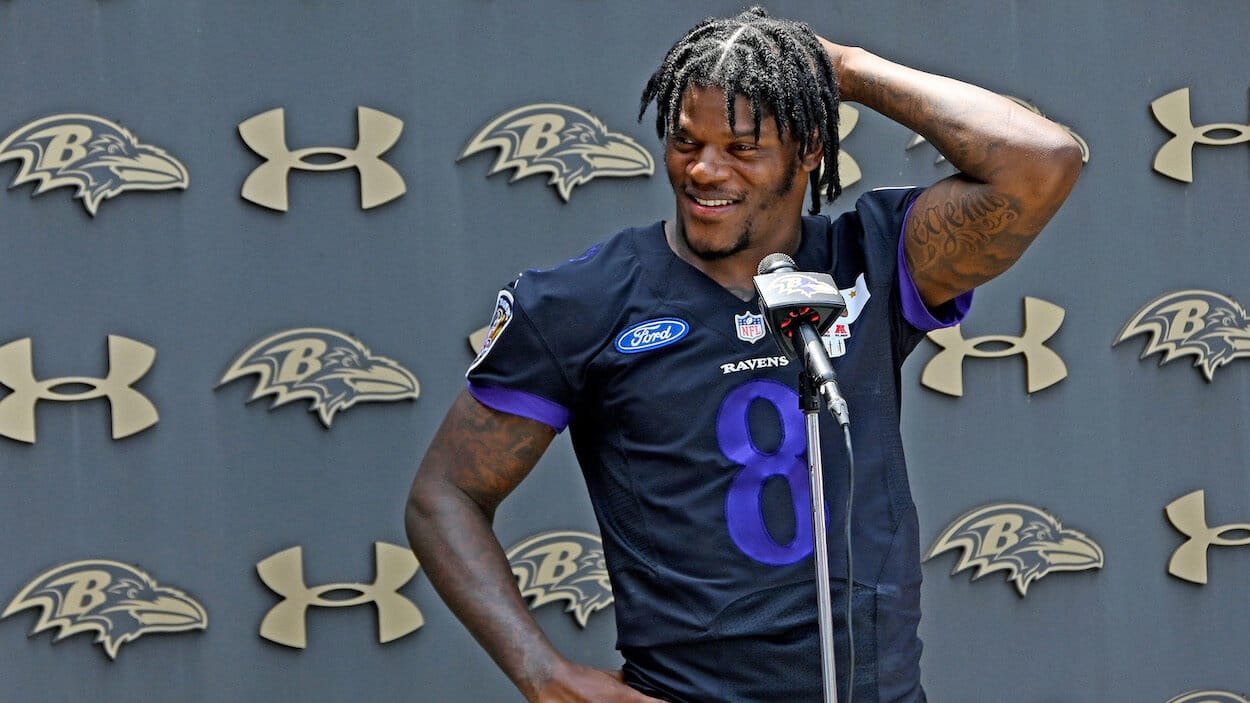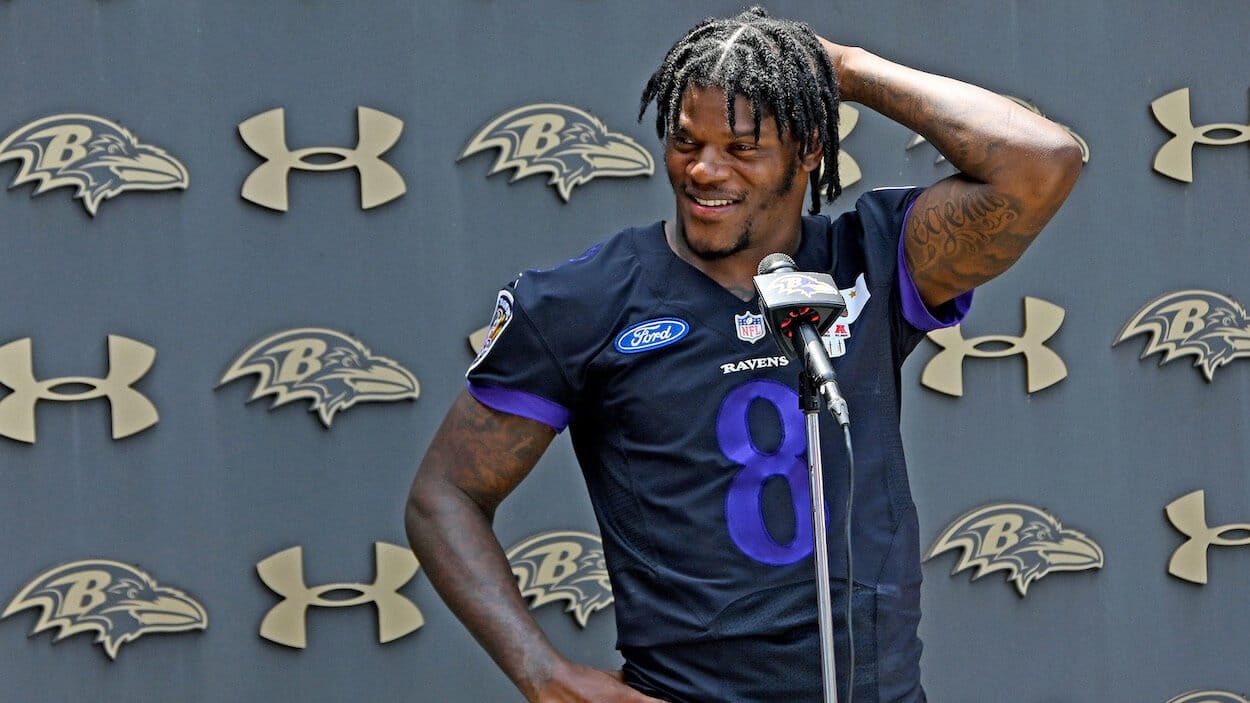 As good as the Lamar Jackson tweet was, it still doesn't help him this much unless he personally makes it known to the NFL world that he will settle for less than what his current contract demands are.
Jackson reportedly wants an extension like the historic Deshaun Watson deal with the Cleveland Browns that was fully guaranteed for $230 million.
While several teams would surely like to bring Jackson on board in a vacuum, it seems as though the NFL owners want no part in giving out another deal like Watson's and confirming that this is the new normal for superstar quarterbacks.
The Watson deal is an outlier given out by a bad franchise right now. If Jackson got a similar deal, that would now be the precedent for QBs like Joe Burrow, Justin Herbert, and Trevor Lawrence going forward.
Taking out the two teams that are almost certain to draft a signal-caller at the top of the 2023 NFL Draft, it still leaves the Indianapolis Colts, Las Vegas Raiders, Los Angeles Rams, Washington Commanders, Tampa Bay Buccaneers, Atlanta Falcons, New York Jets, Tennessee Titans, and maybe even the Minnesota Vikings as teams that should at least investigate a Lamar Jackson trade.
So far, after Jackson's tweet, only Colts general manager Chris Ballard seemed to leave the door open to doing due diligence on the signal-caller. At the same time, the Commanders GM, Martin Mayhew, reconfirmed his franchise is not interested.