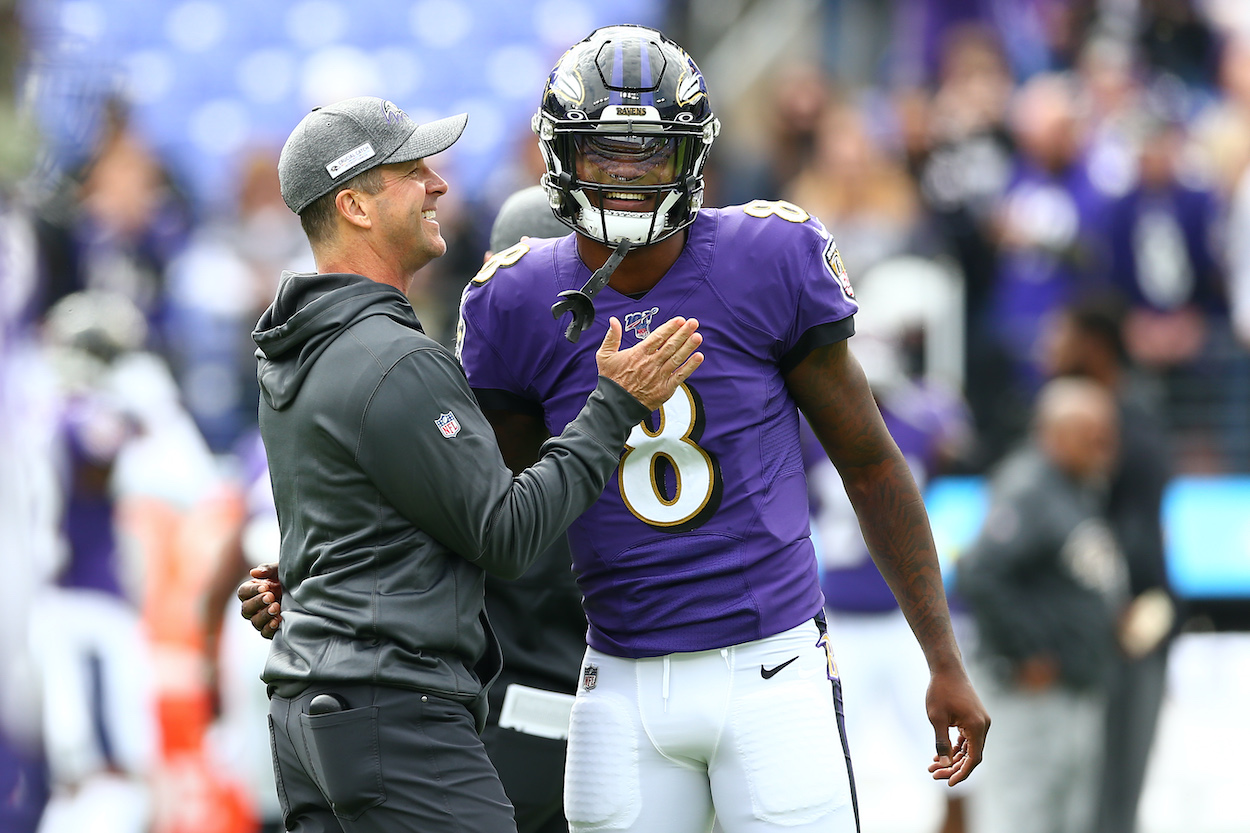 John Harbaugh Shockingly Claims Lamar Jackson's Contract 'Doesn't Have to Be a Priority Right Now'
Baltimore Ravens QB Lamar Jackson is heading into the final year of his contract and neither he nor the team think a new deal is a priority.
Lamar Jackson is entering his fifth NFL season and, as such, is in the final year of his rookie contract. The former Louisville Cardinal isn't your prototypical NFL quarterback. But he's still produced fantastic results for himself and the Baltimore Ravens. That includes three playoff appearances, two Pro Bowls, an All-Pro nod, and an NFL MVP Award.
Now, heading into 2022, the rest of the Class of 2018 QBs all have had their futures decided. Jackson is the last one left without resolution. And his head coach, John Harbaugh, surprisingly said neither the player nor the organization is in any rush to provide that.
NFL teams are paying quarterbacks bug bucks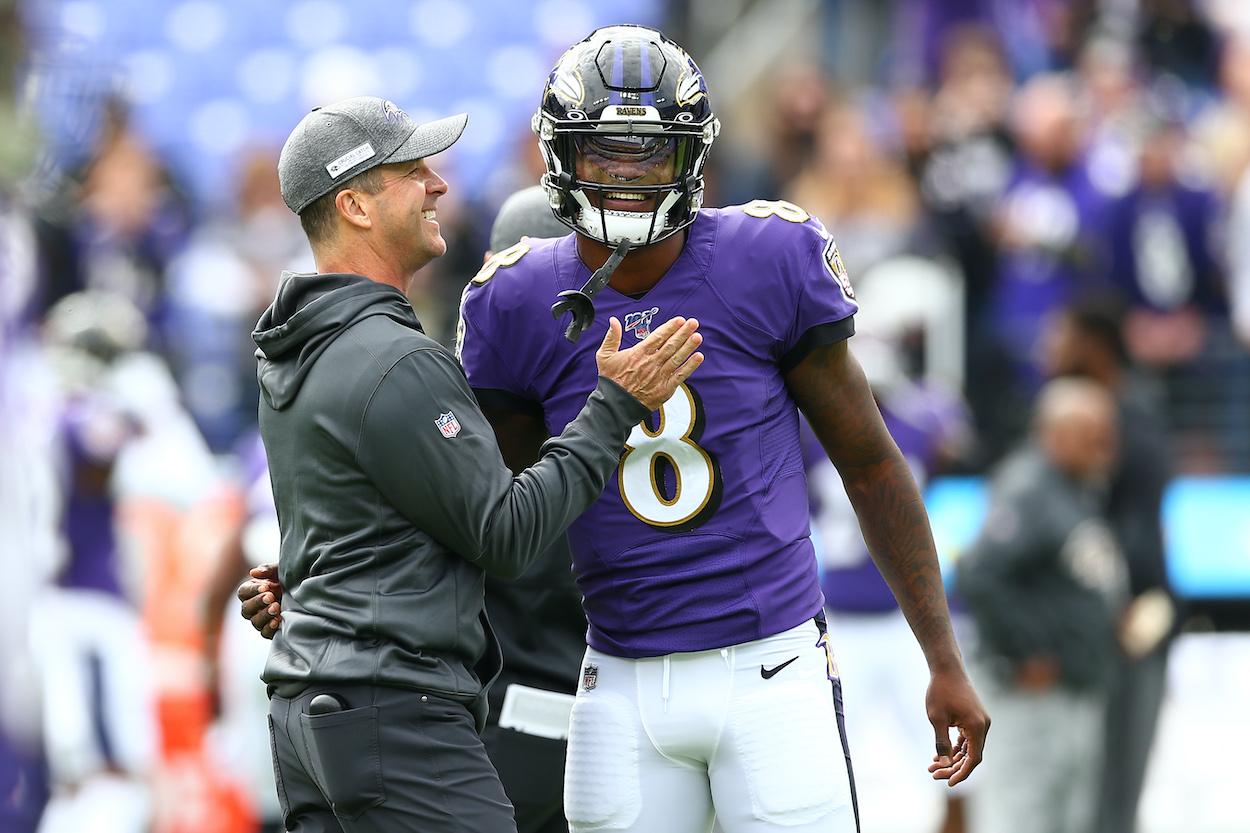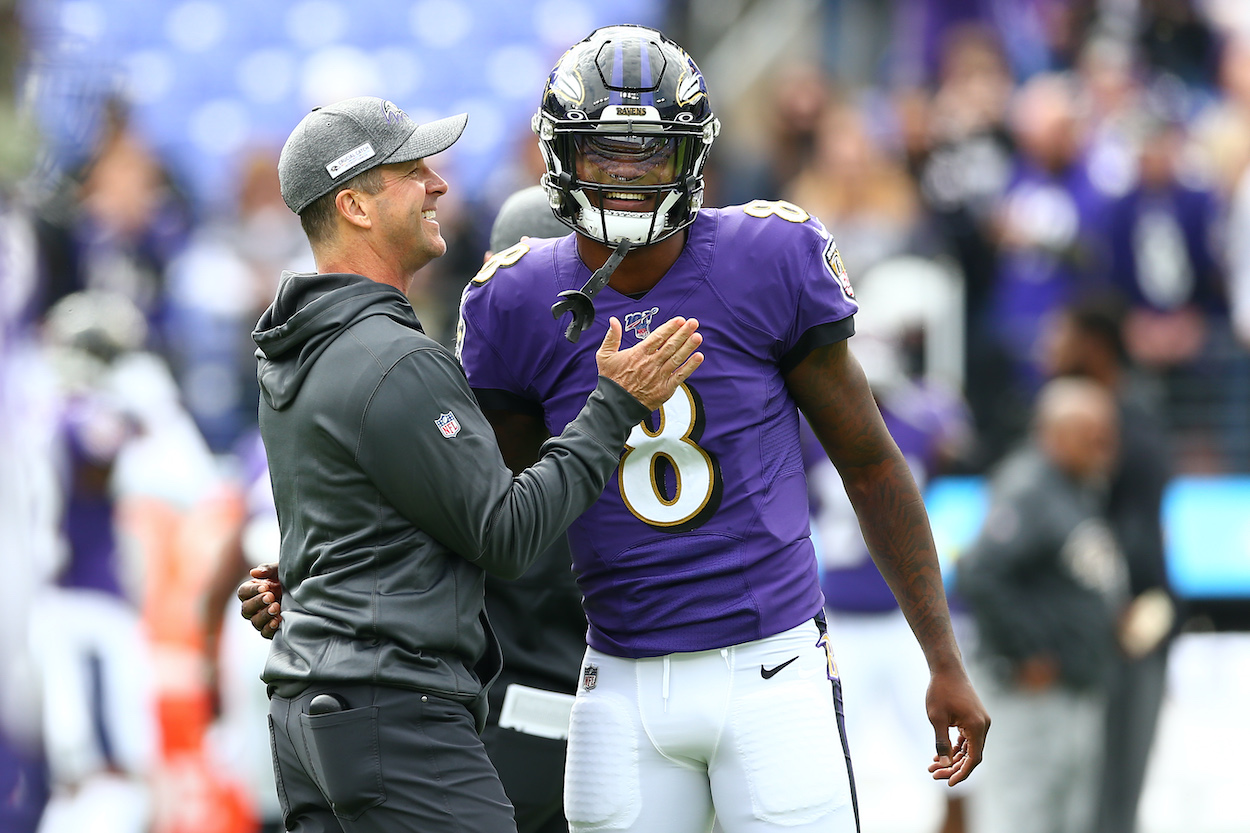 As the No. 32 pick in the 2018 NFL draft, Lamar Jackson signed a standard four-year, $9.4 million rookie contract. As with all first-round picks, the team had the choice of activating a fifth-year option. The team did that for 2022, and as an All-Pro and league MVP, that option is worth $23 million next season.
However, that number is about half what the top QBs in the league are getting per season on long-term extensions. The top six highest-paid signal-callers are all making $40 million-plus a year. This includes:
Aaron Rodgers ($50.2M)
Deshaun Watson ($46M)
Patrick Mahomes ($45M)
Josh Allen ($43M)
Dak Prescott ($40M)
Also, there are 10 QBs in the league with contracts that guarantee them $100 million or more over the course of the deal. These players are:
Deshaun Watson ($230M)
Aaron Rodgers ($150M)
Josh Allen ($150M)
Patrick Mahomes ($141M)
Matthew Stafford (130M)
Dak Prescott ($126M)
Jared Goff ($110M)
Carson Wentz ($107M)
Russell Wilson ($107M)
Matt Ryan ($100M)
That is the kind of money that Jackson can get from the Baltimore Ravens, but neither side seems in a hurry to get a deal done.
Baltimore Ravens head coach John Harbaugh gave Rich Eisen an update on Lamar Jackson's contract status
With that kind of money on the table, it's surprising that Lamar Jackson isn't forcing the Baltimore Ravens' hand more to get a deal done. In a day and age when players routinely wipe their social media accounts of their teams to let them know they want to get paid now, Jackson hasn't done anything like that.
Ravens head coach John Harbaugh recently joined the Rich Eisen Show and explained to the host why a new contract for Jackson isn't at the top of the franchise's to-do list:
When [Lamar Jackson] 's ready to do it, it'll become a priority for him. Then we're gonna know it. It doesn't have to be a priority for us right now. It's gotta be a priority for both sides. We could do something, or we could wait because we know it's gonna get done when it's supposed to get done. When it's God's will and Lamar's will at the same time, it's gonna all fit together.

John Harbaugh on Lamar Jackson's contract
Waiting for God and your QB to get on the same page seems like an interesting negotiating strategy, but it's apparently where the Ravens are at in the 2022 offseason. Harbaugh also said that he truly believes Jackson isn't focused on money right now:
I do believe Lamar when he tells me that he just wants to be the best quarterback he can be, and that's what he's thinking about right now. And he doesn't think he has to think about his contract right now. He feels like he's got time to do it. And you can argue that one way or the other, but everybody gets to make that decision for themselves.

John Harbaugh on Lamar Jackson's contract
The argument against this laissez-faire attitude toward a long-term deal is that the NFL isn't promised for anyone, especially for relatively skinny running quarterbacks. If Jackson doesn't strike while the iron is hot, he could miss out on generational wealth.
Just ask most of the rest of his Class of 2018 QBs.
A look at the Class of 2018 QBs
Experts believed the 2018 NFL Draft was one of the best quarterback drafts in a long time. There were five top QB prospects who all came off the board in the first round:
No. 1 Cleveland Browns: Baker Mayfield, Oklahoma
No. 3 New York Jets: Sam Darnold, USC
No. 7 Buffalo Bills: Josh Allen, Wyoming
No. 10 Arizona Cardinals: Josh Rosen, UCLA
No. 32 Baltimore Ravens: Lamar Jackson, Louisville
Five NFL organizations thought they had franchise QBs coming out of that round. Four years later, it turns out only two did.
Rosen had the worst go of it. The Cardinals drafted Kyler Murray a year later at No. 1 overall, and the former UCLA passer has played in 10 games and thrown 120 passes since. Darnold didn't do much better. After three seasons with the Jets, the team traded him to the Carolina Panthers. Darnold went 4-7 as a starter last season, and the team is planning on drafting a QB in the 2022 draft.
Mayfield was a mixed bag. He led his team to the playoffs in 2020 and seems like an NFL QB when healthy. However, the Browns disagree, signing Deshaun Watson this offseason and handing him the biggest fully-guaranteed contract in NFL history. The organization is currently looking for a trade partner to send Mayfield to.
Aside from Jackson, the other unqualified success is Allen. The Bills signal-caller is 39-21 as a starter with three playoff appearances and two AFC East titles. As one of the best young QBs in the league, Buffalo gave Allen a six-year, $258 million deal with $150 million guaranteed before last season.
Now the biggest question from the Class of 2018 is, when will the Ravens pay Lamar Jackson, and how much?
All stats courtesy of Pro Football Reference and contract figures courtesy of Spotrac