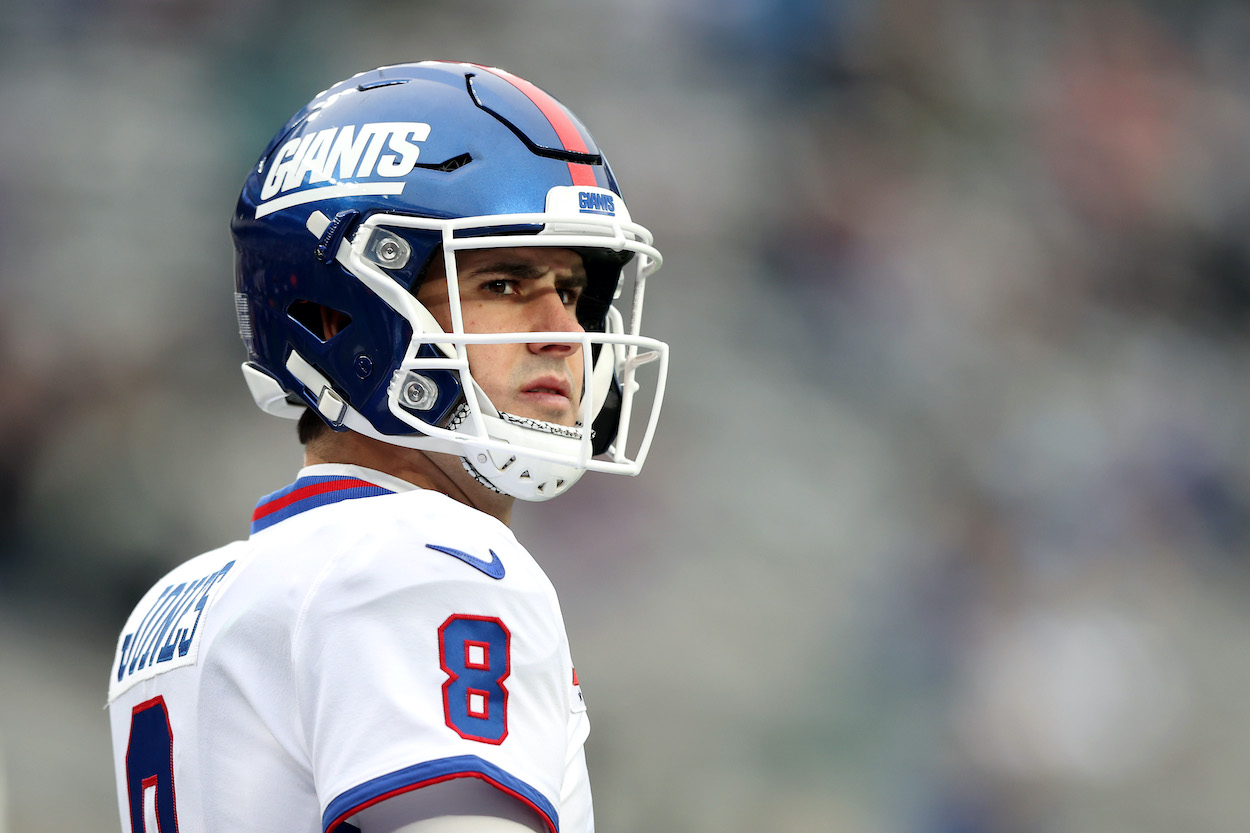 Daniel Jones Contract: The New York Giants Face a $21 Million Decision
Heading into 2022, the biggest impediment to the New York Giants moving forward into a new era is a $21 million decision on QB Daniel Jones' future.
After dismissing head coach Joe Judge and his staff and hiring new general manager Joe Schoen and head coach Brian Daboll, the New York Giants are ready to move forward into a new era. The biggest decision the franchise needs to make before they do is about what to do with quarterback Daniel Jones' contract.
New York Giants QB Daniel Jones hasn't proved he's a franchise signal-caller
The New York Giants picked Duke QB Daniel Jones with the No. 6 overall pick in the 2019 NFL Draft.
On the positive side, Jones has been better than all the signal-callers drafted behind him (Dwayne Haskins, Drew Lock, Will Grier, Ryan Finley, etc.) except maybe sixth-round pick Gardner Minshew.
Unfortunately for the Giants, he hasn't been anywhere near what the organization and its fans expect from a top 10 pick.
In three seasons, Jones has started 37 games for the G Men. He's completed 62.8% of his passes for 8,398 yards with 45 touchdowns and 29 interceptions. While the stats aren't horrible, the results are. The Giants are 12-25 when Jones trots out to start the game with the first-team offense.
In fairness to Jones, he hasn't had the most stable environment the last three seasons. Heading into 2022, he's onto his third head coach (Pat Shurmur, Joe Judge, Brian Daboll) and fourth offensive coordinator (Mike Shula, Jason Garrett, Freddie Kitchens, Mike Kafka).
Also, in Jones' first three seasons, star running back Saquon Barkley has missed 21 games, and his wide receiver corps has been unreliable at best.
Still, challenges aside, Jones has yet to prove he can lead a franchise to the playoffs, let alone a Super Bowl.  
The Giants have a $21 million decision to make next offseason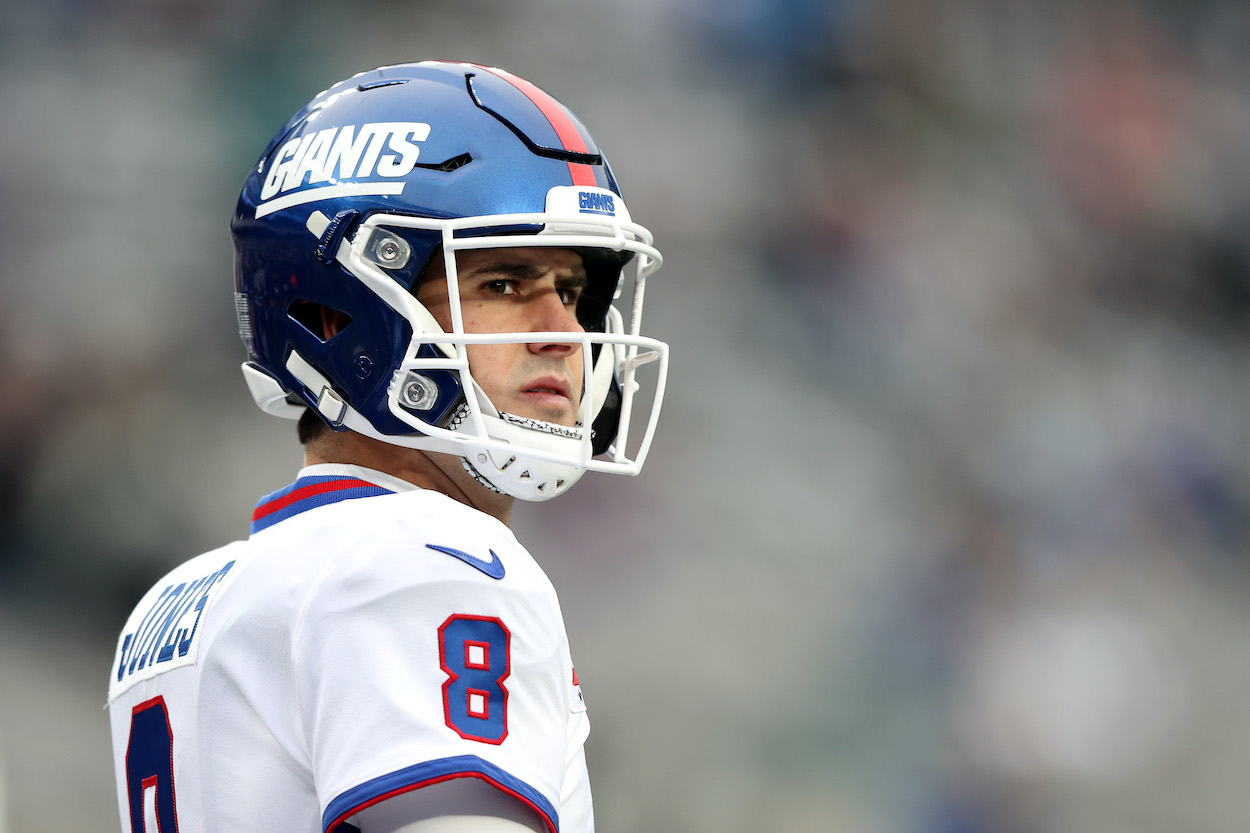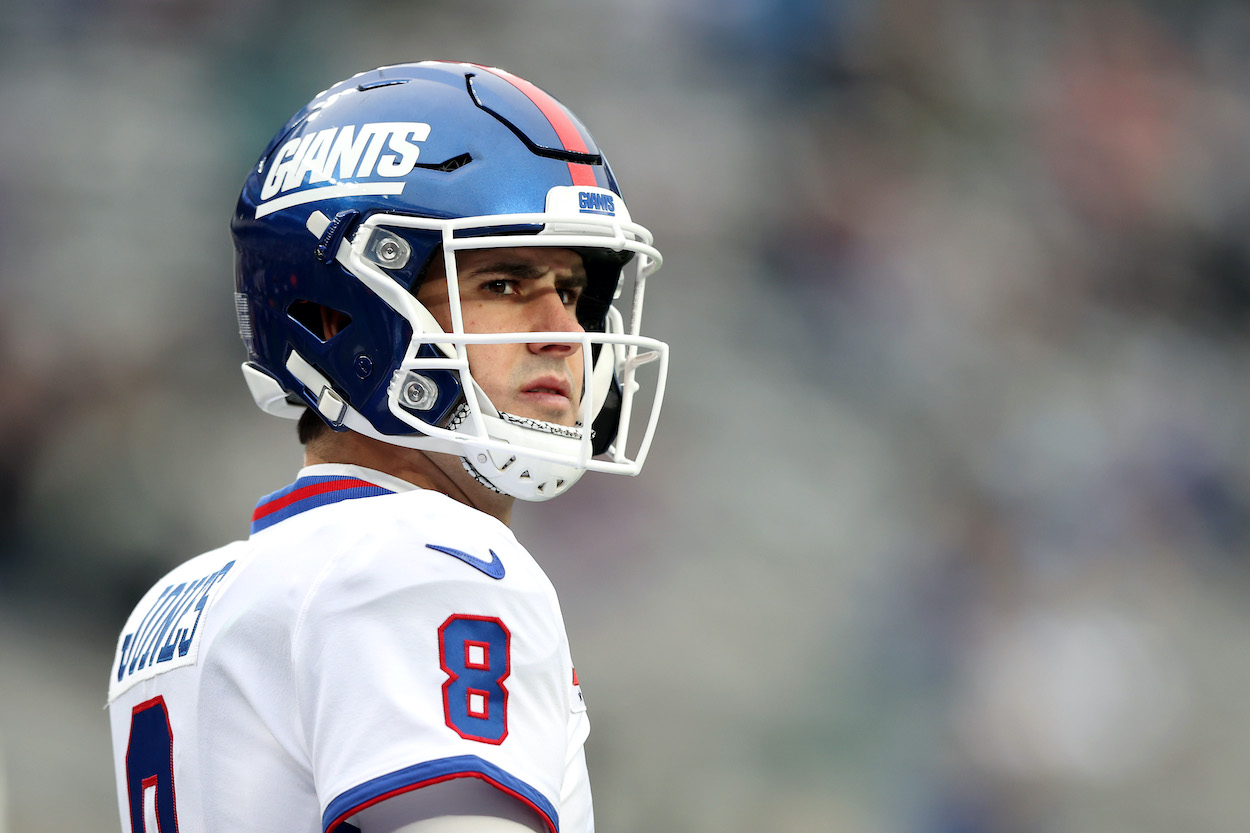 As the No. 6 overall pick, Daniel Jones signed a standard four-year $25.6 million deal to start his New York Giants career. Like all first-round picks, the team also has the choice to activate a fifth-year option.
Fifth-year options allow teams to keep first-round picks at a reasonable price while also giving the player a significant raise from his rookie deal. The player's playing time and Pro Bowl appearances determine how big the raise is.
Because Jones meets the playing time requirements, his fifth-year option jumps from $18.6 million to $21.3 million, per Over the Cap. That's about half of what the top QBs in the NFL make. However, it's still a significant raise from Jones' 2022 salary of $8.3 million and would make up a serious chunk of the Giants' 2023 salary cap.
Now, the Giants — specifically GM Joe Schoen and head coach Brian Daboll — are on the clock again. The team has until May 2, 2022, per NFL.com, to decide whether to pick Jones' option up for 2023.
What are Big Blue's other options at QB?
Daniel Jones contract aside, the new regime in New Jersey's biggest challenge is figuring out the quarterback position.
The good news for New York Giants fans is that there are several options.
Option one is bringing in a free agent quarterback. The team has the seventh-worst cap situation in the NFL, so making a big splash at QB could be difficult. However, with a bit of maneuvering, they could easily bring in a mid-level signal-caller to challenge Jones. Brian Daboll is familiar with Mitchell Trubisky after their year together in Buffalo, which could be a good option.
Option two is to draft another quarterback. The 2022 QB class isn't great (much like 2019), but the Giants do have two top 10 picks (Nos. 5 and 7) and could look to upgrade at the position that way. Pitt's Kenny Pickett or Liberty's Malik Willis will both likely be available at the No. 5 spot at least.
The third option is unlikely but possible. The Giants could package their draft capital for the next few seasons (and maybe even Jones) and try to swing for the fences with a trade for established Pro Bowl QB. Russell Wilson, Deshaun Watson, and Derek Carr could all be potential targets.
Whatever the Giants ultimately decide, how the club deals with Jones' fifth-year option will be the first clue of what's to come.
All stats courtesy of Pro Football Reference