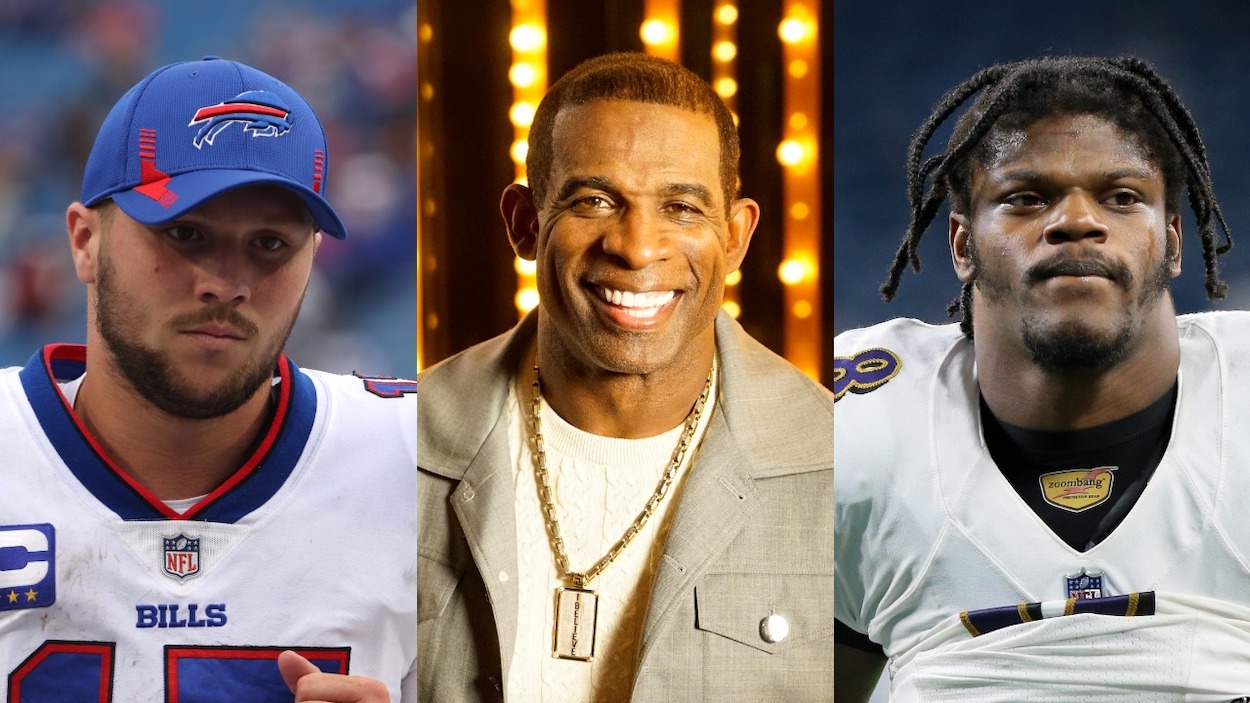 Dave Portnoy Reports Deion Sanders Is Sticking to His Horrible Take Regarding Josh Allen vs. Lamar Jackson
Barstool Sports' Dave Portnoy and NFL legend Deion Sanders have long-argued about Josh Allen vs. Lamar Jackson and Deion is sticking to his guns despite recent developments.
In 2018, five NFL teams drafted quarterbacks in the first round. Out of these five, three — Baker Mayfield, Josh Allen, and Lamar Jackson — have shown (to varying degrees) that they are viable NFL QBs. After Sunday night's Divisional Round instant classic between the Kansas City Chiefs and Buffalo Bills, it's clear Josh Allen has risen above the rest.
Just don't tell that to Hall of Famer Deion Sanders, who, according to Barstool Sports' Dave Portnoy, is still riding for Jackson.
NFL legend Deion Sanders loves Lamar Jackson 
On draft night 2018, Louisville's 2016 Heisman Trophy-winning quarterback Lamar Jackson nearly slipped out of the first round. With the final pick of the round, 25 spots after Josh Allen at No. 7, the Baltimore Ravens stepped in and selected the signal-caller.
After the pick, NFL legend Deion Sanders interviewed the new Ravens QB. In the clip (h/t Dominique Clare on Twitter), Sanders said he could see in Jackson's eyes that he was hurt about not being picked until No. 32. Jackson responded that Baltimore is "gonna get a Super Bowl" from the pick.
That message fired up the Hall of Fame cornerback, who has loved Jackson ever since.
Jackson repaid that love early in his career by winning the MVP award in just his second season. However, he has increasingly struggled the last two seasons and missed the playoffs this year after only playing 11 games.
At this point, most NFL fans would surely take Josh Allen in the barroom argument of "which QB would you take to start your franchise with?" That isn't the case, though, for Sanders.
Barstool Sports' Dave Portnoy tweeted that Coach Prime would still take Lamar Jackson over Josh Allen
On December 20, 2020, just a few weeks before the 2020 playoffs, Deion Sanders and Dave Portnoy faced off over Josh Allen vs. Lamar Jackson on Barstool Sports' The Pro Football Show.   
Portnoy, a noted early Allen enthusiast, stared down Deion Sanders during a discussion of the Buffalo Bills' Week 11 48-19 win over the Denver Broncos. Sanders claimed that he picked the Bills and liked Allen. But when Portnoy asked Coach Prime who he'd rather have between Allen and Lamar Jackson, Sanders took the latter.
The two bickered about which of the two QBs was better at the moment. The argument was ultimately settled — at least for 2020 — in the playoffs when Allen outdueled Jackson in the Divisional Round for a 17-3 Bills win.
This season, Jackson struggled even more than last season. He had his worst statistical year in most categories and missed five games due to illness and injury. Meanwhile, while Allen was inconsistent at times, he came on at halftime of his Week 14 matchup against the Tampa Bay Buccaneers and played at an MVP level down the stretch.
Allen's incredible final third of the season culminated in his heroic effort in the Bills' heartbreaking 42-36 overtime loss to Patrick Mahomes and the Kansas City Chiefs in the 2021 Divisional Round.
Despite the divergence between the two Class of 2018 QBs in the 2021 season, Portnoy tweeted out the day after the epic playoff game that Sanders told the media mogul he'd still take Jackson over Allen.
Barstool's Twitter account released a video of Dan "Big Cat" Katz facilitating the conversation between Sanders and Portnoy via video call to back up his report. Viewers can clearly hear Sanders saying he'd take the Ravens QB over the Bills' signal-caller.
In true Dave Portnoy fashion, he can be heard in the background repeatedly calling Sanders an "idiot" for his take.
Josh Allen has taken a leap that other Class of 2018 QBs haven't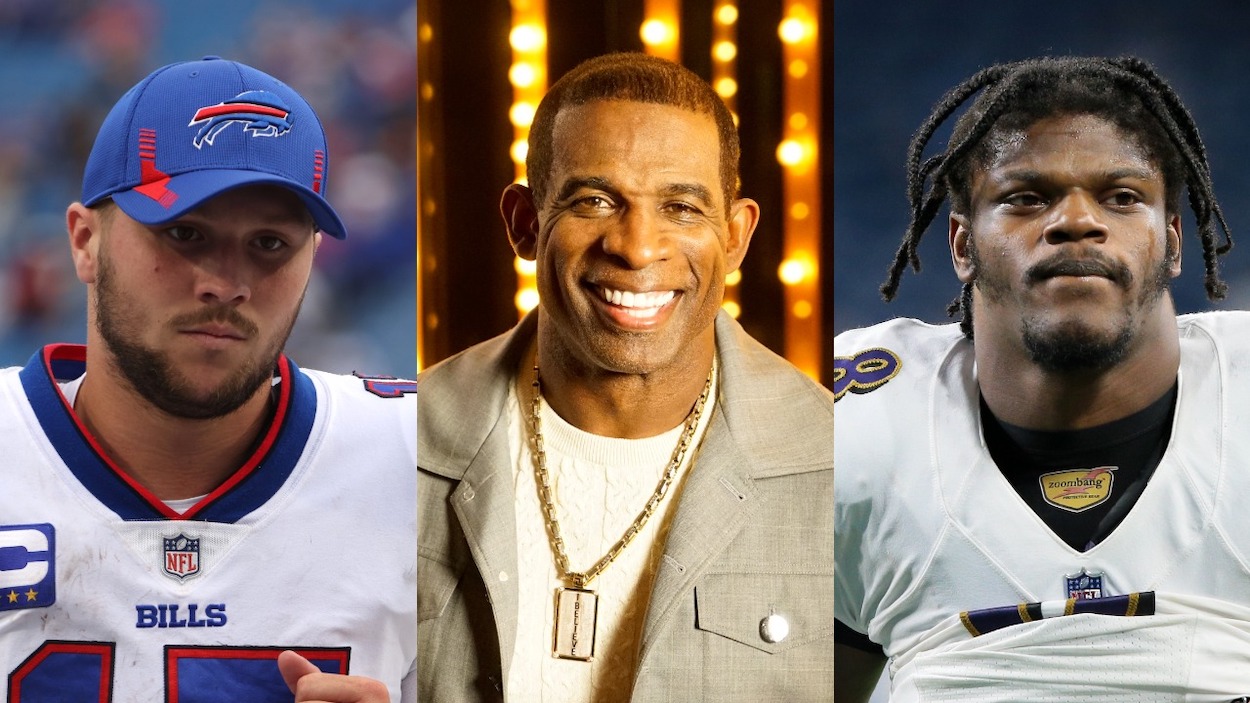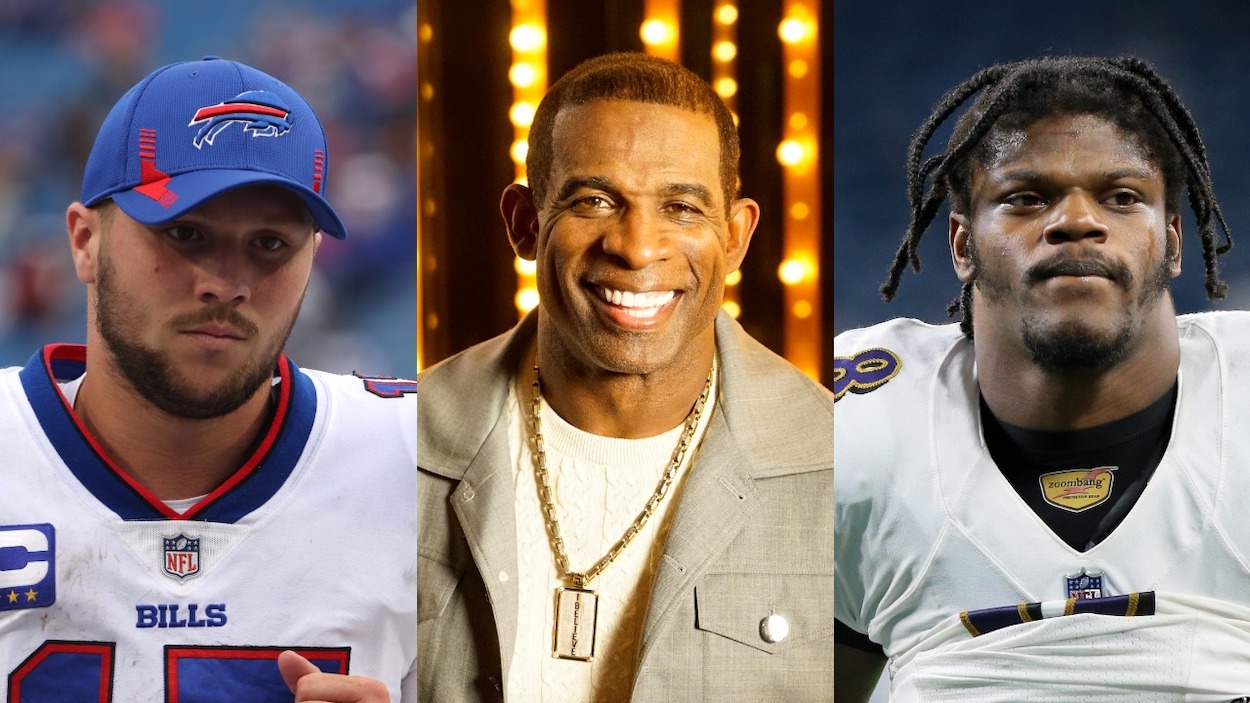 Lamar Jackson started his career much better than Josh Allen started his. The former Louisville Cardinal was a quarterback unlike the NFL had ever seen his first two seasons.
During his MVP year of 2019, he threw for 3,127 yards and led the league in passing TDs with 36. He also ran for 1,206 yards, scored seven rushing TDs, and led the league in yards per attempt at 6.9.
The problems that have developed for the QB since are twofold. One is that the league has figured him out a bit. Defenses are making him pass more and run less. In the last two seasons, his rushing yards dropped to 1,005 in 2020, then to 767 in 2021. Meanwhile, he hasn't cracked 3,000 yards passing since. Also, his interceptions in 2021 (13) were more than double his six in 2019.
The second issue is health. The Buffalo Bills knocked him out of that 2020 playoff game, and he missed five games this season. Several were due to an ankle injury, and another was because of a non-COVID-19-related illness. These missed games raise questions about whether his 6-foot-2, 212-pound frame can sustain his style of play and how well he takes care of his health.
On the other hand, Allen keeps improving year over year.
Allen has thrown for over 4,000 yards and 35-plus TDs the last two seasons and is becoming a better runner as time goes on. This season, he rushed for a career-high 763 yards and led the league in yards per attempt at 6.3. And at 6-foot-5, 245-pounds, Allen's runs seemed nearly unstoppable at times, and he dished out more punishment than he took.
If you need one more reason that Allen has become more valuable than Jackson, look no further than the way their teams have treated them in the past year. Jackson is heading into the final year of his rookie contract without an extension in place. Conversely, Allen signed a six-year, $258 million deal this offseason to ensure he stays in Western New York for the foreseeable future.
Deion Sanders might still take Jackson over Allen. However, it seems as though he's one of the dwindling few who would make that choice.
All stats courtesy of Pro Football Reference