Packers President Mark Murphy Gives Eye-Opening Aaron Rodgers Update at Girls' Basketball Tournament
When you are looking for an Aaron Rodgers update, where do you go? Adam Schefter? Ian Rapoport? The dark recesses of Twitter? How about the Wisconsin Girls' State Basketball Tournament? If you picked the past one, you'd get the latest news on a potential Aaron Rodgers trade to the New York Jets. Because that's where Green Bay Packers president Mark Murphy decided to give the latest news on the Rodgers saga. 
Packers President gives Aaron Rodgers update with some interesting new nuggets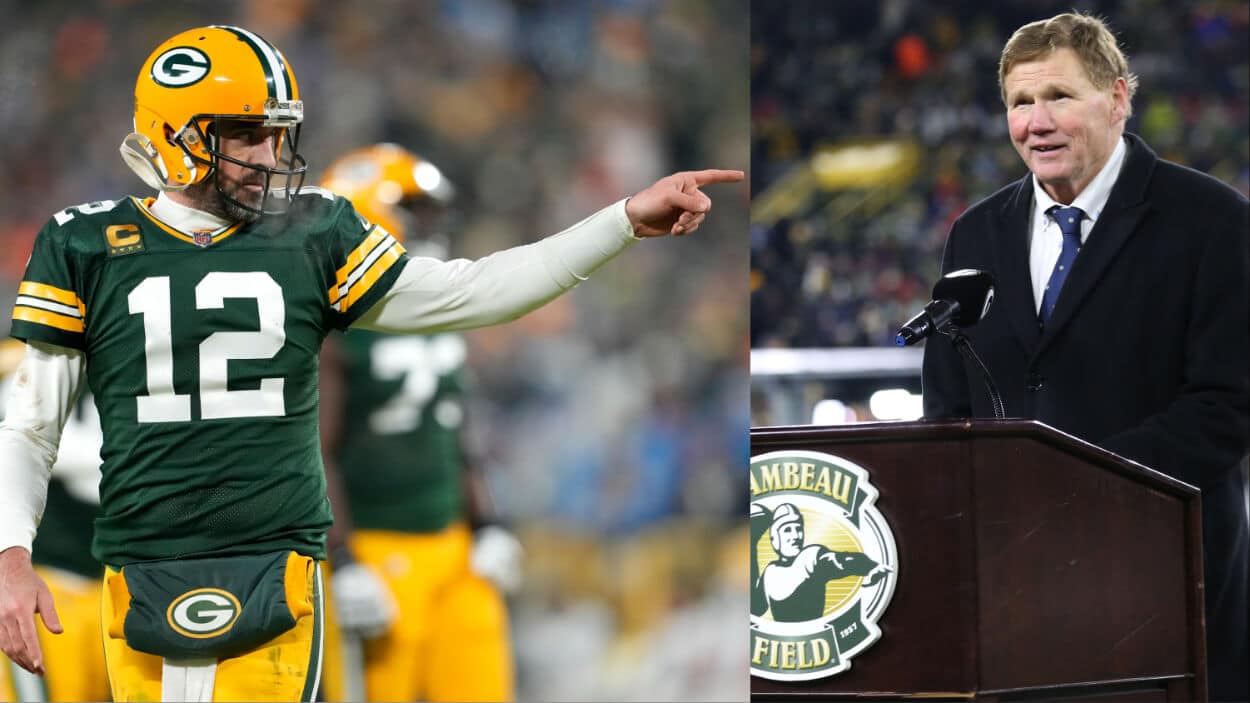 The Aaron Rodgers trade drama is still going on in earnest, as the QB and the Jets reportedly had good talks this week. And while there is no end clearly in sight, Packers president Mark Murphy gave an Aaron Rodgers update that did put an expected end date on the spectacle. 
According to a tweet by WBAY-TV 2 Green Bay Sports Director Chris Roth, Murphy was on the broadcast of the Wisconsin Girls' State Basketball Tournament when he "confirm[ed] team will honor trade request from @AaronRodgers12 if he wants it, confirms they gave permission to #Jets, and that everyone expects resolution by the start of free agency."
Initially, the big news was that the Packers president thinks that an Aaron Rodgers-Jets trade would be done by the time free agency starts on March 15, less than a week away.
Later, when the video emerged from WBAY-TV 2 reporter Adriana Torres, fans got a more interesting Aaron Rodgers trade update courtesy of (possibly) a slip of the tongue by Murphy. 
The Packers president told Torres about the possibility of Rodgers returning to the team for 2023, "Yeah, I mean, unless, if things don't work out the way that we would want them. Yeah, he is obviously a great player."
And that was the biggest Aaron Rodgers update of all. 
To this point, an Aaron Rodgers trade has been firmly in his court. The Packers are waiting on his decision and for him to talk to the Jets about a potential move. But Murphy saying, "if things don't work out the way that we would want them," about Rodgers coming back is the first time we've heard anyone from the Packers organization directly say that they hope the QB leaves. 
The organizational feelings have been widely reported — for the last three offseasons, really. But hearing this directly from the president's mouth is a whole different animal. 
Murphy's statement confirms that like Brett Favre all those years ago, the franchise is at least nudging their QB toward the Jets. The major difference is Favre badly wanted out of Wisconsin. Who — other than maybe Pat McAfee — truly knows what Rodgers wants? 
All this Aaron Rodgers update signals is that an Aaron Rodgers trade is definitely in the works, and now it would be a massive surprise if the QB returned to the Packers in 2023.