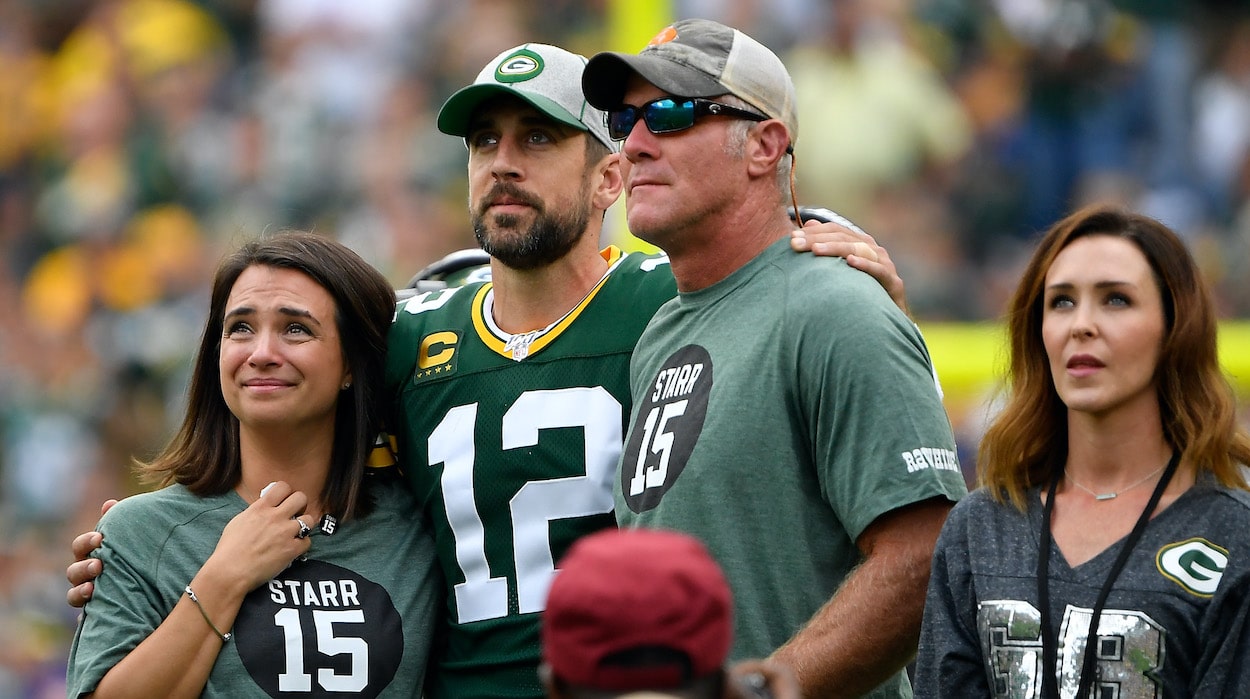 Aaron Rodgers Vowed Never to Become Brett Favre, Now He's the Same Guy
A young Aaron Rodgers told his Packers teammates he'd never be Brett Favre, who refused to take blame for anything, and now the Jets QB has.
Aaron Rodgers was 22 years old when the Green Bay Packers drafted him No. 24 overall in the 2005 NFL Draft. Then, for three seasons, he sat behind quarterback Brett Favre. The older QB infamously didn't like having Rodgers breathing down his neck and didn't take an active role in the young signal-caller's development.
However, Rodgers learned a lot just by watching the Hall of Famer, including what to do and what not to do. In fact, former teammate Greg Jennings shared that Rodgers once vowed not to become like Favre in one specific way.
A decade and a half later, though, Rodgers has become just like Favre in this way, and now he's following in his footsteps to the New York Jets.
Aaron Rodgers blames others just like Brett Favre did
In case you didn't know it before, the current Brett Favre Mississippi welfare scandal should make it clear that the Hall of Fame QB is an incredibly arrogant, self-centered, and selfish person. While in the NFL, these personality traits translated into never taking/getting blame for the team's failures while inside the locker room.
Former Packers wide receiver Greg Jennings, who played two seasons with Favre and five with Rodgers, shared on The Carton Show, "Brett, he was one of those guys, he never got — no one ever thought it was his fault."
Jennings also said that, as a young player, you accept that fact, but it "grows old" after a while. Then he shared his memories of Rodgers seeing these same things from Favre and vowing never to become that guy.
"I recall a young Aaron Rodgers identifying that, and saying, 'I'm never going to do that. Not gonna be that,'" Jennings recalled. "And then you grow. You have success. And everyone starts to tell you how great you are, and you forget that the guys in the locker room are your greatest accountability."
Rodgers seems like a wildly different person than Favre, but in his old (NFL) age, he does seem to be turning into him from an accepting/placing blame perspective.
When Rodgers and the Packers were in the midst of a five-game losing streak in 2022, he gave press conferences, talked to reporters, and went on the Pat McAfee Show several times to heap blame on everyone around him.  
And more than anything, years after swearing he'd never turn into late-career Brett Favre, that's exactly what Aaron Rodgers is doing.
Rodgers again followed in Favre's footsteps, this time to the Jets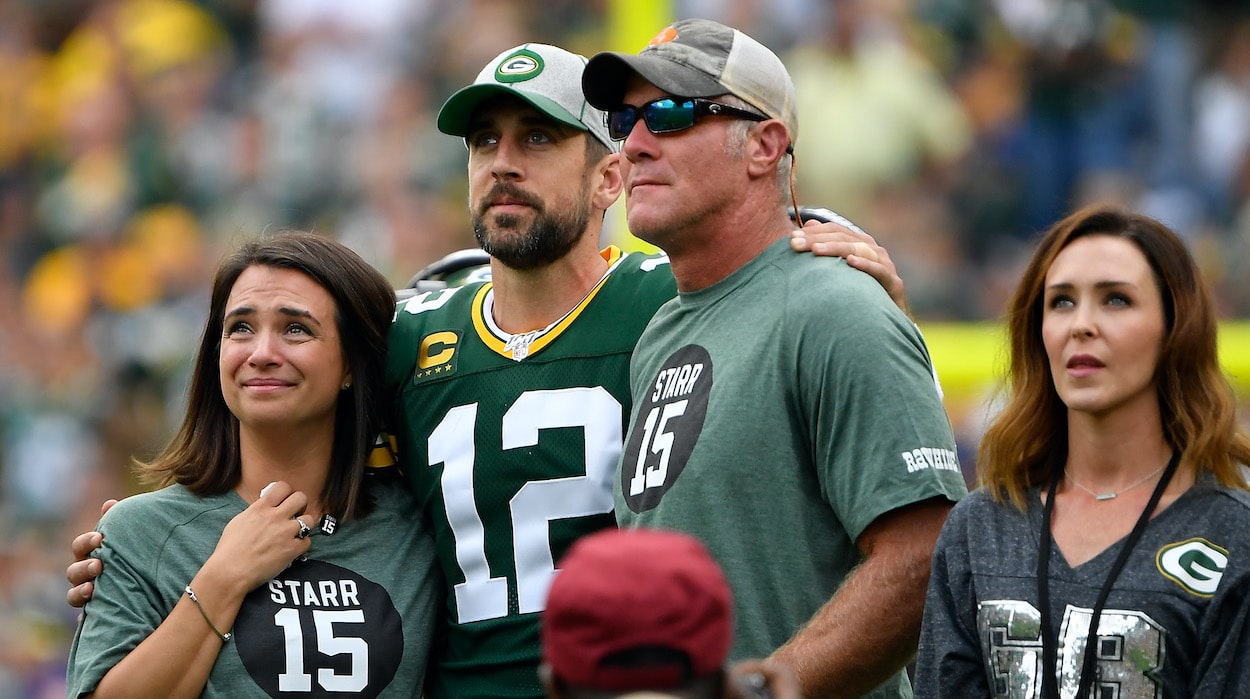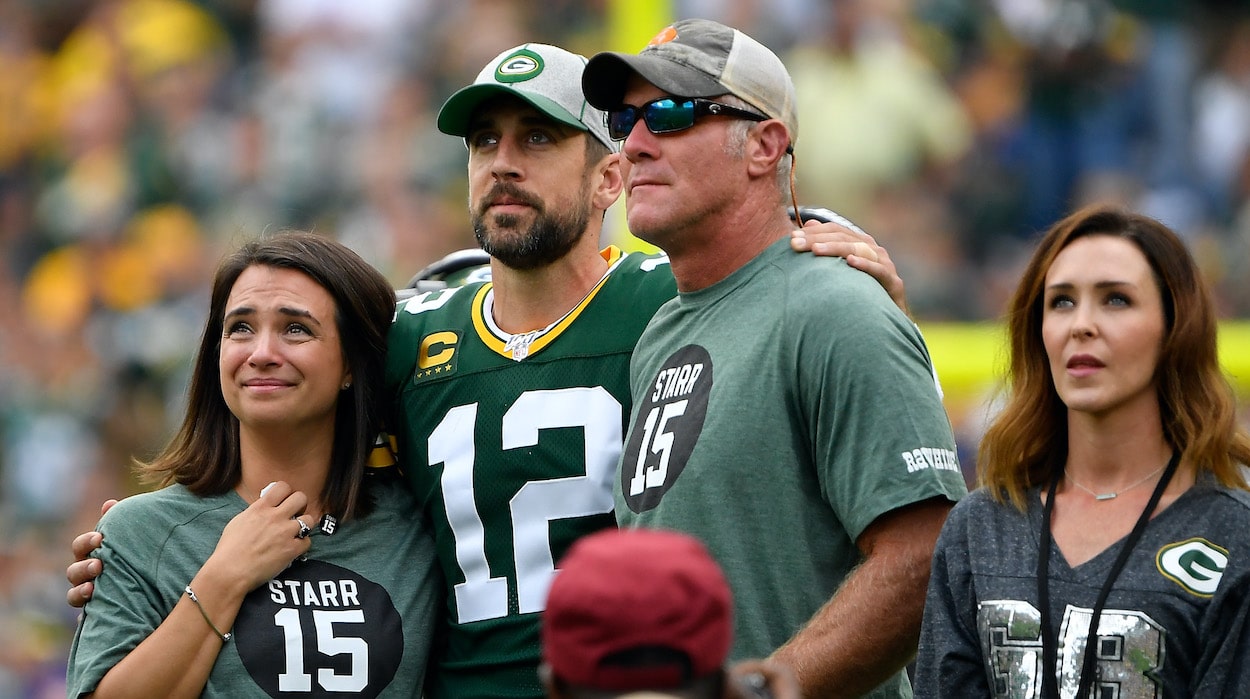 It's become uncanny how Aaron Rodgers' career is mirroring Brett Favre's.
The Packers did the same thing to Rodgers that they did to Favre, drafting his replacement while the QB still had plenty of tread on the tires. And now they've gone and traded Rodgers to the Jets, just like they did with Favre back in 2008.
Now Rodgers has to once again try and not be the same as Favre, even though he seems destined to befall the same fate.
Favre went to New York and turned 39 during the season. He played well at times, passing for 3,472 yards and 22 touchdowns. However, Favre also led the league with 22 interceptions. He even led the Jets to a winning 9-7 record.
The problem was, the AFC was loaded back in 2008.
Ronnie Brown and Ricky Williams were powering the Miami Dolphins, while Chris Johnson and LenDale White were doing the same for the Tennessee Titans. LaDanian Tomlinson was in his prime for the San Diego Chargers, as were Peyton Manning and Ben Roethlisberger for the Indianapolis Colts and Pittsburgh Steelers.
The Baltimore Ravens defense was also in rare form that season, and even with Tom Brady out for the season with a knee injury, the New England Patriots won 11 games.
All this added up to Brett Favre and the Jets finishing third in the AFC East and eighth in the AFC (with six teams making the playoffs).
In 2023, Aaron Rodgers faces nearly the same situation. While Rodgers may be the best quarterback the Jets have had since Joe Namath in the 1970s, he may be the third-best QB in his own division and doesn't make the top five in the conference.
This season, Rodgers will have to do battle for playoff spots with Josh Allen, Tua Tagovailoa, Lamar Jackson, Joe Burrow, Justin Herbert, Jimmy Garoppolo, Trevor Lawrence, Deshaun Watson, Russell Wilson, and, of course, the defensing Super Bowl champion, Patrick Mahomes.
If that's not a recipe for 9-7 and missing the playoffs — just like Favre 15 years ago — I don't know what is.