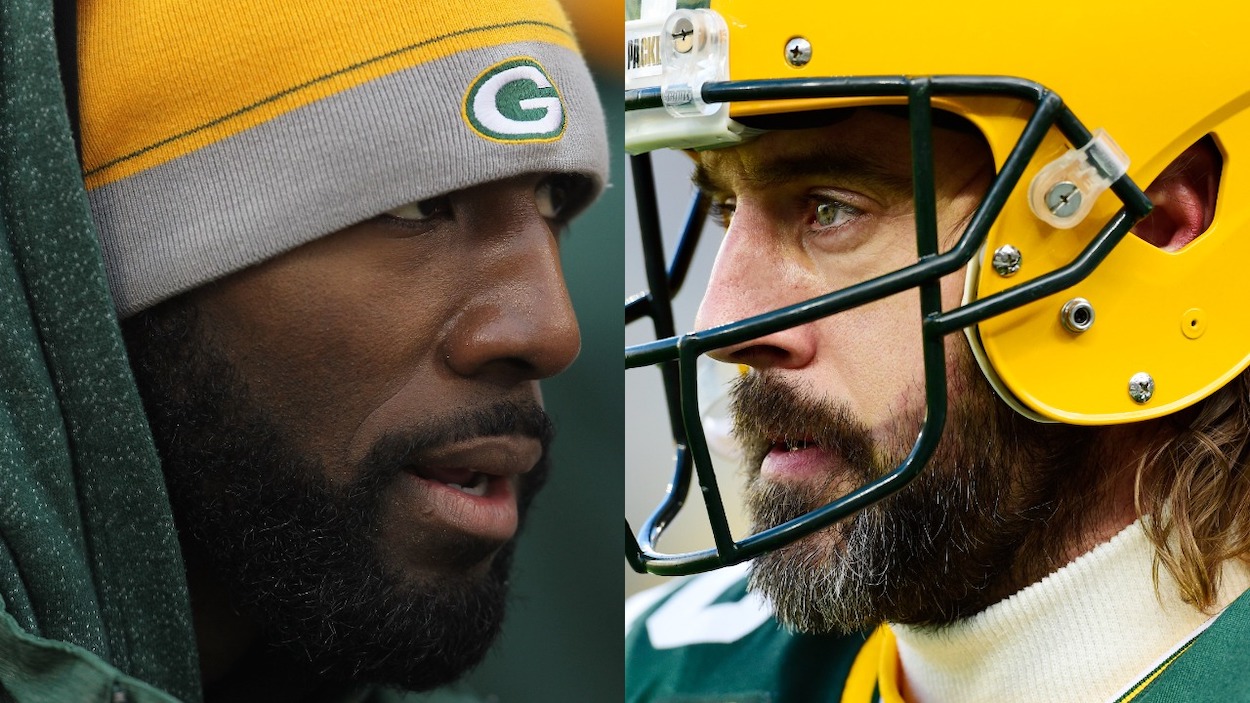 Greg Jennings Continues Taking Shots at Aaron Rodgers for Not Doing 'Whatever It Takes to Just Win' Like Tom Brady or LeBron James
Greg Jennings and Aaron Rodgers used to e close teammates. They're not any more and the retired WR has quite a bit to say about the QB now.
Former Green Bay Packers player Greg Jennings was once Aaron Rodgers' most trusted partner on the field. Now, after a falling out after Jennings left the franchise, the wideout has become one of the QB's most prominent critics.
The retired NFL star's most recent criticism is that rumors that Rodgers wanting to be the highest-paid player in the league shows he's not all about winning like Tom Brady or LeBron James.
Aaron Rodgers and Greg Jennings were once successful teammates
Aaron Rodgers and Greg Jennings were teammates on the Green Bay Packers from 2006 to 2012. In the wide receiver's four seasons with Rodgers as his starting QB, Jennings caught 327 balls for 4,985 yards and 38 touchdowns. He made his only two Pro Bowl appearances during those years, and the pair won a Super Bowl together.
With this type of professional success, you'd think Jennings would have nothing but support for Rodgers as the QB decides his next career move.
That's not the case.
Since the offseason began and Rodgers promised a quick decision on his future, Jennings has been a frequent sports talk show guest. He's dished on his "non-existent" relationship with Rodgers and called him "a very selfish guy."
As the franchise tag deadline (March 8) and the start of the official NFL year (March 16) rapidly approach, Rodgers' decision (hopefully) gets closer. The longer he waits, though, the more opportunities Jennings gets roast the indecisive signal-caller in the national media, as he did this week on The Herd with Colin Cowherd.
Jennings says Rodgers doesn't have the same mentality as Tom Brady or LeBron James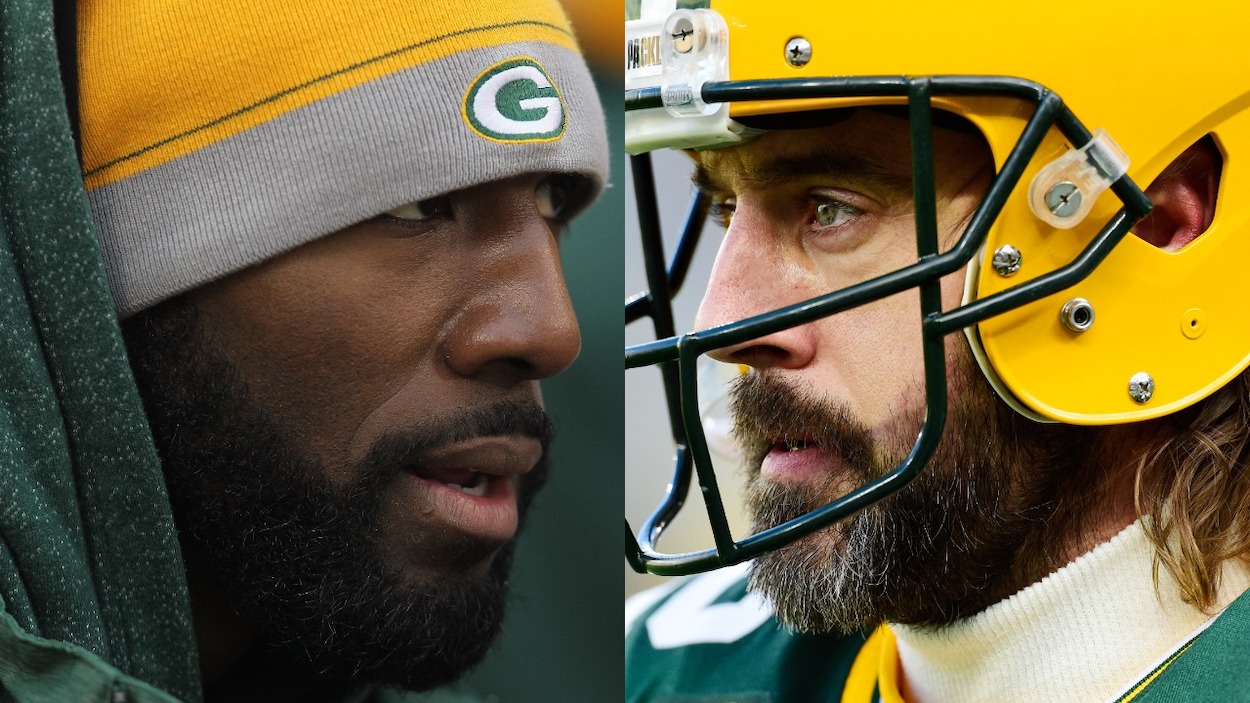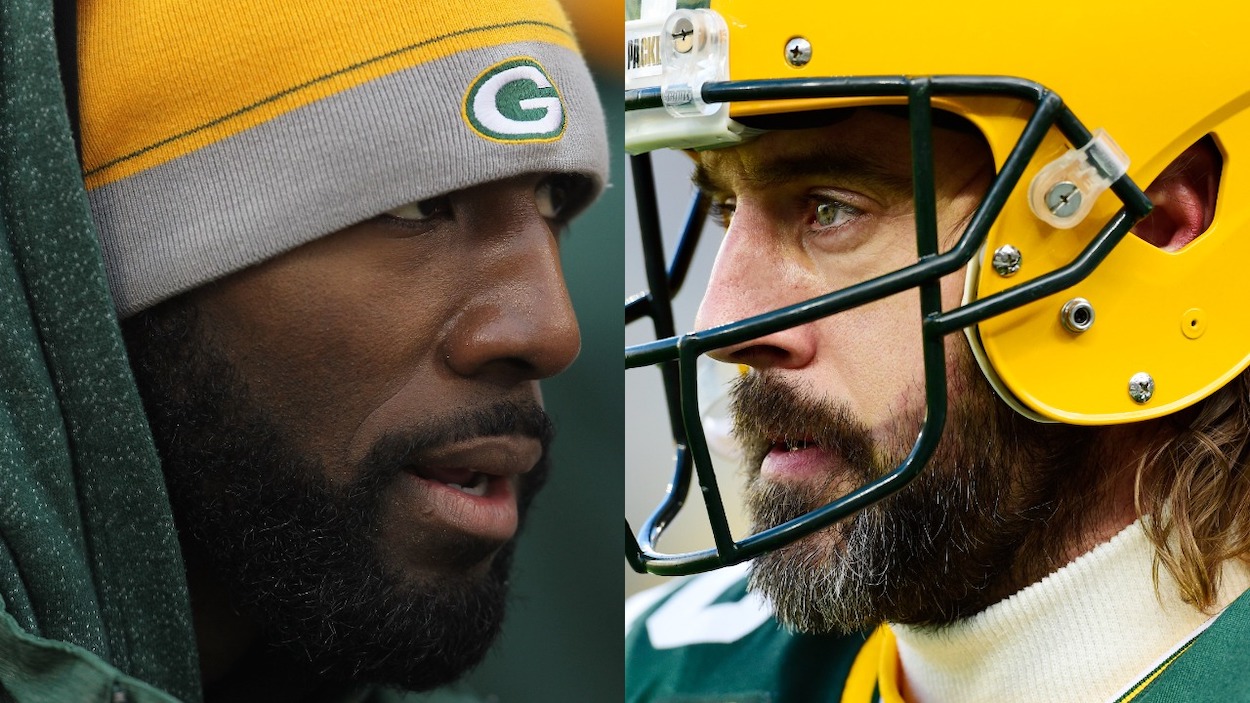 The latest drama between Aaron Rodgers and Greg Jennings is based on Jennings furthering reports that Rodgers is working on becoming the highest-paid QB in the league and negotiating a $50 million per year contract with the Green Bay Packers.
On a recent appearance on The Herd with Colin Cowherd, Jennings told the host that he believes Rodgers is now playing for the money:
Players want two things, especially at this stage of their career. They either want to be in the business of making money — how much can they make on their way out? And can they win? And so, in my opinion, Aaron Rodgers is not completely sold out like a Tom Brady or LeBron James when it comes to being all-in, whatever it takes to just win. I don't believe that to be the case. However, I do believe he is in the business of making sure he is well-compensated.

Greg Jennings on Aaron Rodgers
Jennings went on to say he thinks Rodgers is now wielding "his leverage based on what [Green Bay] tried to do to [Rodgers] a few years ago with Jordan Love."
Whether Jennings is right or wrong, the fact is, the longer the Rodgers saga plays out, the more chance the WR will have to take shots at his former compadre. And that's bad news for Rodgers because it seems like there's no end in sight.
The Green Bay QB is still can't decide on his next move
Just four days away from the Green Bay Packers having to decide whether to use the franchise tag on star wideout Davante Adams, there's still no decision on 2022 from the Aaron Rodgers camp.
On Friday, March 4, 2022, NFL insider Ian Rapoport reported that, with the clock ticking, "Sources say Rodgers is truly torn on where he wants to play in 2022."
Rodgers' deciding before free agency deadline is a self-imposed one. He's under no obligation to decide soon. However, not choosing shortly will hurt the Packers. In addition to Adams, the franchise also has to decide what to do with key free agents and high-priced vets like Robert Tonyan, Marquez Valdes-Scantling, Za'Darius Smith, and Randall Cobb.
If Rodgers keeps playing Hamlet, it will hurt the Packers' ability to put a winning team around him if he stays or rebuild properly if he leaves.
Maybe Greg Jennings is right.
Say what you want about Tom Brady and LeBron James, but when they decide to leave, they leave and let their former teams get on with their lives. The Packers will soon need to force a decision one way or the other.
All stats courtesy of Pro Football Reference