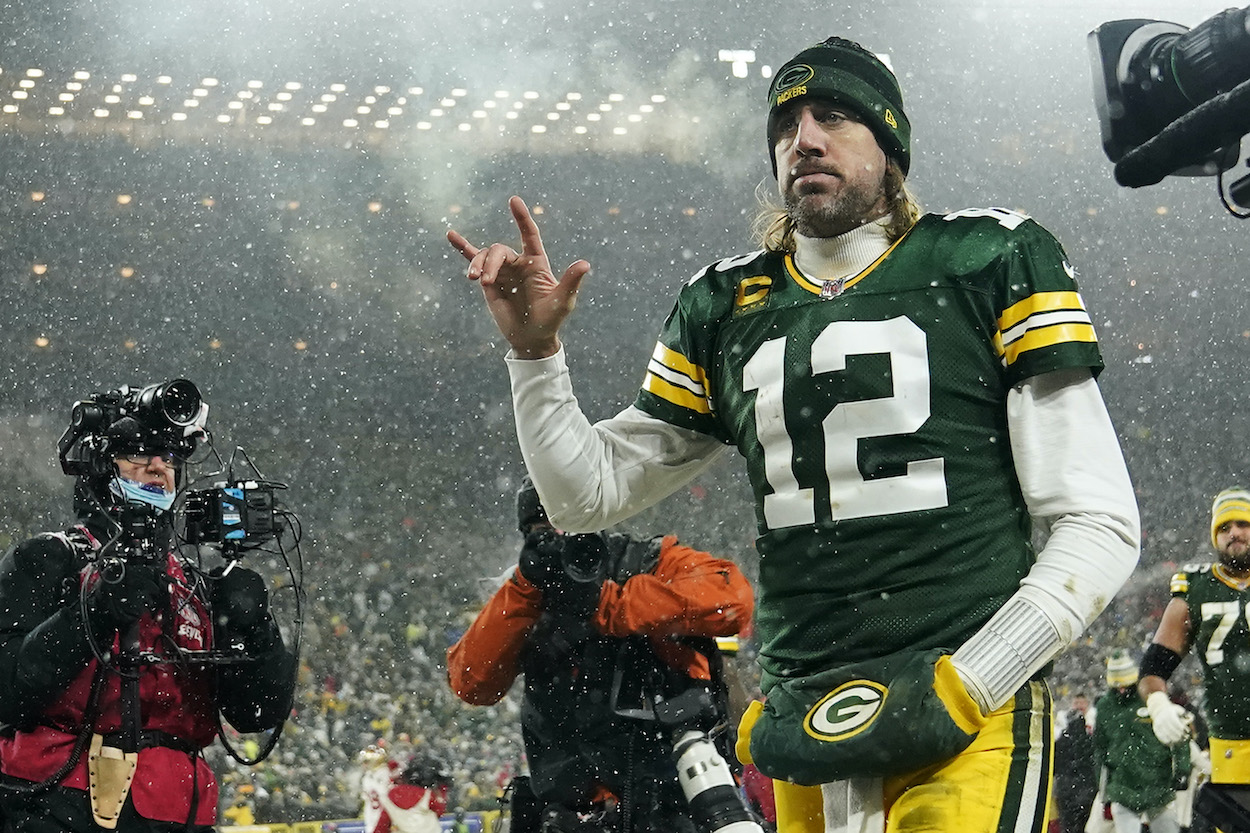 Aaron Rodgers Promises a Quick Decision on His Green Bay Packers Future: 'To Drag It Out Past Free Agency Would Be Disrespectful'
A year after the 2021 Aaron Rodgers saga gripped the NFL, the polarizing QB is pledging to make a faster decision about his future in 2022, which is good for his team and the league.
In 2021, Green Bay Packers quarterback Aaron Rodgers held his team and the entire NFL hostage for months. No one knew if he would return to his longtime home, hold out for a trade, host Jeopardy, or who knows what else. In 2022, Rodgers has another massive decision to make about his future, but this time, he promises to do the right thing.
Aaron Rodgers hurt the Green Bay Packers last offseason by delaying his decision to return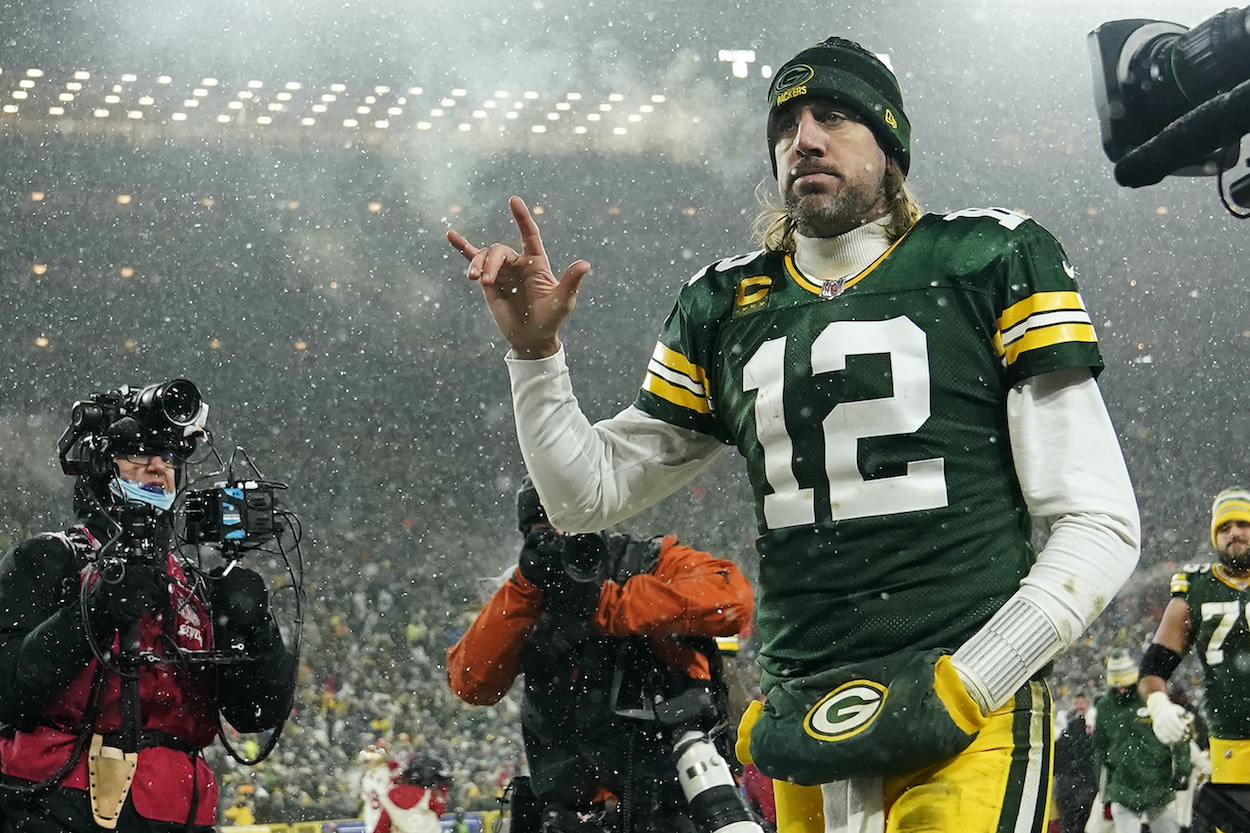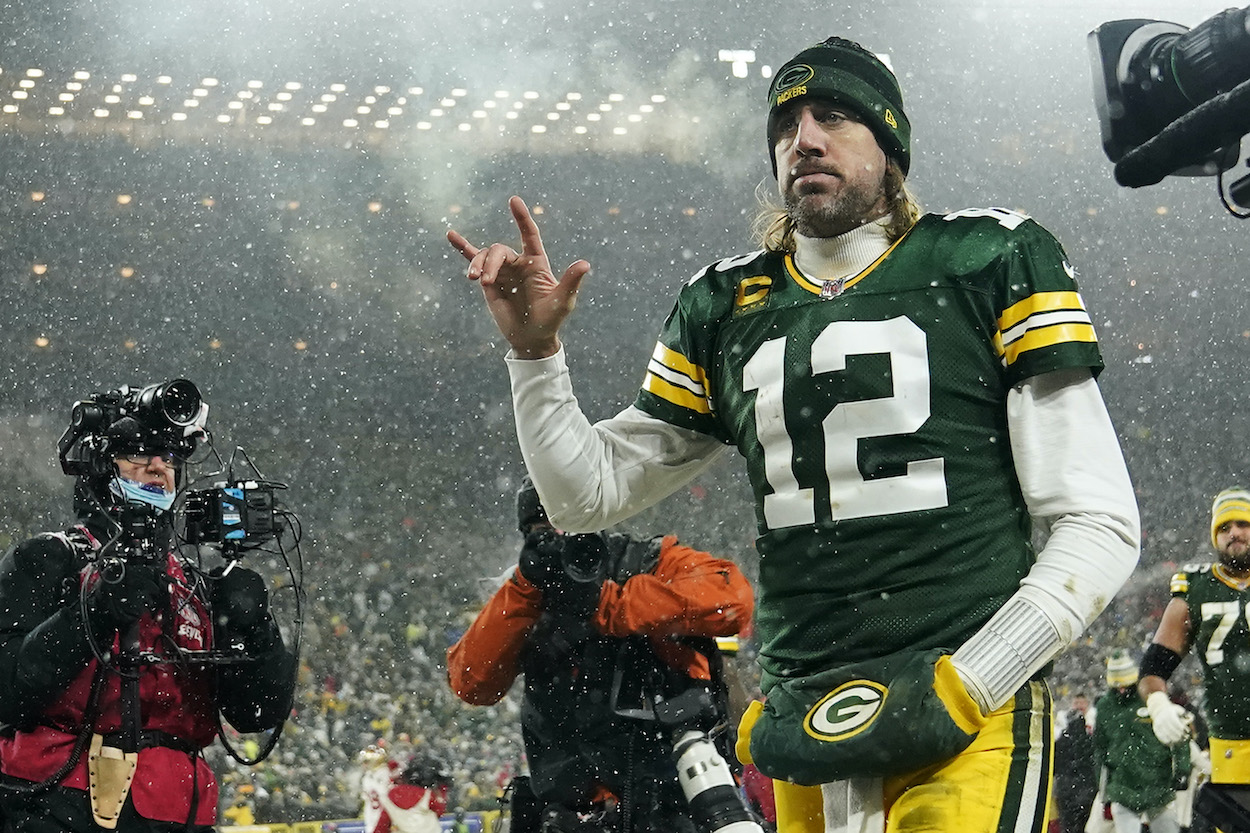 There is no question that the biggest story of the 2021 NFL offseason is where would Aaron Rodgers play in the coming year?
Following a heartbreaking loss to the Tampa Bay Buccaneers in the NFC Championship Game, Rodgers made public comments that hinted at an uncertain future in Green Bay. On the eve of the 2021 NFL Draft, the QB dropped a bombshell that left no uncertainty about his desires to get out of Wisconsin.
From there, he skipped minicamps, traveled with celebrity buddies, hosted Jeopardy, and generally gave no indication that he would play for the Packers in the coming season.
When he finally reported to training camp, he held a scorched-earth press conference where he aired his grievances with the franchise, specifically general manager Brian Gutekunst.
After an offseason full of uncertainty where head coach Matt LaFleur had to prepare for a returning MVP QB and a second-year signal-caller who had yet to throw an NFL pass at the same time, it's unsurprising the New Orleans Saints blew out the Packers in Week 1.
Rodgers righted the ship going forward and won the NFC. However, the chaotic nature of the offseason showed up that first week and, without Rodgers' sheer force of will, the season could have been a disaster.
If the same "will he, won't he?" offseason happens in 2022 — especially if Rodgers decides to leave the Packers — it could get bad. Luckily, the polarizing passer says he'll do the right thing this year and not drag the drama out again.
The QB promises to make a quicker decision in 2022 
After Aaron Rodgers' tumultuous 2021 offseason, a lot has changed. He now has a better relationship with GM Brian Gutekunst, but the Green Bay Packers failed to get it done in the playoffs once again, and the team faces serious salary cap issues in 2022.
Whatever Rodgers decides to do — stay, retire, force a trade — his one promise in January 2022 is that he won't drag his saga out to training camp like he did last year.
The signal-caller joined the Pat McAfee Show this week, as he does every week during the season, and made a public promise to his teammates and the only NFL franchise he's ever played for:
I'd like to be respectful of the organization. One decision that will be upcoming will be, obviously, Davante [Adams] and his future with the team. There still is this thing called franchise tag. … But that decision on that is in February. In late February. So, I think that should be enough time to make a decision by then. I don't want to put myself on a specific date, but, again, I do want to be sensitive to Davante and many other guys who have decisions to make on their own futures. And to drag it out past free agency would be disrespectful to the organization and to those guys, and that 100% will not happen.

Aaron Rodgers on when he will decide his Green Bay Packers future
If you want to be cynical, you can say that Rodgers is only committing to a quick decision to help his next team have a better offseason. Regardless of his motives, though, a quick decision will undoubtedly help the Packers and many teams throughout the league.
Rodgers' choice will have a ripple effect throughout the NFL
No matter what you think of Aaron Rodgers after the last year-plus, you have to give him some credit for his commitment to making a faster decision in the 2022 offseason.
Whatever the signal-caller chooses to do, it will have ripple effects throughout the entire league for the upcoming season.
For the Green Bay Packers, Rodgers' fate will help determine what the future looks like for many veterans nearing retirement themselves, free agents, and players with big salary cap hits in 2022. This includes Packers like Davante Adams, Marquez Valdes-Scantling, Za'Darius Smith, Preston Smith, and Randall Cobb.
If Rodgers leaves — via retirement or trade — it also means that the Packers coaching staff and the player himself will have to go all-in on the Jordan Love Era this summer.
An exit to another team will also trigger dominoes to fall throughout the league.
Rodgers moving to another team would be the first step in what could be a massive offseason for quarterback movement. Russell Wilson, Baker Mayfield, Ryan Tannehill, Derek Carr, Teddy Bridgewater, Jameis Winston, Deshaun Watson, and Tua Tagovailoa could all be affected (directly or indirectly) by Green Bay's No. 12 switching teams.
Aaron Rodgers Watch 2022 has officially started. The most exciting part for NFL fans, though, is that it should reach its conclusion in six weeks or less this time, according to the man himself.
Like Sportscasting on Facebook. Follow us on Twitter @sportscasting19