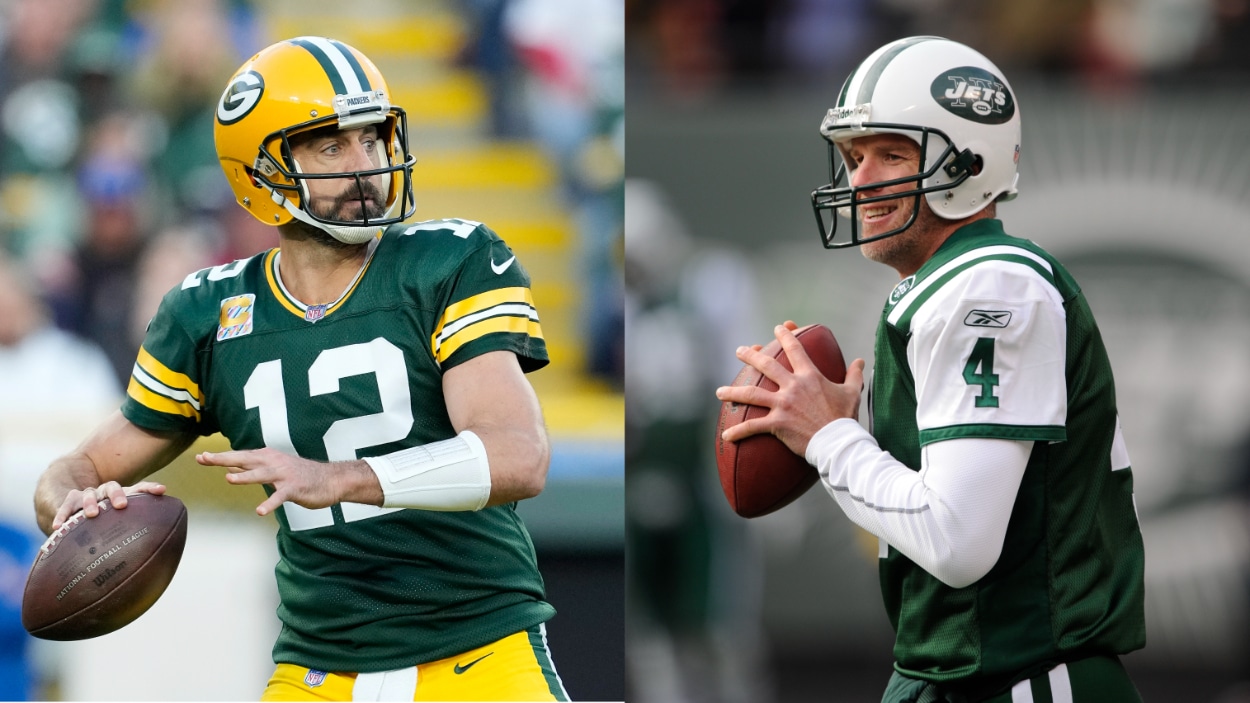 The Best Move for Aaron Rodgers and the Packers is to Follow in Brett Favre's Footsteps
The best move for all involved is for the Packers to do exactly what they did to Brett Favre to Aaron Rodgers and trade him to the Jets.
Seventeen years ago, the Green Bay Packers had an All-Pro quarterback in Brett Favre, and they drafted Aaron Rodgers in the first round anyway. After three seasons on the bench, the team decided that it was time for Rodgers to move into the starting role, and the Packers traded Favre to the New York Jets. Now, the Packers have Jordan Love — a 2020 first-round QB — who's been sitting on the bench for three years. And, once again, it's time to move on from the incumbent QB, and the best move for all involved is to (again) trade him to the Jets.
It's time to trade Aaron Rodgers and let Jordan Love start
The last three years of drama between Aaron Rodgers and the Green Bay Packers all started when the team decided in 2020 to draft another QB in the first round instead of a wide receiver or offensive lineman to help Rodgers win in his last few seasons with the team.
Since ticking Rodgers off, the franchise has seemingly bent over backward to accommodate him. They've brought back his friends (Randall Cobb), let him take his time in the offseason deciding if he'll come back at all (which cost them Davante Adams), and they gave him a massive new contract this offseason (three years, $150.8 million guaranteed) at 38 years old.
And they wouldn't have had to do it if they just didn't draft Jordan Love in the first place.
Either way, that's where we are now. And just a day shy of Rodgers' 39th birthday, his future with the Packers looks bleak. The back-to-back MVP has looked like a shell of his former self this season. Maybe that's age, maybe it's his broken thumb, or now his rib injury. Maybe it's all of the above.
What is clear is that if the Packers want any hope of a seamless QB transition like they had with Brett Favre to Rodgers or if Rodgers wants any hope of challenging for a championship in his last few years, the two sides need to split up this offseason.
The Jets make a lot of sense for everyone
There are several interesting Aaron Rodgers trade destinations this offseason. The one that makes the most sense for everyone involved, though, is the New York Jets.  
The Jets have an excellent offensive line, a promising running back (when Breece Hall comes back healthy), and good wide receivers (including a possible future star in Garrett Wilson). That's all good for Rodgers, as is the fact he wouldn't have to learn a completely new system, as the Jets offensive coordinator is Mike LaFleur, the brother of Packers head coach Matt LaFleur.
For the Jets, the Zach Wilson experiment has been a horrific failure, and the No. 2 overall pick in 2021 is now sitting on the bench in favor of the little-known Mike White. While White's second stint with the Jets started well in Week 12 of the 2022 season, a four-interception game (like he had last season while starting) is always a possibility.
Bringing in Rodgers for two years while you try and rehabilitate (the still only 23-year-old) Zach Wilson makes a lot of sense.
Finally, the Jets have a lot of draft picks to give the Packers, unlike a team such as the San Francisco 49ers, so Green Bay can get a good package for their veteran QB. And this fact makes the whole situation a win-win-win.
The only issue now is the contract.
How to trade Aaron Rodgers' contract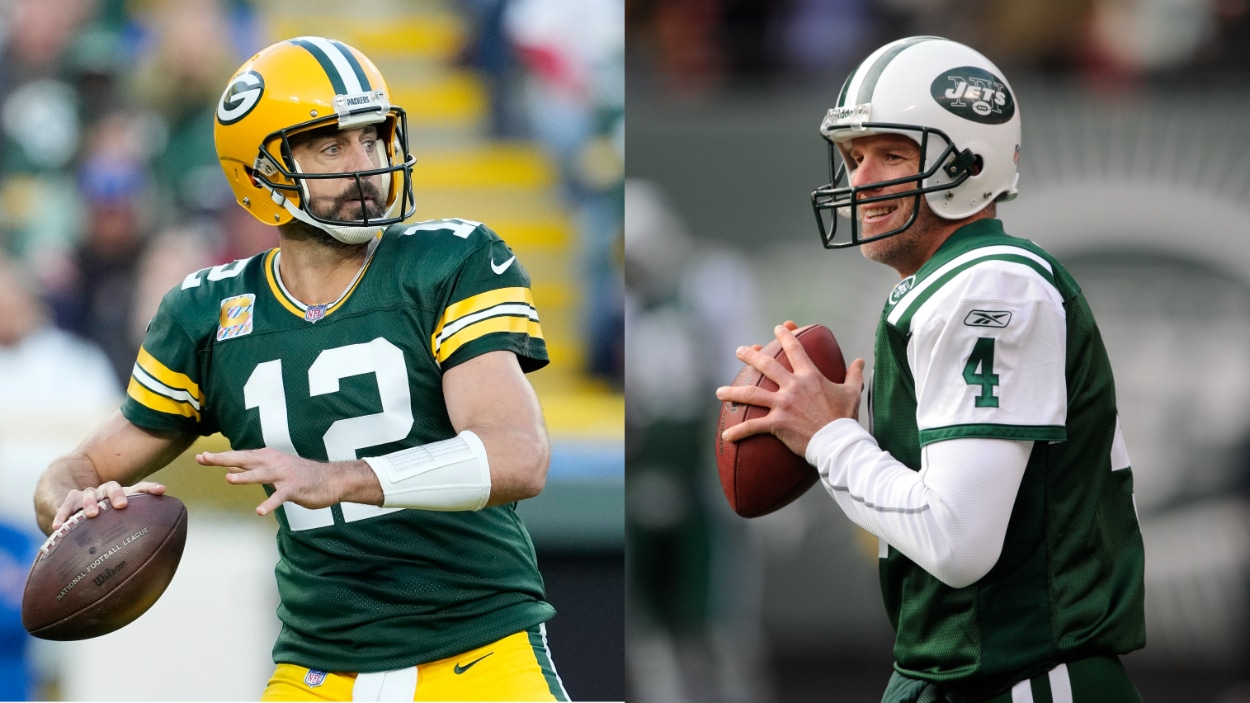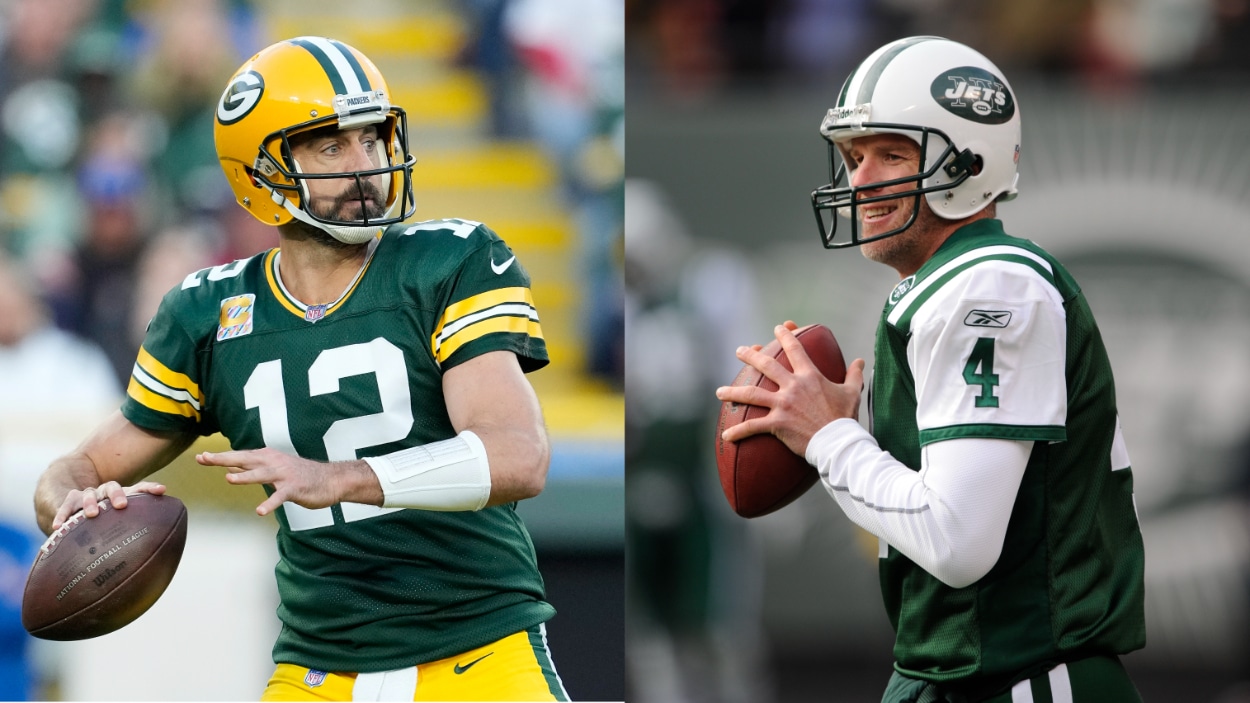 The contract Aaron Rodgers signed when he decided to come back for this season is, in essence, a three-year extension that pays Rodgers over $50 million until 2024. It also includes two "placeholder years" at the end, making it run until 2026, per NFL.com.
Any team that traded for Rodgers would inherit that contract, which includes cap hits of $15.7M, $32.5M, $51.1M, and $45.3M for the next four seasons. However, the dead cap goes down each year ($59.4M, $43.7M, $29.1M, $14.5M), making it easier to get out of as time goes along. So, it is really a two-year deal for all intents and purposes.
For the Packers, there is a serious decision to make, though.
Trading Rodgers comes with a $40.3M dead cap hit. That just is what it is. However, when that dead cap hits takes place depends on the timing of the trade.
If they trade Rodgers after June 1, the team can split the cap hit up into a much more manageable $15.8M hit in 2023 and $24.4M in 2024. That said, the 2023 NFL Draft is in April, so waiting until June 1 would allow them to reap any of the benefits of trading Rodgers until 2024.
If the Packers want the draft picks for next season, they'll have to trade the QB before April 27, 2023, and eat the entire $40.3M on next season's salary cap.
It's a tough decision, but one that the Packers will have to make if they do the right thing this offseason and let Aaron Rodgers follow in Brett Favre's footsteps by being traded to the Jets.