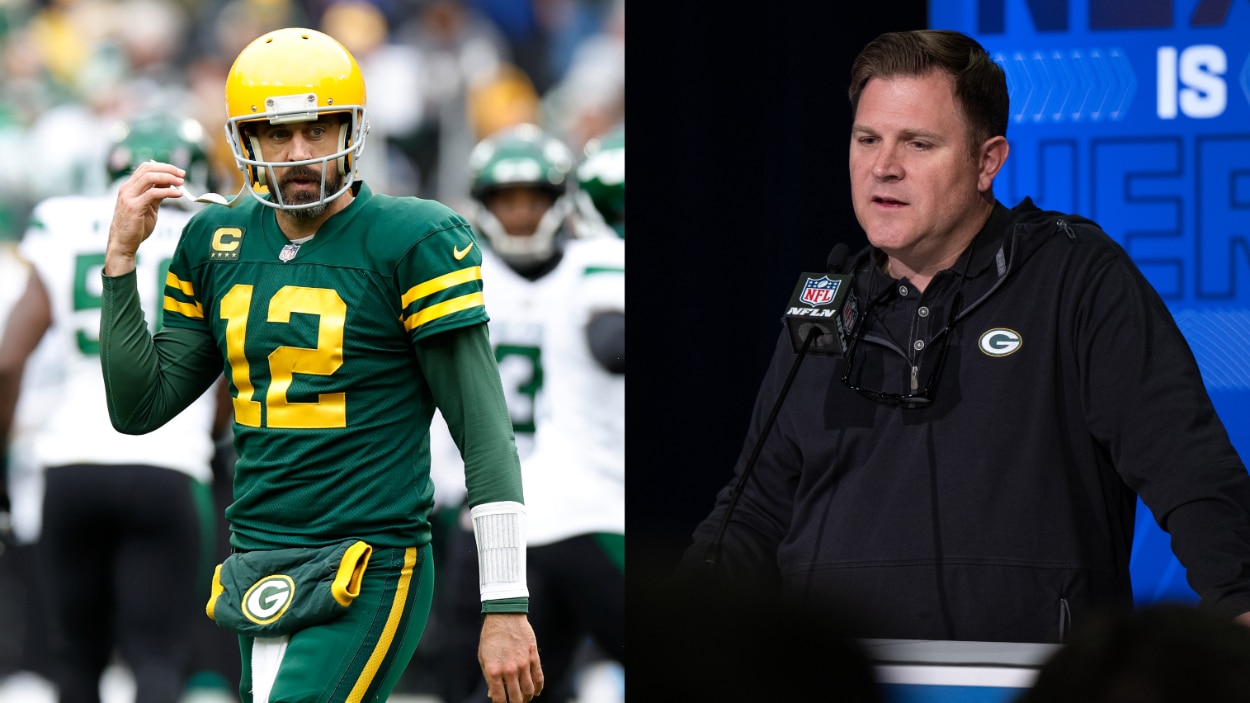 Packers Were Too Cheap to Save Aaron Rodgers' Season, Per Insider Reports
Packers GM Brian Gutekunst needed to part with a few picks to save one of Aaron Rodgers' last seasons and refused to do so.
The Green Bay Packers are 3-5, and it's not a huge secret as to why. Aaron Rodgers doesn't trust his young, inexperienced, less-talented wide receiver corps, and the offense has bogged down because of it. Luckily for the Packers, there were a bunch of talented wideouts on the trade market ahead of the November 1 NFL trade deadline. The problem is, despite being in on most of the big names at the position, according to multiple NFL insiders, the Packers were too cheap to pull the trigger.
The Packers refused to pay the price for a top WR
After back-to-back NFL MVP seasons, Aaron Rodgers' 2022 campaign is not going well. In addition to the poor record, the Packers have the 25th-ranked scoring offense and are 19th in passing yards with 1,739.
Rodgers is also 13th in passing yards with 1,800 and ninth in quarterback rating at 94.5. By comparison, he's had the highest rating in the league the last two seasons at 111.9 (2021) and 121.5 (2020).
The Packers' leading WRs — Allen Lazard with 340 yards and rookie Romeo Doubs with 30 catches — both rank 55th in those categories.
The good news is the NFC Wild Card race is still tight, and 3-5 teams are still in it. With a big receiver pickup at the deadline, the Packers offense could easily right the ship. However, despite being "in" on all the big names at the position, the Packers front office — led by general manager Brian Gutekunst — was too cheap with its draft capital to make a deal.
According to ESPN's Adam Schefter and NFL Network's Ian Rapoport and Tom Pelissero, the Packers looked into — and even made offers — trading for Las Vegas Raiders tight end Darren Waller and receivers like the Pittsburgh Steelers' Chase Claypool and Carolina Panthers' D.J. Moore.
Sources told Schefter, "Green Bay wasn't willing to offer enough trade compensation to Las Vegas for the Pro Bowl tight end." And, while the Packers offered a late-round pick in addition to a second-round pick for Claypool, the team seemingly wouldn't go higher. The Steelers took the Bears' pick because they believed it would be higher, especially if the Packers got Claypool.
The Panthers reportedly rebuffed any interest by the Packers in Moore, and Green Bay didn't deem Texans WR Brandin Cooks worthy of an inquiry or a draft pick. Some reports also mention the Packers called the Denver Broncos about Jerry Jeudy.
After the deadline passed, Rodgers confirmed that the front office decided the players they were targeting weren't worth the draft capital required to get them, despite the team's losing record.
"The compensation for whatever players we were going after just didn't make sense," Rodgers confirmed to reporters. "So, I trust Brian. We had some good conversations. We were in on some things. It just didn't pan out."
The franchise is doing Aaron Rodgers wrong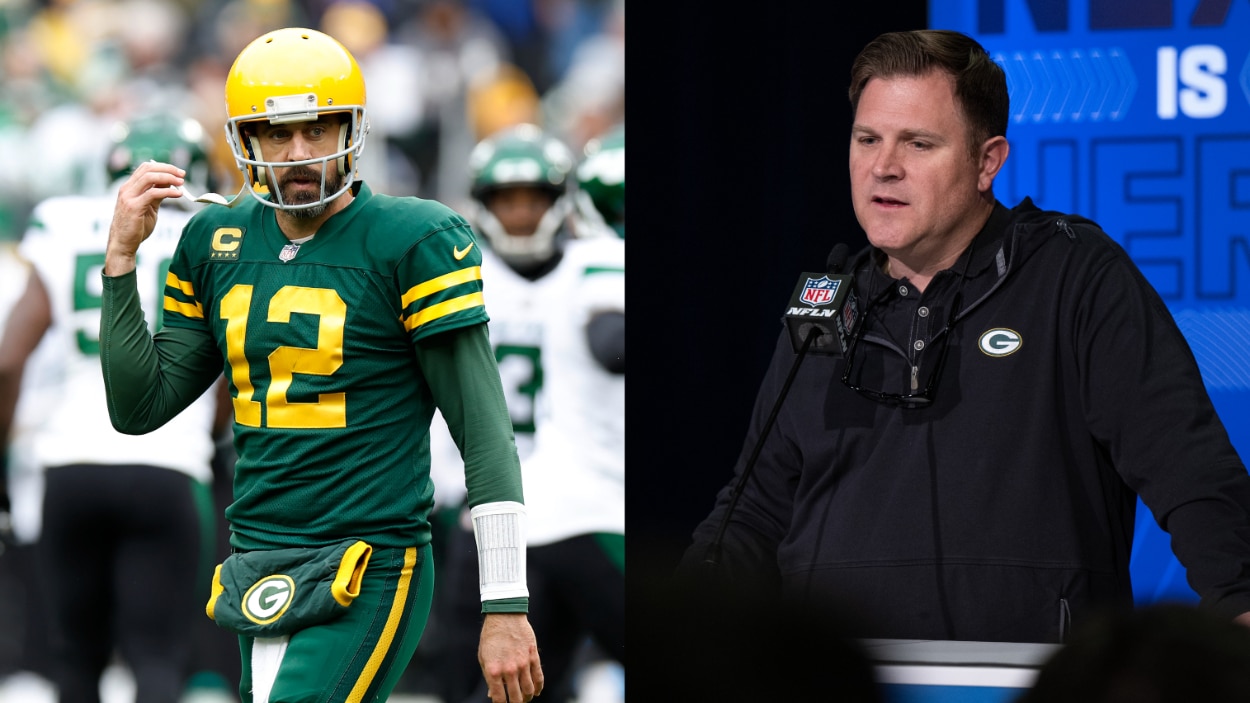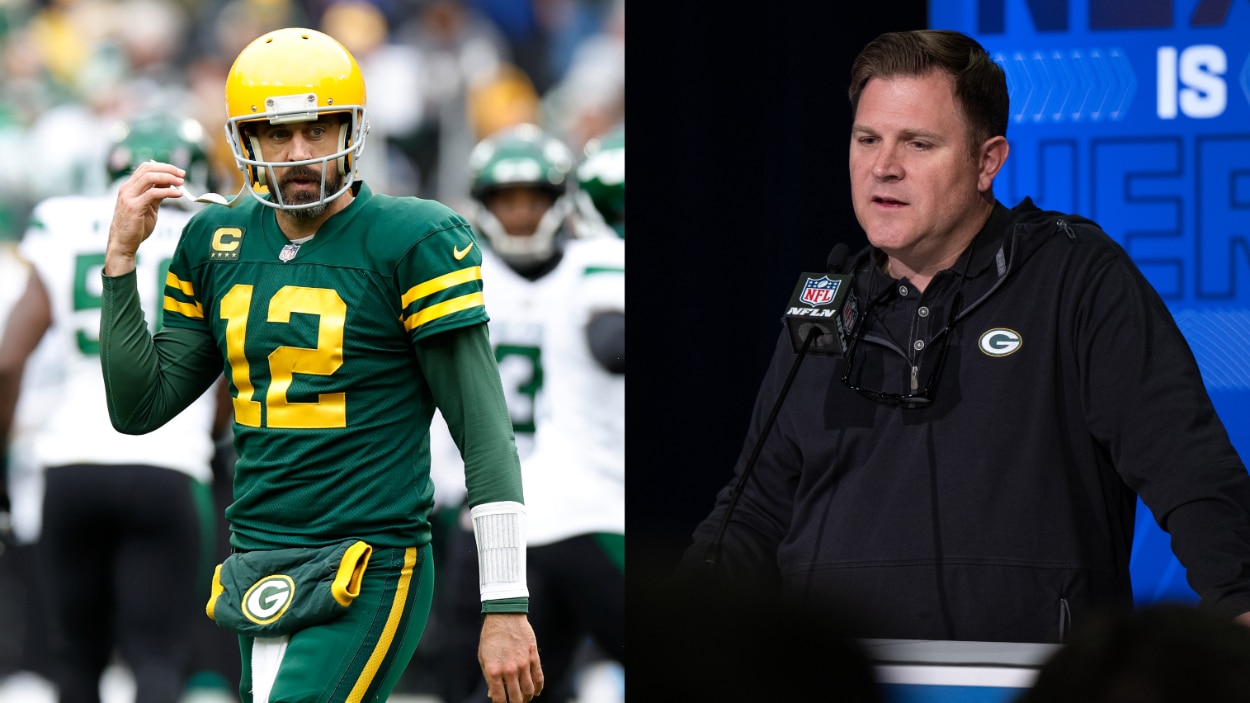 Despite saying the right things, it has to be frustrating that Brian Gutekunst and company are wasting the final seasons of Aaron Rodgers' Hall of Fame career.
As the Los Angeles Rams and Tampa Bay Buccaneers and Kansas City Chiefs have shown the last several years when a Super Bowl window is open, you have to go all-in, long-term consequences be damned.
The Packers are sticking with their homegrown draft picks team-building philosophy that has brought the franchise two Super Bowls in the past 50-plus years. That's not bad at all, but it's certainly not dynastic, either.
The Packers should have given up what they needed to in order to get Darren Waller or Chase Claypool. Rodgers could be in his last season, and if not, he has two or three more at absolute best.
With the right team around him, he could absolutely lead a team to the Big Game.
Also, it's not like Gutekunst has been killing it in the draft since he took over for longtime GM Ted Thompson in 2018. Jaire Alexander and Rashan Gary in the first rounds represent a few hits for Gutekunst. However, there have been many more misses.
He's also taken defensive players with five of six first-round picks in his five drafts. The only offensive first-rounder was the completely wasted pick of quarterback Jordan Love. And the skill-positions players he has drafted aren't great at all. The list is:
WR: Marquez Valdes-Scantling, Equanimeous St. Brown, J'Mon Moore, Amari Rodgers, Christian Watson, Romeo Doubs, Samori Toure
TE: Jace Sternberger, Josiah Deguara
RB: AJ Dillon, Dexter Williams, Kylin Hill
Outside of a promising rookie in Doubs and a high-end No. 2 back in Dillon, the Packers have next to nothing to show for all these picks in terms of on-field production in 2022.
Maybe it's time for the Packers to stop holding on to draft picks so dearly and using them to bring in proven NFL players because what they are doing is simply not working.
Have thoughts on this topic? Keep the conversation rolling in our comments section below.