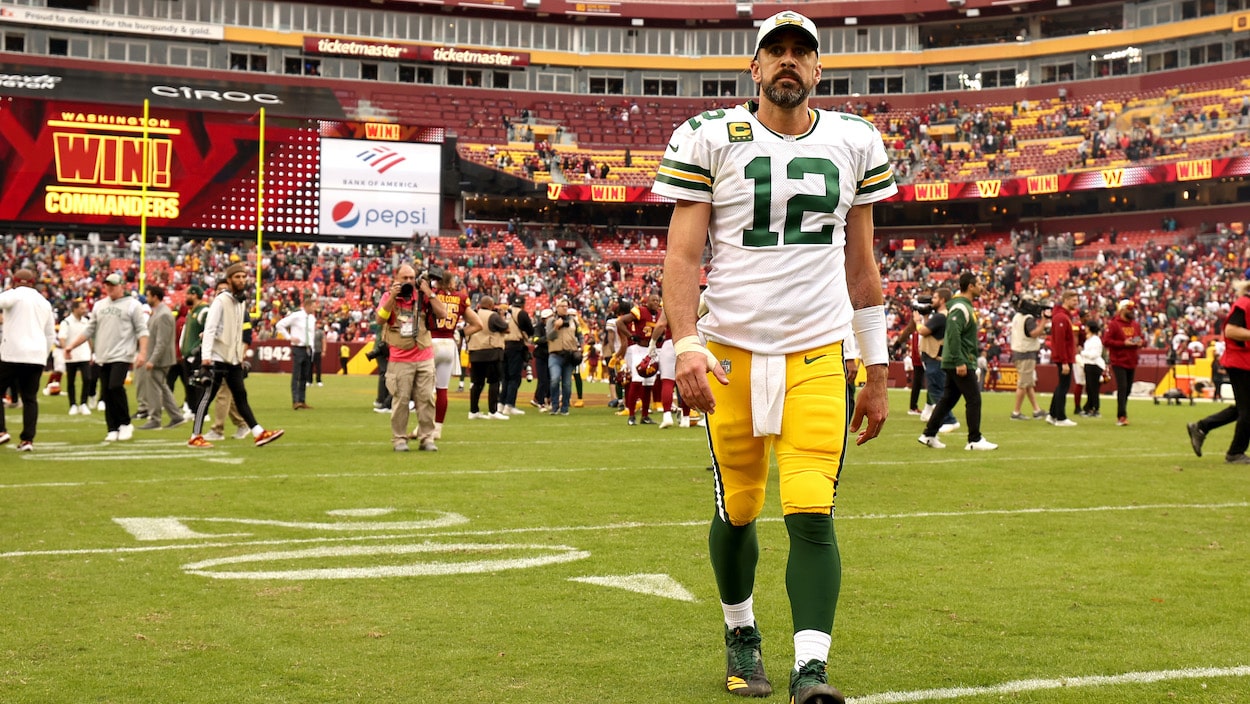 Aaron Rodgers Takes Shot at 'Bitter and Angry' Packers Fans
Aaron Rodgers and the Packers are 3-4 on the season through seven weeks and the QB is lashing out at everyone, including Packers fans.
After a shocking 23-21 loss to the Washington Commanders in Week 7, Green Bay Packers quarterback Aaron Rodgers is on his postgame explanation tour. After seemingly blaming his teammates for the loss and refusing to credit the Commanders defense, the QB pointed out another group he's upset with on his recent Pat McAfee Show appearance. That's the "angry and bitter" Packers fans.  
Aaron Rodgers crushed upset Packers fans 
On his usual Tuesday appearance on the Pat McAfee Show, the host asked Aaron Rodgers about the fallout from Sunday's surprising loss.
"Do you understand there's some frustration, and it's warranted almost around the Green Bay Packer faithful?" McAfee asked.
That's when Rodgers shared his feeling about Packers fans.
"They can say whatever they want. Nothing's going to sway that opinion, I don't think," Rodgers said. "I could come on here and extoll the virtues of my team and the hope for the future and the excitement about the present, but I think people who are bitter and angry, they kind of want to sit in that. Wallow in it a little bit, if you will. Like a pig in s***, you know? Just kind of enjoy it for a little bit. Just kind of let that wash all over them till they're ready to get washed off."
McAfee either misunderstood Rodgers or gave him a chance to walk his rant back. He followed up by asking if some players needed time to let a loss wash over them and be upset. However, Rodgers doubled down and clarified he was absolutely talking about Packers fans.
"I was talking about the fans. I think the fans are doing it a little bit," Rodgers clarified. "The fans want to be upset, and that's fine. That's good. It's still kind of a free country, so they can do whatever they want."
Fans aside, Rodger says the team is tuning out all the noise and is solely focused on the Buffalo Bills for Sunday night.
The Packers Game of the Year comes Sunday night vs. the Buffalo Bills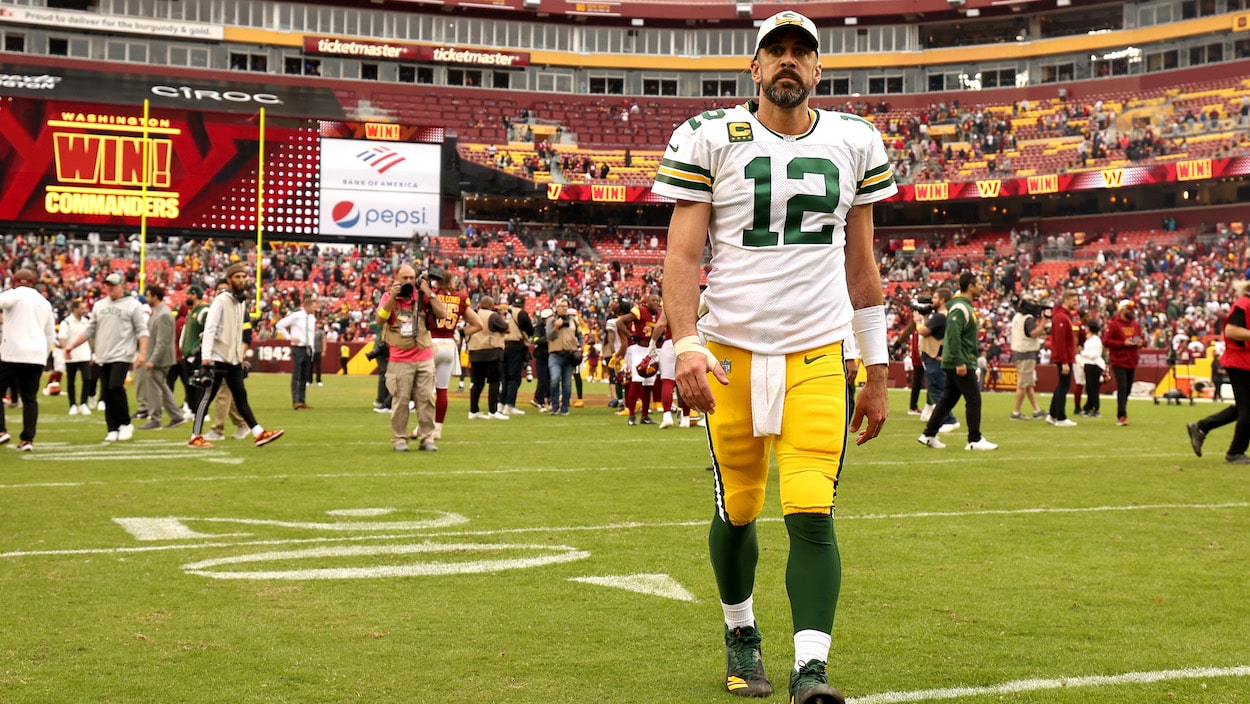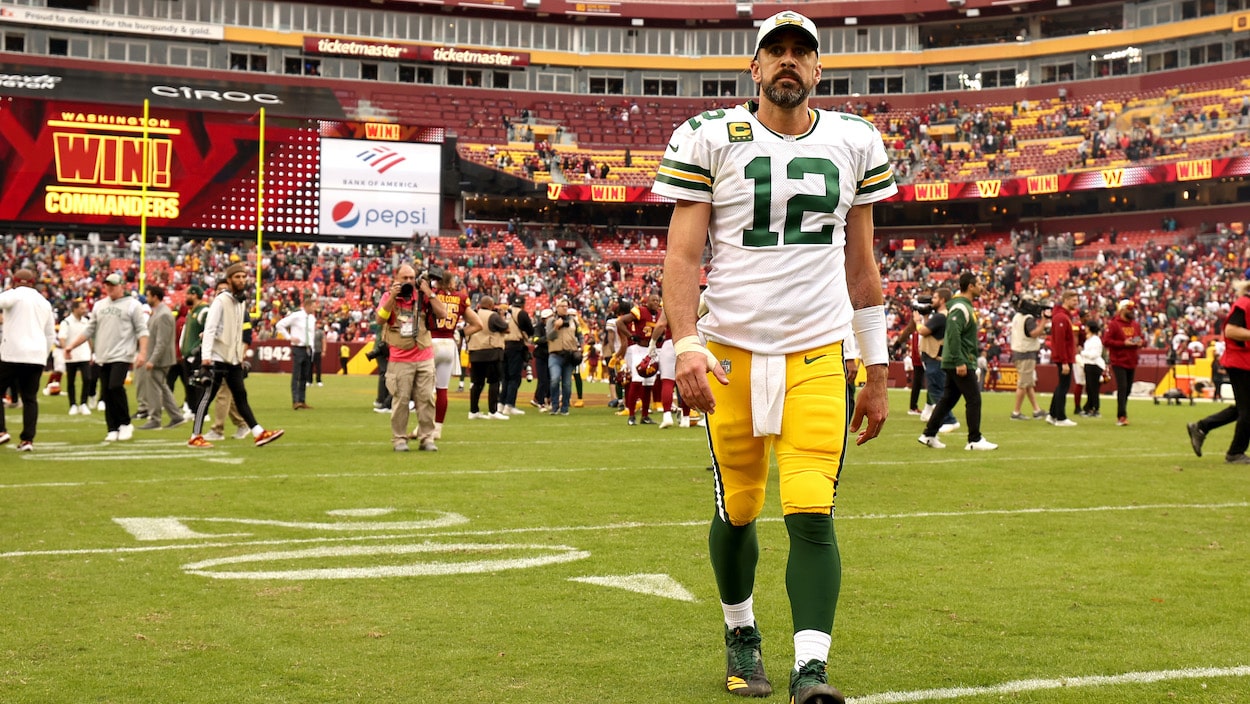 When you look at any NFL Power Rankings heading into Week 8, you'll likely find the Packers somewhere in the bottom half of the rankings. The team currently sits at 3-4 and is coming off three consecutive losses to the New York Giants, New York Jets, and Commanders.
And while they beat the Chicago Bears by 17 in Week 2, the Week 3 win over the Tampa Bay Buccaneers came down to a last-second missed two-point conversion by Tom Brady and, in Week 4, New England Patriots rookie QB Bailey Zappe came in to relieve Brian Hoyer and took Aaron Rodgers and company to overtime.
The Packers need a statement win in the worst way to salvage their season, both in the standings and in the court of public opinion.
Lucky for them, it sure will make a statement if they beat their opponent on Sunday Night Football in Week 8.
Looking at those same Week 8 Power Rankings, one of the top two teams on every list will be the Buffalo Bills. Josh Allen and his team are crushing the competition this season to the tune of a 5-1 record.
The Bills have beat the cream of the AFC crop, the Baltimore Ravens and Kansas City Chiefs, this season. They've also lost in a close (hot!) matchup with the Miami Dolphins and beat the Los Angeles Rams, Tennessee Titans, and Pittsburgh Steelers by a combined score of 110-20.
If the Power Rankings are right, and the primetime game on Sunday goes to form, the Bills should destroy the Packers. However, Rodgers and his team are desperate to win this game. They will pull out all the stops to do so.
A Packers W doesn't seem likely, but Rodgers has made magic when no one believed in him before. Beating Buffalo would be magic, and maybe it would even chill out those "bitter and angry" Green Bay fans.
Have thoughts on this topic? Keep the conversation rolling in our comments section below.