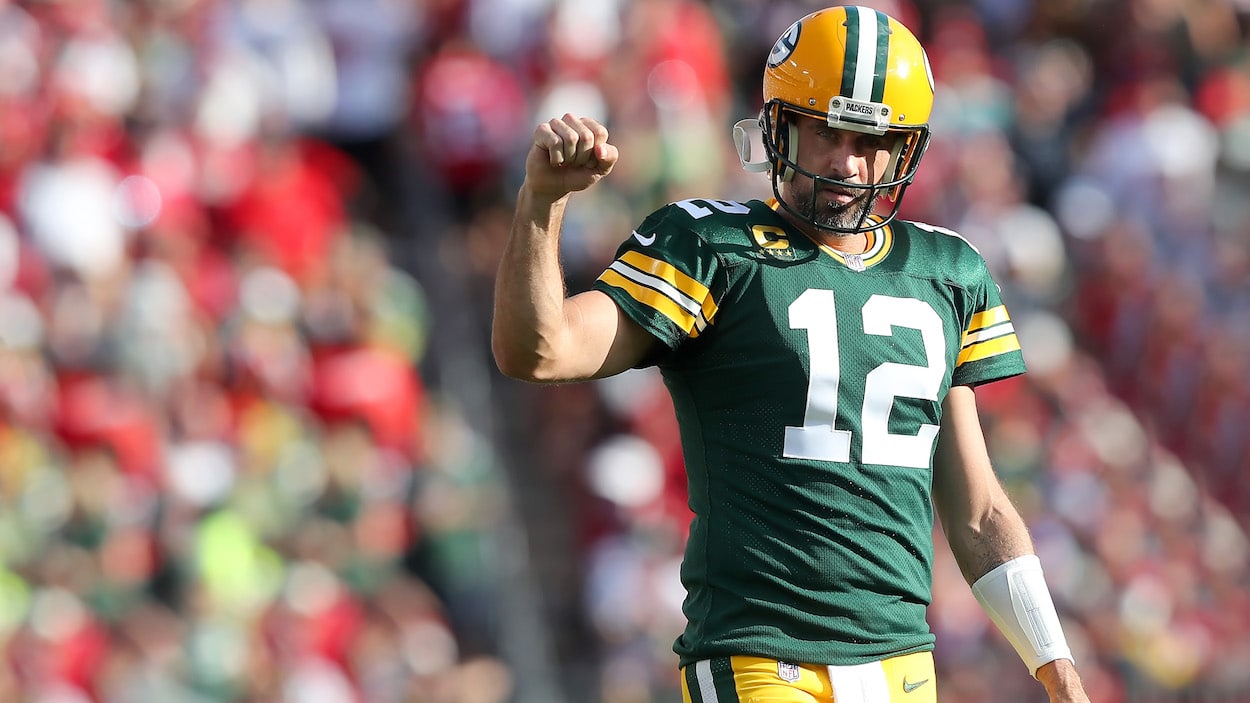 Aaron Rodgers (Kind of) Reveals What He Saw on Jumbotron During Packers Victory Over Buccaneers
Green Bay Packers QB Aaron Rodgers revealed more info on Tuesday about what he saw on the Tampa Bay Buccaneers' Jumbotron and who he told.
Aaron Rodgers has his hands full as the quarterback of the Green Bay Packers. However, he still apparently has enough time to help the coaching staff and the defense on the sideline late in games. That's what Rodgers did in his team's Week 3 14-12 victory over the Tampa Bay Buccaneers. After Tom Brady's last-second two-point conversion fell short, Rodgers hinted in his postgame interview that he saw something interesting on the Tampa Bay Jumbotron in the game's dying moments. On Tuesday, during the Pat McAfee Show, he kind of cleared up what he saw or didn't see in that game.
Aaron Rodgers did see something on the Tampa Bay Buccaneers Jumbotron but won't say exactly what it was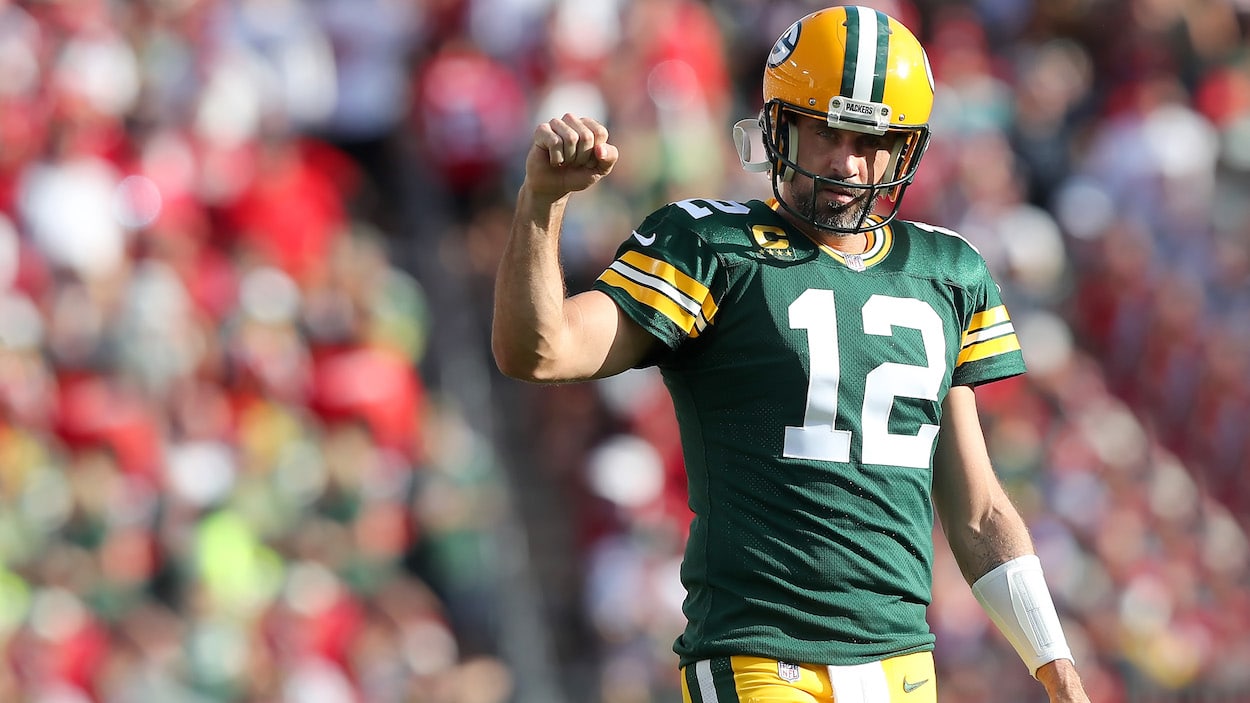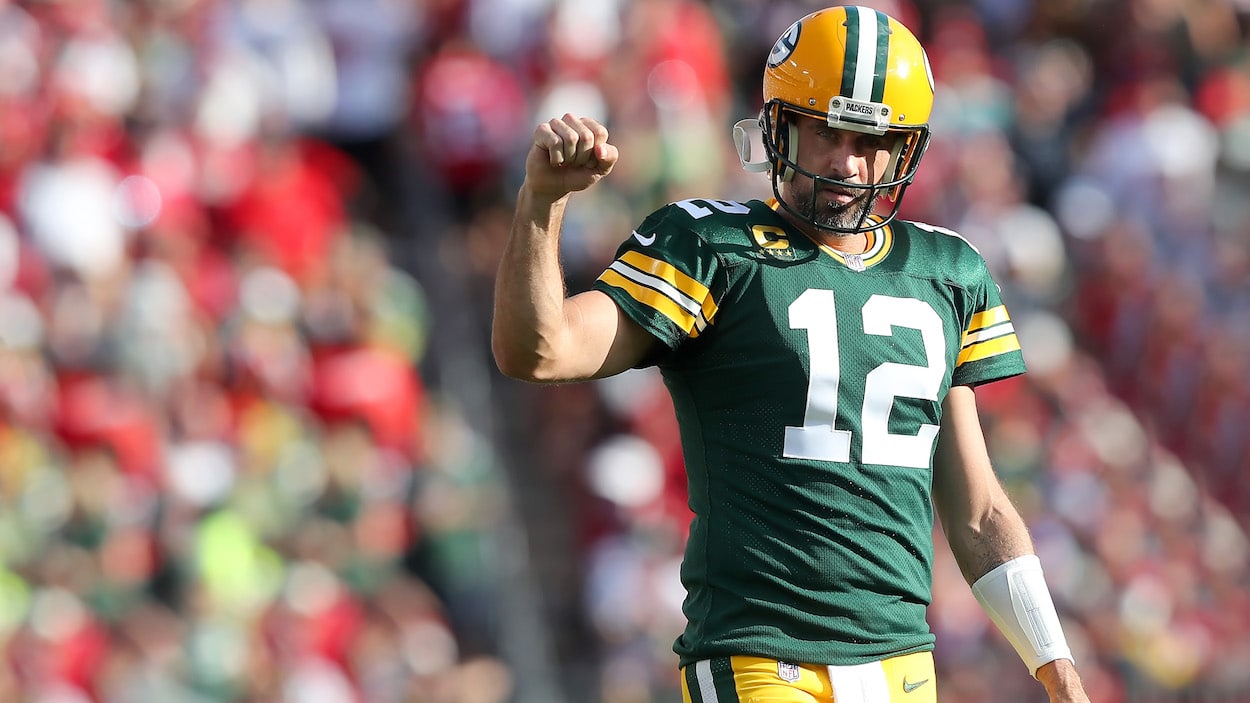 After Tom Brady and the Tampa Bay Buccaneers missed a chance to tie their game against the Green Bay Packers at 14, Aaron Rodgers spoke with Tom Rinaldi in an on-field, postgame interview.
Rinaldi noted that Rodgers approached his head coach, Matt LaFleur, while the Packers defense was on the field during the Bucs' final drive. The reporter asked him about that situation and the two-point conversion.
In typical Rodgers fashion, he cryptically said, "Sometimes you see things in the game. Sometimes the Jumbotron shows things they probably shouldn't show, even at home. I saw something. I just passed on the information."
Speculation about what Rodgers saw and how it helped the Packers get the W has run rampant since that interview. The most prevalent rumor is that he saw a closeup of A Bucs Microsoft Surface tablet on the screen, which would be the height of irony as Brady just smashed two of them the week before.
On Tuesday, Rodgers made his regular weekly visit to the Pat McAfee Show and discussed what he may or may not have seen.
The QB admitted that he did share something he saw during the two-minute drive with LaFleur, but Rodgers denied that he saw something which helped stop the Buccaneers on the final conversion attempt. Rodgers told Pat McAfee and co-host and former Rodgers teammate A.J. Hawk:
About four players before — four or five plays, somewhere, it was well before the two-point conversion — I did see something on the Jumbotron that I went down and relayed to Matt. I'm not going to get into exactly what I saw or if it even had a real impact on the play. I think that's kind of inconsequential. But I just thought I saw something. I walked down, I relayed it to Matt. Whether that got relayed to Joe [Barry] or not, I'm not sure. Either way, it had nothing to do with the two-point conversion. There was not an image of like, you know, the Microsoft Surface or any of that on there. That would have been pretty funny, though.

Aaron Rodgers on the ending of the Week 3 Packers vs. Buccaneers game
Rodgers also added, "Even if you know something's coming and you relay it, you've still got to go out and execute."
While the QB wouldn't fully divulge what he saw, he obviously thought it was important enough to pass on to his head coach and ultimately felt it was crucial enough to slyly mention it to Tom Rinaldi after the game.
And the Buccaneers franchise obviously thinks it's important, too. The organization had a meeting with the operations staff after the game, per Yahoo Sports, to determine what Rodgers may have seen and how to prevent something like this from happening in the future.
Like Sportscasting on Facebook. Follow us on Twitter @sportscasting19 and subscribe to our YouTube channel.