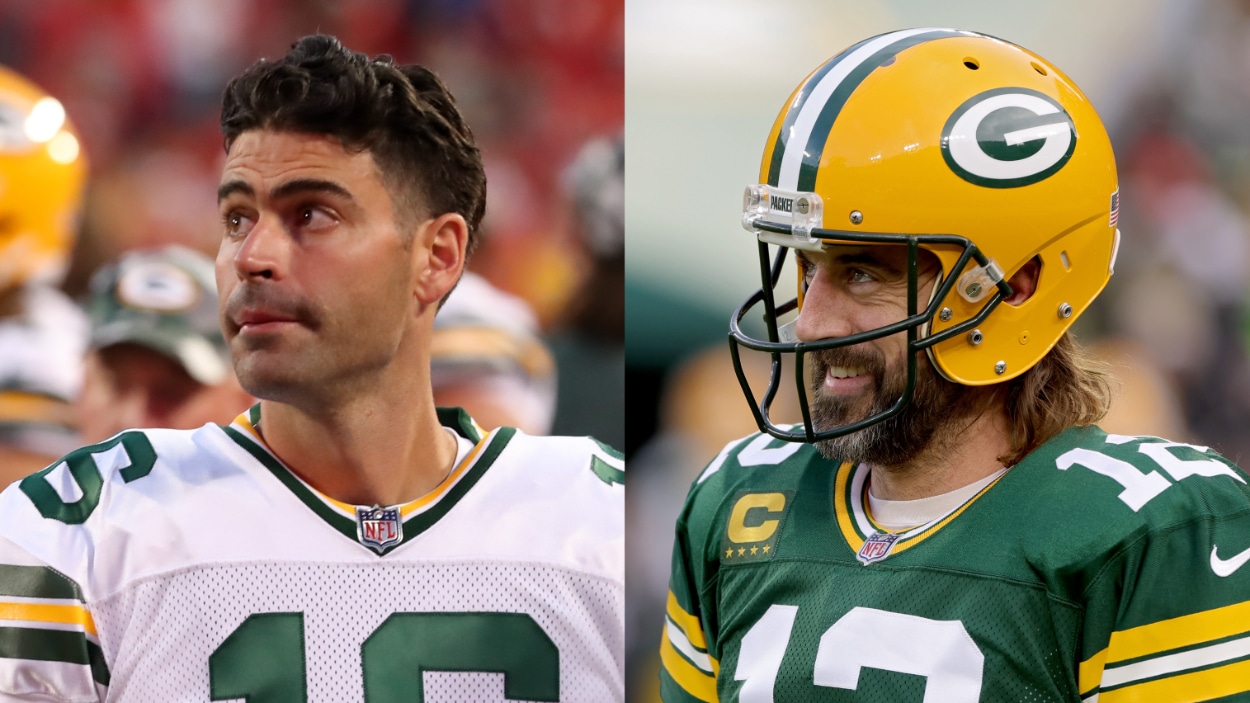 New Packers Punter Pat O'Donnell Went to Extreme Lengths to Prank Aaron Rodgers: 'He Read a Bible?'
Aaron Rodgers appreciates a good, detail-oriented pranks, and that's exactly what he got from new Green Bay Packers punter Pat O'Donnell.
NFL fans have learned a lot about Green Bay Packers quarterback Aaron Rodgers during his weekly guest spots on the Pat McAfee Show the last two seasons. We've learned about his thoughts and feelings on an astounding variety of topics — both the mundane and the controversial. We've learned about his incredible football acumen and his incredulous position on vaccines. And we've learned about his dry sense of humor and that he is an incredibly detail-oriented and observant person.
New Packers punter Pat O'Donnell took this last piece to heart in training camp this year. The NFL kicking veteran took an offhanded comment from Rodgers about the kicker's wardrobe and turned it into a meticulous prank that genuinely impressed and amused the defending back-to-back NFL MVP.
New Packers punter Pat O'Donnell pranked Aaron Rodgers
During Aaron Rodgers' latest appearance on the Pat McAfee Show — where he announced that he'll be returning for season three of Aaron Rodgers' Tuesdays — the Packers QB shared a story about his new punter with former NFL punter Pat McAfee.
Rodgers shared that on the plane to a preseason game, he teased new Packers punter Pat O'Donnell, asking, "Are you on your mission?" The question was in reference to what Rodgers considered O'Donnell's Mormon-esque traveling outfit.
What happened shortly thereafter thoroughly impressed the Packers superstar QB:  
Pat's got a great sense of humor. What did he do? … I got back to my locker one day, and there's the Book of Mormon in my locker. And I open it up, and this is where he really understood me and my sense of humor and my intellect. And I got a glimpse of his. I opened it up, and I was looking through it, and I was like, there's like highlights and underlines and like pen marks in there, and I was thinking, 'Did Pat go find this at a secondhand bookstore and put it in my locker?' No. In fact, he had taken the time and gone through — because he knew how detail-oriented I am and that I would probably look through it and try and find some quotes in there. He had gone through it and highlighted and underlined and written in pen stuff to make it seem like this was a used Book of Mormon.

Aaron Rodgers on punter Pat O'Donnell's prank
"He read a bible?" McAfee asked incredulously. "He read a bible to have a follow-up joke for you? That's awesome. I love this guy."
Rodgers confirmed, "It was a multi-layered joke there, and I appreciated it."
The Green Bay QB did take one more shot at O'Donnell before changing subjects. And he dragged Packers kicker Mason Crosby into the fray as well. He told McAfee that O'Donnell is "a very well-groomed punter" and that between him and Crosby, "there's not a lot of hair gel left in the city of Green Bay."
Who is Green Bay Packers punter Pat O'Donnell?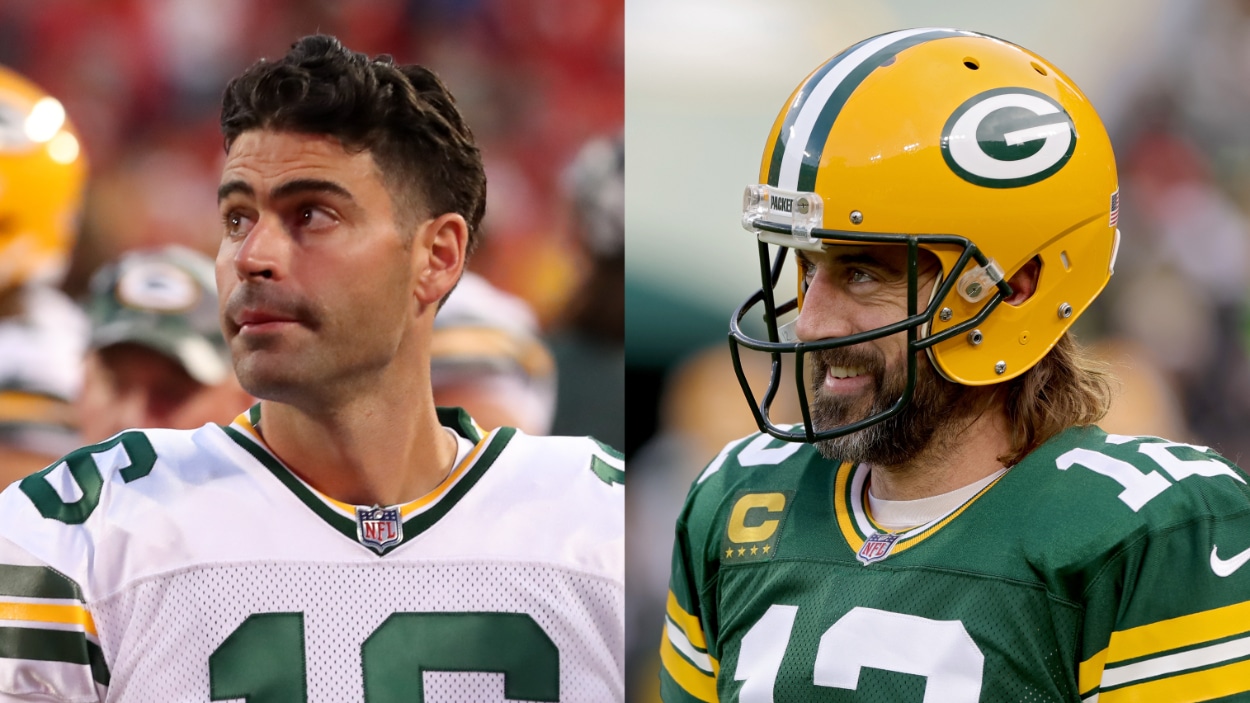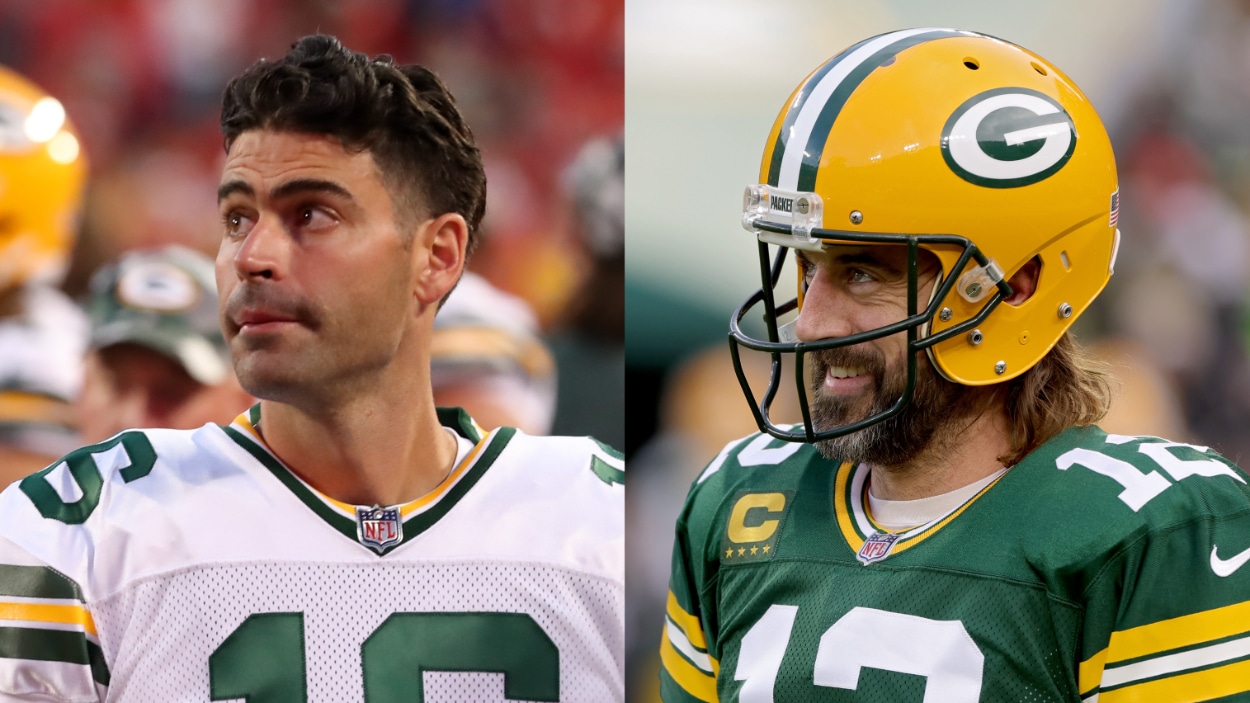 While it's Pat O'Donnell's first year punting for the Packers, it's not his first rodeo in the NFL or even in the NFC North.
O'Donnell is a nine-year NFL veteran who's punted for the rival Chicago Bears for the last eight seasons. The 31-year-old Florida native punted for the Cincinnati Bearcats as a true freshman in 2009 before an injury earned him a redshirt season. He started at punter the next three seasons before transferring to Miami to be closer to his ailing father.
After becoming a first-team All-ACC punter with the Hurricanes, the Chicago Bears selected O'Donnell in the sixth round (No. 191 overall) in the 2019 NFL Draft.
In his first eight seasons, O'Donnell has been a reliable kicker for a team that punts a lot. In his career, he's booted 564 punts for 25,451 yards, for an average of 45.1 yards per punt. With these numbers, O'Donnell is the Bears' career and single-season franchise leader in yards per punt.
This offseason, O'Donnell signed a two-year, $4 million deal with $950,000 guaranteed to replace last year's Packer punter, Corey Bojorquez, and (apparently) become Aaron Rodgers' new best friend.
All stats courtesy of Pro Football Reference