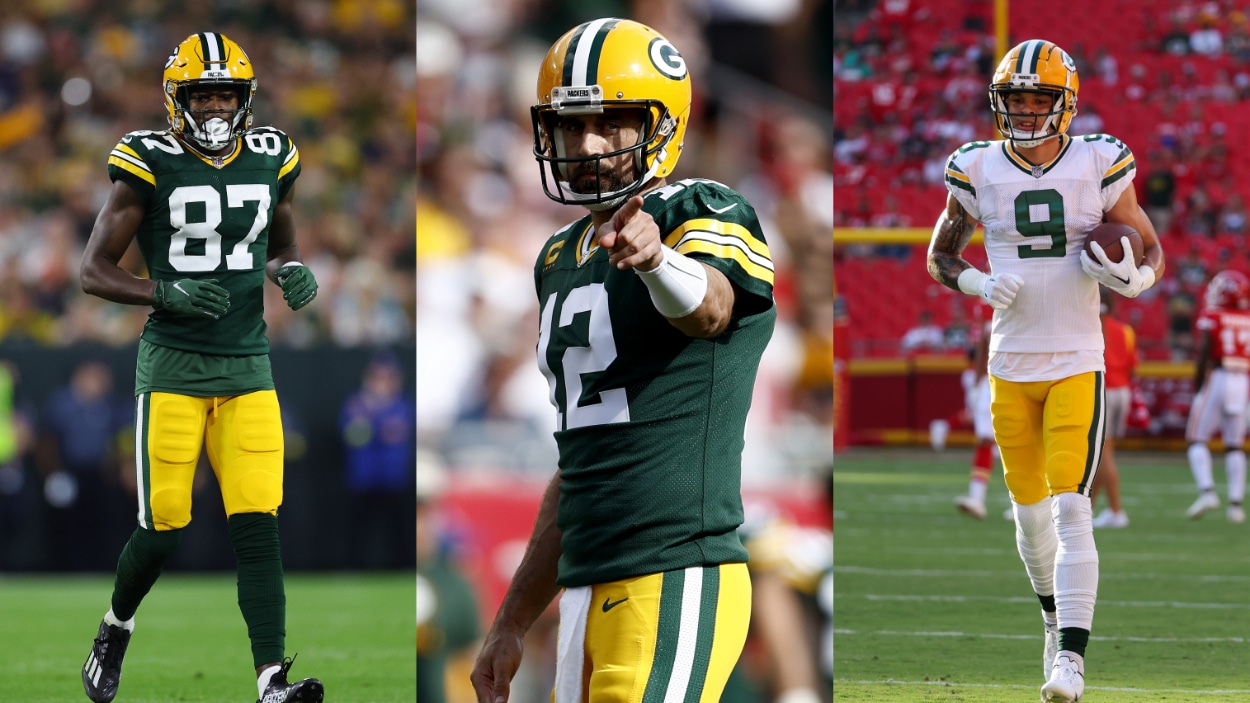 Aaron Rodgers Subtly Shades 1 Rookie Receiver While Praising Another
Aaron Rodgers carefully considers everything he says, which is why his praise or Romeo Doubs seems like a shot at Christian Watson.
Green Bay Packers quarterback Aaron Rodgers rarely does anything without putting a lot of thought into it. Whether it is deciding to come back for his 18th season or growing his hair as a long-term Halloween costume play, there is meaning in everything Rodgers says and does. That's why it was so interesting to hear his praise for Romeo Doubs this week on the Pat McAfee Show. While he said great things about his fourth-round rookie wide receiver, fans can also interpret some of it as a shot at his second-round rookie WR, Christian Watson.
Aaron Rodgers' praise of Romeo Doubs was a subtle shot a Christian Watson
After the Packers traded Davonte Adams to the Las Vegas Raiders and let Marquez Valdes-Scantling go in free agency, the team needed new WRs for Aaron Rodgers to throw to.
The team ended up drafting Christian Watson from North Dakota State in the second round and Romeo Doubs from Nevada in the fourth. So far, the latter has played incredibly well for a first-year player, while the former has struggled with injuries and drops.
When Rodgers talked about Doubs on his latest Pat McAfee Show appearance, the way he spoke of his fourth-round rookie was fascinating.
"There's a lot of things I love about Romeo, but it's just his approach. He's very steady, he asks a lot of good questions, he's sharp when you quiz him in a meeting," Rodgers said. "[He] cares about it, and the best thing is that he catches the ball with his hands. All the time."
Since OTAs, Rodgers has talked about approach and consistency regarding his rookie wideouts. So, the first part of that quote could have been a subtle dig at Watson. However, it seems almost certain the second part was.
Watson struggled with drops in OTAs, and, after getting wide open on the first Packers offensive play of the season, the second-round rookie dropped a walk-in touchdown pass from his QB. You can even see a slight smile on Rodgers' face when he talks about Doubs' catching ability and hear how he emphasizes that it is his best quality as a football player.
Rodgers rarely says anything that doesn't have at least some meaning behind it, and this praise of Romeo Doubs was a message to Christian Watson.
How Romeo Doubs and Christian Watson became Packers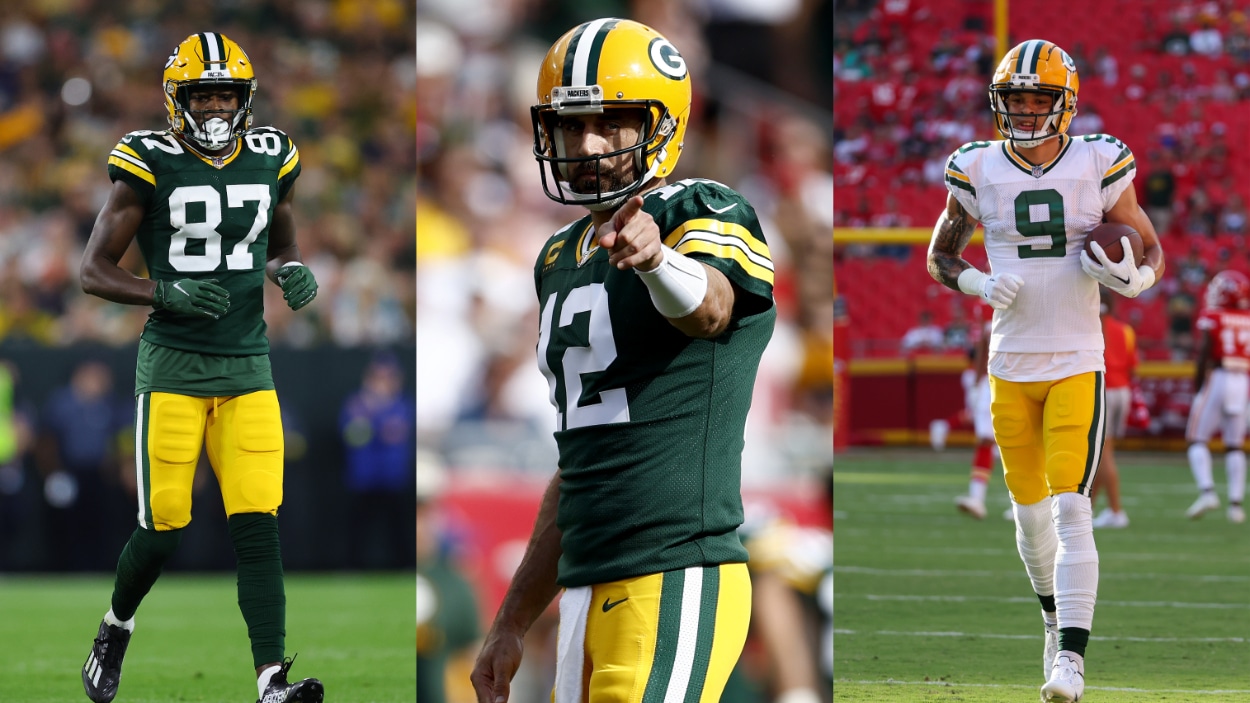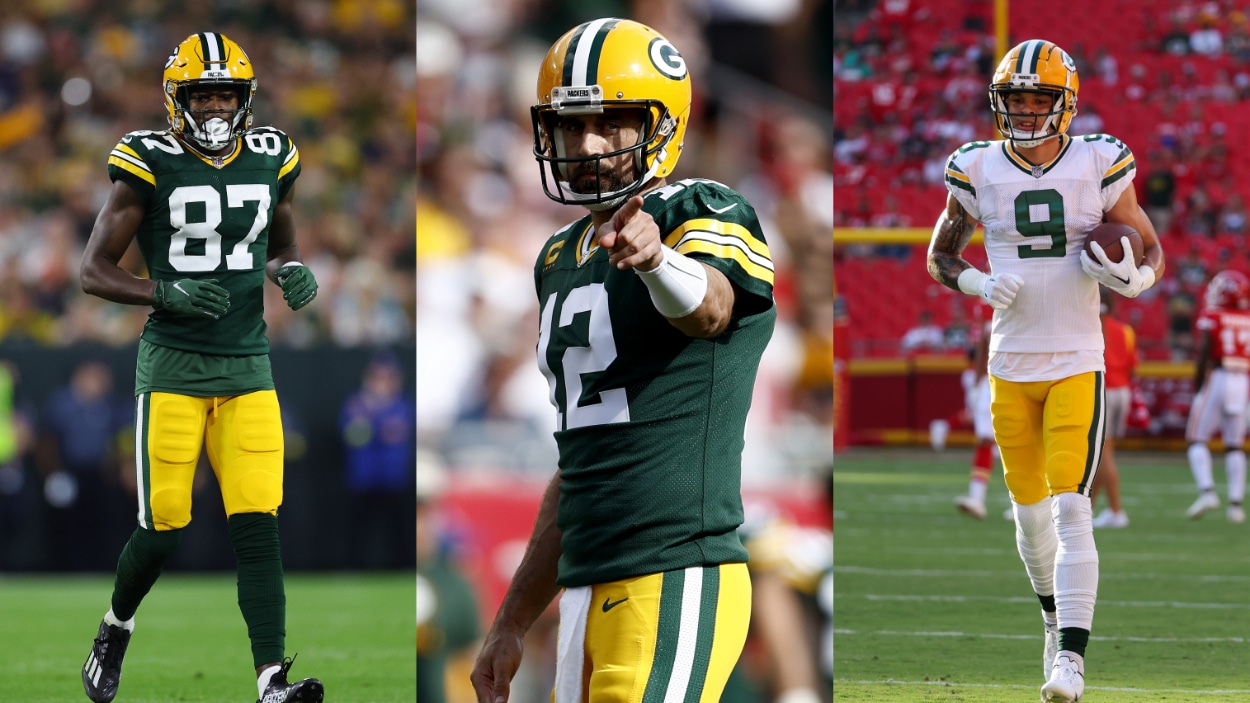 By the time Green Bay picked at Nos. 22 and 28 in the 2022 NFL Draft, the consensus top six wideouts were off the board. So, the Packers waited until Round 2 to take a pass catcher. When the second day of the draft started, the Packers packaged their two second-rounders (Nos. 53 and 59) to go get the second pick of the round (No. 34) and take North Dakota State WR Christian Watson.
Later in the draft, the Packers continued to add depth to their receiving corps by taking Nevada wideout Romeo Doubs in Round 4 (No. 132).   
Watson had an up-and-down career at FCS NDSU. In four seasons, he put up 105 catches for 2,140 yards and 14 touchdowns with a career-best season of 43 catches, 801 yards, and seven TDs. Still, he is a strapping 6-foot-4, 208 pounds, and ran a blazing 4.36 40-yard dash at the combine.
At 6-foot-2, 210 pounds with an unofficial 4.47 40 time, Doubs wasn't the prospect coming out that Watson was. However, when you look at the production — 225 receptions, 3,322 yards, 26 TDs with a career-best of 80 catches, 1,109 yards, and 11 TDs – Doubs looked like the more NFL-ready receiver.
Now, that observation is bearing out. Doubs has already become a valuable Rodgers target just three weeks into the 2022 season. At the same time, Watson has already missed a game with an injury and dropped passes that cost his team points.
Watson could still be the better long-term play, but right now, Doubs looks more like a high-round pick than he does.
Stats courtesy of Sports Reference