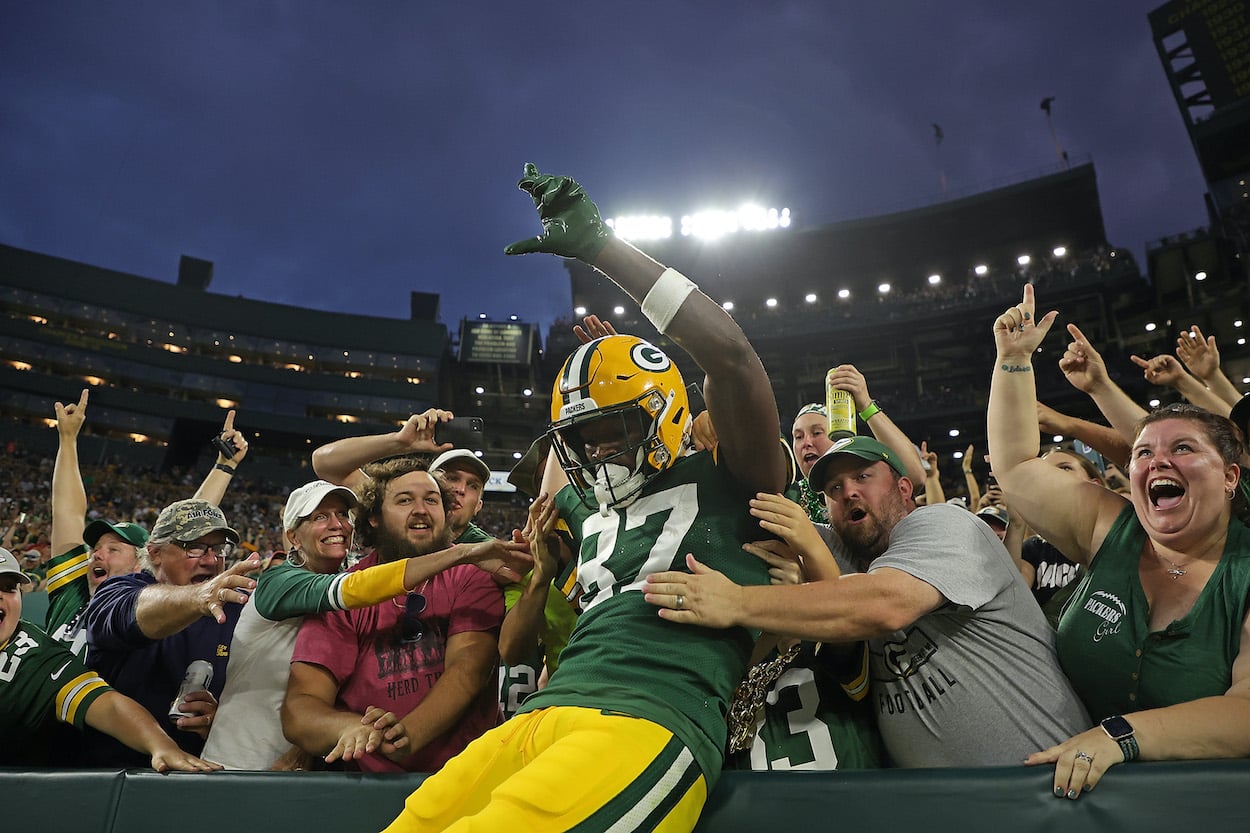 Who is Romeo Doubs, the Green Bay Packers Breakout Rookie Wide Receiver?
Green Bay Packers fans and fantasy football players alike should get to know Romeo Doubs, the WR trying to fill Davante Adams' shoes.
The Green Bay Packers needed to do their best to replace Davante Adams in the 2022 NFL Draft. The thought was that second-round pick Christian Watson would be that guy. However, after a month-plus of training camp and three preseason games, it looks like rookie fourth-round pick Romeo Doubs is closer to Adams 2.0.   
Here's everything you need to know about the breakout rookie wide receiver sensation heading into the 2022 NFL season.
Who is Packers rookie wide receiver Romeo Doubs?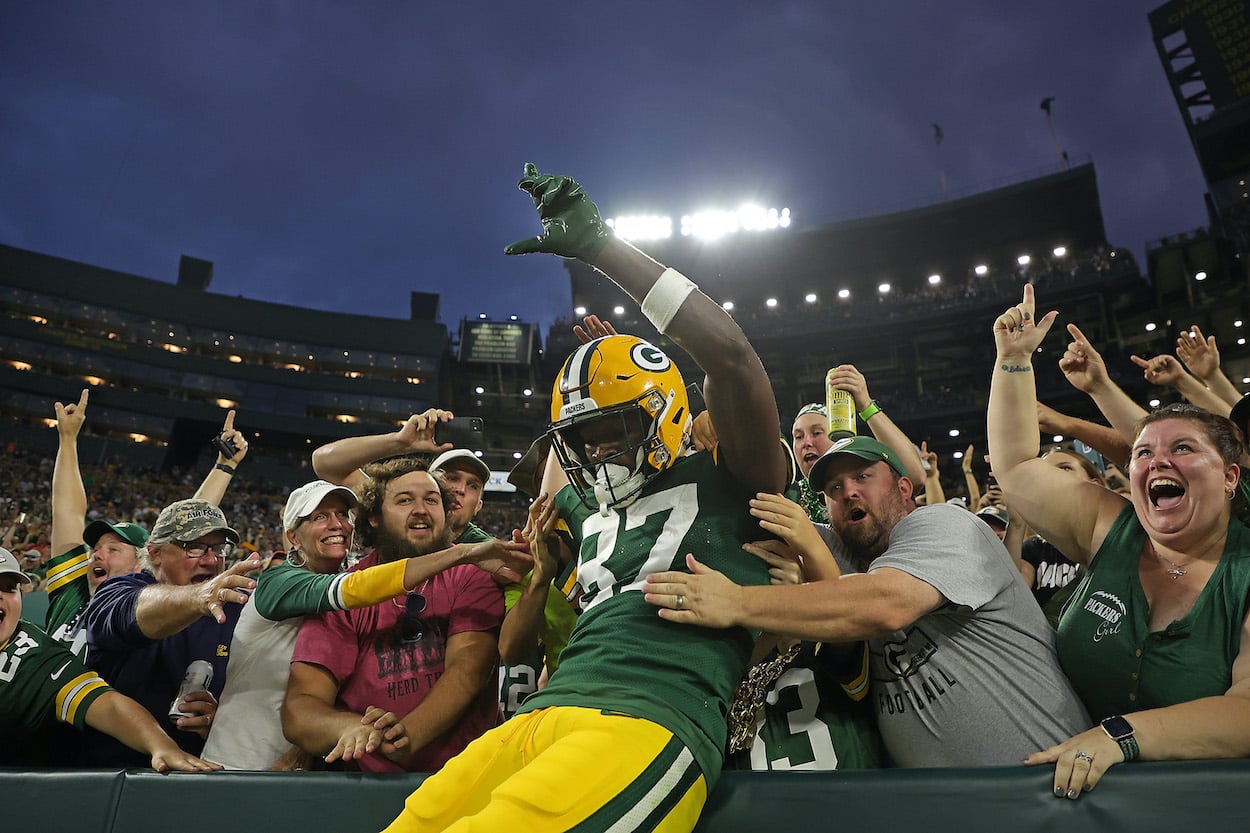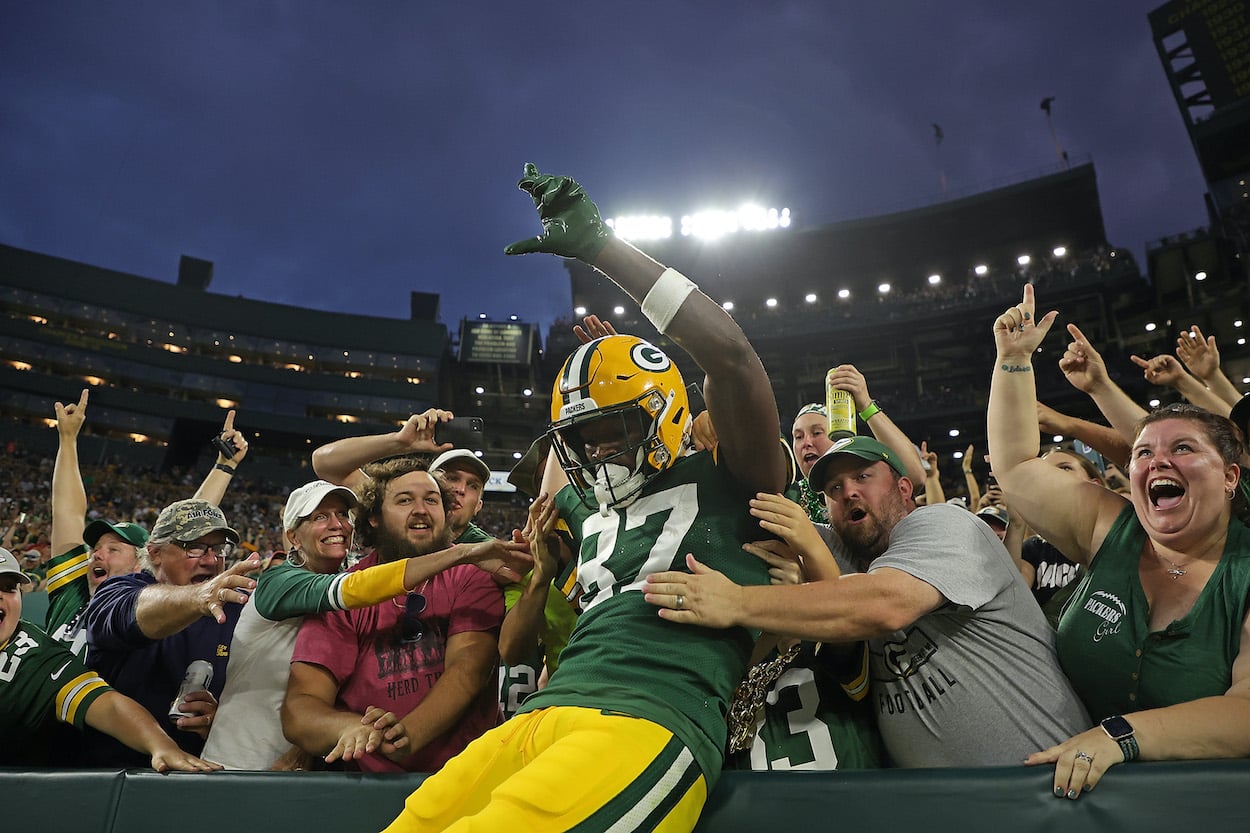 Wide receiver was a top priority for Aaron Rodgers and the Green Bay Packers heading into the team's 2022 NFL Draft. Even with two first-round picks, the franchise went defense, defense early, waiting until pick No. 34 to take North Dakota State WR Christian Watson. Nearly 100 picks later, the team finally doubled down at the position with Nevada pass-catcher Romeo Doubs.
The California native committed to the University of Nevada, Reno ahead of the 2018 season and played for head coach Jay Novell for four years. Doubs finished his time with the Wolf Pack with multiple first-team All-Mountain West nods and 225 catches for 3,332 yards with 26 touchdowns. His year-by-year production looked like this:
Heading into the NFL draft, Romeo Doubs' NFL.com scouting report heralded his height, weight, speed, production, toughness, and ball skills. Despite all this love, the prediction was that he would fall to the fourth or fifth round (which he did) because of "tightness in his lower half" and his "linear" route-running.
The 6-foot-4, 210-pound WR ended up as the 19th WR drafted this season. So far, Doubs has not only looked like the better rookie wideout on his team but one of the best first-year pass-catchers in the league.
The rookie pass-catcher is crushing it a Packers training camp and in the preseason
It's probably unfair, but it's impossible not to compare Christian Watson and Romeo Doubs. While the former struggled with drops in OTAs and missed the early weeks of Packers training camp with an injury, Doubs stepped up.
At a time when everyone from Aaron Rodgers to Randall Cobb are telling young Packers players they need to step up, Doubs is doing it.
In three preseason games, the big, speedy WR has eight catches for 85 yards and two touchdowns. And none of that production came with Rodgers. The connection between Doubs and Rodgers is developing in practice, though. The rookie is running several Davante Adams-like routes, and Rodgers seems to love it.
Adams left big shoes to fill, and Rodgers is a demanding offensive boss. If a wideout on the Packers is going to step in and fill that open role and win Rodgers' football heart, it will be Romeo Doubs.
All stats courtesy of Sports Reference