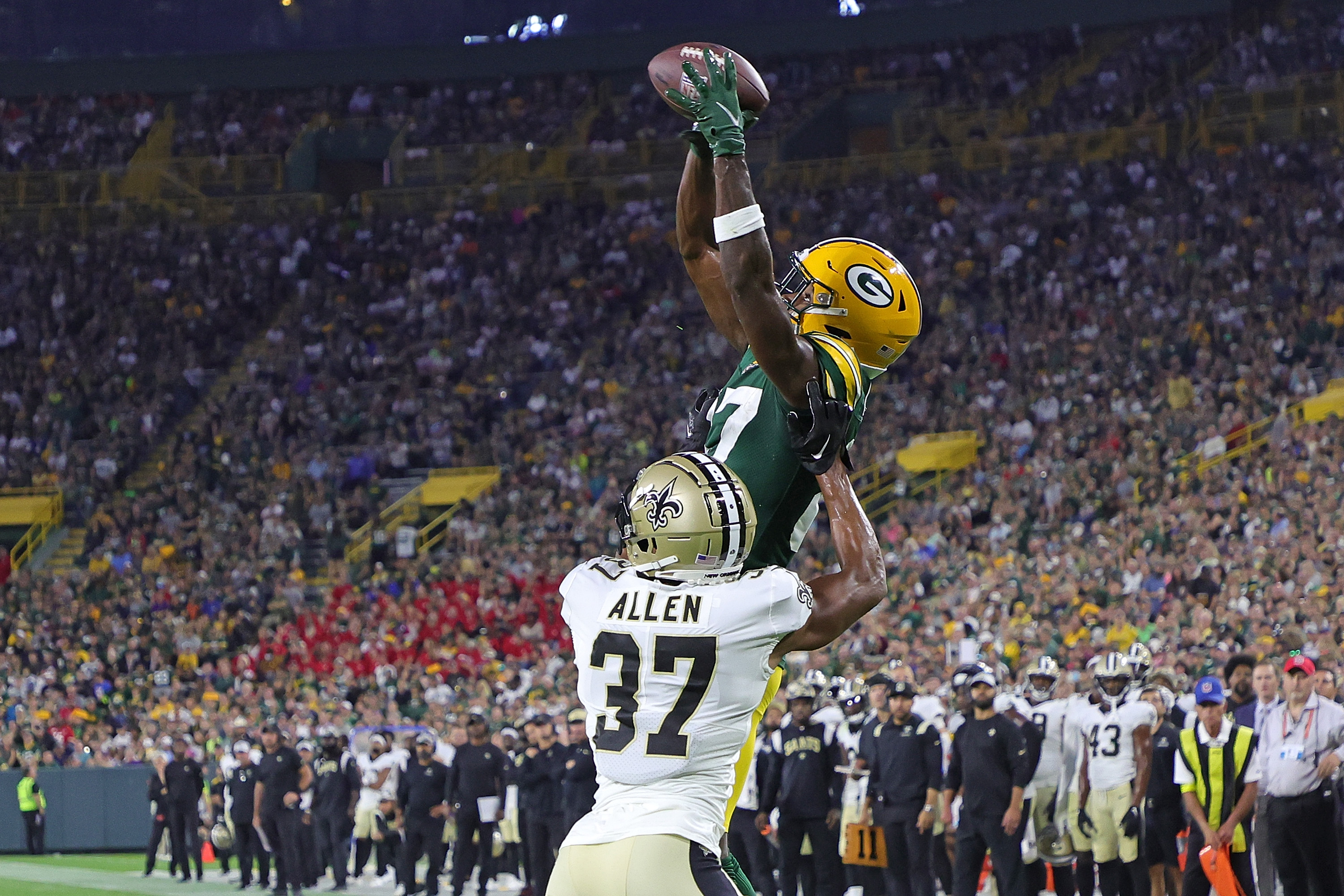 For Packers WR Romeo Doubs, the Good Outweighs the Bad
So far, the plusses for Green Bay Packers wide receiver Romeo Doubs outweigh the minuses.
There's been an ugly theme that's haunted the Green Bay Packers offense throughout training camp. Not even four-time MVP Aaron Rodgers has been able to fix it.
With All-Pro wide receiver Davante Adams having been traded to the Las Vegas Raiders, and Marquez Valdes-Scantling moving on to the Kansas City Chiefs, the wide receiver position could pose a problem. With young players scrambling for spots, the Packers have seen plenty of dropped passes and poorly run routes. Rookie Romeo Doubs is guilty, but he's also opened plenty of eyes.
Romeo Doubs has had his share of ups and downs with the Packers this preseason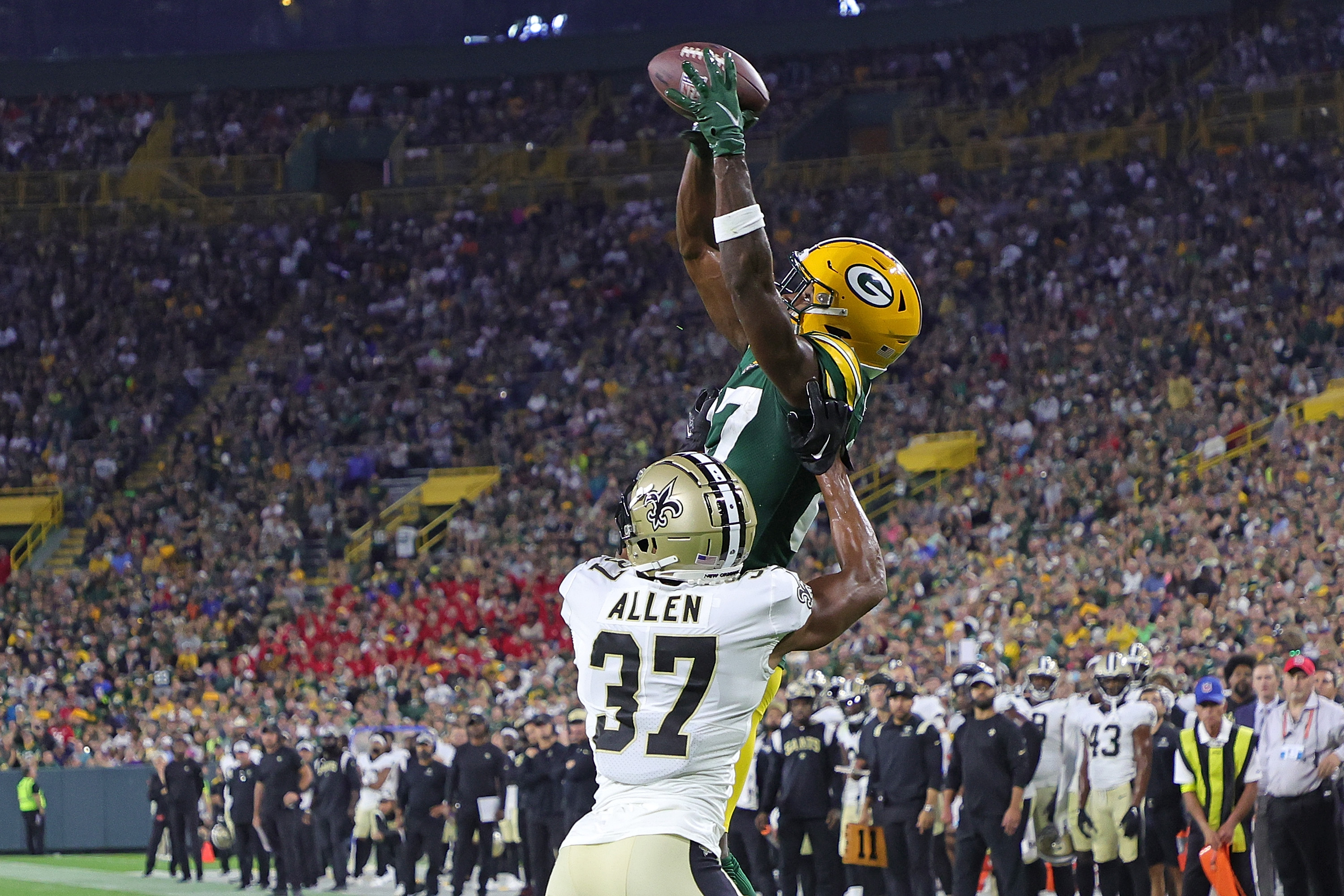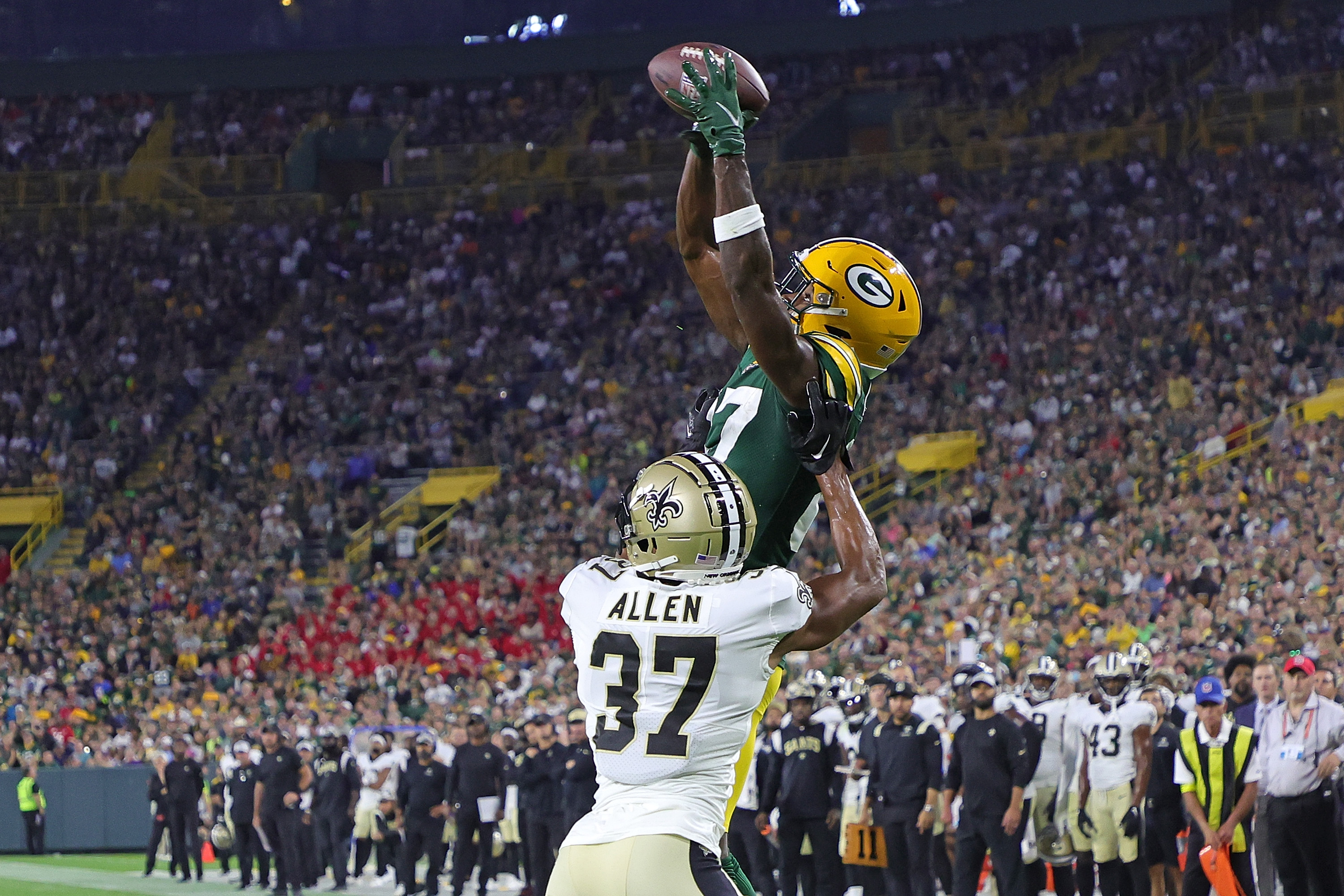 Earlier this week, Rodgers went public with the hard truth regarding his young receivers. He didn't hold back about his frustration with the drops and mental mistakes they continuously made during camp.
"A lot of mental errors, a lot of pre-snap penalties," he said, per The New York Post. "Kind of been the theme of camp. Simple, simple plays we're messing up.
"You keep dropping the ball, you're not going to be out there. It's going to be the most reliable guys that are out there. The preparation and the job responsibility is most important."
Doubs, a fourth-round pick out of Nevada this year, had two more drops Friday night in a preseason victory over the New Orleans Saints. That give him four in the two games this month.
The 6-foot-2 wideout also hauled in a touchdown pass after opening some eyes with his athletic ability and impressive moments during camp.
Before the two preseason games, Rodgers said Doubs made "wow" plays every day.
"Every single day … there's been at least one kind of 'wow' play for him," Rodgers said via The Associated Press. "And that's kind of rare for a young guy like that."
For Doubs, the good outweighs the bad
The Packers aren't nearly as set at the wide receiver position as in years past. Allen Lazard, who has never caught more than 40 passes in a season during his four years with the Packers, enters as Green Bay's top target. Veteran Randall Cobb and newcomer Sammy Watkins are next on the depth chart.
After that, it's anyone's guess. The opportunity is there for Doubs. He has a chance to make noise as a rookie on a team that's expected to have another deep playoff run.
Drops can be cleaned up. That will come with more experience. Raw talent wins out over the mistakes — for now.
Doubs has a touchdown in each of the preseason games. Friday night, he outleaped Saints defender Brian Allen to haul in a beautifully thrown ball by backup quarterback Jordan Love.
"Pre-snap, I saw Jordan looking at the corner, so I knew that there was a possibility that I'd get a chance there," Doubs said, per Packers.com. "It was a great ball by Jordan and I was able to make a great catch."
When Doubs becomes more comfortable with life in the NFL, and he develops a rapport with Rodgers, he'll become a household name in Green Bay.
Like Sportscasting on Facebook. Follow us on Twitter @sportscasting19 and subscribe to our YouTube channel.