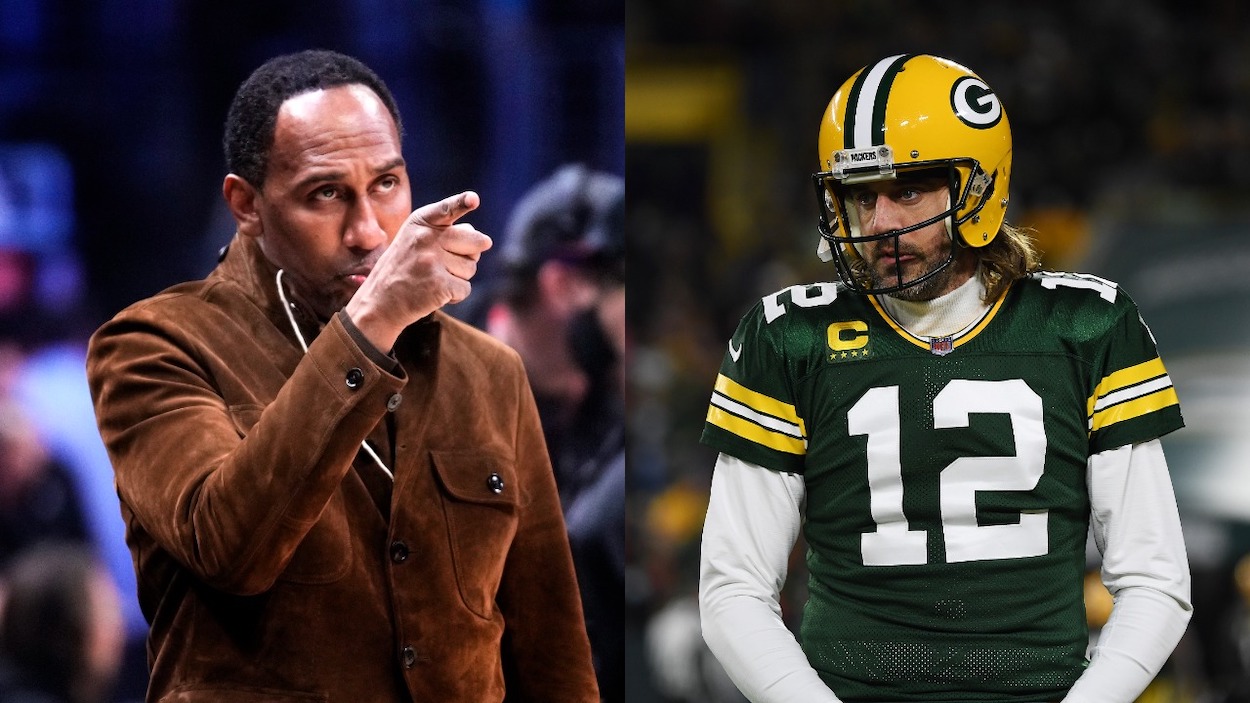 Stephen A. Smith Heaps Blame on Aaron Rodgers for the Davante Adams Trade: 'You Should Have Been Raising Holy Hell'
ESPN's Stephen A. Smith knows who he blames for the Davante Adams trade, and it's Green Bay Packers QB Aaron Rodgers for 150 million reasons.
The common narrative around this offseason's drama surrounding quarterback Aaron Rodgers was that if he came back to the Green Bay Packers, it would be to continue his All-Pro-level connection with wide receiver Davante Adams. Then, Rodgers returned, and the Packers promptly made the trade with the Las Vegas Raiders and sent Adams packing.
While many pundits speculated that this move shocked and dismayed Rodgers, ESPN firebrand Stephen A. Smith took a different approach. He blamed Rodgers for the whole thing.
The Davante Adams trade shocked the NFL world
When Aaron Rodgers went on the Pat McAfee Show after the Green Bay Packers season ended, he pledged to make a decision on his future faster than last offseason.
The polarizing passer did just that, announcing he'd be coming back to Green Bay through his buddy, McAfee, on March 8, 2022.
It looked like the Packers were ready to run it back in 2022 after their shocking early playoff exit. Rodgers signed a massive new, fully guaranteed three-year, $150.8 million deal, and the franchise seemed poised to make another playoff run.
However, just over a week later, the news of the Davante Adams trade made waves around the NFL. The Las Vegas Raiders sent a 2022 first- (No. 22 overall) and second-round pick (No. 53 overall) to the Packers and gave Adams his own five-year, $140 million extension with $65.6 million guaranteed.
Rumors swirled about whether the MVP QB knew that the trade was happening when he re-signed. It now seems like he did, and ESPN's Stephen A. Smith says that fact means that Rodgers prioritized his own bank account over his teammate's and that makes the trade his fault.
Stephen A. Smith took Aaron Rodgers to task for taking 'the bag' and not considering Adams
Aaron Rodgers' new contract, which pays him an average of $50 million a year, made it financially difficult for the Green Bay Packers to pay their star WR $28 million a season, which is what he got for reuniting in Las Vegas with his Fresno State teammate, Derek Carr.
After the trade went down, ESPN's Stephen A. Smith went on his show, First Take, and placed the blame squarely on Rodgers for forcing the Packers into making the Adams swap:
Aaron Rodgers was complaining about the Green Bay Packers organization. All of the sudden, fences are mended to some degree. You end up staying, and not only that, you got the bag. Now, you knew, when you got the bag, you knew that Davante Adams was going to probably leave. … You should have been raising holy hell and do everything you possibly could to keep Davante Adams even though he's your boy. Even though you know he would be happy in Las Vegas. You should have exhausted every means and every measure if you're Aaron Rodgers o make sure that your primary weapon — arguably the best receiver in all of football — stays in Green Bay. That doesn't seem to be something that you did.

Stephen A. Smith on Aaron Rodgers
While most, including Smith, will never know what Rodgers did or didn't do behind closed doors, it does seem like "Screamin' A." is right on the money (pardon the pun).
Franchise quarterbacks — with Tom Brady being the best example — need to take a little less at times in order for their franchises to put the best team around them. Rodgers didn't do this, and now his favorite target is gone.
All that said, the Adams trade isn't as bad for Rodgers and the Packers as many think.
Green Bay should draft two WRs in the first round of the 2022 NFL Draft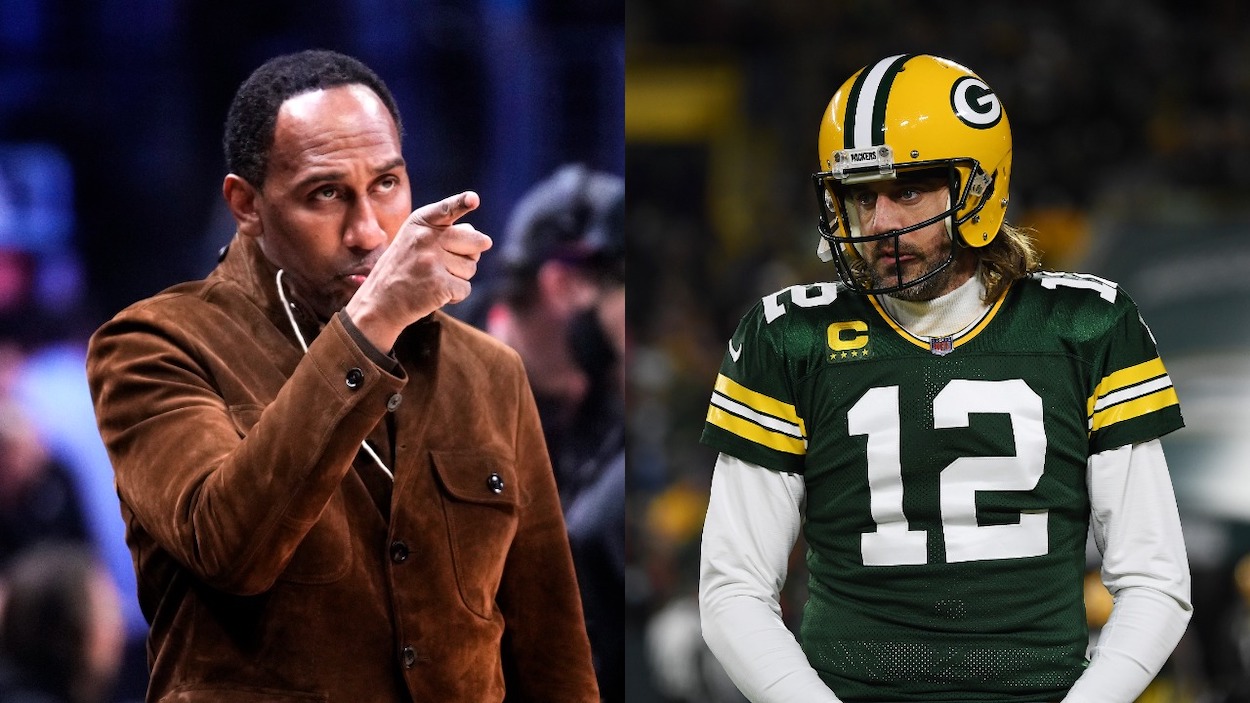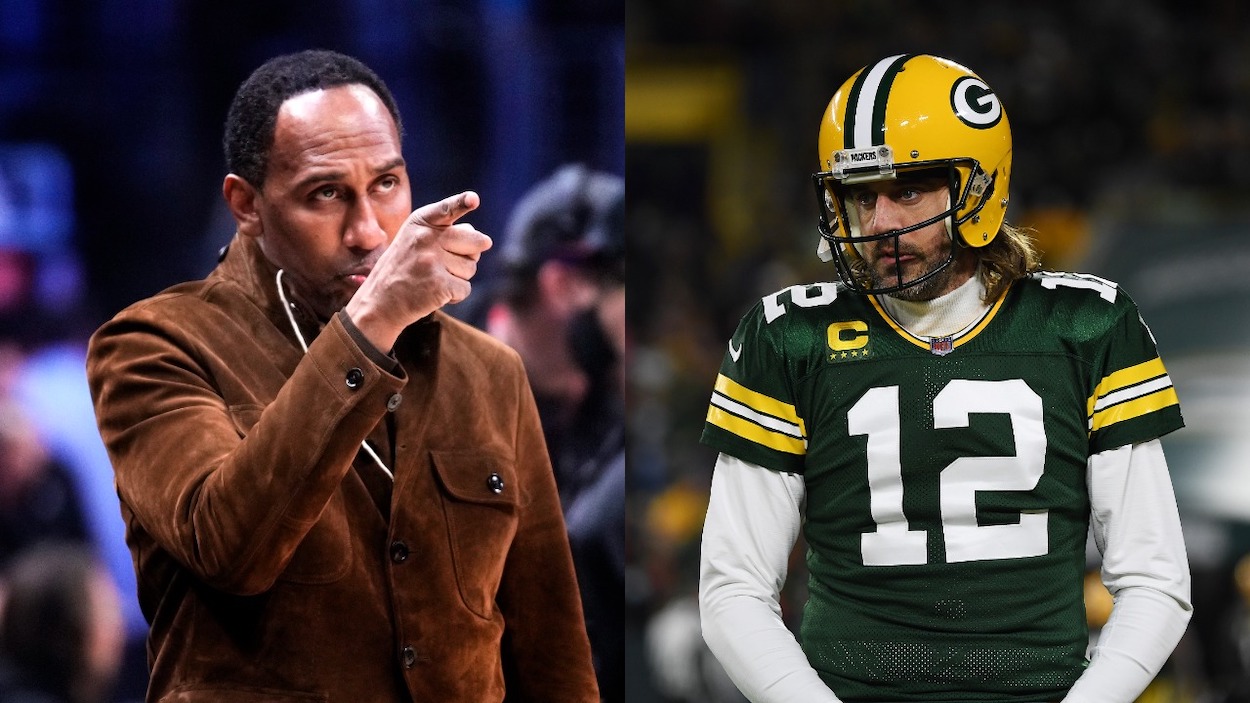 One of the few criticisms of Aaron Rodgers on the field in 2022 is that he focused on forcing the ball to Davante Adams too much. This showed up in a catastrophic way in the team's playoff loss to the San Francisco 49ers.
In that loss, Rodgers targeted Adams 11 times and running back Aaron Jones 10 times. He didn't target any other player on his team more than twice.
With Rodgers' safety blanket now gone, the Packers now have the chance to find two new favorite targets for the price of way less than one Davante Adams.  
With the Nos. 22 and 28 picks in this year's draft, the Packers need to draft two of the deep and talented first-round WR class. Players like Alabama's Jameson Williams, Ohio State's Chris Olave, Arkansas Treylon Burks, and Penn State's Jahan Dotson could be available at those two picks.
With the recent success of rookie wideouts Justin Jefferson and Ja'Marr Chase, thinking that Rodgers could find two Pro Bowl targets for next season in one draft isn't outlandish.
If the Packers can hit on two top-tier receivers in round one this year, the Adams trade won't look that bad and could actually improve the team from last season…
Whether it was Aaron Rodgers' fault, or not.
All contract figures courtesy of Spotrac