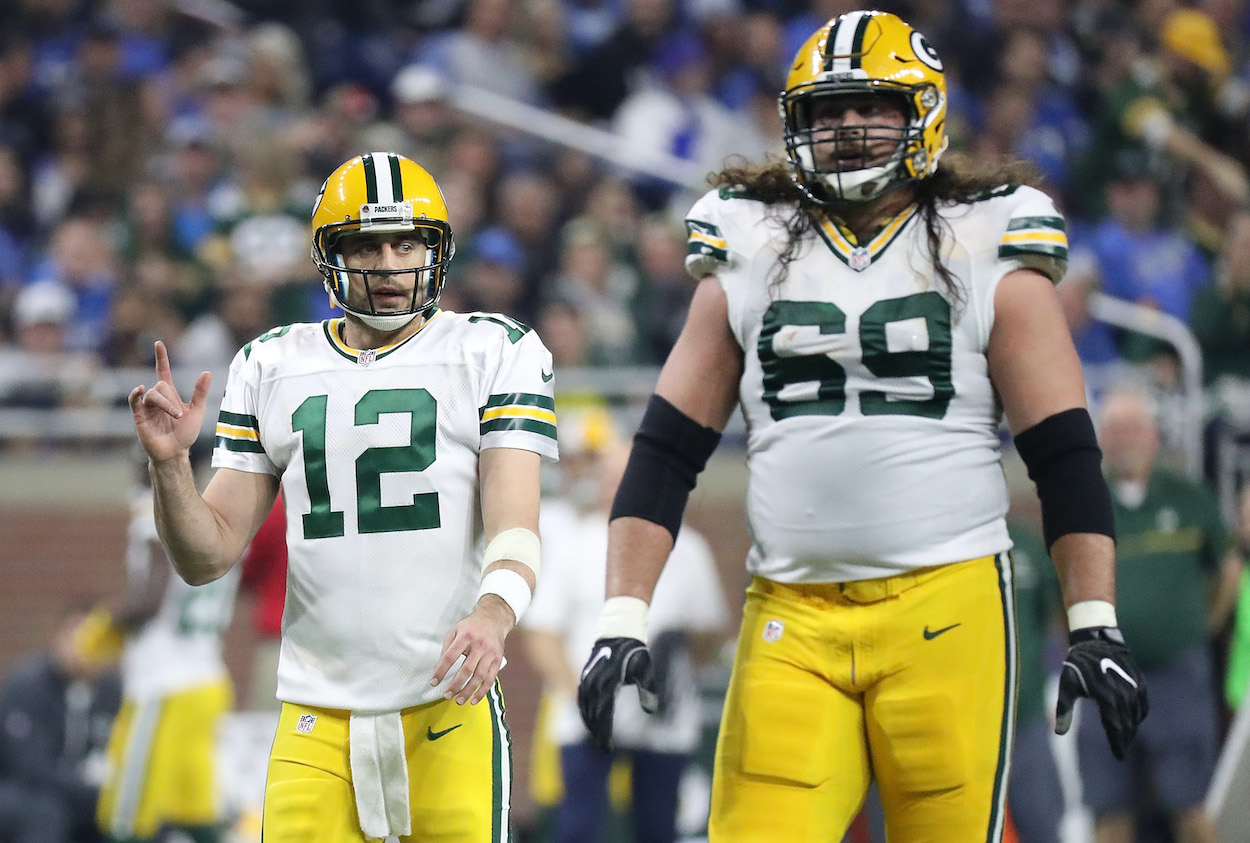 David Bakhtiari Curses out NFL Insider on His Wedding Day for Making It About Aaron Rodgers
Green Bay Packers OL David Bakhtiari spent the hours before his Aaron Rodgers-officiated wedding dealing with a reporter's ill-timed tweet.
Green Bay Packers tackle David Bakhtiari surely had a fantastic wedding day on Saturday, March 5, 2022. Unfortunately, before he could enjoy the festivities, the Pro Bowl offensive lineman had to smack down NFL insider Michael Silver. The reporter was on social media tweeting about the wedding, but instead of focusing on the happy couple, Silver made it about the man officiating the wedding: Aaron Rodgers. 
David Bakhtiari married fiancée Frankie Shebby, and Aaron Rodgers performed the ceremony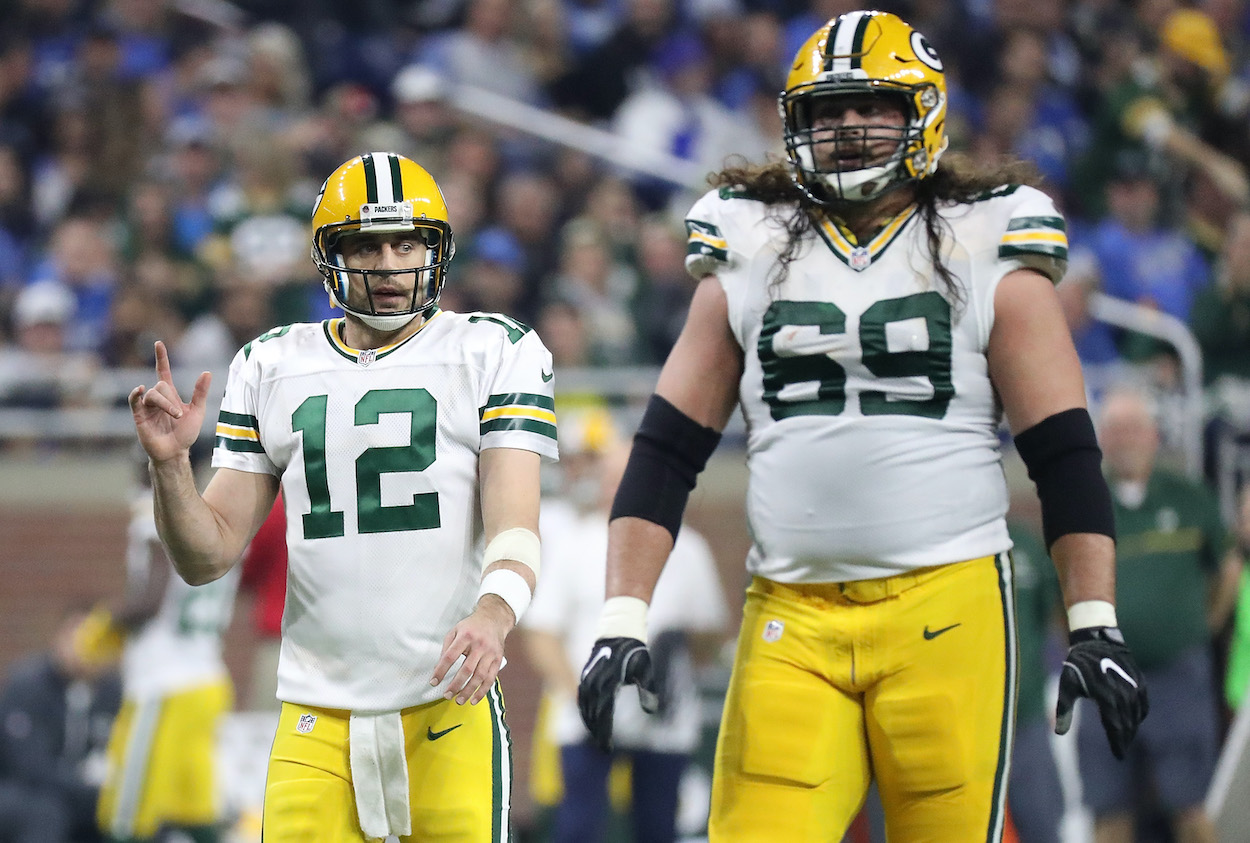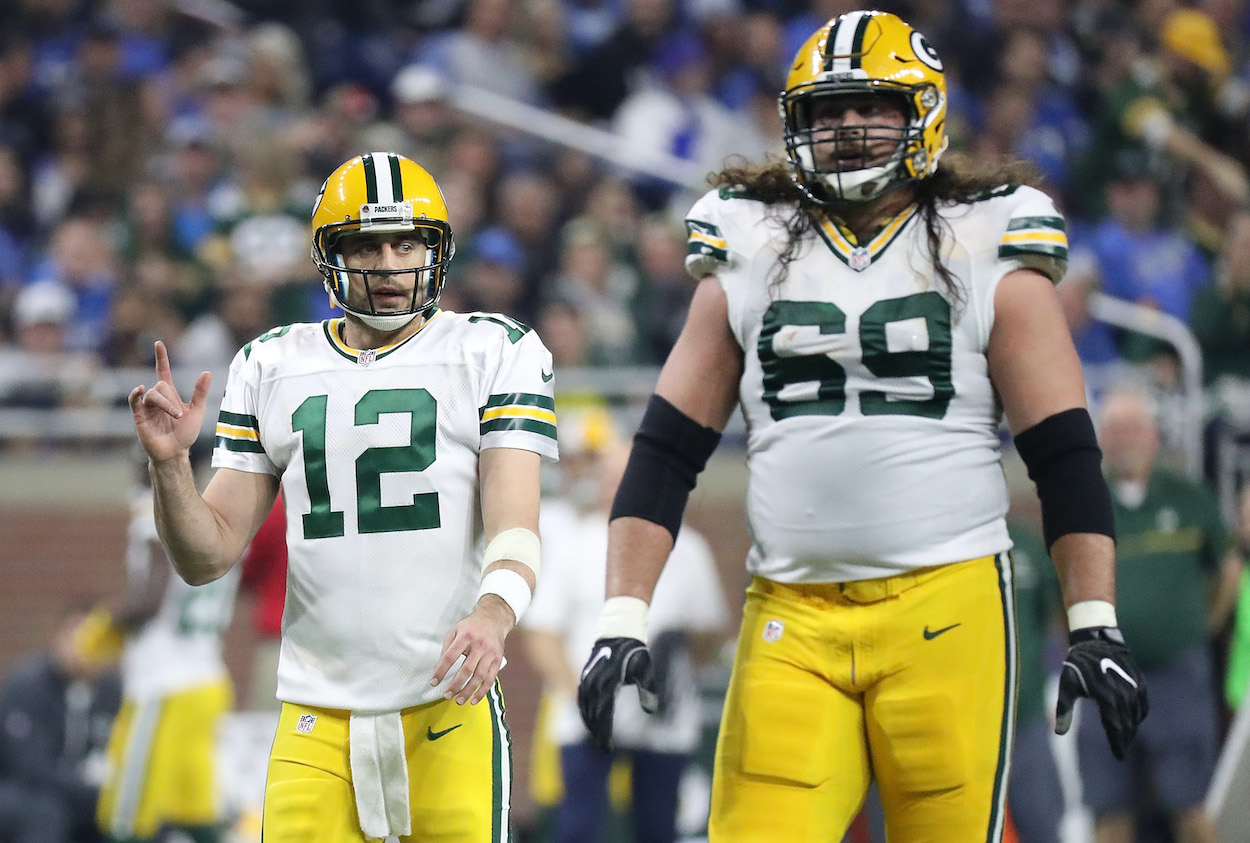 Nine-year NFL vet David Bakhtiari married his fiancée Frankie Shebby in a star-studded ceremony on Saturday. The wedding took place at Rosewood Miramar Beach resort in Montecito, California, per Entertainment Tonight. 
The guest list included actors Shailene Woodley, Miles Teller and Keleigh Sperry, Green Bay Packers coach Matt LaFleur, and former and current Packers like Randall Cobb, Clay Matthews, Josh Sitton, Micah Hyde, and A.J. Hawk. 
Performing the wedding ceremony was another well-known figure, Green Bay Packers QB Aaron Rodgers. 
On Monday's Pat McAfee Show, Hawk told the host the wedding was "a great time." The former linebacker also reported on Rodgers' leading the ceremony, saying, "not surprisingly, he was prepared. He was very funny and very touching and emotional. He did a great job. I think he gave the bride and groom what they wanted." 
All in all, the Bakhtiari wedding sounded like a lovely occasion. The only hiccup was the groom had to go after a reporter on Twitter a few hours before the ceremony. 
Bakhtiari lashed out at Michel Silver on his wedding day
Prior to the ceremony, longtime Sports Illustrated, Yahoo! Sports, and NFL Network reporter Michael Silver sent out a tweet about David Bakhtiari's wedding. 
In the post, Silver turned the occasion into a forum for Aaron Rodgers to make a decision on his Green Bay Packers future. "Today Packers LT David Bakhtiari is getting married in California," Silver wrote. "Aaron Rodgers is set to officiate it. Matt LaFleur will be there. Rodgers is likely to tell the Packers what he wants to do by Tuesday afternoon. Timing is kinda wild."
At 12:19 pm PT, the groom responded to the post, tweeting, "Mike… what the actual f***?"
About a half-hour later, Silver posted another tweet explaining to his followers that he felt bad about making the day about Rodgers and actually called the 6-foot-4, 310-pound groom to apologize. 
"I just had a phone conversation with @DavidBakhtiari," Silver tweeted at 12:50 pm PT. "I wished him a very happy wedding day and expressed my regret for impacting it… while answering the question in his tweet. He's one of the best dudes in the league and I'm grateful that we're in a better place. Carry on."
It was a nice recovery from the reporter, who seems to understand his faux pas. Now that the wedding is over, though, the NFL media world's attention can turn back to Aaron Rodgers Watch 2022. 
Rodgers seems no closer to a decision as his self-imposed deadline nears
During his regular "Aaron Rodgers Tuesday" visit to the Pat McAfee Show after the season ended, the polarizing QB told the host he'd make a quicker decision on his football future than he did last season. 
Rodgers told McAfee that "to drag it out past free agency would be disrespectful to the organization and [his free-agent teammates], and that 100% will not happen."
The deadline for franchise tagging — which will affect his favorite target Davante Adams — is Tuesday, March 8, and the free agency period officially begins on March 16. 
On the Monday following David Bakhtiari's wedding, ESPN reported Rodgers is "mulling" the Green Bay Packers' "significant long-term contract offer … that would alter the quarterback market."
The takeaway from all this is that it genuinely seems like Rodgers is no closer to making a decision than he was a month ago when he talked to McAfee. His most recent appearance on the show seemed to support this hypothesis. 
Now all we can do as NFL fans is watch and wait and hope that the Aaron Rodgers Saga doesn't last as long as it did in 2021. 
Like Sportscasting on Facebook. Follow us on Twitter @sportscasting19