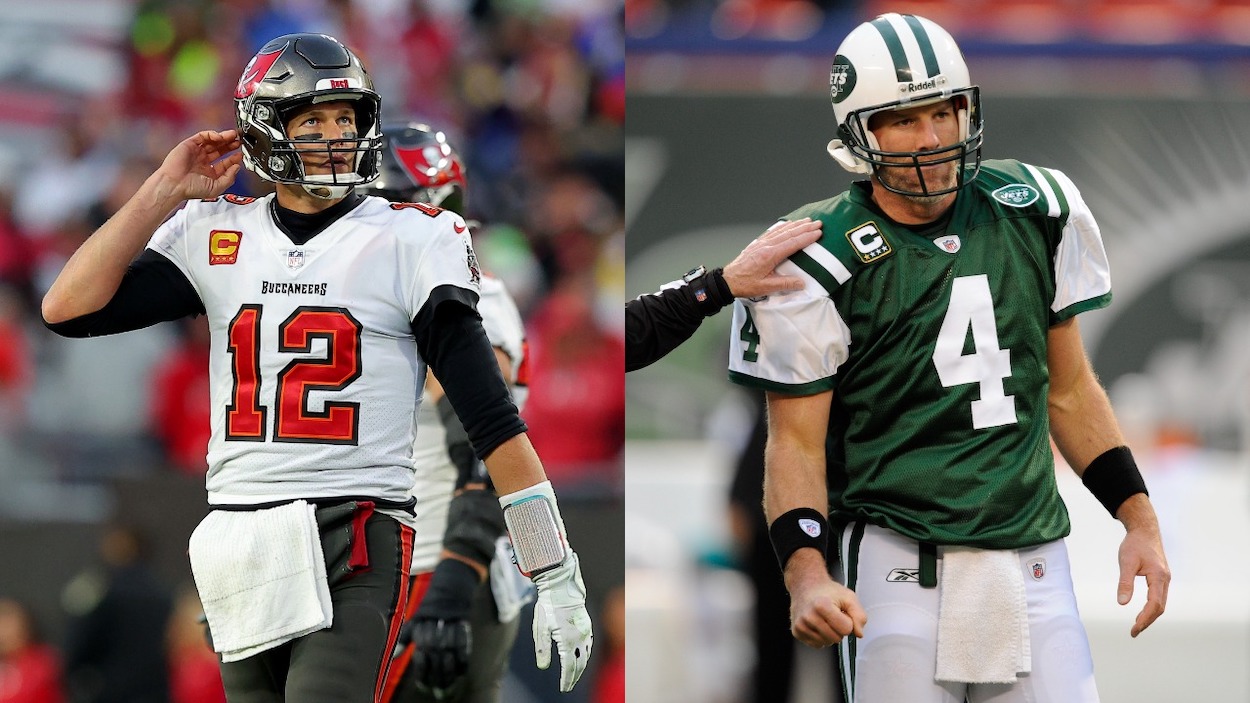 Former NFL GM Knows How the San Francisco 49ers Can Get Tom Brady Because He 'Lived This' in 2009
Tom Brady might be retired now, but the GM who handled the Brett Favre situation feels like the San Francisco 49ers could still get the GOAT.
Former NFL general manager Mike Tannenbaum knows a thing or two about how to entice an aging superstar quarterback to come to his franchise. He also knows how an organization can lose that signal-caller just as quickly. Based on that experience, Tannenbaum recently told Dan Patrick how the San Francisco 49ers can recruit Tom Brady to play for the team in 2022.
Mike Tannenbaum recruited Brett Favre to the New York Jets in 2008 and lost him in 2009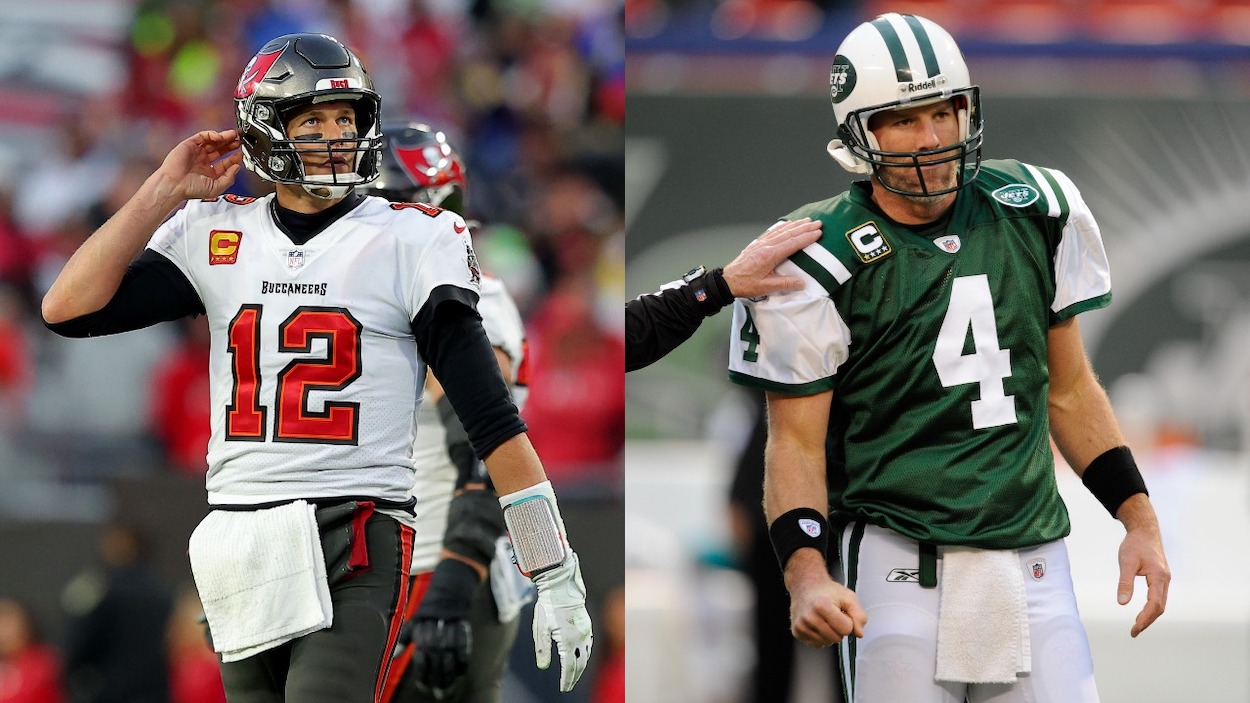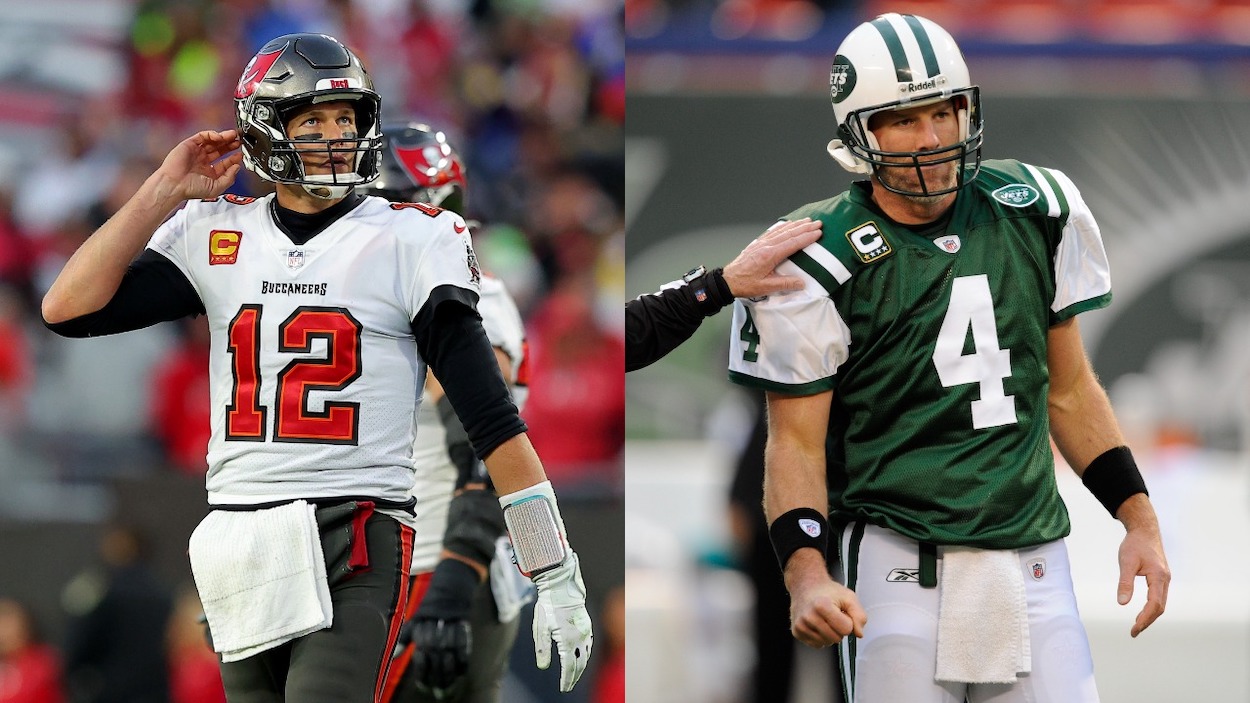 After 12 years in NFL front offices, Mike Tannenbaum became the New York Jets GM in 2006. He took charge of a team that went 4-12 the year before and helped turn the squad into a playoff team in his first season in charge.
Another 4-12 season followed, so Tannenbaum recruited unhappy Green Bay Packers quarterback Brett Favre to replace Chad Pennington.
Favre played just one season in New Jersey. He made the Pro Bowl but only led the team to a 9-7 record. In the 2009 offseason, the Minnesota Vikings — the team that Favre wanted to play for when leaving the Packers — recruited the then-39-year-old passer, and he left the Jets.
A decade later, the Tom Brady situation played out in a somewhat similar fashion (albeit with much better results).
After a legendary career with the New England Patriots, Brady ended up not going to the team believed to be his first choice. His boyhood club, the San Francisco 49ers, had a starting QB in 2020, and Brady "settled" for the Tampa Bay Buccaneers.
Now, Brady is "retired" but continues to leave the door open to come back for one more season. If he does decide to return, the 49ers would make a lot of sense. And Tannenbaum knows exactly what the Bay Area organization should do to recruit him.
Tannenbaum explained what the San Francisco 49ers need to do to get Tom Brady
Mike Tannenbaum joined Dan Patrick on the Dan Patrick Show to discuss all the quarterback movement in the league. After talking about Aaron Rodgers and Russell Wilson, Patrick asked Tannenbaum if he thought Tom Brady was definitely "done."
Tannenbaum answered, "no, I don't."
The former GM explained that Brady can still play at a high level and is an incredible competitor. Patrick followed up by asking if Tannenbaum worked for the San Francisco 49ers, how would he goad Brady out of retirement:
That's easy. I am relentless. I am saying, 'This is about your legacy. This is your hometown. And we'll talk to Tampa Bay. You tell them that you're not gaping to play there.' I lived this, unfortunately, because what happened was, Favre was like, 'Look, I want to play one more year, and I don't want to play here anymore.'… If I was the 49ers, I would call up Joel Glazer, the owner of the Buccaneers, and just say, 'He's not playing there anymore. We want to sign him for one more year, and we'll give you something.'

Mike Tannenbaum on Tom Brady and Brett Favre
Patrick asked what if head coach Bruce Arians and the Tampa Bay Buccaneers won't let him go, as Arians is posturing.
Tannenbaum told the host that he went through the same process with Brett Favre, considering holding on to him and not allowing him to leave. He then relayed that, where he settled back then is that if the player wants to play, getting something for him is best for the franchise.
That's how the 49ers can learn from the Favre/Jets/Vikings situation and possibly land Brady for 2022.
San Francisco 49ers: With and without Tom Brady
The San Francisco 49ers made the AFC Championship game with Jimmy Garoppolo at QB in 2021. With a healthy Tom Brady, assuming his ability doesn't fall off a cliff (which is possible at 44), the 49ers have the talent to be a Super Bowl team.
The team has an excellent offensive line, a creative running game, and one of the most dangerous weapons in the league with Deebo Samuel. The 49ers also have an excellent defense led by Nick Bosa.
If Brady goes "home" to San Francisco, he won't just be going for a farewell tour. He'll be going to win an eighth Super Bowl.
If Brady doesn't come, though, what then?
With the quarterback carousel spinning wildly this week, Jimmy G is one of the hottest names out there right now. There is sure to be a bidding war for his services, and, ultimately, the Niners will get an offer they can't refuse.
That means without Brady or Garoppolo, the starting QB duties in 2022 will fall to the No. 3 overall pick in the 2021 NFL Draft, Trey Lance. In his rookie season, the QB went 41-of-71 (57.7%) for 603 yards, five TDs, and two INTs. Lance also ran for 168 yards and a score.
These aren't Super Bowl QB numbers, but he does bring an added layer of dynamism to coach Kyle Shanahan's offense with his running. If he can make the leap from rookie to feasible starter — or even star — between year one and year two, the Niners have a chance.
However, without Brady in the mix, a breakout year from Lance is the only way the team makes noise in the NFC again.
All stats courtesy of Pro Football Reference