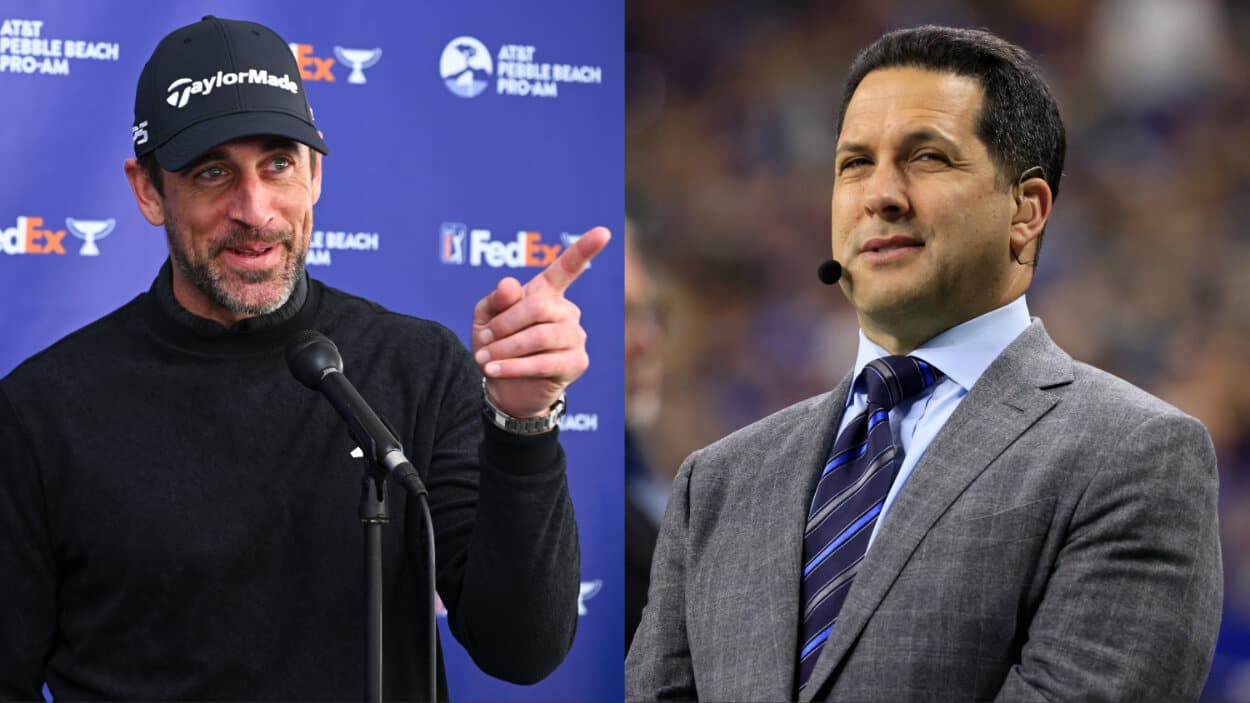 Aaron Rodgers Blasts NFL Insiders and Told Adam Schefter to 'Lose My Number'
Aaron Rodgers went hard at ESPN's NFL insiders Adam Schefter and Dianna Russini on the Pat McAfee Show, and Shefter tweeted his receipts.
When Aaron Rodgers goes on the Pat McAfee Show, you never know who's going to catch some strays. On Wednesday, when the Green Bay Packers QB (for now) joined the former NFL punter to discuss his decision to play another season and a potential trade to the New York Jets, it was NFL insiders Adam Schefter and Dianna Russini that found themselves in Rodgers' crosshairs.
Aaron Rodgers took shots at NFL insiders Adam Schefter and Dianna Russini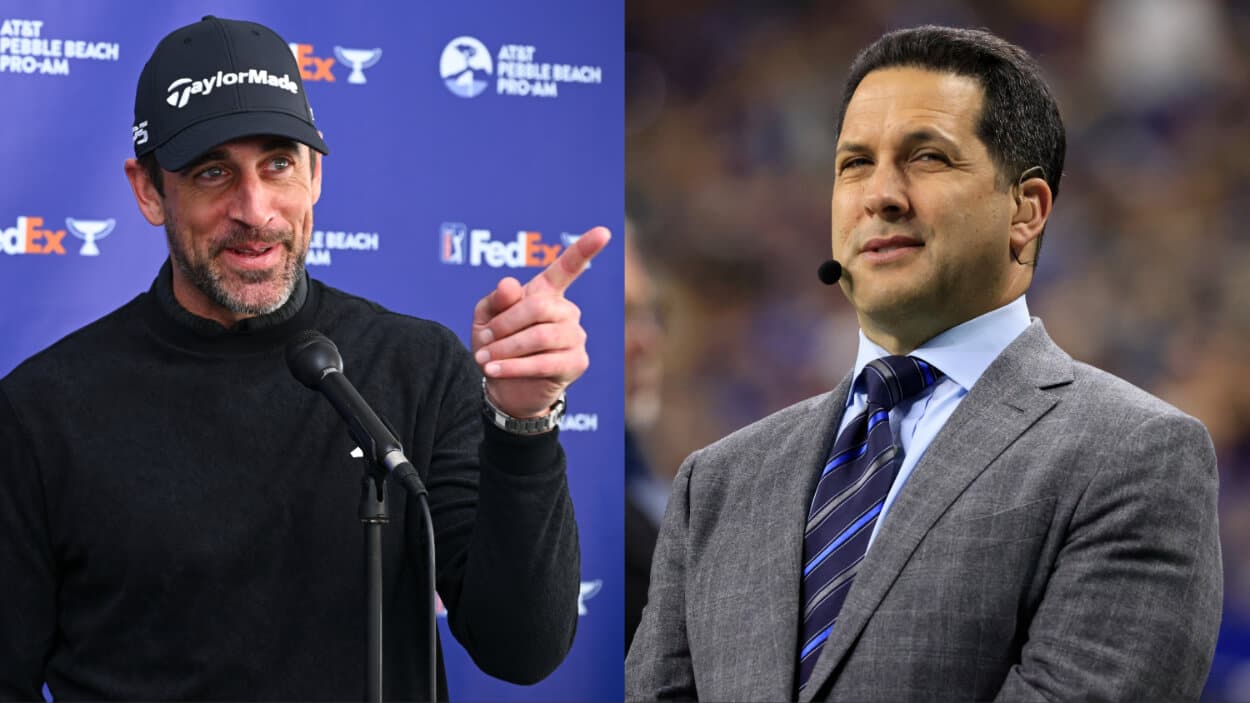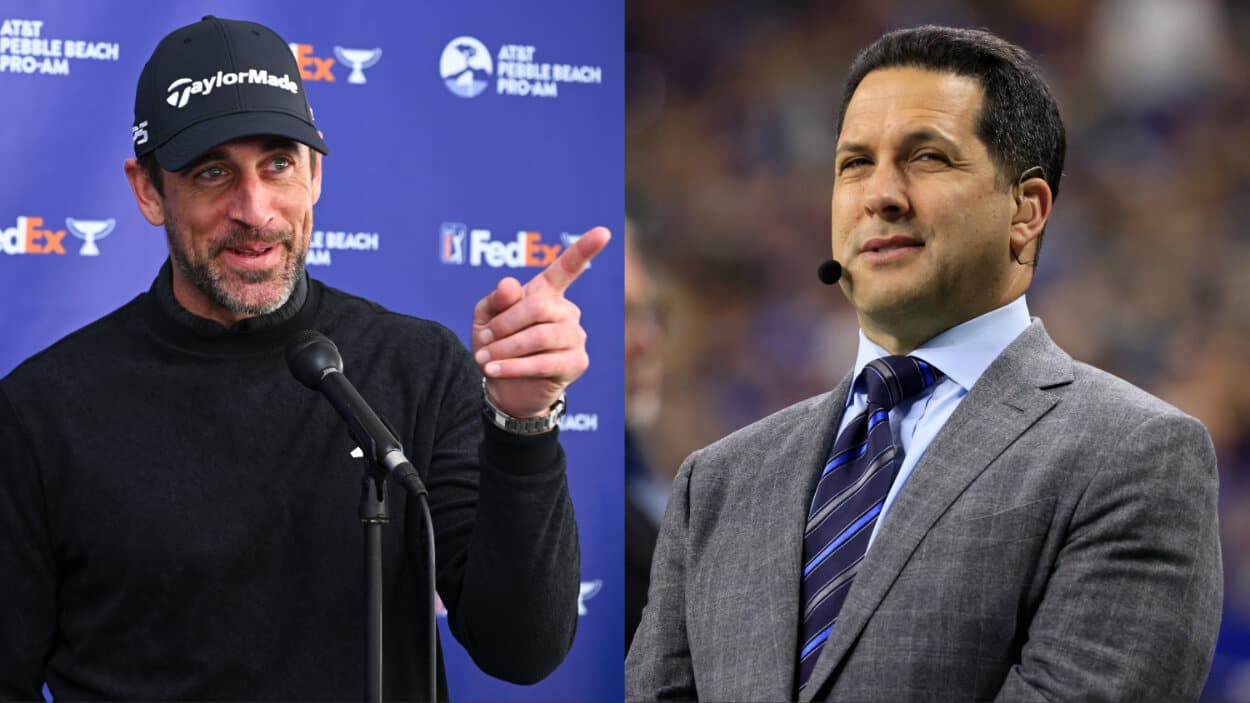 Aaron Rodgers told the world about his future, as he usually does, on the Pat McAfee Show. While he said the appearance wasn't an announcement, and he decided his fate over a week ago, the show was the first time he told fans that he is definitely coming back in 2023 and that a trade from the Packers to the Jets is in the works.
Along the way, McAfee asked Rodgers about reports that he gave the Jets a list of players he wanted them to sign ahead of the trade. That rumor came from a report from ESPN's Dianna Russini after the Jets signed former Rodgers' target Allen Lazard.
Rodgers vehemently denied that report and took a shot at Russini by way of her ESPN college, Adam Schefter.
"That's so ridiculous," Rodgers told McAfee after the host asked the QB about Russini's report.
"Ask Schefter what I texted him when he somehow got my number and texted me. I didn't respond to Dianna Russini, I think her name is," Rodgers explained. "But I say the same thing that I told 'Shefty'. Lose my number. Nice try."
For his part, Adam Schefter took the barb in stride, likely because it was 100% true. After the interview between Aaron Rodgers-Pat McAfee interview, Schefter tweeted a screenshot of Rodgers texting him nearly those exact words.
After putting Schefter and Russini on blast on the Pat McAfee Show, Rodgers continued by saying that while he shared some opinions on his current and former teammates with Jets brass, he didn't tell the team to "sign these people" at all. In fact, he says to think he would do that is "so stupid."
Rodgers continued his diatribe against NFL insiders for another 2-3 minutes. And at the end of the interview, when McAfee shared that Schefter tweeted that screenshot, Rodgers threatened to share his "receipts" as well.
Never a dull moment in the saga of Aaron Rodgers.